Adobe Dreamweaver – is a renowned web development and design software provided as a part of Adobe Systems package. It stands out from the crowd as a stalwart in the web creation niche, targeting both beginners and web design pros. It should be mentioned, though, that the system will still be best suited for web developers that have years of experience in the field.
The platform grants access to the comprehensive toolset that streamlines the process of website creation, irrespective of the website type you need (either personal or business).
One of Dreamweaver's highlights is its intuitive WYSIWYG visual editor. This user-friendly interface allows creators to visually compose web pages by quickly dragging and dropping elements (text, images and forms) onto the canvas. It automatically generates the required HTML and CSS code in the background, saving time and effort. This is how it becomes possible to express your creativity without being bound by the intricacies of coding.
For those who prefer to dive deep into programming details, Adobe Dreamweaver offers a robust code editor with features like syntax highlighting, code completion and debugging tools. The system also excels at responsive design, ensuring that websites created with it seamlessly adapt to various screen sizes and devices.
If you are right about to set up your project with this software, you will be interested in viewing some of the most remarkable samples of websites launched with it. Go ahead to review them below.
Stryker – is the official website of the US-based medical technology company that currently offers a wide range of information and resources related to their products and services. They specialize in medical and surgical products, orthopedics and spine, neurotechnology etc. These are actually the main categories you can find on the websites. They are easy to reach, which makes the website navigation intuitive and understandable to everyone.
The website looks quite professional and informative at a time, providing explicit information about the Stryker company (including its history, mission, products/services and values).
Visitors also have access to customer support resources like contact information for Stryker's customer service teams and technical support for their products.News and updates as well as training and education resources are available here as well.
Known for its employment opportunities, the company has created a separate careers section where job seekers can explore job openings, learn about the company's culture and apply for positions. This is a trusted sample of the Adobe Dreamweaver-powered website!
Glamour Magazine – is an informative and attention-grabbing fashion and lifestyle magazine that mostly targets the female audience. This is understandable at the very first sight due to the prevalence of pink and white colors, abundance of high-quality photos and general website content.
The online magazine features a wide range of fashion and beauty-related content, including articles and editorials on the latest fashion trends, beauty products, makeup tutorials, skincare advice, and style tips. Given its focus on pop culture and entertainment, the website also has a separate category dedicated to celebrity news, interviews, red carpet coverage and updates on the entertainment industry. You will also come across useful info on lifestyle and wellness news, makeup, hair and skin care products, shopping recommendations, discounts and even video reviews.
Finally, the website comes with multilingual support, making its content available in several language versions – English, German, Mexican, Polish, Romanian, Spanish etc. This expands its readers' audience that has a direct impact upon traffic. Great job!
Scout Songs – is the place to find a variety of scout songs that have been popular with the members of scouting organizations (for boys and girls) for years. The website looks quite simple at first sight, but it doesn't actually have to be complicated, considering its major specialization.
As a repository of scout songs, the resource offers a vast collection of lyrics and audio recordings. Scout songs are an integral part of scouting activities, and this website will definitely serve as a valuable destination for scout leaders, scouts and anyone interested in scouting.
The website is conveniently organized into categories (Boy Scouts, Girl Scouts, Patriotic Songs, Holiday Songs), making it easier for users to find files suitable for specific occasions or activities. To simplify the search of the required song, there is a separate field where you can just type the name of the song you are looking for and the system will find it (if any). This is a simple sample of a specialized website launched with Adobe Dreamweaver.
ScienceBased Health – is another example of a quality website created with Adobe Dreamweaver. It presents the ScienceBased Health company that sees its mission in manufacturing and selling nutritional supplements and products related to eye health. This is a kind of a platform to buy vitamins, minerals and antioxidants formulated to support and maintain eye health.
The website delivers exhaustive information about versatile eye health products, including their ingredients, advantages and application instructions. When browsing the resource, customers will come across detailed product descriptions, images, videos and even customer reviews to help them make unbiased decisions.
To help you solve various issues, there is a live chat that allows reaching out with inquiries, product-related questions or other potential concerns. This is an easy and informative solution, indeed. Additionally, users will appreciate regular company-related news and info updates regarding product launches, clinical studies and advancements in the field of eye health.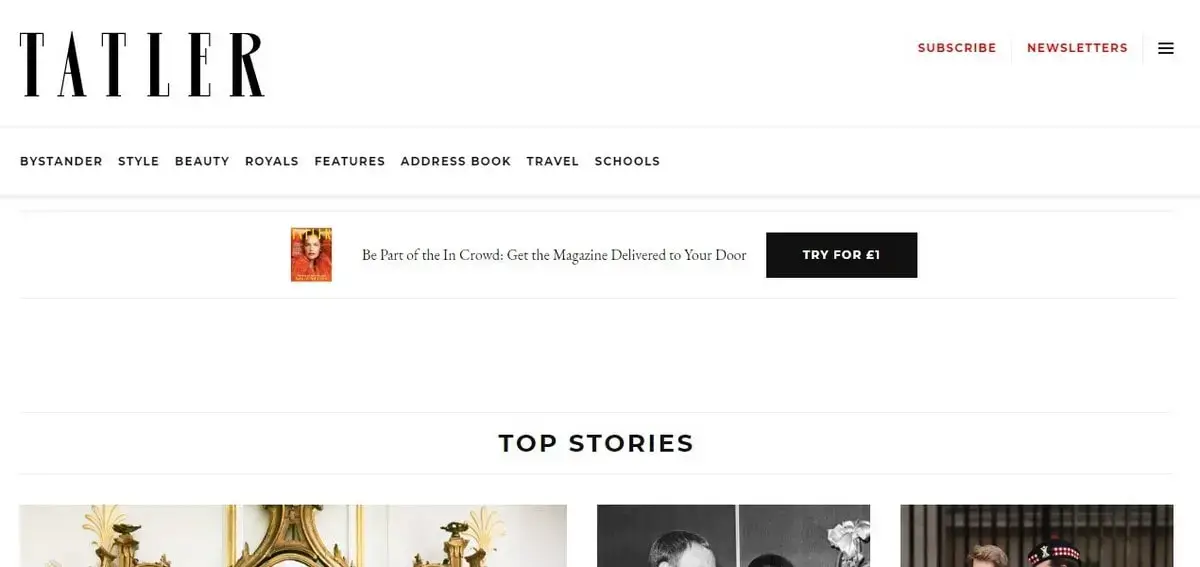 Tatler – is a solid and elegant website sample belonging to the fashion niche. Actually, you won't find any fashion products here. Instead, you will come across multiple articles that tackle fashion, style, weddings, celebrities, culture etc.
Currently, Tatler's menu comprises several categories – Style, Royal, Bystander, Beauty, Travel, Schools, Features, Address Book. They all refer to the fashion industry and cover useful bnd updated info.
As you scroll down the page, you will be able to browse the top stories on social events, parties, lives of prominent individuals/celebrities as well as articles on the latest fashion trends, designer profiles, beauty tips, and coverage of red carpet events. They all offer readers a glimpse into the glamorous world of fashion and style.
Like many contemporary websites, Tatrler comes with integrated social media features, letting readers easily share articles, images and content on social networks. It is also possible to subscribe for the newsletter here to stay aware of recent news and updates.
Summary
With its all-encompassing toolset, Adobe Dreamweaver remains a stalwart in the web development and design industry, empowering creators to bring their digital visions to life with efficiency and precision. This is a perfect tool for launching various types of projects, including web stores, online magazines, education sites, portofios, government agencies, personal and business projects.
Such popularity and functionality are achieved due to the platform's web design tools, potential integration with other Adobe products, built-in visual editor (for beginners) and possibility of code embedding (for web design pros). Thus, everyone will find something special and useful for his/her project here. So, if you like the samples of websites reviewed above and Dreamweaver's features appeal to you as well, go ahead to start building your own site right away!