Plenty of website owners face the problem of transferring their site from one platform to another when they find a new, more reliable option with a more intuitive interface and better-packed advanced feature set.
The same can happen to GoDaddy (read my review of its website builder) users if they come to the conclusion they need simplified website management along with the powerful tools provided at a competitive monthly price.
If you are one, you will definitely seek the most straightforward way of migrating a domain from GoDaddy to Wix (my review) without applying to a specialist.
Although there's no such button as "export to Wix" or a website export variant, it's still comprehensible to move from GoDaddy to Wix, which won't take more than an hour or two to complete.
What You Need to Have at Hand
Before we pass to the detailed description of the site migration, make sure you have the following stuff at hand:
A folder with all your essential media. For the sake of easy and quick site migration, you must have collected all the critical media files in one folder. This will involve both images and videos.
Make sure your GoDaddy website is open and ready for migration.
A document for external links. If your GoDaddy site carries links to external sources such as a custom podcast feed, embedded links to YouTube, an external blog RSS feed, etc., save them to a spreadsheet file or text.
Wix is an all-in-one solution with a simple drag-and-drop interface, proving it an excellent choice for no coders, while its AI-powered design engine, Wix ADI, generates a whole site from a draft based on the client's answers to some basic questions.
Also, aside from being richly packed with features and widgets, Wix has an extended App Market with brand and third-party apps like pricing tables, real estate listings, Google Sheets integration, and so much more.
Over 900 completely customizable and mobile-adaptable templates are available, a solid set of eCommerce features are suggested, and the blogging system is comprehensive, just like the marketing and SEO tools. In contrast, the pricing remains among the most competitive ones in the market.
So, as you can judge, there are many reasons why people prefer to migrate their domains to Wix from GoDaddy.
What Should You Do Before Starting The GoDaddy Domain Transfer
Before migrating your active GoDaddy site to Wix, you must start a site with the latter. I recommend opening your current GoDaddy site in one tab and Wix on the other to work on both simultaneously.
For this, you need to pass through several phases.
1. Registration with Wix
The first several steps are as follows:
Click "Get Started Today" to insert your valid email address and create a password.
Answer the questions about the sort of website you want to set up (you can choose from the several suggested niches, although Wix covers many more of them).
Name your website (it can be changed later).
Choose those features from the offered list that you already have on your GoDaddy website. This may be an online store, a blog, a newsletter sign-up form, etc. New features can be added later, too.
2. Building the Site
Now, it's time to create a site from a template or start with an auto-generated one. Copy your active site on GoDaddy to Wix. Copying the site's design is the first step in this phase. Pick a template that best matches your GoDaddy website, and play with the colors to achieve a maximum resemblance (you can do this by copying the custom color code from the GoDaddy site and applying it in the Wix editor).
Note that Wix offers way more theme customization options, so your new site can fit your brand voice much better.
The same goes for fonts. The fonts you have used in your GoDaddy site (find them under the theme menu) can be perfectly transferred to Wix's editor.
3. The Editing Process
Edit your website menu. A list of all your active pages can be found under the "Website," while the available pages for adding in Wix are located in the Menus & Pages tab. You will definitely find the necessary pre-built pages. If you are unsure about them, simply add a blank page.
Transfer your GoDaddy site elements to Wix. For this, open the Wix editor, click the Plus sign, and pick up the elements you want to add to your new site. Unlike with GoDaddy, you don't add sections but drag and drop elements. You will find a corresponding Wix element for almost all GoDaddy sections.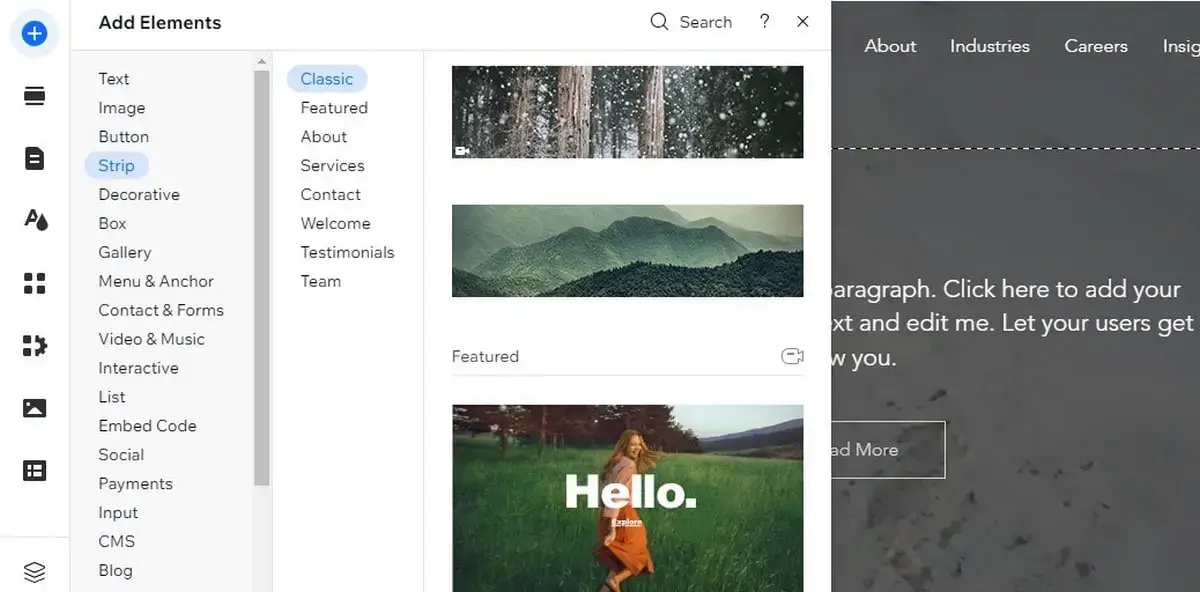 Also, there's a Wix App Market with over 300 apps, in case you don't find anything necessary built-in. Text can be added and enhanced through Text Settings to match your GoDaddy site.
4. Migrating an Online Store
If you have an online store on GoDaddy, you can transfer it to Wix during this phase. Open your GoDaddy dashboard and first click Store and then Manage Products. Once you have accessed it, choose all your products and click Export. GoDaddy will email you CSV files for all the products listed. Once you get them, open the Wix dashboard, choose Store Products, and click "Import." Now, download the Wix CSV template.
Since GoDaddy and Wix templates are different, you may need to mess around with files in the spreadsheet editor to ensure the product, variant details, and price match Wix's formatting. Once you have finished, confirm the actions with the "Import" button and pass it to upload the new CSV file.
Be aware that the more complex your Wix CSV is, the harder it will be to adapt. To facilitate the task, open both CSV files in Excel and copy over the information like the name, price, SKU, and inventory first, and then add extra details manually using Wix's product editor.
5. Transferring Other Elements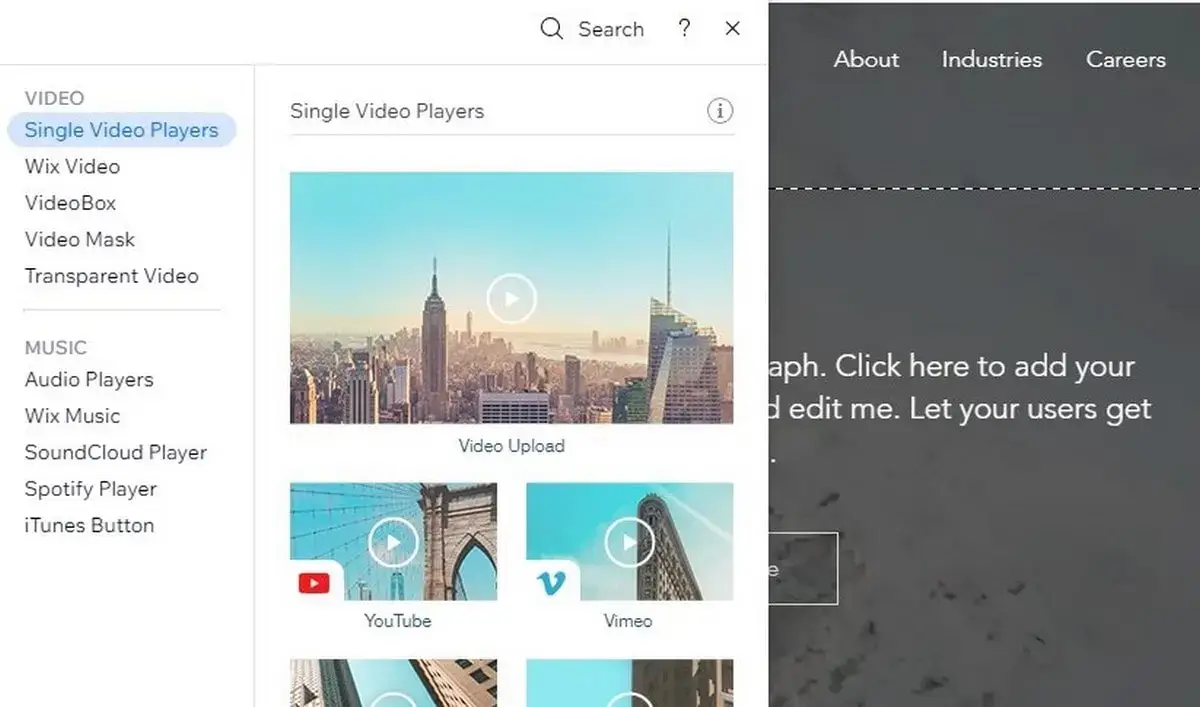 According to the same principle, you can export other content types, like custom RSS feeds for blogs, and embed videos from those platforms you do in GoDaddy, like YouTube and Vimeo. Note that Wix holds useful apps, articles, and how-to guides on the search bar.
How to Transfer Your Domain Name to Wix
Nevertheless, the process is even more straightforward if you have a running site on Wix and your purpose is simply to move your domain name from GoDaddy to Wix.
It takes a couple of steps to complete. Here's a brief instruction to abide by:
Access your GoDaddy account and open the "My Products" page;
Click on the domain name to be transferred (find all your domains under the "Domain" section).
Click the "Start Transfer" button in the "Transfer Domain" section.
A box will pop up where you must enter your domain name.
Check the availability with the respective button.
Choose Wix as the destination for your transfer (find it in the dropdown menu).
Click Continue to proceed with the chosen option.
Insert the information about your account on the next page before clicking the "Continue" option again.
Check the next page to review your order and click the "Submit Order" option.
You will get a confirmation message about the start of the domain transfer.
Normally, you must wait several business days before the transfer is completed.
In all cases, there's a big potential for complications, whether you want to migrate your domain name or get an entirely identical site on Wix. Whenever you face a problem, don't hesitate to contact the responsive and user-friendly customer assistance team.
Fees and Charges
Wix doesn't issue any money for domain name transfers. However, you still must purchase an extra year of domain registration.
The minimum price for becoming a Wix user is $16/mo for the introductory Light plan, and it includes not only 2GB SSD, 2 collaborators, and the Light marketing suite but also a free domain for one year, whether you register a new or "bring" your own to its platform.
Let us remind you that Wix won't charge any additional fees for domain transfer.
Also, adding a domain to your Wix website is a pretty simple process. After all, Wix was created with all users in mind, irrespective of their tech knowledge and experience.