Offline site-building software is a set of tools intended for creating a site without the necessity of going online before you test or deploy it.
Generally, such solutions are either pre-bundled, i.e., they come with several software apps by the same developer included as a united set) or piecemeal, i.e., the site builder software must be downloaded separately from any app you may need later.
Unlike online site builders, (see my handpicked collection of the beginners' best choice), this software doesn't require new users to create an account. Instead, the workstation becomes the login point, which is way safer than inserting your personal details through a website, like a name, credit card number, password, etc. No matter how secure an online site builder is, it is never insured against hacks.
So, before I introduce the five best site-building software, let me expose the main benefits as opposed to those deployed online:
Complete control and flexibility: With offline software, you are not bound to any limits on what you can do with your website. Even if you have no HTML or CSS knowledge, you will learn much during the working process.
No monthly fees: By opting for offline site-building software over an online counterpart, you get rid of the monthly payments. You buy the software once and have lifetime access to it (note that free site-building software is available). However, with every new release, you must pay the patch fees.
Your web host solution choice: With offline site-building solutions, you can choose your web host without being tied down to the company's hosting service.
Working on the site whenever you wish: Offline site building software works without an internet connection. So, you can work on the site as much as you need and go online only when ready to test and publish the site.
Now that you're already aware of all the benefits of offline site-building solutions and are sure you need one for your project, let me introduce the five best variations of the market as of today.
NicePage – Best Choice for HTML Sites
NicePage, formerly known as Artisteer, is currently the best offline site-building solution if you have an HTML site in mind. Its impressive functionality makes creating an engaging, interactive website a breeze.
The service can be a good choice for no coders, as well, since it introduces loads of pre-designed themed templates and development blocks and allows downloading a diversity of images from multiple popular sources, like Pixabay, Instagram, Google, etc.
And when the site is ready, it will be exported as HTML or a theme for Joomla or WordPress (read my review). Note that NicePage not only supports Mac OS and Windows apps but also WP plugins, Joomla extensions, and Web apps.
Features List
NicePage is richly packed with features. See the most significant ones:
Visual Page Editor for adding grids, text, and other elements through drag-and-drop positioning. The editor includes Smart Magnetic Guides for aligning the position of an element, Grid Columns for site and graphic editors, Move Blocks, and such functionalities as resigning elements and blocks, setting the exact distance between elements, pasting images from clipboards, etc.
Contact Form Builder with multiple tools like field types, input styling, multiple layouts, the function to show or hide field conditions, calculation formulas, etc.
E-Commerce Broad Functionality includes setting up elements, PayPal and Stripe payments, page templates for product lists, shopping carts, checkout, product details, etc.
Element Properties for straightforward web and web design customization and fine-tuning. This involves over a thousand fonts, color presets, a color picker, over 80 layouts, video background, animation effects, as well as background, shadow, transparency, border, radius, and font properties.
Media Libraries have over three million images, thousands of templates, over 9,000 block designs, and a 2.5+ million icon collection.
Pros:
Drag-and-drop interface;
Freehand positioning;
Mobile optimization;
Animations library.
Cons:
The free version comes with limited functionality.
Pricing
NicePage offers a free site-building software download with an unlimited Free starter Edition for individuals. However, it is rather limited. The three other paid Personal, Business, and Pro plans are priced at $69, $129, and $199, respectively.
TemplateToaster – Best WP Website Builder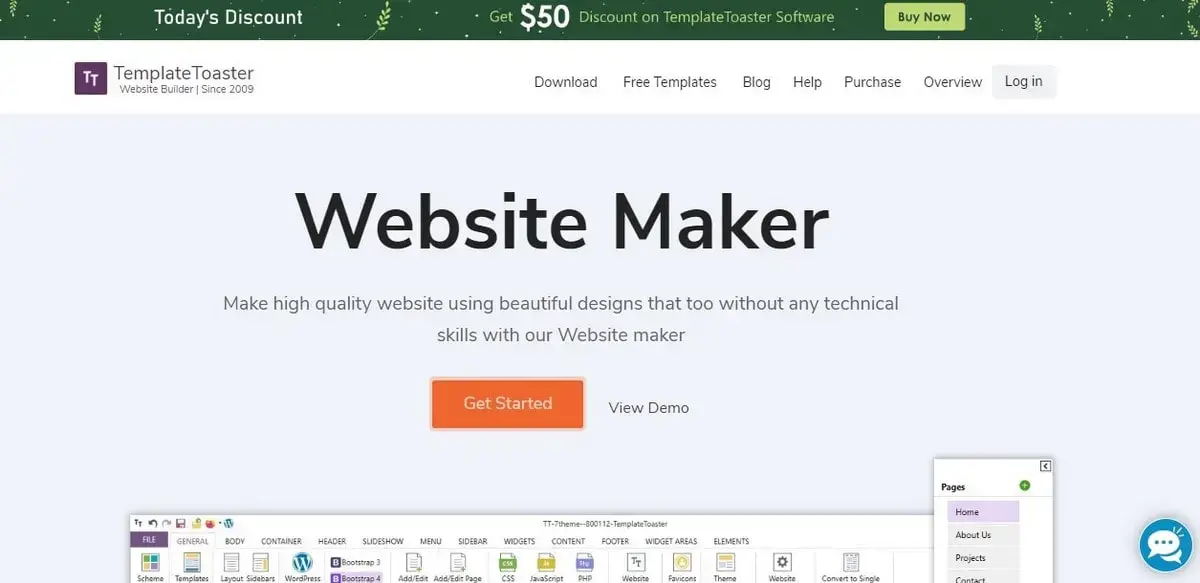 TemplateToaster software enables users to scheme and develop templates, themes, and responsive sites without the use of coding. The desktop app is to be downloaded and installed on a PC and can be run regardless of the Internet connection.
The app supports major CMS platforms and features a drag-and-drop editor with an array of design and development tools. TemplateToaster lets you create not only CSS/HTML sites but also themes for different platforms, including Joomla, Magento, Blogger, WordPress, Drupal, Opencart, etc.
Features List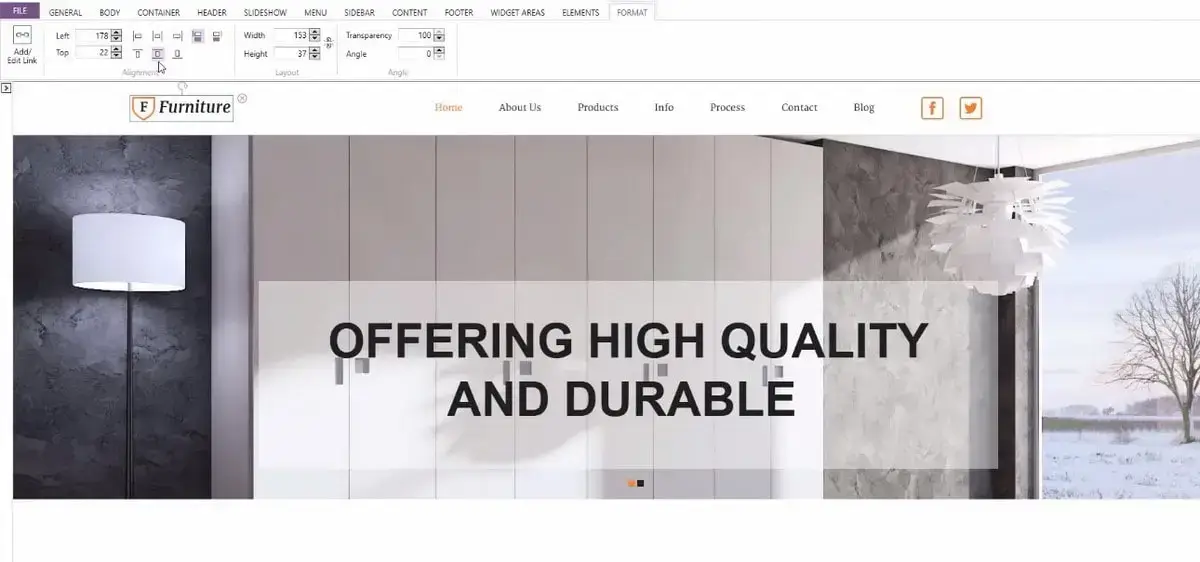 If you aim to build top-notch quality sites with attractive designs yet don't have any tech skills, the TemplateToaster website maker can be an appropriate choice, given its rich features list. Check it yourself:
WYSIWYG Editor, along with the drag-and-drop interface, stands for smooth and effortless site-building and configuration with no form of coding.
SEO and Mobility Are Superior. The software offers H1-H6 headings and structured paragraphs for SEO-friendly templates, aside from available plugins. Also, all templates are mobile-responsive, irrespective of the screen dimensions.
E-commerce tools are offered to build e-commerce sites with zero coding and programming. TemplateToaster is compatible with such remarkable E-Commerce solutions as WooCommerce, Magento, OpenCart, PrestaShop, and Virtuemart.
Pros:
Ease of use thanks to drag-and-drop editor;
Compatibility with most CMS;
Perfect for theme and template designing;
Interfaces feature multiple standard websites and e-commerce platforms.
Cons:
Exclusive for Windows;
Uploaded templates are no longer editable;
Sites with free editions have brand watermarkings.
Pricing
TemplateToaster can be downloaded and used for free. However, the introductory free plan will carry the brand's watermark. As for paid plans, you only have two options: Standard Edition, with a $49 price tag, and the Professional Edition, priced at $99. Note that there's no refund policy exploited, as the company offers a full product trial.
Mobirise – Best Block-Driven Site Builder
Mobirise offline site-building software is primarily known for its superior block-building properties. In fact, it's a block-driven builder with which you can create complete sections of websites in one go.
The software is available on Windows, Linux, and Mac, is user-friendly, and is best for small and medium sites, landing pages, and simple web stores. If you are not familiar with the intricacies of web designing and need an effective tool for fast prototyping and small projects, Mobirise is a great choice.
Features List
Despite the simplicity of the Mobirise editor, the solution boasts a pretty large collection of features. Particularly:
Wide Template Selection, covering thousands of variants, along with the same quantity of blocks and themes, ensures you will find the perfect option for your project.
Mobile Compatibility allows building perfectly mobile responsive sites regardless of the screen size. Mobile adaptiveness is automatic. Also, Mobirise AMP will make mobile smartphone browsing as quick and effective as on desktop.
E-commerce tools involve not only respective templates but also a PayPal shopping cart with four options for business monetizing (Buy Now, Donatte, Add to Cart, and Subscribe), contact forms.
With quality SEO Extensions, you will maximize your website's potential for Google searches.
Code Editor allows users with coding expertise to use their skills to improve their sites further. This feature not only provides more freedom over the webpage but also involves SEO extensions.
Pros:
Ease of use, given the drag-and-drop functionality;
Affordable add-ons;
Reinforced multimedia capabilities;
Immense selection of templates and blocks.
Cons:
Poor free version;
Limited features.
Pricing
Mobirise doesn't have the traditional tiered pricing systems that most competitors offer. Instead, the vanilla version of this offline site-building solution is free to download and use. But once you want to get the most out of the service, you must pay accordingly. Mobirise suggests purchasing individual extensions and themes, priced at $50 on average, or opting for the Website Builder Kit to access all premium themes, around 9,000 site building blocks, a PayPal shopping cart, and Code Editor widgets. You can obtain it at a $149 one-time fee.
Pinegrow – Best Option for Professional Use
The downloadable drag-and-drop design app and self-hosted WP plugin Pinegrow were developed with the requirements of professional web designers in mind. It can be used as a bespoke CMS to build and edit static HTML pages to get an intuitive and comprehensive site/content management system regardless of the niche.
Also, Pinegrow allows working faster with CSS/SASS, HTML, Bootstrap, GreenSock Interactions, Tailwind CSS, WordPress, and WooCommerce.
However, Pinegrow is not the easiest of the reviewed offline site-building platforms. Although the user interface of this solution works similarly to image editing apps such as Snapseed or Photoshop, it's more appropriate for professionals than beginners.
Features List
Being a cross-platform app running on Mac OS X, Windows, and Linux, Pinegrow is richly packed with features. The primary ones are as follows:
Advanced Visual Editing Tools enable users to rearrange, modify, edit, and add diverse CSS and HTML components. Also, you can create a repeater to inject a specified code component into the chosen layout.
The Editing and Multi Review Mode lets you check how your project will perform on desktop and mobile screens. Also, the automatic examination of stylesheets will reveal probable mistakes and defects.
Element Collection is immense. It includes UI elements, buttons, code blocks, tables, and many other elements to enrich a website.
Pros:
Full freedom and flexibility for tech-savvy users;
Multiple features and visual editing tools for professional use;
Flexible payment options;
Multi Review mode;
Simultaneous multi-page editing.
Cons:
Hard-to-navigate dashboard;
Challenging to use for no coders;
Complicated pricing system.
Pricing
Pinegrow doesn't offer a free plan, unlike all other reviewed offline site-building solutions. Neither does it provide its products for a one-time payment. The only free offer is the Pinegrow Interactions, an add-on for Pinegrow Web Editor to extend the HTML and CSS editing features.
Instead, it offers a 30-day money-back guarantee for all its plans, which get refreshed annually. So, the license you buy to use Pinegrow is provided only for one year, after which you get charged again. This refers to annual subscriptions.
The price depends on what you include in your plan. You can add Tailwind Visual Editor, WP Builder, and Shop Builder for WooCommerce. The yearly and lifetime price for the three editors is $161.85, and the monthly charge will be $19.50. If you opt for the lifetime package, after a year of use, you won't receive any updates and will only have the current version of the solution at your disposal.
WYSIWYG Web Builder – Best Solution for Beginners
WYSIWYG offline app for Windows 10 is great for creating exquisite jQuery and HTML-based web apps. The downloadable desktop app is especially perfect for small company sites, news portals, portfolios, blogs, and plenty of other content-driven apps.
In fact, you can use the solution for creating beautiful, smooth-operating sites without writing a single line of code. This makes it one of the simplest options in the market.
Features List
WYSIWYG Web Builder users are provided with a huge set of tools, whether they are beginners or professional developers. Particularly:
Responsive Web Design is what you can expect from the site builder. WYSIWYG Web Builder will suffice if you need flexible or absolute page layouts. It ensures support for Flexbox, layout grid, CSS grid, and fixed layouts with breakpoints.
Web Design Elements, including Google Fonts, pre-made animations (more than 150 options are available) and transitions with your own animations, over 150 pre-made blocks, forms tools, like Auto Responder, MySQL or CSV, Upload Files, Form Validation, Send Emails, Conditions/Calculation, etc., are at your disposal.
Immense Library of Images & Media will assist in enriching a website of any niche with carousels, image filters, rollover animations, lightboxes, galleries, Vimeo, YouTube, HTML5 Video/Audio, and shapes. There's also an Icon Libraries offered.
Extensions, counting hundreds of options, will add extra functionality to the software. These involve navigation, slideshows, webshops, audio-video, data viewers, etc.
Pros:
Powerful design customization options;
Easy to use for no coders and first-time users;
Huge user community;
A broad library of extensions.
Cons:
Little complex interface for beginners;
No free plan.
Pricing
WYSIWYG Web Builder doesn't offer a free plan. Neither does it feature pricing plans, mostly typical to online site-building solutions. Instead, you are eligible for a fully functional 30-day trial version, after which you can purchase a lifetime license for the WYSIWYG Web Builder 18 at the cost of $59.95 or the WYSIWYG Web Builder Plus priced at $99.95.
Verdict
Regardless of your skill level, you will find an appropriate offline site builder from the top five solutions I have reviewed. They are all reliable, highly functional, and reasonably priced. Basic sites can be created without spending a dollar, while complex ones won't cost much.
However, of the five investigated platforms, Mobirise is the most popular among users. Although it features a pretty clear interface and is easy to use, the outcomes appear impressive, given the rich list of features.