Whether you are a newbie in the website development niche or an experienced web design pro, you have certainly heard of WordPress.
As the most full-featured and professional Content Management System, it is applied to set up projects for commercial and non-commercial use. It copes with any task quite well due to its deep flexibility, customizability and availability of integrations.
At the same time, it definitely takes time to work with the software as it requires profound exploration. Likewise, you won't go without baseline programming skills and you will definitely need time/budget to invest in the project.
These are the major aspects that require consideration, when it comes to picking WordPress as the web design tool.
To find out more about the software and to decide, whether it makes sense to keep using it or to switch to another platform, take your time to read the detailed review of the service now.
Pros and Cons
As the world-known CMS, WordPress grants access to multiple advanced tools and features. At the same time, it has a number of remarkable demerits that may affect users' choice of the platform.
The software can be used to set up all types of powerful websites and this is its major advantage. WordPress is highly customizable, offering thousands of themes and plugins. They are available both in the integrated directory of the platform and on the web. This allows creating projects that meet the specific user needs.
As an open source software, WordPress is free to download and install. There is a large community of developers who contribute to the platform, creating a broad range of designs and plugins.
WordPress is built with advanced SEO in mind, having multiple plugins to effectively optimize the website for search engines.
The major demerit of the CMS is its complexity. You definitely require tech knowledge and programming skills to launch, customize and maintain websites with it.
Another notable disadvantage is the security aspect. Due to its open source nature, WordPress can be vulnerable to safety issues if not maintained and updated properly.
WordPress updates and changes can sometimes trigger compatibility issues. This especially concerns template and plugin integration.
Finally, there is no official support team here. As a result, users need to rely on forums or paid support solutions for quality assistance.
What is WordPress
As a regularly updated system, WordPress delivers an impressive range of features and tools for professional website development. Everyone can create a web project from scratch here, although, it is difficult to go without niche coding knowledge here.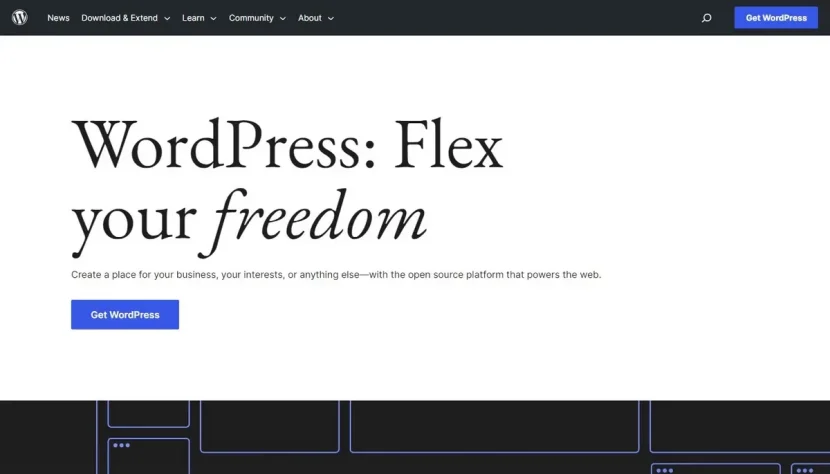 The platform offers advanced flexibility, customizability and opportunity to integrate third-party extensions. Have a look at the major highlight of the software now:
Advanced design customization freedom;
Visual content editing mode with Gutenberg Editor support;
Stunning number of integrations for high end project performance;
Automated updates;
Endless choice of free and paid themes.
Advanced Design Customization Freedom
The system makes it possible to set up any type of project for commercial or non-commercial use. The dashboard abounds in design customization features, letting users work with individual settings, edit color schemes and backgrounds of templates, upload media files, create menus, enable/disable widgets. More advanced design customization options are available due to CSS file set up. The feature allows changing website design via code editing.
Visual Content Editing Mode with Gutenberg Editor Support
First-timers have an opportunity to work in the Gutenberg Editor – a high end visual editing mode that resembles standard website builders in terms of functionality and ease-of-use. The editor offers multiple content blocks that make up the website structure and can be set up individually. This allows focusing on content design without distracting on complex configurations. All the edits are displayed in the real-time mode, giving you full control over the process of design customization.
Stunning Number of Integrations for High End Project Performance
WordPress subscribers have access to thousands of integrable widgets and add-ons used for professional website customization. They can be downloaded either from the official WP directory or from third-party resources. The extensions are free and paid, while the set up process generally does not pose difficulties except for widgets that require more advanced configurations.
Automated Updates
The software is automatically updated as soon as the new settings/features are released. This is an advantage for the majority of projects yet you have to thoroughly check whether the updates are compatible with your themes or plugins.
Endless Choice of Free and Paid Themes
The CMS boasts an impressive collection of templates. Some of them are accessible in the standard template catalog available in the software dashboard, while thousands of advanced themes can be found and downloaded online. But again, pay attention to the compatibility of the software versions as not all themes work well with the software version you currently use.
Editing a Website with WordPress
There is no need to reach the visual editor when working with the standard version of the platform – the advanced template settings are adjusted by means of changing pieces of code here.
Users can customize the selected parts of a page, edit footer/header/sidebar, when required. The only issue is that you need to be aware of programming basics to complete the tasks individually.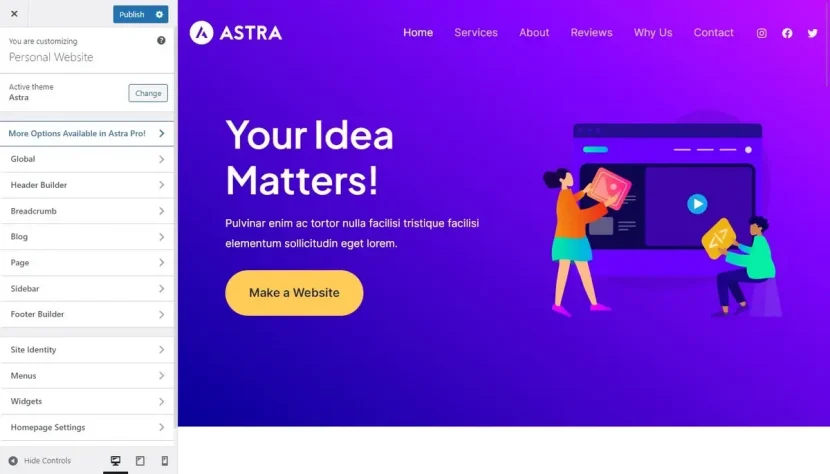 Not ready to work with code editing tools? WordPress provides a simplified website editing mode for non-techies. Its updated Gutenberg Editor ensures an easy and intuitive visual editing process that resembles the one offered by standard SaaS platforms.
The advanced block editor allows controlling all the steps of the website creation process in the visual mode. It additionally comes with several notable improvements for more efficient project development.
These include the enhanced drag-and-drop functionality for proper block arrangement, support for video insertion in cover blocks, improvement of block patterns, advanced user-friendly keyboard navigation etc.
An important issue is that users can switch to the standard editing mode anytime, if there is anything they don't like about Gutenberg Editor. This won't affect the website customization process granted that the selected template is compatible with the current WordPress version you use.
Design Customization with WordPress
WordPress excels at template selection. As a CMS, it offers two options to pick the required theme. The system makes it possible to browse its integrated collection of designs available in the official catalog of the system, namely in the "Design" section.
The built-in WordPress template library is that very place, where you can find the required theme and proceed to its customization, using the toolset available in stock.
If you are not satisfied with the available template choice, you can opt for the second solution, choosing the themes from third-party resources. There are hundreds of templates you can find on the web based on your niche requirements, website type, depth of customization required and budget.
Regardless of such an extensive choice and versatility of available designs, you should be quite attentive, when making the final decision. The thing is that the software allows choosing from free and premium designs online. On the one hand, everyone likes the idea of using a free theme, but that may eventually pose problems.
As opposed to paid designs developed by trusted web developers, free themes are more subjected to malware threats and bugs. Their integration may result in poor website functioning in the long run. Thus, it makes sense to check template quality before you download and integrate it.
The next issue worth your attention is template compatibility. Right after Gutenberg Editor was introduced, many designs have become incompatible with the system. This frequently depends on the current software version you use. Thus, testing the template in the staging environment has become a must before you actually roll it out.
When it comes to template customization and editing, you also have two options here. As mentioned above, Gutenberg Editor is a far easier solution for beginners. This especially concerns users, who have the experience of working with website builders.
No deep coding knowledge is required to set up websites here. What you actually need is to create a website interface, new pages and add content blocks/widgets based on your website specialization. The editor provides you with guidelines on how to do that with minimum time/effort investment.
Have deeper programming knowledge? Then you can avail more opportunities and design customization features to set up professional websites, working with PHP/CSS codes. This is due to the open-source nature of the system and integrated code editor that comes with all the template files you can configure.
What you should also know is that each WordPress template has individual settings that allow uploading media files/logo, changing the color scheme, integrating and enabling/disabling extensions, creating menus etc.
The number of settings you need to adjust generally depends on the theme you choose for customization, although, there is a standard feature set typical for each design.
Whatever template you will go for, you will also face the need to integrate external plugins and add-ons. Complete WordPress website customization is impossible without this step. If you intend to create a full-featured project.
The CMS has a built-in collection of plugins available in its official catalog, while many more extensions are available on the web. Widgets are required to create SEO- and user-friendly content, launch effective promo and marketing campaigns, stay in touch with the target audience, control website performance and statistics etc.
Just like designs, WordPress plugins are free and paid, with free extensions being less secure and reliable because of the increased risk of malware threats. Mind that the latest WordPress versions come with automated plugin/template/system updates.
However, you initially need to activate the feature manually and check whether there are compatibility issues that may affect your further website work.
WordPress SEO
It's quite difficult to call WordPress a SEO-friendly platform in its original version. To reach worthy results and to rank high in the search engines, you will have to complete several must-have steps. And, of course, do not forget to publish interesting, relevant and, what matters most, unique content for quality project SEO.
To start with, you need to select a SEO-friendly theme, which would comply with a number of requirements. These initially include fast web page load speed, standard HTML5/CSS3 coding parameters and other settings.
Paid templates usually have these features, while free designs require more attention. Check their descriptions first to make sure they are SEO-friendly by default.
As soon as you pick a theme, you will need to manually change standard template configurations. This is done in the general template settings section, where you can specify the website address to further add it to Google Search Console to be better tracked by the search engines.
If you don't know what to start with, go ahead to set up the link format that looks like «website/category/post title». Then reach the "Regular Links" section and select the "Random" option. The next step is to insert the meaning into the following field: /%category%/%postname%.html.
These are the major SEO settings you can fill out independently. Further website optimization is better completed via integration of corresponding SEO plugins.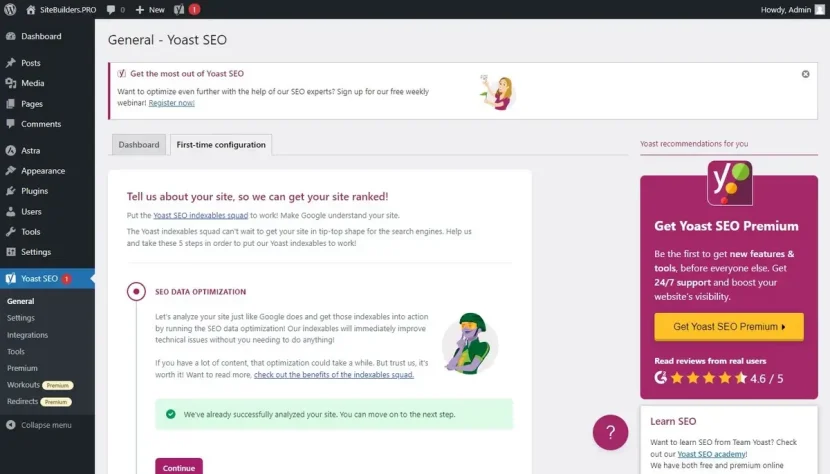 There are many SEO extensions to choose from, but the most popular and effective ones are Yoast SEO and All in One SEO Pack.
The impact of these plugins on website performance and promotion is not limited to the main search engine optimization settings only. They cover the entire range of project optimization requirements, starting from meta tags for the search engine bots and up to XML sitemap creation.
You can pick any extension and integrate it into your website. As soon as you do that, you will be redirected to the new section in the project editor to fill out the main SEO parameters – title, description and keywords.
Other settings can be adjusted here as well, depending upon your project requirements and result you would like to avail.
How Much Does It Cost to Build a Website on WordPress?
WordPress is a free Content Management System. This doesn't mean, however, that starting and managing a full-featured project with it is completely free. There are several features to invest in to get a professional result. Have a look at these parameters now:
Template Choice. As mentioned above, users may select and customize free designs yet premium ones are still more quality, contemporary and professional. The average cost of paid designs ranges between $45 and $90, depending on their type, integrated features, flexibility, degree of customization required and general implication;
Plugin Integration. Just like templates, WordPress plugins may also be free and paid. This also depends on multiple issues. The cost of premium extensions constitutes around $20-$40. Mind that some plugins require a one-time payment, while the use of other extensions may imply a monthly/annual payment;
Domain Name Connection. The price of domain name may also differ based on the type, zone and registrar you go for. Some hosts offer special terms for the first year of domain name use. It is frequently possible to get a free domain as a bonus offer. Other cost-saving solutions are possible as well;
Hosting. Just like domain name price, hosting cost differs as well. It's no secret that there are many different hosting providers out there. Many of them have special pricing packages for WordPress websites. The most suitable and cost-effective option is choosing Bluehost. It has several plans to choose from, which differ in terms, tools, features and budget. The cheapest Bluehost plan currently costs $2.95/mo, which is obviously a great offer for the owners of WordPress websites.
To sum that all up, the average cost of a website powered by WordPress will constitute around $95-$100 per year.
Additionally, you may have to invest in further website maintenance and management. This will depend upon your expertise rate and ability to independently handle certain design/functionality-related issues.
Bottom Line
It goes without saying that WordPress is the most popular and feature-rich Content Management System in the global web design niche. There is hardly a task it cannot solve.
The software can be effectively used to set up, manage, customize and promote all types of commercial and non-commercial projects.
The platform abounds in design customization features and it also delivers exceptional flexibility. It stands out from the crowd due to its powerful integration options and amazing template choice.
Actually, we may discuss WordPress advantages for quite a long period of time, but we should also admit that the CMS is not a simple all-in-one solution. Its professional use undoubtedly requires at least baseline programming proficiency and web design background.
Newbies will need much time to explore the integrated functionality of the service and to find out the way it works. Even if they manage to set up a website with the software independently, it will still be complicated to deal with its further management.
Another issue to keep in mind WordPress is not the all-in-one web design solution. To go live with a new project, you will have to bother about domain name and hosting choice.
In this respect, it makes sense to choose WP-optimized hosts like Bluehost, but it also takes effort, time and money to get started.
Finally, we can't but mention compatibility issues. WordPress requires regular updates. This initially concerns plugins and templates. You have to check twice, whether the selected themes and extensions comply with your current WordPress version not to put your website at risk.
These are only a few reasons that urge the software users to switch to other web design systems, many of which are much simpler yet still quite functional.