Among numerous website builders available today, WordPress and Squarespace take the leading positions. WordPress is an open-source CMS that has been in service since 2003 and can be used in two forms: WordPres.com and self-hosted WordPress. The latter will be the subject matter of this comparison as long as the software has many advantages. Still, many users become disappointed with its complexity and search for a more straightforward solution.
Squarespace is another Content Management System whose story started in 2004. Now, this is one of the most popular site development solutions. The vital benefit of the software is its high level of usability. Users without coding skills can easily cope with it hands-free. Even if they wish to migrate their existing WordPress site to Squarespace, they can expect complete assistance from Support and run the procedure in no time.
However, both solutions are well-equipped and have enough tools for your project. Which one should you choose? Our detailed comparison will let you find the answer.
Key Similarities
Both Squarespace and WordPress serve the same purpose and grant similar services. These are website builders with built-in CMS software. They offer a wide range of instruments to design your website and provide it with specific functions. They include the following features:
Design templates;
eCommerce features;
Marketing tools;
SEO instruments;
The ability to manage your website from a mobile gadget;
The ability to edit code.
But take any of these components, and you'll see that both platforms differ in how this software works, how complex it is to use, and how extended its capabilities are.
Read also: WordPress Review.
Differences
The first evident difference between the two solutions is their level of usability. Squarespace was initially designed to let users create websites in the most comfortable way, regardless of their knowledge level. Although the site builder allows manipulations with code, it is mainly addressed to non-coders.
When it comes to the downloadable, self-hosted version of WordPress, this instrument is much more complicated than Squarespace. Thanks to the open code source, users get access to unlimited customization possibilities if they know what they do. So, the program is an excellent choice for a professional developer, but a complete non-coder might feel perplexed with such a complex set of tools and available plugins very soon.
One more difference is customer support. Squarespace is offered as SaaS, that is, Software as a Service. You may expect full support from the team – it'll be included in your plan. Again, it is crucial for beginners, and Squarespace grants them a chance to build a professional website with their own hands.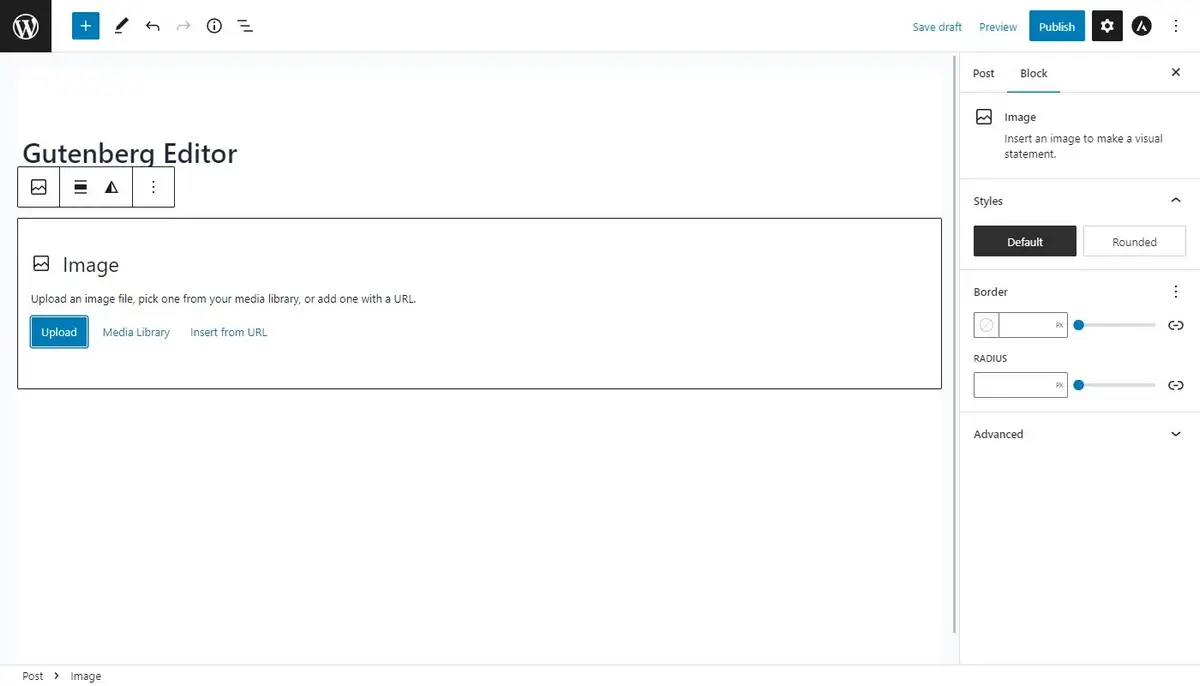 WordPress is a downloadable software, and in case you need help, you'll have to hire a WordPress-oriented developer. There are plenty of such specialists today. However, it'll take an extra cost.
Finally, in terms of security, the two platforms differ very much. Squarespace offers packages with various features and built-in services, security options included. In the case of WordPress, your security is what you need to care about yourself.
Now, let's have a step-by-step comparison of Squarespace and WordPress.
What Is Easier to Use?
Here, Squarespace is an absolute winner. The site builder is equipped with a very simple-to-use editor. Its latest version is Fluid Engine. With its help, a user can easily define the design and content organization of their website, no matter how deep their knowledge in web design is.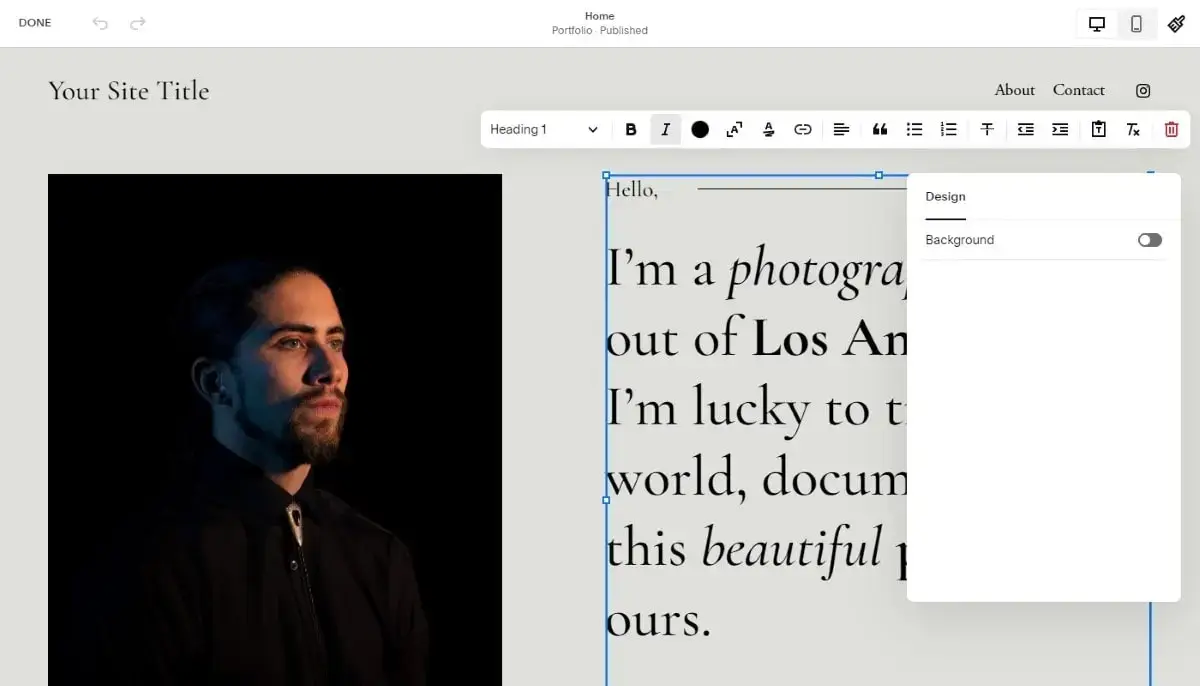 Thanks to Drag & Drop, they only need to click on an element to manage its settings or move it around the page and position it wherever they want. The editor also allows for maintaining several versions of the website under construction. They can be previewed before publishing.
No coding at all. And the best thing about the Squarespace editor is that all its functions are designed so that you can't spoil your final result or make a critical mistake during the creative process.
In the case of WordPress, users can expect a high level of ease of use, too, but only if they have certain skills in coding and web design. For a beginner, the downloadable variant of WordPress might be too complex.
Here, much depends on your chosen hosting company, but the editing process might require time and effort anyway. The good side is that you can customize practically everything in your website's structure.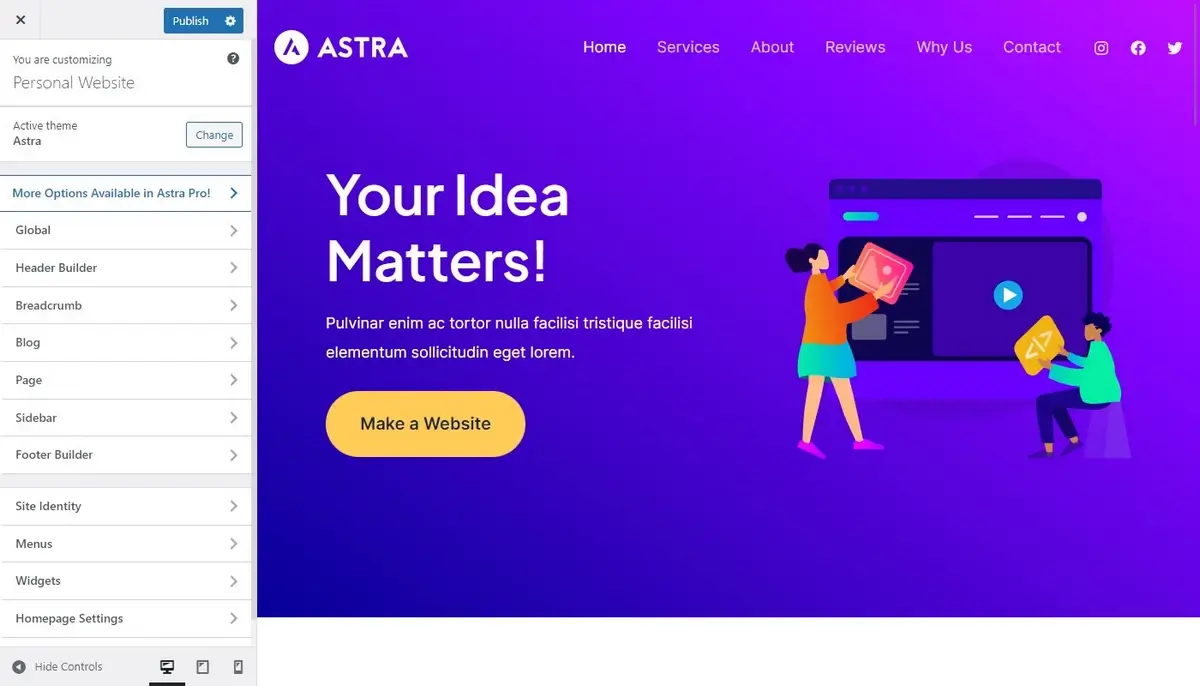 But if you wish to launch a site with the help of WordPress and have no special skills in website development, you'll need to involve someone competent in such a task.
Another solution is to use a third-party application to supply your WordPress editor with Drag & Drop functions. This, however, may lead to a significant slowdown of the whole process.
Design Options Comparison
Let's compare the templates of both site builders. In terms of their quantity, WordPress has no counterparts. While Squarespace offers about 150 templates, only official themes from WordPress make up ten thousand items. But Squarespace templates have two essential advantages for beginners.
First, their quality is one of the best, if not the best, when compared with WordPress and other competitors. The second benefit is that you can pick any Squarespace template and easily customize it. Fonts, elements arrangement on the pages, styles, sizes – everything is simple to edit thanks to the very handy interface of the software. When using Squarespace templates, be ready for the following:
No coding is involved.
Edits are easy to do thanks to a Drag & Drop template editor.
You see all the changes at once.
The Preview option.
The custom CSS editor option.
Limited customization power when compared with WordPress.
But there's no chance you create something completely unfit with Squarespace templates.
When it comes to WordPress, its big plus is that it gives you practically complete customization freedom. Yet, in many cases, you'll need to add specific plugins to the editor to implement your web design ideas.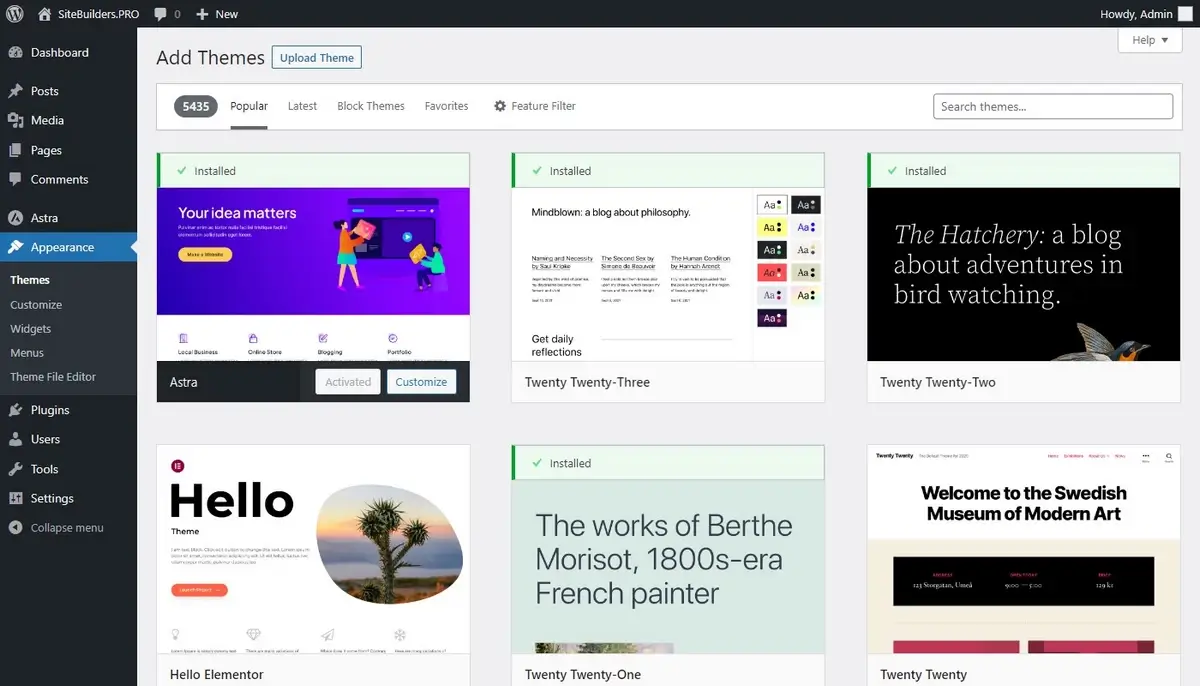 However, the main drawback of WordPress for a non-coder is that you must know strictly which features are necessary for your website and which WordPress template will suit this purpose. If you are at sea at this, the freedom offered by the software may turn into a real disaster for your project. And you won't be able to see your edits until you publish your website!
Moreover, when choosing a non-official theme for WordPress, you should realize that any third-party templates may contain malicious code. So, again, Squarespace is better for beginners and non-developers since they would scarcely need a choice of thousands of templates. Still, they are sure to need high-quality, easily-customizable, and secure themes. This is where Squarespace is the winner.
Website Functionality Comparison
A strong point of Squarespace is that the platform contains more built-in features than WordPress. That is, in many cases, you won't need to download and install side plugins with Squarespace, while their usage is absolutely inevitable when developing a website via WordPress. In Squarespace, you can use the following eCommerce, marketing, analytical, and other instruments by "switching them on" through the dashboard:
An easy-to-use shopping cart;
Automatic abandoned cart recovery;
Gift cards & Discount Codes;
Customer accounts;
Prepaid sections for selling premium products;
Dropbox;
Mailchimp;
Google Workspace;
Squarespace Analytics;
GetResponse, Campaign Monitor, and other apps for mailing and creating forms;
Social networking accounts;
Social feeds tools;
Blogging tools;
Podcast tools.
More apps can be added via Squarespace. They look pretty much like WordPress plugins. Their number is limited – you have a choice of about thirty add-ons. But these are ultra-useful, quality apps necessary for auto-syncing your data to QuickBooks or Xero, launching feedback surveys, managing the inventory, and many more.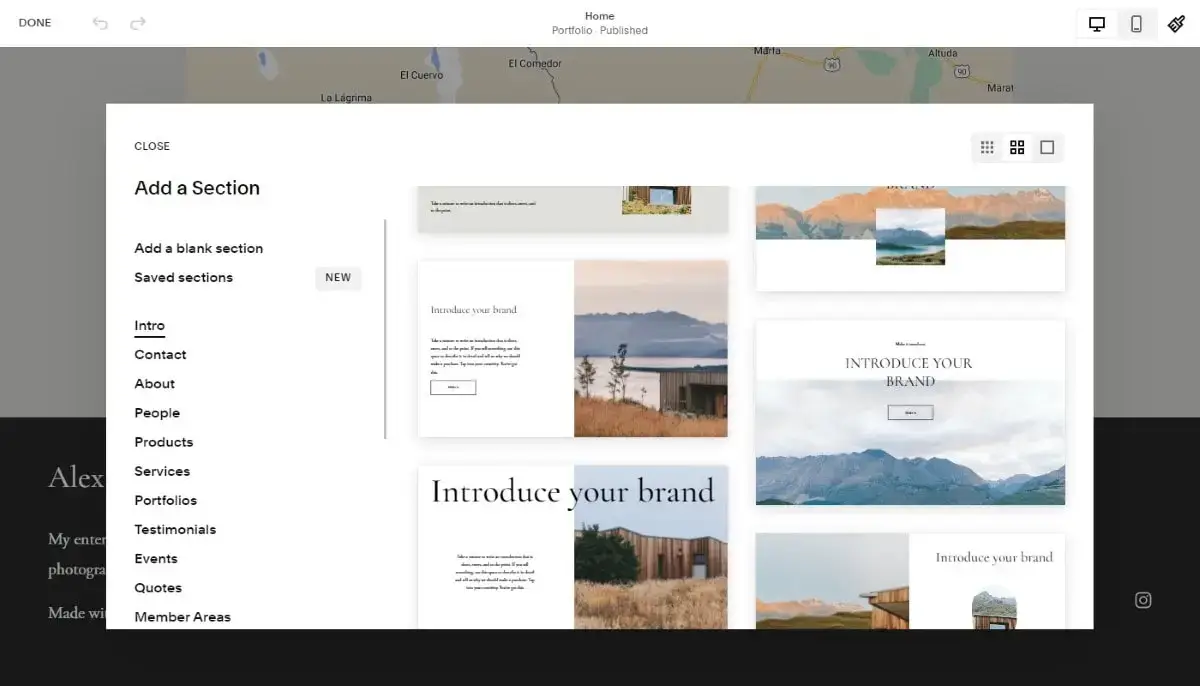 The WordPress Plugin directory contains over 60 thousand plugins. You can also hire a specialist to create a wholly original plugin for your website. So, when ready to raise the cost of your website, you are free to supply it with absolutely unique features.
WordPress itself offers only a small number of plugins. These are pretty useful features like these:
Design customization tools;
An image editor;
Publishing/Scheduling instruments;
Password-protected pages;
Multilingual site tools, and more.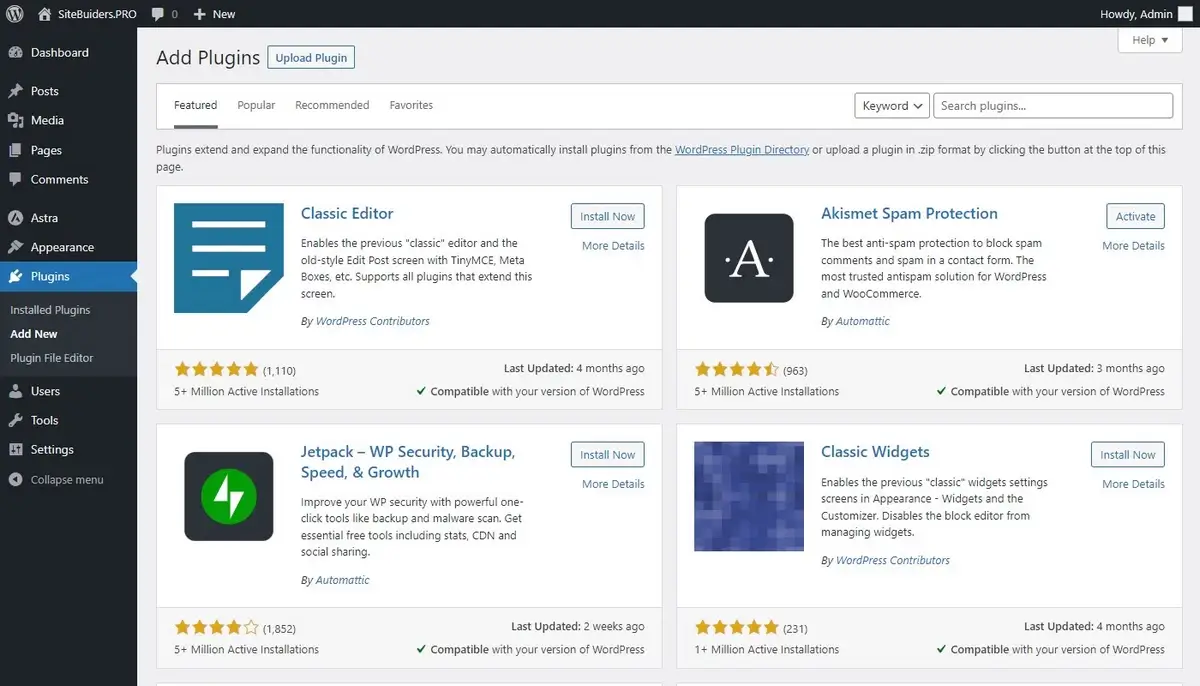 All the others represent third-party software. But each WordPress plugin requires installation on your website and proper maintenance in the future. This can cause problems for your website if using too many of them. If not updated in time, they may significantly slow down your website. Your Squarespace project definitely won't depend so much on plugins, and most of them will be updated automatically.
Where WordPress beats Squarespace is in customization. Once you have installed a plugin on your WordPress-based website, you get complete control over its functionality. Squarespace won't grant you such freedom (if you actually need it!)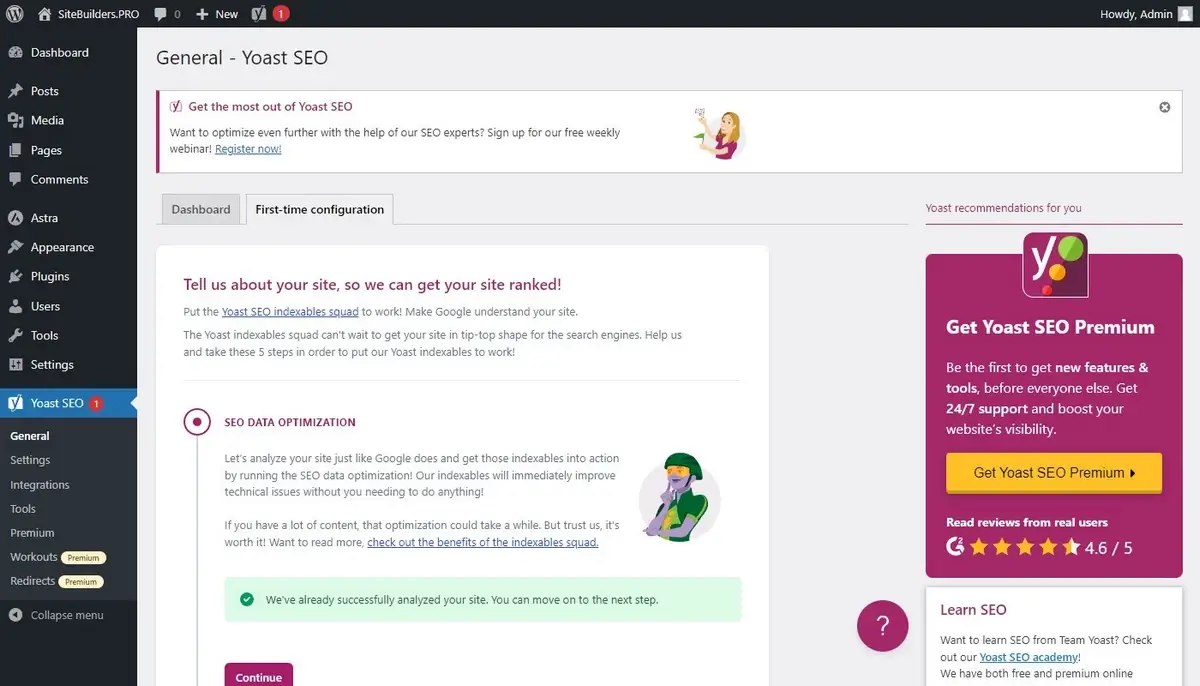 Take SEO tools as an example. WordPress will give you all the freedom to manage SEO for your site. It allows installing numerous apps for tuning up your SEO settings. As to Squarespace, you won't be able to add Yoast or a similar extension to your site. Instead of this, the software allows the development of Google-friendly websites by default.
Be sure that your site will be supplied with proper HTML markup, generated XML sitemaps, etc. You can easily edit headings, titles, and other elements for your pages. And this might be enough to ensure your website's excellent visibility in Google search results.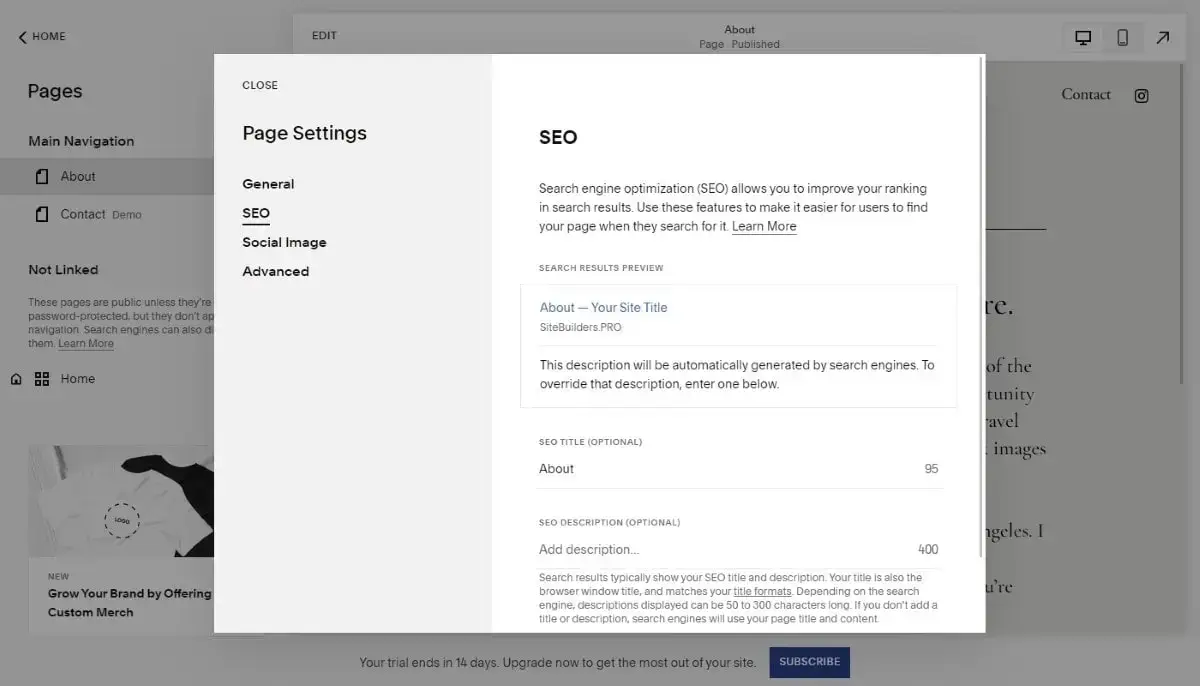 The same is true for security options. While Squarespace takes the protection of your website on itself and won't allow you to customize it much, WordPress fully entrusts this mission into your hands. You need to be knowledgeable in this area to ensure enough security for your WordPress site.
So, when comparing the feature sets of both competitors, we give the palm to Squarespace since it offers enough add-ons and built-in features to launch a website and does not require complex installations or tune-ups. In this respect, WordPress can be the best solution only for a pro developer or someone ready to hire a WordPress expert for an extra cost.
Pricing Opportunities
Finally, let's compare the pricing models of both Squarespace and WordPress. You might be ready to assume that the latter is more affordable since one can download and install it for free. But do not judge too fast.
Squarespace offers four plans with a 14-day free trial available for each of them. The cheapest plan, Personal, will cost you 16 per month. It includes the following:
a 1-year free custom domain;
unlimited bandwidth;
all templates;
SEO tools;
full mobile optimization;
access to basic analytical tools;
4 templates in the Squarespace Video Studio application;
up to 2 contributors allowed;
24/7 Support.
When needing a more advanced website, for instance, with an extended set of eCommerce and marketing tools, you can upgrade to a more expensive plan (Business, Commerce, or Advanced Commerce.) Here, the highest price is $49 per month.
When it comes to WordPress, it all starts with hosting. Without it, you won't have the place to install WordPress and base your website on it. This is not necessarily a drawback because you are free to choose.
For instance, you can deal with such a reliable host as HostGator, which offers separate web hosting plans for WordPress sites. When opting for such a hosting company, you can expect excellent uptime, automated updates for WordPress plugins, and many other things necessary for your website's growth viability. The Starter WordPress hosting plan here will cost you $5.95 per month.
However, that's not all. Be ready to pay for eCommerce add-ons, extra plugins, and pro themes for your WordPress site. Moreover, chances you'll need to hire a developer to help you with all this software in case you don't have enough skills to do it yourself.
Thus, the total cost of your "free" WordPress website may be much higher than the one based on Squarespace.
Verdict
WordPress and Squarespace serve the same purpose, but they do it entirely differently. While WordPress is addressed to professional website developers and ready to grant them complete control over their websites' settings, Squarespace offers less freedom to its users. Still, even a total beginner can build a professional Squarespace website without a developer's help.
WordPress is said to be "free," but you'll need to pay for hosting and, most probably, for the necessary extras and expert assistance. No matter which Squarespace paid plan you choose, it will cost you less in most cases. So, we recommend Squarespace to beginners and those searching for a site builder that offers good value for money.