Choosing the right website builder can be quite a tricky task. This is no wonder, taking into account an amazing versatility of options available out there. If you're unsure which one to go for, Squarespace might just be the best pick!
Squarespace is like an all-in-one DIY cloud website builder designed for everyone. Whether you're working on a business project or a unique personal project, the system will get you covered. It's especially great for businesses and eCommerce projects, offering a bunch of cool features and tools.
You'll find a ton of stylish templates, powerful blogging and eCommerce tools, useful apps and even an option that lets you easily move a website from other platforms. But, I have to admit, it might not be the easiest system for beginners. It takes some effort and time to get the hang of all its features. Some of them, by the way, require separate subscriptions. Keep that in mind when calculating your budget.
The good news, however, is that Squarespace is flexible and suits different types of users and projects. To see if it's the right fit for you, let's dive into the main features and see how they match your needs.
Read also: What Is the Best Website Builder for Small Business.
What Is Squarespace?
Squarespace has distinguished itself as a flexible, customizable and convenient system that has much to offer to all user categories.
Along with enhanced usability, Google Workspace and Getty images support, Cover Page Builder and other advantages, the website builder offers a list of other highlights everyone has to be aware of:
Impressive template collection;
Powerful eCommerce and blogging modules;
Email marketing system;
Team cooperation;
Numerous extensions;
Impressive Template Collection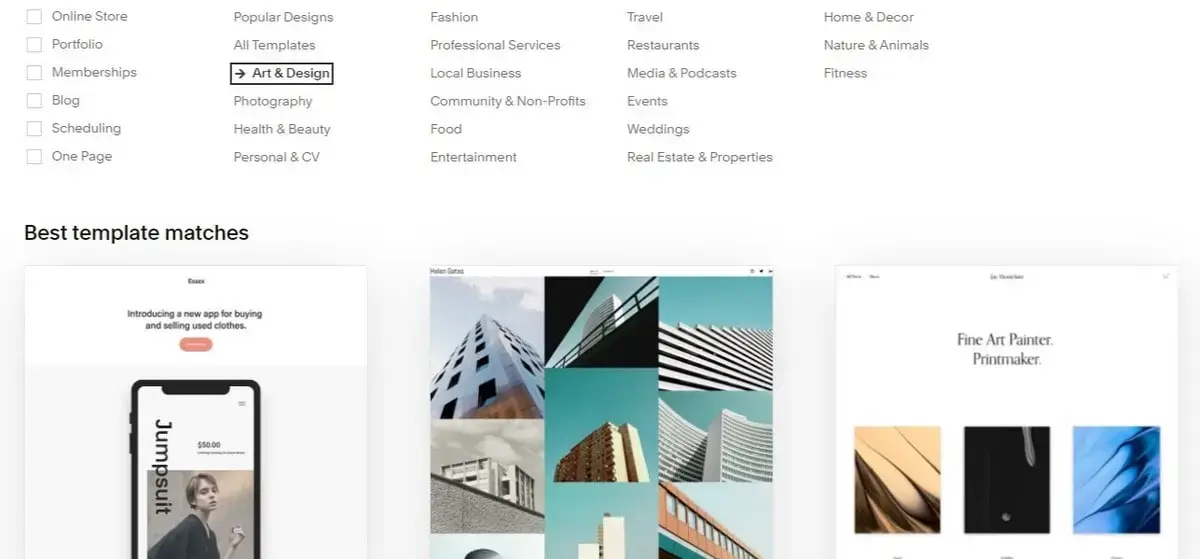 Squarespace has a collection of free and premium designs divided into categories. You have an opportunity to select a suitable theme right from the start. Just sign up for a personal account and the system will offer to specify the type of project you intend to set up. Based on this data, it will offer a suitable design.
What's more, Squarespace's commitment to user experience is manifested in its responsive templates, ensuring your website looks fantastic on any device. With AMP (Accelerated Mobile Pages) support, your project will be optimized for speedy and seamless mobile browsing. This thoughtful inclusion reflects the platform's dedication to providing a satisfying website-building experience.
Read also:
Squarespace vs. Wix
Powerful eCommerce and Blogging Modules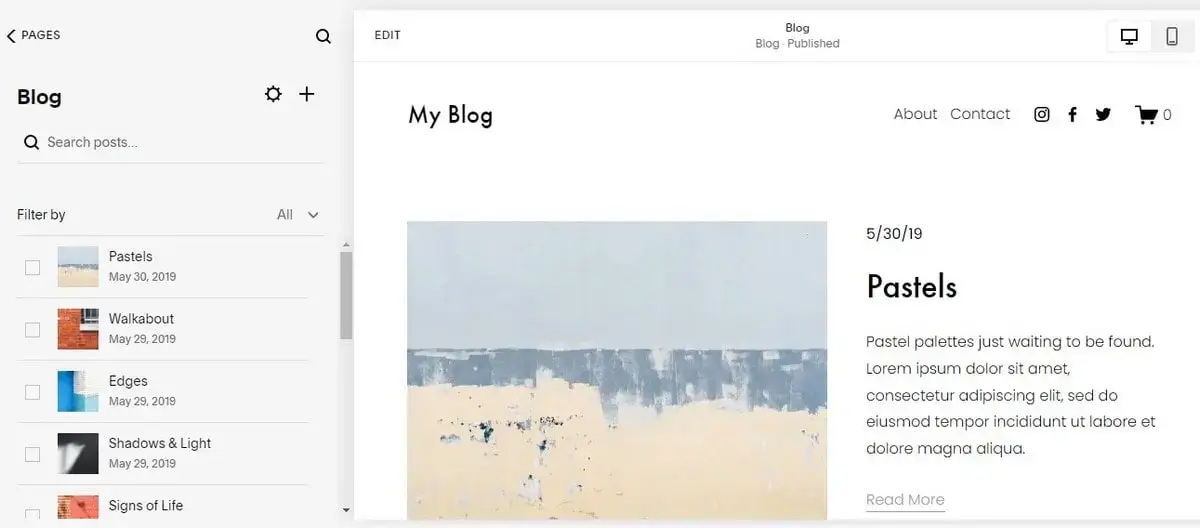 The website builder includes full-featured blogging and eCommerce engines, thus, letting its subscribers create blogs and online stores.
For those willing to sell online, Squarespace offers a built-in eCommerce solution that seamlessly integrates with your website. From customizable product pages to secure payment options, the software ensures a smooth and professional online shopping experience for both merchants and customers.
The range of eCommerce features includes inventory management, order processing and analytics tools. They empower businesses to efficiently handle transactions and track web store performance.
Additionally, the website builder offers a separate collection of eCommerce templates that combine aesthetic appeal with functionality needed to showcase products in the most favorable light.
As to blogging, Squarespace provides a dynamic and user-friendly environment for content creators. The blogging modules offer a range of tools for crafting engaging posts, organizing content and fostering reader interaction. Due to the availability of intuitive editing features and seamless social media integration, Squarespace simplifies the process of blog set up, customization and maintenance.
Email Marketing System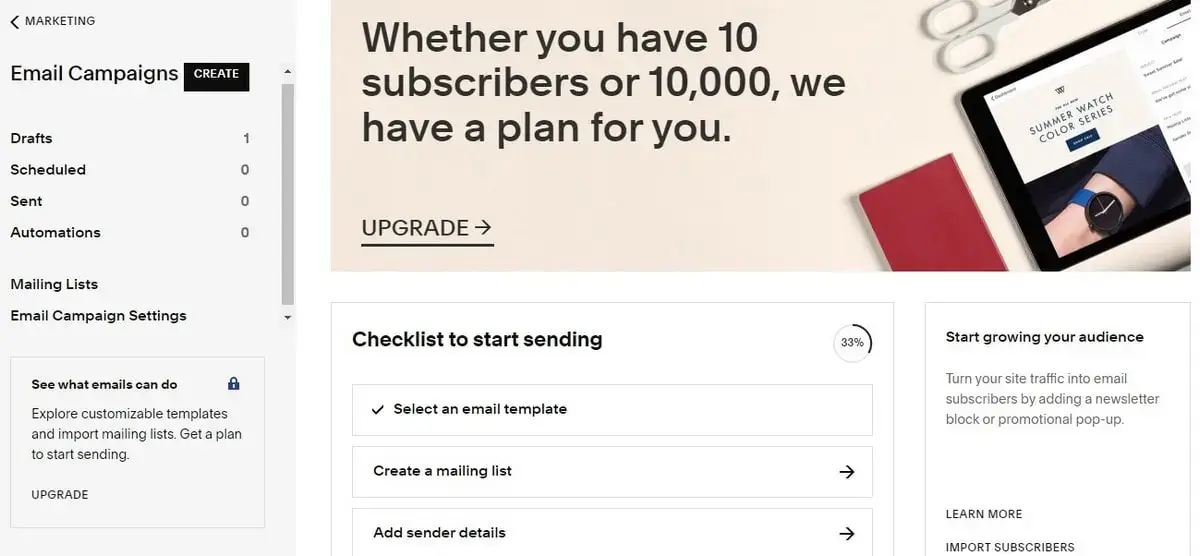 Due to the availability of the built-in email marketing system, users get access to the toolset that ensures simple and convenient website promotion. It is possible to use an integrated template builder, mailout feature, subscriber collection and other tools to make the process efficient.
The system generally simplifies the process of email marketing, offering customizable templates that align with your brand features. Users can effortlessly build mailing lists, segment their audience and schedule campaigns. It is possible to track the performance of your emails, gaining insights into open rates, click-through rates and subscriber engagement. You can discover this info due to the built-in analytics.
Read also:
Squarespace vs. WordPress
Team Cooperation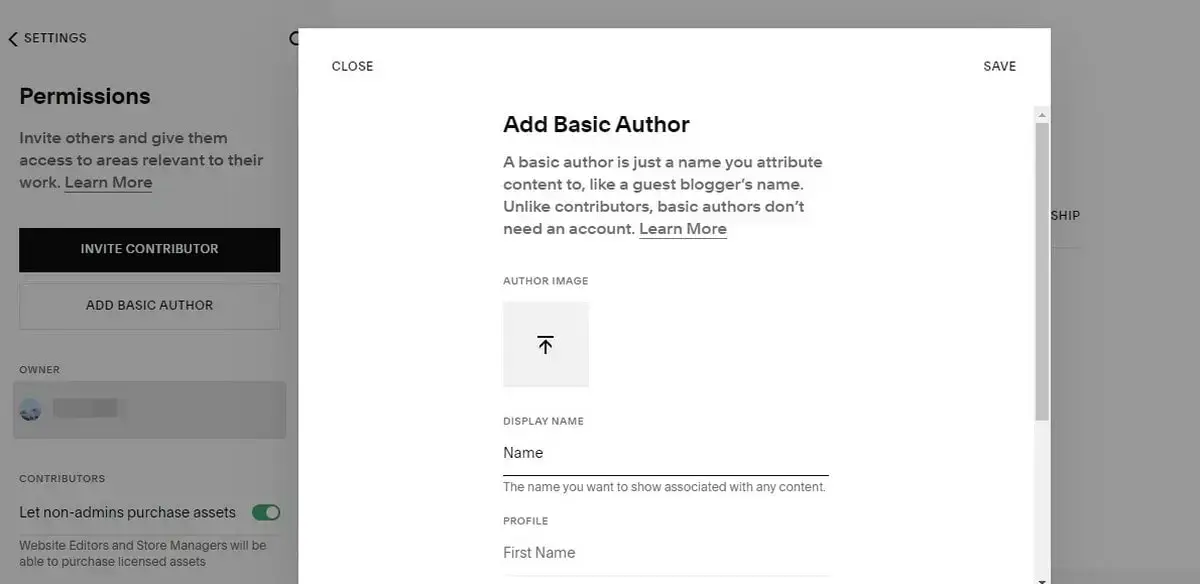 The website builder provides an opportunity of team cooperation to make the process of project management effective and professional. A website owner can grant access rights to certain projects to other team members for shared customization and management. Squarespace's intuitive interface allows team members to collaborate on different aspects of a project, from designing pages to managing content and optimizing for search engines.
The platform offers role-based permissions, ensuring that each team member has the appropriate level of access and control. This feature enhances security and enables a smooth workflow without compromising on data integrity. Real-time updates and version history tracking further contribute to more effective collaboration, letting teams stay informed and switch to previous versions if needed.
Numerous Extensions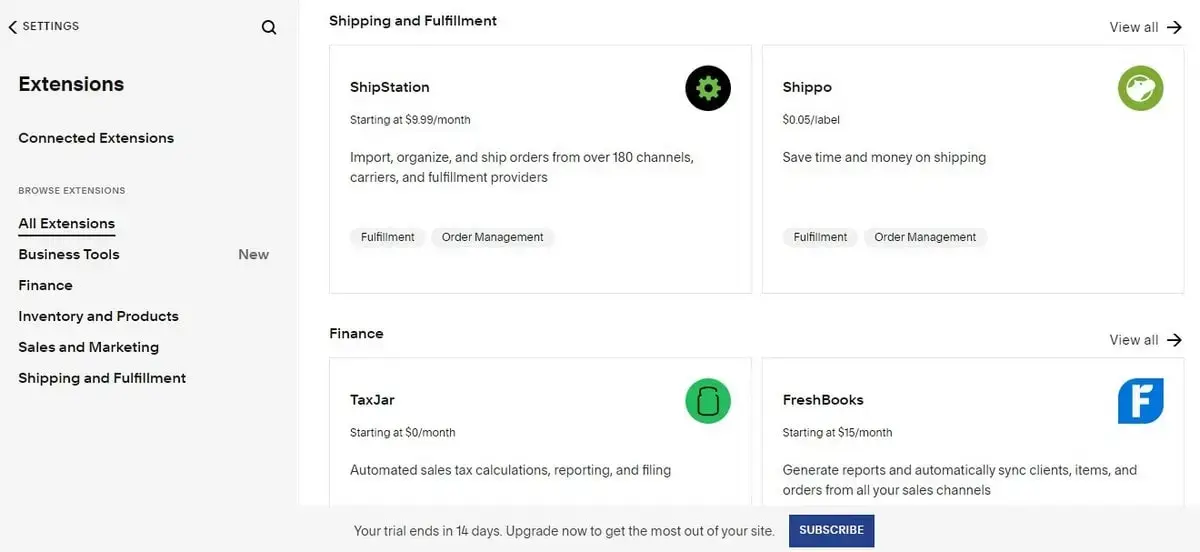 Squarespace has a collection of ready-made applications for convenient and handy web store and website management. These extensions cover a wide array of functionalities – from advanced analytics and social media integration to eCommerce tools and customer relationship management.
It is possible to connect stats tracking/analytic/SEO tools, extensions for various types of web projects (restaurant/cafe websites, wedding projects etc.), apps for creating content for social networks (like Unfold), video management integrations (like Squarespace Video Studio App), Logo Maker etc. There is also a service for scheduling meetings that comes with an integrated booking system.
Quick Website Migration
If you already own a website built with another platform like Shopify, WordPress, Etsy, BigCartel, Tumblr, Blogger or any other, you can transfer it to Squarespace servers. The website builder provides such an opportunity at no cost, which appeals to many users willing to switch to the system.
The website migration feature simplifies the transfer of content, design elements and even domain settings. Squarespace's system guides users through the necessary steps, ensuring a smooth transition without compromising data integrity. This functionality is especially valuable for those looking to make a swift switch to Squarespace, as it reduces the learning curve and allows for a seamless continuation of online presence.
Squarespace Pros and Cons
Just like any other website builder, Squarespace has its advantages and disadvantages users should be aware of.
Pros:

Cons:

Drag-and-drop user-friendly interface
Extensive collection of responsive templates
AMP support
Logo Maker
Unfold App
Squarespace Video Studio App
Integrated eCommerce/blogging platforms
SSL encryption
Advanced security features
24/7 customer support available via phone, chat, email
Quick website migration from other platforms
Integrated email marketing system
Free photo stock integration
Built-in analytics
Opportunity of team cooperation

Limited external integration options
Limited amount of video storage space
Expensive pricing plans
Free 14-day trial that is not enough to explore the entire feature set
Some extensions require separate subscriptions
Editing a Website with Squarespace
It's difficult to call Squarespace a simple website builder as it certainly requires a learning curve. This mostly concerns non-techies who work with the system for the first time.
One of the most distinctive Squarespace highlights is its drag-and-drop editor, which simplifies the entire website editing process. Users can effortlessly add and arrange elements on web pages – from text and images to videos and forms. There is no need to learn coding basics to do that. The visual editor provides a real-time preview of edits, making it possible to see how they will be displayed.
Navigating Squarespace's editing interface is straightforward, with an organized menu that grants access to various sections of the site. From the homepage to individual pages, blog posts, and the design settings, users can efficiently manage and update their content. The platform's WYSIWYG approach implies that editing is done directly on the live site, providing an accurate result display.
For those seeking more advanced customization, Squarespace allows access to the CSS and HTML, empowering users with no web design skills to adjust their projects as required. This flexibility caters to users with varying levels of technical expertise, ensuring that both beginners and experienced developers can achieve their desired website design.
The software allows creating website pages, using the sections available in stock. They are either blank or ready-made (these ones come with niche content and pre-set functionality).
If you choose and add a ready-made block, you will be offered to choose specific settings based on the type of content. Blank pages, in their turn, can also be integrated with an optional set of blocks as well as with other sections.
Along with images, buttons, text, separators and other simple blocks, Squarespace makes it possible to select and add more complex elements. These include tag clouds, input forms, online maps, search forms, tables and multiple external integrations.
Having edited the web page content, you can proceed to header/footer editing. They are available on each page and you can customize them as required.
Additionally, the website builder lets you set up design parameters for each block, including its height, animations, background etc. This takes a few clicks only and does not require deep coding proficiency at all.
Style Editor
The software also stands out from the crowd due to its Style Editor. This is a powerful tool for fine-tuning the look and feel of your website. Users can customize colors, fonts, spacing and other design elements, ensuring that the website reflects their unique brand identity. The real-time preview feature allows users to see changes instantly.
The Style Editor itself is not that complicated, but there are still a few nuances to keep in mind to use it to your advantage. Thus, to create a web page layout and to edit it as you need, you have to move the objects and sections to arrange them correctly.
Image Editor
The tool makes it possible to edit and enhance images directly within the platform. From cropping and resizing to applying filters and adjustments, Image Editor streamlines the process of creating visually captivating content, eliminating the need to look for external software.
The tool also offers a palette of filters and effects, letting users infuse their images with creative flair without the complexities of third-party editing tools. Users can rotate and flip images, enabling them to achieve the perfect orientation for their website's design. This functionality, coupled with the platform's commitment to mobile responsiveness, ensures that edited images seamlessly adapt to various screen sizes.
Logo Maker
The Logo Maker tool helps create a distinctive brand identity, letting users design personalized logos for their projects. With a diverse selection of icons, customizable text options and various layouts, users can experiment with different combinations to pick the best sample.
Squarespace Logo Maker allows adapting and refining your logos to suit different applications to give them an impressive look across various platforms – from websites to social media profiles.
Cover Page Builder
The Cover Page Builder allows users to create impactful standalone pages. Whether it's a landing page, portfolio showcase, or event announcement, this tool provides a canvas for creative expression, with customizable layouts and engaging features.
With Squarespace's Cover Page Builder, you will be able to choose from a variety of customizable layouts, each optimized for the best visual presentation and high user engagement rates. The intuitive drag-and-drop interface makes it easy to arrange elements such as images, text, and buttons, ensuring a seamless design process.
Design Customization with Squarespace
Squarespace has quite an impressive template collection made up of over 110 pre-designed niche themes and more than a hundred of web page layouts. The latter are widely used for fast content uploading.
Additionally, the website builder offers visual editor blocks and thematic sections you can modify to create a completely personalized website.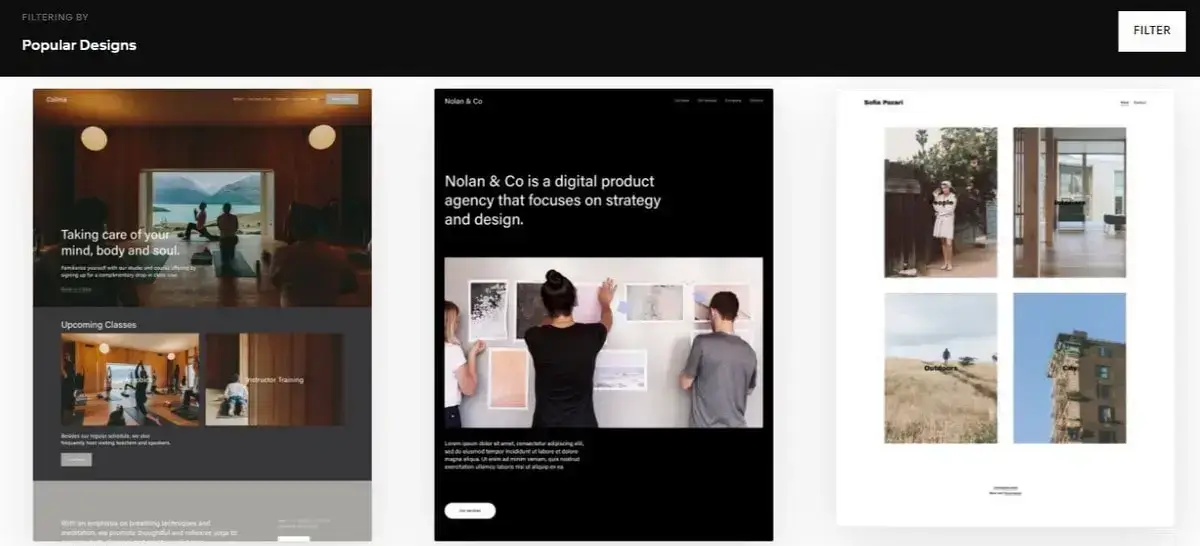 Squarespace consistently updates and adds new templates to keep pace with evolving design trends and user preferences. This commitment to staying current ensures that users have access to contemporary designs and features, helping their websites stay visually appealing and competitive in the ever-changing online landscape.
When choosing suitable design, you can filter them by the sphere of application (blogging, eCommerce, portfolio etc.) and subject. An important issue is that all Squarespace themes are responsive yet not all of them are free. The system also grants access to premium themes.
Сomplexity of design customization depends on the type of block you work on. End-to-end blocks like footer/header can be edited in the settings. However, it is impossible to upload your own template or edit the HTML codes here.
At the same time, the website builder offers separate blocks that imply an opportunity of external HTML code integration. You can also assemble your own sections here, if required.
More complex sections (like sliders, product cards, galleries etc.), on the contrary, cannot be integrated with auxiliary elements, but you can edit the layout/color scheme, if needed.
Along with standard design customization features, Squarespace grants access to professional tools. To fine-tune the colors, buttons and image blocks for your web page elements, you should reach the Theme Editor. This is where you can use custom CSS styles and even upload your own fonts/CSS chart files for more advanced results.
An important design-related aspect is the support of HTML code embedding and Markdown markup features. To implement the feature, go ahead to use special visual editor blocks. JavaScript integration, however, is currently available to Business plans subscribers only.
eCommerce Capabilities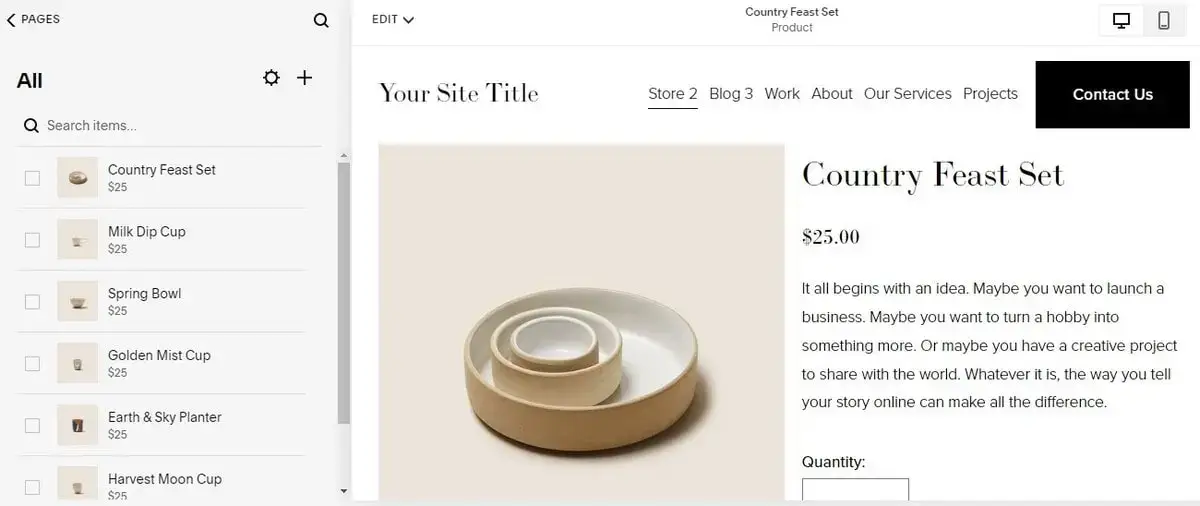 Squarespace comes with quite a powerful set of features needed for web store creation and customization. The software works well for all types of online stores – from small to medium and large eCommerce projects.
Product Management
The website builder lets you add, categorize and showcase products in your online store. The platform supports a variety of product types, letting businesses sell physical goods, digital items and services. This matters a lot for entrepreneurs and creatives willing to offer their products for sale.
eCommerce Templates
The system has a separate category of eCommerce designs to fit various industries. There is also a preview feature that lets you see the required samples in detail. Likewise, the website builder allows switching between the themes on any stage of the customization process, if you are not satisfied with the previous choice. eCommerce templates are free and paid yet all of them are responsive by default.
Secure Payment Options
Squarespace seamlessly integrates with industry-leading payment gateways like PayPal and Stripe, for example. This ensures secure and hassle-free completion of transactions. The ease of configuring these payment options boosts user experience, simplifies the entire sales process.
Customizable Checkout Experience
Squarespace makes it possible for businesses to tailor the checkout experience to align with their brand features, budget and user requirements. From personalized branding to flexible shipping and tax options, the platform empowers businesses to create a seamless and branded shopping experience for customers on all the stages – from product selection and up to the checkout.
Inventory Management Tools
Squarespace users can easily track and manage their inventory, receive low stock alerts and update product availability. This ensures that businesses can maintain accurate stock levels and provide timely information to customers.
Marketing and Analytics
Squarespace allows integrating with marketing tools to help businesses promote their products. From customizable promotional pop-ups to email marketing campaigns, users can engage with their audience in a variety of ways, driving sales. The platform also grants access to robust analytics tools, letting businesses gain insights into customer behavior, track sales activity and refine their marketing strategies.
Read also:
The Easiest and Fastest Way to Create a Website
Blogging with Squarespace
As mentioned above, Squarespace is a multifaceted all-in-one website builder suitable for various types of projects. Blogs are not an exception as the system has quite a powerful built-in blogging platform. Listed below is the overview of the most essential blog-related features.
Intuitive Content Creation
Due to the intuitive drag-and-drop editor, Squarespace allows bloggers to create engaging posts without the need for coding or web design knowledge. It is possible to add text, images, videos and other multimedia elements to set up visually appealing and interactive blogs that will drive user attention.
Blog Templates
The website builder has a separate collection of blog templates, with multiple samples to comply with various needs of users. The designs are all highly customizable and responsive by default. You can choose from free and paid themes here. If needed, you can switch to another design on any stage of the website creation process without content loss.
Organized Content Structure
When working with Squarespace, bloggers can categorize posts, add tags, create archives etc., making it easy for visitors to navigate through the blog and find relevant content. This organizational approach does not only improve the overall user experience but also contributes to better search engine visibility.
Social Media Integration
The platform seamlessly integrates with popular social media platforms like Facebook, Twitter, LinkedIn etc., letting bloggers share their posts across various channels with just a few clicks. This option enhances content distribution and attracts the attention of the target audience.
Subscriber and Comment Management
Opportunity to manage subscribers and comments will certainly appeal to bloggers and other content-creators. Users can enable subscription options, letting visitors receive updates on new posts. Bloggers can also engage with their audience via adding and managing comments whenever required.
SEO Capabilities
Squarespace positions itself as a SEO-friendly website builder. All projects it powers rank quite high in the search engine results. Let's review the major SEO-related features now so that you could get a notion of the platform's capabilities.
SEO-Friendly Features
The website builder generates headings for posts and products in the automated mode to further use them as SEO titles for web pages. If you wish to do that individually, you won't have this opportunity.
What you can still do here is filling out SEO boxes with meta tags and descriptions for certain pages as well as for the entire website.
When working on your project development, you can hide separate pages or the website in general from being indexed by the search engine bots. This is done in the SEO settings section, helping preserve current positions of your project. To enable the feature, add the "noindex" tag to the required page. That's it.
Content presentation also matters a lot, when it comes to clean project indexing. You need to thoroughly select, add and set up the info to make sure it is unique and relevant to your website specialization.
If you cannot decide what steps to undertake when adjusting your website SEO parameters, the system will give you a hint. There is a list to follow before and after project publication.
Mobile Responsiveness and Page Speed
Squarespace is a mobile-friendly website builder. This concerns all the software aspects. The designs the software has in stock are responsive by default, which is also one of priorities for Google when it comes to project indexing. Additionally, Squarespace's infrastructure is optimized for fast page loading, a critical factor in both user experience and search engine rankings.
SSL Certification
When it tackles the process of SEO optimization, security remains a priority as well. The automatic provision of SSL certification for all websites is one of the aspects you should start with. This certification encrypts the data exchanged between the user's browser and the website, guaranteeing a secure browsing experience and higher positions in the search engine rankings.
Structured Data and Schema Markup
Availability of structured data and schema markup improve the way the search engines understand and display the content published on your website. Users can easily add structured data to their pages, providing search engines with additional context related to the content. This triggers better search engine results, potentially leading to higher click-through rates.
Technical SEO
Squarespace excels in technical SEO aspects, which is not quite typical for a custom DIY website builder. Granting access to critical elements, it impacts search engine rankings. From customizable 301 redirects for managing URL changes to clean and organized HTML markup, Squarespace provides a solid basis for the most effective tech SEO practices. It is also possible to manage your website's XML sitemap so that search engines could effectively crawl and index all relevant pages.
Migration and Export Options
Squarespace is also known for its website migration options, making it possible to move a project from/to its servers. The process can be handled even by a newbie yet it still requires at least baseline coding proficiency.
Migrating to Squarespace
For users looking to migrate their websites to Squarespace, the platform offers straightforward solutions. Squarespace's Import/Export tool proves to be quite effective when you need to transfer content from other platforms. If you already have a website powered by WordPress (my review), Shopify (my review), BigCommerce, Tumblr or another website builder/CMS, the system allows importing it to Squarespace servers with just a few clicks. Offering a list of guidelines, it ensures a smooth transaction with subsequent content editing and publication.
Migrating from Squarespace
The Export feature is available here as well, being useful to those who intend to migrate away from Squarespace. Users can download their content in a structured format to further export the data as an XML file to make it compatible with other software.
Data Export Options
With Squarespace, you can export various content types that include blog posts, product information, basic site settings, images and other related elements. Mind, however, that not all design aspects can be exported here. Some elements require manual export. Take your time to figure that out before you initiate the migration process.
How Much Does Squarespace Cost?
There is no free plan to get started with Squarespace. The system just provides an opportunity to test its features during 14 days at no cost. As soon as the trial ends, you will be offered to upgrade to one of premium subscriptions.
Currently, the website builder offers four plans. They differ in tools and features, such as bandwidth and disk space, opportunity of extra account connection, domain/hosting price, extendability, tech support options, code editing solutions, promo offers and website analytics., eCommerce parameters etc.
The choice of the most suitable plan mainly depends on the type of project you intend to set up and the goal you wish to reach. The average prices and plans are reviewed in the chart below.
Personal
Business
Commerce Basic
Commerce Advanced
$16/mo ($192/year)
$23/mo ($276/year)
$27/mo ($324/year)
$49/mo ($588/year)
Mobile optimized websites
Templates to fit any needs
Free custom domain
Advanced website analytics
Fully integrated eCommerce
A 3% commission fee is charged for physical products/services
Premium integrations and blocks
CSS/JavaScript customization
Promo banners for better sale
Checkout on your domain
Personal customer accounts
Advanced analytics for the eCommerce module
Integration with Instagram store
0% commission fee is charged for physical products/services
Powerful merchandising
Abandoned shopping cart reminders
Subscription sales
Advanced shipping and discounting
Commercial API
Opportunity to sell subscriptions
All Squarespace plans include free custom domain name connection as a bonus. Upon the end of the offer, the domain name cost will start at $20/year depending on the domain name zone. Hosting is provided by default due to the all-in-one nature of the website builder.
Additionally, you may like to invest in extra automation (planning) tools, the cost of which ranges between $14 and $50 per month.
The price of the Unfold App is between $2.99 and $12.99 per month, while that of the integrated email service starts at $5 to reach $68 per month.
To sum that all up, the cheapest price of building a website with Squarespace may constitute $212, while the most expensive eCommerce project will cost you around $608 per year. These fees do not include the cost of external integrations, automation tools and applications.
Is Squarespace a Good Website Builder?
Choosing Squarespace as a web building tool makes sense, if you are ready to spend some time/effort to explore the system and if you possess baseline programming knowledge to make your project personalized.
As a cloud website builder, Squarespace does not require obligatory programming proficiency yet you won't be able to set up and run a professional business/eCommerce website without a bit of coding knowledge.
The platform mostly targets experienced web designers yet it has much to offer to beginners as well. The system subscribers will benefit from the opportunity to pick a suitable template, use multiple design customization tools, integrate applications and adjust SEO/marketing parameters.
The website builder also comes with powerful blogging/eCommerce engines, thus, letting you create blogs and digital stores. Multilingual support is available here as well to enable users manage web projects in different language versions.
If you don't have a brand logo yet, you will be able to design the one, using the advantages of the built-in Logo Maker tool.
In terms of pricing policy, though, Squarespace is not the cheapest solution. The cost of its plans is slightly above average, but you will additionally need to invest in some external integrations, premium designs, domain name and other extra features that affect your website design and performance.
So, take your time to consider all these nuances, when choosing Squarespace. If you already use the software and have an intention to switch to the alternative web design platform, there are multiple solutions to try.