Starting an eCommerce project is never a simple task, no matter what web design expertise and programming skills you possess. There are multiple issues to keep in mind and lots of aspects a full-featured web store should include.
With Shopify, you will be able to set up and run a professional digital store, even if this is your first web design experience.
Shopify has rightfully distinguished itself as the best and the most powerful eCommerce software available in the modern website design market. There are no web stores you won't be able to create with it.
The system works great for all types of eCommerce projects, irrespective of their specialization, complexity and integrated functionality.
The platform includes a broad range of advanced eCommerce features, a blogging platform, flexible settings, a collection of responsive designs as well as extensive customization, promotion and marketing tools.
As the all-in-one eCommerce solution, Shopify makes it possible both to build and host online stores on its servers. Thus, there is no need to look for third-party hosting providers out there.
At the same time, you should realize that its integrated eCommerce functionality works well for medium and large-scale projects.
If you need a small web store, it doesn't make sense to opt for Shopify as there are simpler and less complicated all-in-one and specialized website builders out there.
To help you decide, whether the software is a good choice for you or you need an easier alternative, go ahead to read the detailed review below.
What Is Shopify?
Shopify comes with multiple built-in eCommerce options yet it also allows for third-party integrations. The list of its highlights is quite extensive as the system targets all user categories. Have a look at the main advantages of the platform now:
Ease of use;
Powerful eCommerce focus;
POS software;
eCommerce designs;
All-in-one approach;
Integrated App Store.
Ease of Use
Regardless of its strong eCommerce focus, the software is still quite easy to use for everyone. It is equally great for beginners with zero programming skills and for web design pros looking for maximum freedom of design customization. It may take some time to explore the platform, of course, but you will eventually be able to set up a ready-to-go online store in several hours with Shopify.
Powerful eCommerce Focus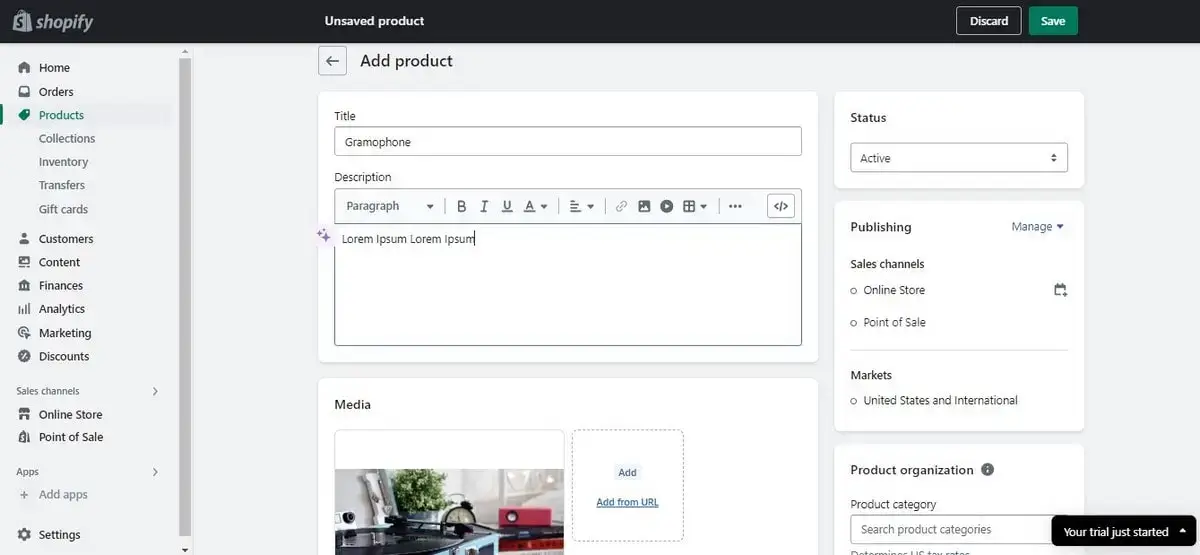 Shopify is the most popular and feature-rich eCommerce software. Obviously, it grants access to dozens of advanced features for professional web store development. Shopify offers everything from abandoned shopping cart recovery and dropshipping to reporting, email marketing, multi-channel/multi currency support, external marketplace integration and other eCommerce-related features.
POS Software
The system is known for its advanced POS (Point-of-Sale) software, which is a perfect solution for store owners willing to sell products both online and offline. The hardware is compatible with Android and iOs devices, which allows receiving mobile payments even on the go. Some of the major Shopify POS features include support of several land-based websites, opportunity of staff/order management from the single dashboard, printed receipt set up and customization etc.
eCommerce Designs
Shopify has an extensive collection of eCommerce templates that refer to various sales niches. All of them are responsive and they do not require deep customization. What you need is to add products and content to immediately proceed to the trading process. Users have an opportunity to choose from free and premium designs, all of which, however, look professional and stylish.
All-In-One Approach
With Shopify, you have an opportunity both to set up an online store in several hours, manage it with regard to your liking and host it on the software servers. There is no need to pick a third-party hosting provider or to connect an external domain. The same is about SSL Certificate connection. All these features are available by default in each plan.
Integrated App Store
Shopify App Store is that very destination you should access to select and integrate various add-ons and widgets in order to boost your web store performance. Users may choose from 12 various categories that refer to diverse eCommerce aspects. You may select applications for product management/navigation, customer interaction, inventory management, online store promotion and security etc. Some apps are free, while others are paid or available on a free-trial basis.
What is Shopify Used For?
Regardless of its advanced functionality and rich integrated feature set, Shopify is quite an easy-to-use web design platform. It comes with a simple and intuitive editor that lets you control the process of website development.
To start working on your project, you initially need to access the editor to be able to work with the custom page overlay. This is applicable for editing both blank and pre-designed templates.
The available options are available in the left sidebar of your Shopify dashboard. This is the place to find and add new elements to your website pages.
Among the elements you may choose, it makes sense to mention blog posts, galleries, widgets, media files and many more. Just select those you need for your online store and they will be added to the website in the automated mode.
If you are ready to work with code editing options, the software will grant access to advanced assets, snippets, source code configurations and other elements to create your website design.
Generally, it won't take you long to get used to the software editor. You will come across multiple tips and prompts here that won't let you make serious errors. This concerns non-techies as well.
How Much Does Shopify Cost?
Shopify is not a free eCommerce software, of course, as advanced functionality and premium tools are required to set up web stores with it. However, there is a free trial here, which extends for 14 days, giving you some time to understand the software logic and practice your skills.
To proceed to full-featured web store creation, you will need to select one of premium subscriptions. There are four of them here.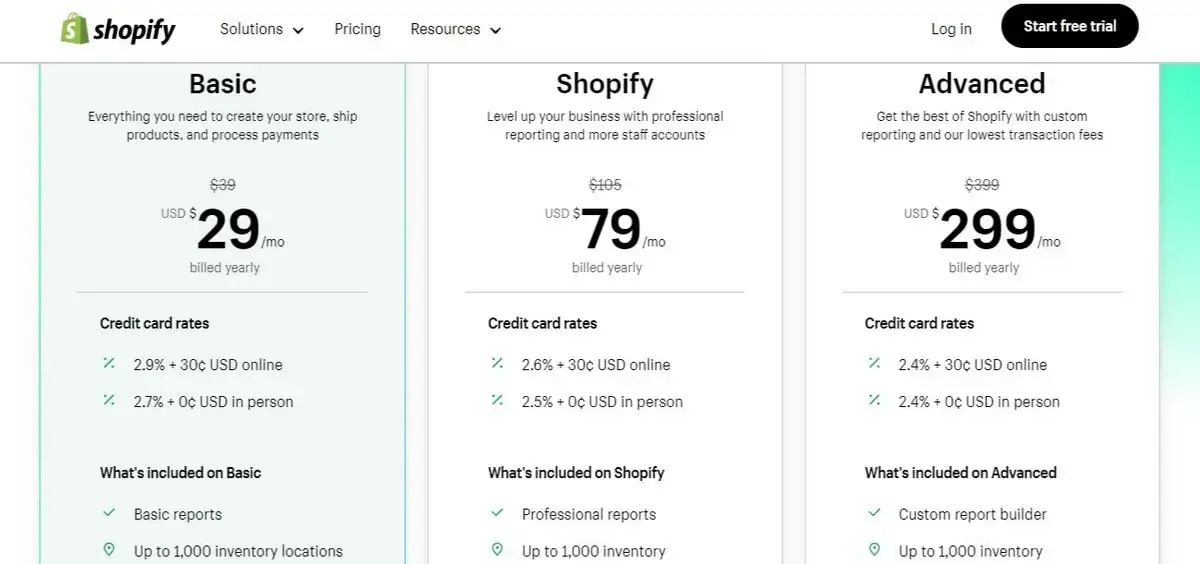 The cheapest Starter Plan costs $5/mo only, but don't count to set up a large-scale project with it. It only works well for users willing to sell via messaging apps or social networks.
As to subscriptions you can use to run a professional eCommerce project, the software offers three options. The cost starts at $29/mo. Correspondingly, the price of website maintenance and management will constitute $348 per year. The cost of hosting and domain name is included here as well.
The most expensive solution is Shopify Plus subscription that is used exclusively for hypermarket development, customization and further promotion. This is a very costly offer, which is discussed individually with each client. The price starts at $2000 per month or $24000 per year.
Mind that the final cost of your website will increase, if you decide to select a premium template and paid applications. Additionally, each plan includes transaction fees for each sale made with the software. The higher plan you select, the lower the fee will be.
Shopify SEO review
Whether you are building a web presence for your retail shop, launching a brand new product, starting a dropshipping business or just willing to promote the existing digital store, you should pay attention to your project search engine optimization. This is where Shopify tools will come in handy.
The software is quite SEO-friendly, while all web stores it powers have built-in SEO features that ensure worthy content optimization. Baseline SEO options like adding canonical tags to web pages to avoid content duplication are generated in the automated mode.
Likewise, the system generates robots.txt and sitemap.txt files, while its templates automatically generate titles tags with your web store name included.
Shopify lets you optimize content by editing alt text for images along with title tags, URLs for blog posts, products, web pages and meta descriptions.
To analyze your current web store SEO, you can access the Shopify App Store to select and use corresponding applications.
Shopify Templates Review
One of the reasons that make Shopify a worthy eCommerce solution for all user categories is that its templates do not require deep customization. They are responsive by default and they fall into several categories with regard to your web store specialization and objectives.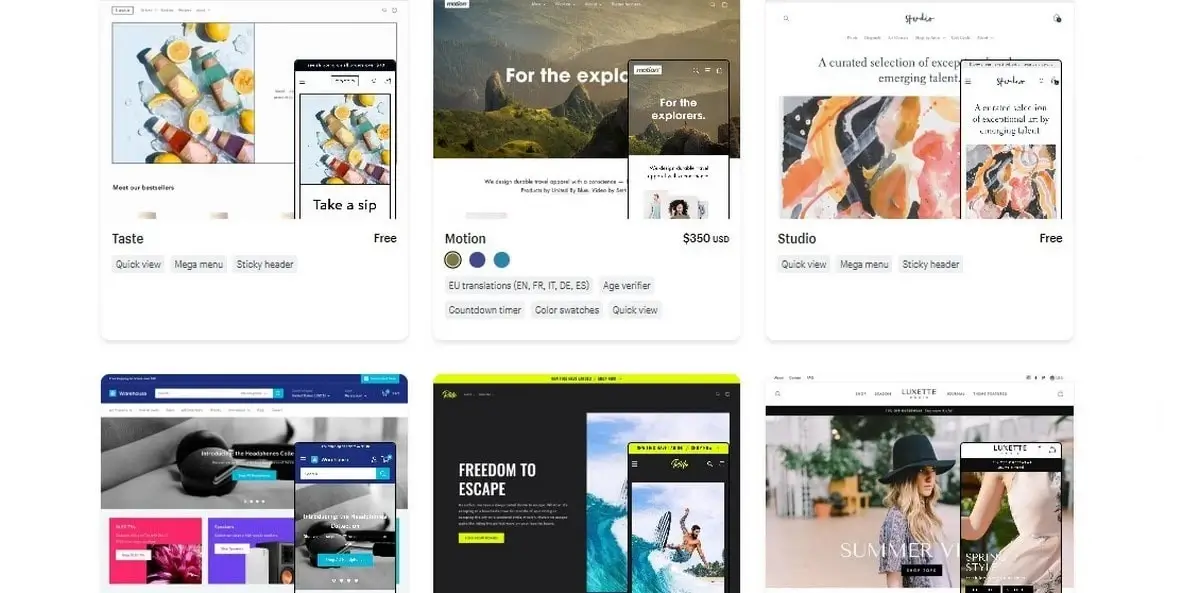 Users have an opportunity to choose from free and paid designs available in the control panel. Just browse the options and select the theme for further customization. If needed, you will have an opportunity to switch to another design on any stage of the customization process.
Opportunity to create a unique project design from scratch is available here as well – you can always select a blank template and customize it from scratch.
When you proceed to the customization process, you will get access to baseline web design tools. These include standard elements for typography editing, change of the color scheme, shopping cart customization.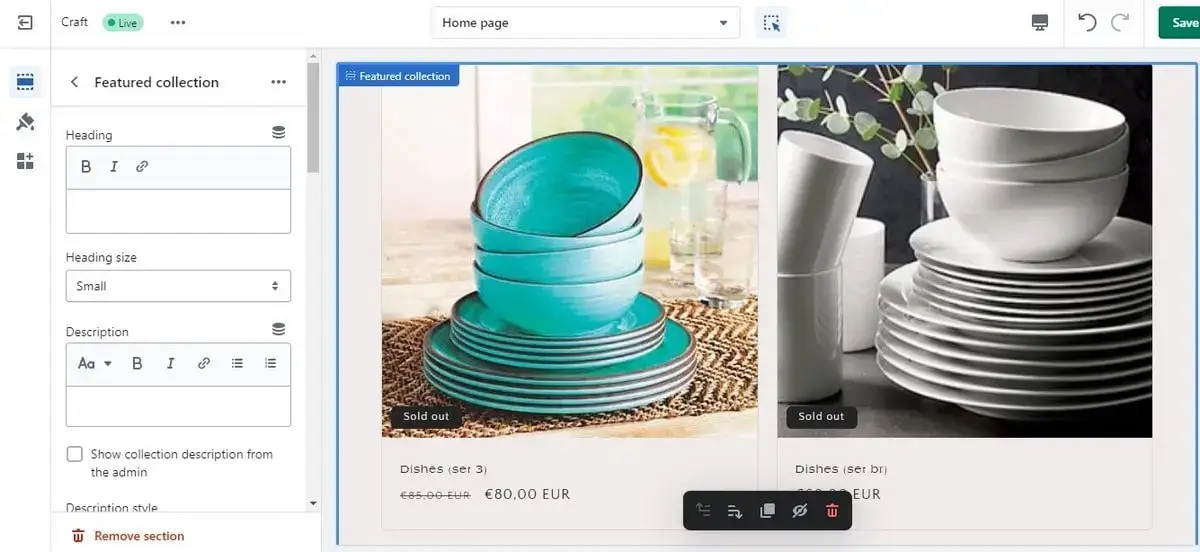 The latter option implies an opportunity to pick and use a unique image for your shopping cart. Adding a favicon will be a nice idea as well. It helps enhance website recognition.
Along with standard design customization options, Shopify allows for deeper code editing. If you possess HTML skills, you will have an opportunity to edit the source code, thus, customizing the selected template as you need.
The software lets you change the existing design/layout or add a new one, if required. At the same time, deep website customization and advanced code editing are unavailable here as Shopify initially targets code-unaware entrepreneurs willing to go live with their stores.
Shopify Pros and Cons
As a solely eCommerce software, Shopify offers an impressive diversity of features for professional web store creation, customization and maintenance. At the same time, some of these features may be complicated for regular users. Let's discuss the available pros and cons further.
Shopify does not require any presentation. If you need a professional online store, this eCommerce software is the best bet. Shopify templates are quality, responsive and customizable, while the selection of third-party niche extensions in the App Store will certainly impress everyone.
The platform offers a variety of payment options for all project types and customers, including credit cards, PayPal, Stripe, and other payment gateways. This is not to mention dozens of advanced eCommerce features/tools that are a must for a complex web store set up.
Finally, numerous customer support options – live chat, email and phone – contribute to quick and timely solution of your web store-related issues.
Disadvantages mainly concern web store management and pricing. Shopify plans can be quite expensive, especially for small businesses. Extra costs are also applicable, when it comes to using third-party payment gateways and apps.
Shopify blogging features are quite baseline, but they are not frequently required, when it comes to running a web store.
When looking for customer support options, mind that Shopify phone assistance is not available for all countries. Thus, you may need to pick an alternative support solution to handle your issues here.
Is Shopify a Good Website Builder?
Are you going to launch a full-featured web store to stand out from the crowd? Then using Shopify is definitely a smart choice!
As the best eCommerce software, Shopify makes it possible to develop, manage, customize and promote all types of online stores. What's important, the use of the platform does not require any professional web design background. This is a good choice for non-techies as well as for web experts.
Shopify comes with advanced eCommerce tools and features. Users will certainly appreciate an extensive selection of responsive templates, integrable applications, product/order management options, blogging engine, versatile payment processing/shipping methods, multilingual/multi currency support etc. Code editing is available here as well.
Flexible pricing policy allows selecting the plan, which absolutely complies with your website development/eCommerce needs. If needed, you can upgrade to a more feature-laden plan as your business grows.
Thus, Shopify seems to be the best eCommerce solution. However, beginners may sometimes need time to get used to it. The software abounds in powerful and quite complicated web store creation/management tools, while some features require installation.
Additionally, the platform charges transaction fees, when using third-party payment gateways. This is a disadvantage, if you run a small online store.
To avoid these and some other demerits, Shopify users frequently decide to switch to a simpler alternative. Fortunately, the choice of multi-purpose platforms and niche systems is quite extensive.