Whether you are looking for a platform to set up a website for personal use or need a service to get started with a business/eCommerce project, Weebly may be an answer. Here is why.
Weebly is included in the list of the best DIY website builders in the modern web design market. Initially created with blogging focus in mind, the software has now gained the reputation of a full-featured eCommerce system.
This happened after its merge with Square – one of the biggest payment processing companies in the world.
Along with extensive eCommerce options, Weebly makes it possible to create, customize and manage other types of projects – blogs, business websites, landing pages, portfolios and what not.
The process of website development is completed without the need to write a line of code – so intuitive, understandable and functional the system is.
With Weebly, you will get access to multiple responsive designs, customization tools, integrations and special features that will make your project stand out from the crowd.
Working with Weebly, though, is not that easy for beginners as some time may be required to explore and master its integrated functionality. The platform does not have a project backup feature yet, which triggers the need to thoroughly set up and save a website.
Likewise, it is impossible to use redo/undo options here. This also requires a professional web design approach.
Not ready to decide, whether to use Weebly or to switch to a simpler web design alternative? Hopefully, the detailed review will help you make the unbiased choice.
What Is Weebly
The system pros prevail over the cons, providing users with extensive opportunities. Thus, it is crucial to be aware of Weebly highlights to know what the system has to offer:
Blogging options;
Advanced eCommerce tools;
Customizable templates;
Code embedding;
Integrated marketing tools;
Extensive integrations.
Blogging Options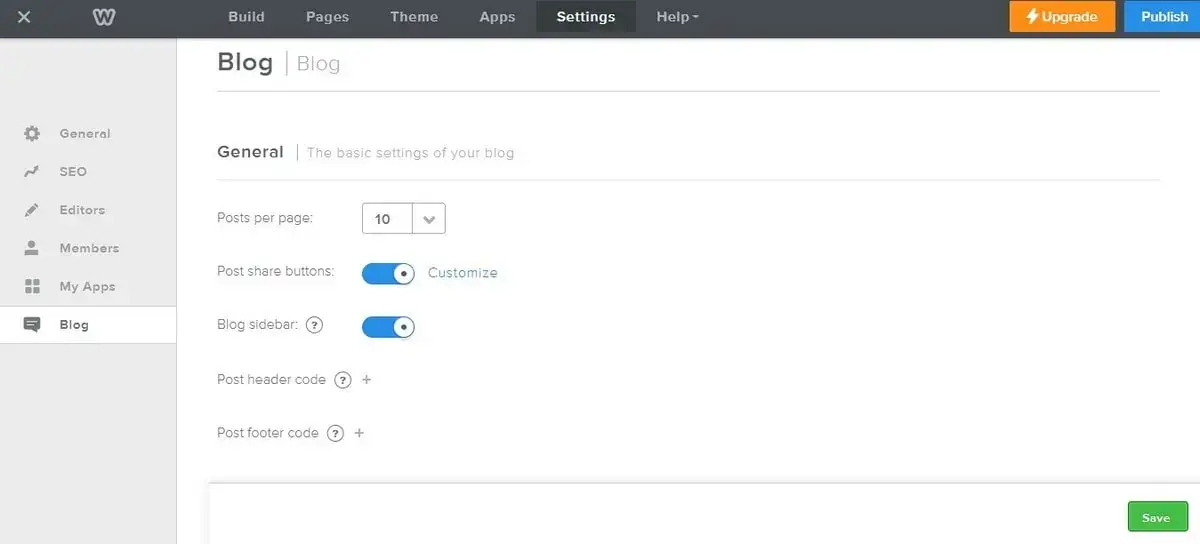 As mentioned above, Weebly was initially introduced to the market as a solely blogging platform. No wonder, it abounds in niche-related features that let you set up and customize full-featured blogs. The system lets you add and update posts, schedule new publications, select and integrate media sharing options, connect and enable popular commenting systems, specify meta tags for separate posts, pick and customize blog templates etc.
Advanced eCommerce Tools
Having gained an eCommerce focus, Weebly has made it possible to build and customize all types of web stores – from small up to large-scale. It is currently chock-full of niche-specific features, letting users integrate a shopping cart to start selling digital/physical products, create product galleries, adjust their characteristics, set up payment/shipping parameters, select and edit eCommerce templates etc.
Customizable Templates
Weebly template collection is quite extensive and versatile. You will find here lots of customizable designs to meet your niche specialization. They are responsive by default, offering numerous design customization tools. It doesn't take much time to select the required sample due to the search filter available on the website.
Code Embedding
Opportunity of code embedding allows for deeper and more flexible design customization. The feature allows integrating pieces of code into widgets and applications to add elements and options that go far beyond the default list. Actually, you can select and add an unlimited number of elements to every page of your website. This is definitely an advantage for a custom website builder.
Integrated Marketing Tools
As an eCommerce-focused website builder, Weebly pays much attention to project marketing. It offers advanced email marketing features, including Weebly Promote tool. It automatically generates messages with regard to the activity of registered subscribers. The service includes pre-designed email templates, drag-and-drop email constructor, tech support options, contact segmentation feature and more.
Extensive Integrations
With Weebly, you can get access to handy integrations available in its App Center. There are dozens of dynamic apps available there, which are selected and integrated with one click only. Whether you wish to connect Live Chat, PinPoll, Call-Out-Box or any other widget, just browse the catalog to find a suitable solution. Additionally, the software comes with a built-in drag-and-drop Form Builder to let users integrate and configure different types of online forms.
What is Weebly Used For
Weebly has recently introduced an updated editor that has notably simplified the process of website creation. To get access to a simple and handy dashboard, though, you initially need to sign up for a personal account here.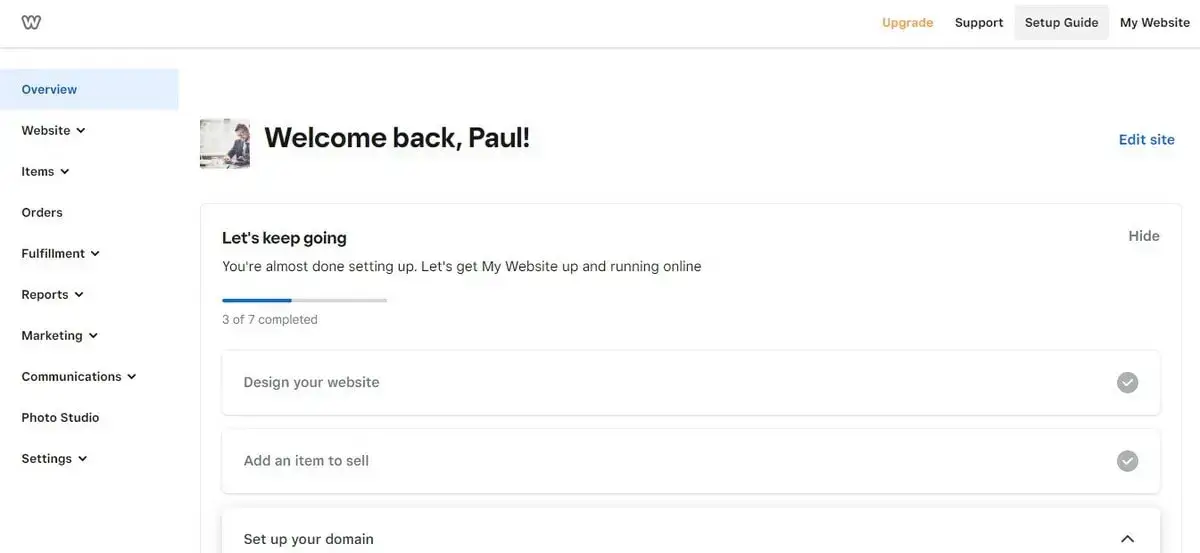 Mind that the registration process somewhat differs from the standard procedure. You are required to provide your full name along with address, password and place of residence.
Using Facebook or Google accounts, though, is possible here as well. This helps cut down the time of registration.
Having created an account, you will need to specify extra info to select the most suitable website layout. For this very purpose, you should indicate the project type you intend to set up. The choice will affect further selection of tools and features for quality website development.
As soon as you are done with the first stage, the system will redirect you to the website editor. It is logically-structured and intuitive enough to be understandable for all user categories, including first-timers.
This is where you can pick the required set of features for your website. These include image galleries, text boxes, audio/video players, product ads, contact forms, maps, custom HTML embedding tools etc.
As we have already mentioned, though, Weebly editor has one serious disadvantage. It doesn't let users undo the changes they have made and restore the previous project version. Other editor features are quite professional.
To create a website, you only need to select a template and proceed to content uploading. The system allows editing and arranging content.
This is easy and quick due to the intuitive drag-and-drop Weebly editor. Pick, drag and drop the elements on a webpage without the need to use a separate editor.
Another important Weebly feature is availability of content blocks as the website builder follows the "box model" structure. To form project layout, you are expected to select the required containers and drag them to certain website pages.
If you need to further switch the template, it will be easier for you to transfer the content to another theme.
How Much Does Weebly Cost?
Weebly has several types of subscriptions to offer to its subscribers. They differ in terms of built-in tools, features, project type, availability of eCommerce options and other aspects.
If this is the first time you use the software, Weebly provides a great opportunity to explore its functionality and to practice your web design skills on its free plan. It is never-expiring, so you can work with it for an unlimited period of time.
A free plan, however, does not work for professional website creation at all. Instead, the platform has three premium packages to choose from. These include Personal ($10/mo), Professional ($12/mo) and Performance ($26/mo) plans.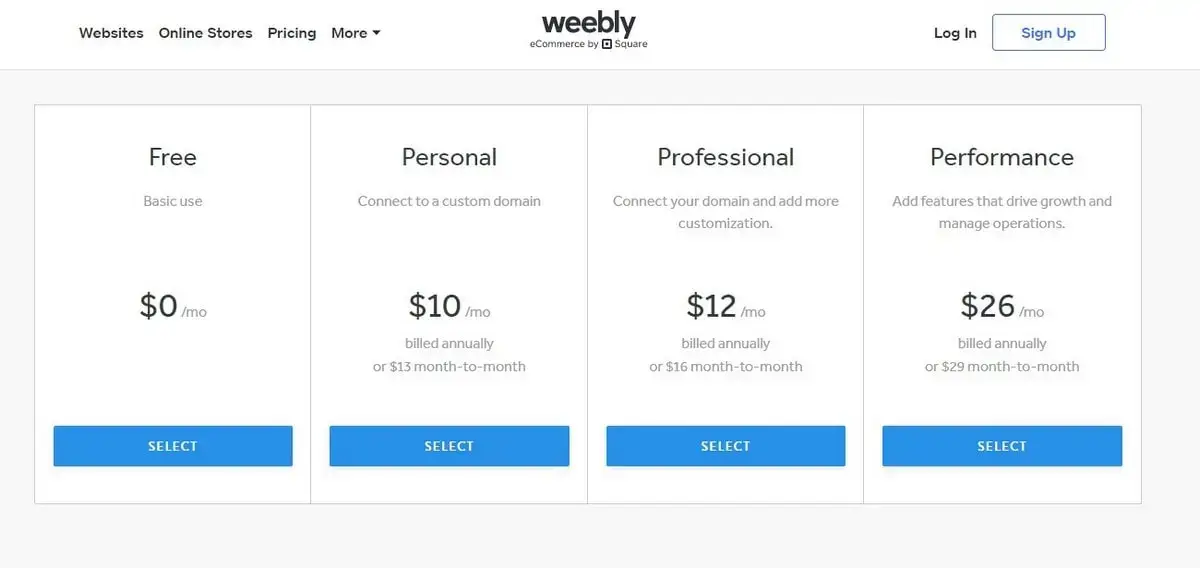 As the all-in-one website builder, Weebly provides hosting by default, while the price of connecting a domain name is $19. Additionally, the system subscribers can get access to extra services and tools like email support, Google Ads with a $100 initial bonus, live chat feature etc.
Thus, if you are going to set up a website for personal (non-commercial) use, you may upgrade to the Personal Plan. The cost of starting and maintaining a website with it constitutes around $91 per year, including the cost of domain name and excluding extra paid services.
Need a full-featured business or eCommerce project? Then upgrading to Professional or Performance pans will be a smart solution. In this case, you will have to invest around $163 or $331 per year.
Weebly SEO review
Weebly allows creating SEO-friendly websites. However, it comes with a standard set of SEO tools you can use, when setting up your project promotion/optimization parameters.
Among the settings you can adjust here, it makes sense to mention an opportunity to add website/web page title, descriptions, keywords as well as to give a unique URL to every page.
These are the baseline parameters that contribute to higher website positions in the search engine results. However, it takes some time for Google search bots to index the updated pages. Keep that in mind, when setting up your website.
Additionally, the website builder makes it possible to set up and edit permalinks for all web pages. This is done in the corresponding part of SEO settings.
Speaking about end-to-end blocks like footer/header, Weebly allows integrating their codes into each page. This is needed, if you have an intention to make these sections unique. Otherwise, you can add a similar footer/header to all website pages at once.
With Weebly, website owners have a chance to hide some pages from indexing by the search bots. This is mainly needed to preserve current positions of your website/web page, while it is under construction or when you make the edits, for example. Just click the checkmark button to complete the task.
Finally, the website builder lets you set up 301 redirects, when you decide to transfer a website from another platform to Weebly servers. In this case, all the submitted data/traffic will be preserved along with current SEO positions of your project.
Weebly Templates Review
Weebly design customization options are versatile. To be precise, the website builder has three ways of setting up a web project.
You can select and use a ready-made template from the software catalog, customize any other theme (fortunately, the platform has a typical WYSIWYG and a high end HTML/CSS editor) or buy a third-party design from web developers.
If you possess coding knowledge, it will be easier for you to create unique website design. Weebly allows for deep template customization and there are also widgets/applications you can integrate in your website, using programming skills.
Thus, Weebly subscribers have an opportunity to add maps, image collections, medi files and other elements with regard to their website specialization.
To give your extensions a personalized look, you need to access the "Embed Code" option in the editor settings. The system allows integrating any number of elements to each web page.
Likewise, you can add as many pages to your project as you need. It is possible to use one of the pre-designed Page Layouts (there are currently over 30 diverse layout designs here) as well as a blank page.
You can add and customize homepages, contact and about us pages, restaurant menus and other service pages, if required.
Every new layout automatically comes with new website elements added to your web page. To create the desired layout, the system allows editing, removing and adding new elements.
Whatever template you go for, the ready-made website will automatically synchronize between mobile and desktop versions each time you make certain edits.
Weebly Pros and Cons
Weebly has gained popularity due to its business and eCommerce-related functionality. Users, however, are frequently interested in the pros and cons of the system. Let's review them now.
The website builder is quite easy to use for all user categories. Its intuitive interface helps get used to the integrated functionality in almost no time. Coding skills are not a must, when it comes to project customization here.
You can choose from multiple designs available in the template collection of the service – all of them are responsive and completely customizable.
Special attention should be given to eCommerce functionality. The built-in tools allow users to easily launch a web store with a variety of inventory management tools and payment options.
Weebly's App Center grants access to a wide range of third-party extensions and plugins to enhance any website functionality, irrespective of its specialization.
The website builder has a free plan that is an ideal solution for users who make their first steps in the web creation niche.
The downsides of the software are not quite numerous, but they exist. While Weebly's templates are customizable, users may experience limitations when it comes to the choice of editing tools. The same is about SEO options, bandwidth and storage space.
Limited customer support: Weebly's customer support options are limited as well. Currently, the software doesn't offer phone support. Email assistance only is available for free plan subscribers.
Is Weebly a Good Website Builder
Weebly is a worthy website development solution for all user categories. Whether you are a non-coder looking for a platform to set up your first website or an experienced web designer building complex custom business/eCommerce projects, the system will let you complete these and other tasks.
One of the undeniable highlights of the website builder is its all-in-one web design approach. You don't have to bother about hosting choice and domain name connection – Weebly provides these services by default.
Additionally, users have access to blogging and eCommerce tools, dozens of responsive templates, video hosting solutions, built-in form builder, image editor, high end Weebly Promote tool and other features that contribute to your project design and performance.
Pricing policy is another advantage of the website builder. Weebly has several types of plans that target diverse user categories yet differ in terms and integrated toolset. They all, however, require moderate budget investment.
Regardless of its multiple benefits, Weebly is not the simplest solution you can find and use. Inexperienced users require time to get used to the software. The thing is that there is no automated back up feature as well as the opportunity to undo the edits.
Thus, you have to be twice attentive when working on your Weebly website. If you feel that you need a simpler web design solution, though, you can switch to another platform any time.