Contemporary web design niche abounds in professional platforms that cover a broad range of user needs. Wix, however, is that very website builder, which is included in the list of top website development solutions.
This is actually no wonder as Wix does not only work great for all user categories, but it also pays much attention to website design and functionality. It comes with powerful blogging/eCommerce engines, abundance of templates and customization tools. These are only a few features that make the website builder a top web design platform for its subscribers.
Regardless of its flexibility and convenience, Wix, however, is not the easiest solution you can find out there. It takes time to get used to the web design environment here, especially for non-techies.
Likewise, the website builder sets a number of limitations, when it comes to using its free/cheap plans. This sometimes makes Wix users think about switching to other systems.
To be able to decide, whether Wix works great for your project or you need to keep looking for an alternative, it is reasonable to discuss its major parameters and settings now.
Pros and Cons
Wix is undeniably one of the best DIY website builders. This does not mean, however, that it doesn't have any cons. However, let's review the advantages of the software first.
The system stands out from the crowd due its rich template gallery with over 800 responsive customizable designs. It also grants an opportunity to choose from standard editing options dn Wix ADI tool depending on users' skills and web design proficiency.
Whatever project type you are going to set up, you will find lots of integration in Wix App Market. These include blogging/eCommerce tools, SEO and marketing extensions, social media features, analytics and stats tracking tools etc.
The software offers various pricing options to fit any budget and project specialization. There are standard plans here as well as those for business/eCommerce websites. Discounts and loyalty programs are provided here on a regular basis as well.
Speaking about demerits, Wix is not the simplest platform for beginners. Despite its intuitive web design approach, it still takes time for newbies to master and use it.
The free Wix version comes with ad banners, which can be removed by upgrading to a premium subscription, though. Mind that some plans have bandwidth limitations, which may also affect your project performance.
What is Wix
Beginners and experienced website developers can work with Wix to build personal and business projects from scratch.
The website builder stands out from the crowd due to its intuitive web design approach, customizability, powerful integrated functionality and affordability.
Whether you are just going to choose the software for your website development needs or just wish to find out more about it, have a look at the list of the system highlights now:
Best all-in-one DIY website builder;
Two website editing modes;
Rich choice of ready-made templates;
Powerful integrations;
Blogging/eCommerce platforms;
Flexible and versatile pricing.
Best All-In-One DIY Website Builder
Wix has rightfully won the reputation of the best website builder in the modern DIY website development niche. Due to its flexibility, extensive design customization options and high end features, the system works well for the creation of all types of web projects, including small/medium web stores, blogs, landing pages, business websites, portfolios etc. Everyone can create a website from scratch here without writing a line of code.
Two Website Editing Modes
Wix makes it possible to customize websites, choosing one of two editing modes – either Standard Editor or Wix ADI. The first option mostly works well for experienced web design pros, who intend to deeply customize their projects, using programming knowledge and web design skills. Wix ADI, in its turn, is powered by Artificial Intelligence and, thus, allows setting up and running websites in the automated mode. Just provide the required content and watch the system creating a project for you.
Rich Choice of Pre-Designed Templates
Wix boasts one of the most versatile and rich collections of pre-designed templates. All of them are stylish, professional and mobile-ready by default. There are currently over 800 free themes to choose from. Template switch version, however, is still unavailable. Mobile editor is available here as well to let you customize both desktop and mobile website versions. Additionally, the system allows using its Editor X and Wix Marketplace to hire web design pros and to get full control over website elements.
Powerful Integrations
Wix App Market is that very place, where the system subscribers can find free and premium applications for all types of projects. The library currently encompasses over 350 positions. There is also an opportunity to design your own applications, using the toolset provided by Wix Velo platform. Finally, users may download Wix Owner App to gain full control over their project management and customer interaction.
Blogging/eCommerce Platforms
As the all-in-one website builder, Wix makes it possible to set up and customize blogs and online stores. This is done via integration of corresponding blogging/eCommerce modules/widgets. Mind, however, that creation of large-scale digital stores is impossible here because of the limited eCommerce functionality of the service.
Flexible and Versatile Pricing
Wix has a free subscription to let users test its features and practice their skills. There are also two types of paid packages for standard and business/eCommerce websites. Each package includes several other premium plans to come up to diverse needs of users and different budgets. Discounts, special offers and money-back guarantee allows saving big as well.
Editing a Website with Wix
Wix website builder comes with a handy WYSIWYG editor that supports the drag-and-drop feature. Prior to proceeding to the editing process, however, you will be offered to select the type of project you intend to set up and one of two editing options – Standard Editor or Wix ADI (Artificial Design Intelligence).
If you are a first-timer, then Wix ADI will be a smarter solution as it basically lets the system create a project for you. The built-in AI tool will ask you a few important questions regarding your project to further use the answers to build a project. You will just need to submit relevant content afterwards. That's it.
Have coding skills? Go ahead to customize your website with a Standard Wix Editor. To do this, you need to select a template in the rich design library and access the visual editor to customize the project absolutely from scratch.
The drag-and-drop editor implies the possibility to narrow/expand the borders of content blocks as well as to change their dimensions and positions. The pop-up icons will help select further steps and actions.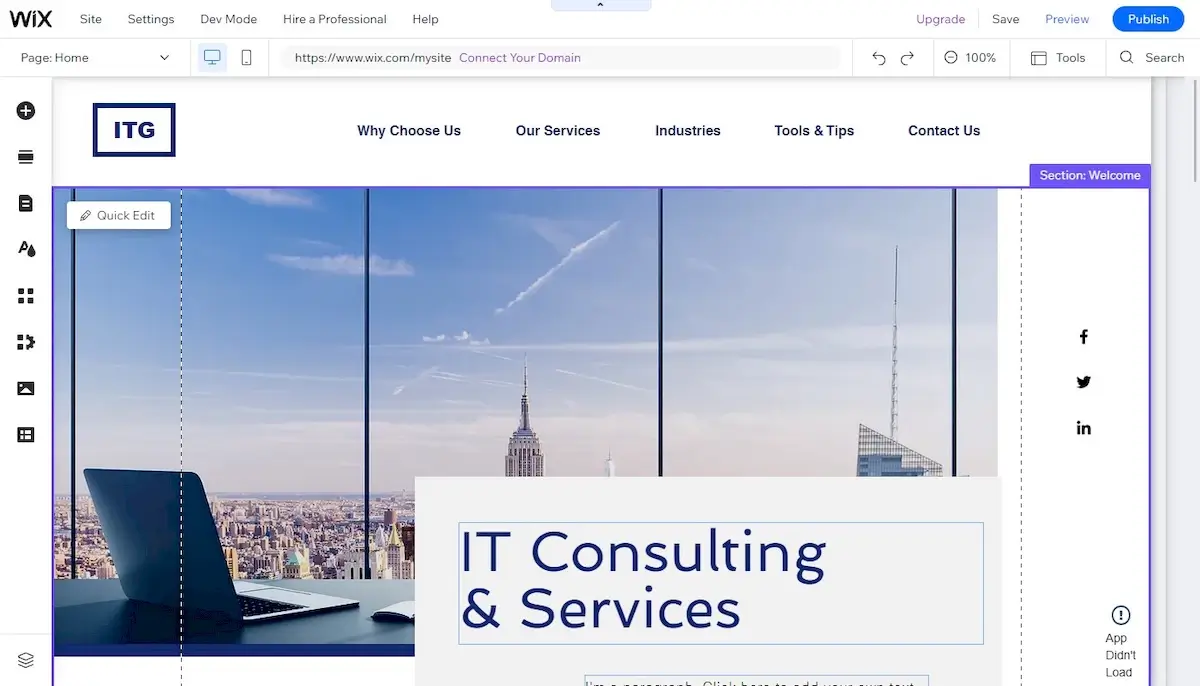 Professional code editing is possible when working with Editor X. The advanced editor encompasses the features of the Velo Platform and possibility to set up visual web page design. This is a kind of mixture of code and visual editors suitable for the development of professional web applications.
Design Customization with Wix
Wix is proud of its templates that excel at quality, stylish design, impressive layouts and availability of customization tools. They come with integrated animations, video inserts on the background, parallax and 3D effects, rich image collection etc.
The only template-related demerit is that it is impossible to switch to another design, when working on your website development. This is because of the absolute positioning principle the software follows.
If you decide to change the selected theme, you will need to resubmit the content, which obviously requires extra time/effort investment. Fortunately, the website builder lets you preview the selected design before making the final choice.
The good news is that you won't encounter any problems with the adaptability of your template to various types of devices. Your project will display equally well on a small mobile/tablet screen as well as on a widescreen.
You will also be able to separately configure mobile and desktop versions of your website. Likewise, it is possible to manually pin the elements to the web page or to use automatic optimization.
As to the design customization, you can change it in several ways – by integrating widgets, inserting HTML code, adding horizontal bars with the required content, fixing the elements on the selected page.
In addition to standard tools and features like background or color scheme change, you will get access to extra options. These include an opportunity to customize effects and animations, connect fonts, adjust web page layout by controlling content positioning, margins, elements borders etc.
The platform allows making each website layout individual by editing each element that has its own settings. No coding is required to do that. If you possess programming skills, however, you can use them when editing sliders and selectors, for example, or when integrating third-party extensions. This, however, will require professional knowledge and time. Newbies will hardly use this option.
Design customization with Wix also implies logo integration. The website builder even has an advanced Logo Maker that allows designing and adding an individual website logo to your website. The tool encompasses a set of elements and special features you may pick and adjust to create a unique and completely personalized project logo.
Finally, the system comes with multilingual support, letting you create several language versions of the same website. What you need is to activate the feature and follow the software instructions to correctly complete the translation.
Wix SEO
Wix is a SEO-friendly website builder. All websites it powers are well-optimized for the search engines. To maximize the result, the website builder uses the advanced SEO Wiz tool that provides the detailed instructions of building an effective SEO strategy and improving your website ranking.
To get handy recommendations for on-site SEO, you will have to stick to three major steps. These include entering the brand name, picking the business type and adding up to 5 keywords/phrases that describe your project specialization.
Having analyzed the submitted info, the wizard will provide the checklist of indications that require optimization. The list may include several parameters.
What you can individually do here is editing meta tags and descriptions, choosing titles for web pages, defining keywords, editing image titles/descriptions etc. To achieve higher positions, though, you won't go without setting meta tags, checking/testing template adaptability, adding unique content, using analytics tools, attaching 2nd level domain, connecting the website to Google Search Console etc.
These and other settings can be adjusted either directly from the checklist or from the visual editor interface. Each section in the "Menu and Pages" category has a SEO item with a tab of parameters. Check them out to complete the task.
Such a diversity of options, however, may sometimes pose a problem for novice webmasters. It will certainly take some time to explore and master the process of website SEO optimization with Wix.
How Much Does It Cost to Build a Website on Wix?
As mentioned above, Wix has two types of subscriptions – Website and Business/eCommerce. Each package, correspondingly, includes more detailed plans that cater to the needs, requirements, projects types and budget of different user categories.
As the all-in-one website builder, Wix does not require third-party domain name connection and hosting choice. These features are provided in each plan by default.
Most plans, by the way, include a free domain name viable during the first year of the software use, which definitely allows saving big.
Another cost-related advantage is the system of discounts the website builder offers to its subscribers. It is possible to save up to 50% of the initial plan price, if you sign up for a premium subscription from Tuesday to Thursday. The offer is valid on a weekly basis.
Special offers and bonuses are also available on holidays and weekends. You may subscribe to the newsletter not to miss the info.
Generally, the cost of Wix Website plans ranges between $22 and $45/mo, while that of Business/eCommerce subscriptions ranges between $27 and $500/mo/. The final cost of your Wix website, however, will depend on the type of website you intend to set up and the amount of features/tools you wish to avail. Have a look at the list below:
Portfolio Website (built on the most suitable Unlimited Plan) – $27/mo or $324/year (if used with the 50% discount, the price will constitute $13.5/mo or $162/year);
Business (Promo) Website (built on the most suitable Business Unlimited Plan) – $32/mo or $384/year (if used with the 50% discount, the price will constitute $16/mo or $192/year);
Blog (built on the most suitable Unlimited Plan) – $27/mo or $324/year (if used with the 50% discount, the price will constitute $13.5/mo or $162/year);
Online Store (built on the most suitable Business VIP Plan) – $59/mo or $708/year (if used with the 50% discount, the price will constitute $29.5/mo or $354/year).
Listed above are the prices for using fixed Wix subscriptions. The cost will increase, if you decide to use extra features or integrate premium apps from the App Market. For example, the price of using Wix Events widget currently constitutes $20, but there are also free extensions available there.
Additionally, Wix recommends using its advanced Ascend platform for business website creation. This is the all-in-one solution, which encompasses over 20 business tools for this type of project. You can upgrade to one of three Ascend plans, the cost of which constitutes $10, $24 and $49 per month.
The same is about Wix Logo Maker. Actually, Wix users can use the tool for free, but to get access to premium features and tools, you will need to upgrade to one of its packages. The one-time fee constitutes $20 and $50.
To sum it up, the final cost of your Wix websites comprises the price of the selected subscription as well as external integrations and advanced features. Keep that in mind, when working on your project creation.
Bottom Line
Wix is undoubtedly the top website builder in the DIY market. It is used to set up, manage, customize and promote personal and business projects, while its application does not require deep coding proficiency. Thus, newbies and web design pros will find many tools and features to use here.
The software includes full-featured blogging and eCommerce engines, an amazing collection of free responsive templates, multiple applications and high end features. These are Logo Maker tool, multilingual support, Ascend Platform, Velo by Wix, Editor X, Wix Marketplace and many more.
Availability of two editing options makes the system applicable for diverse user categories, while a quality SEO Wiz tool will simplify the process of website optimization.
It seems like Wix has everything a user needs to set up and run feature-rich websites. To some extent, this makes sense as you will hardly find a more full-featured website builder out there.
At the same time, the software has a number of demerits that make its subscribers think about switching to an alternative web design solution. The thing is that Wix does not allow switching between the templates, while their customization and integrations may be somewhat complicated for beginners.
The cost of Wix subscriptions is affordable and versatile to fit any budget yet you shouldn't forget about VAT deducted during each payment. What's more, cheaper plans include limitations on the website bandwidth that may be a problem for large-scale websites. These aspects are not that serious, of course yet they still may be decisive for some users.