In a range of modern site builders, Elementor and Wix belong to the most effective and popular ones. Elementor might become indispensable for users who plan to build a WordPress website without coding ordeals.
It gives access to limitless possibilities of WordPress (my review of CMS) and allows users to cope with the platform's challenges. Wix, in turn, is a universal site builder with web design solutions for beginners and experts.
Choose any of the platforms, and both will let you build a professional website with all the functions you need. Yet, an Elementor site and a Wix site are different. They are created and used in different circumstances.
What is better for your project? Let's contrast Elementor's functionality with the one of Wix so you can opt for the right solution for your website.
Key Similarities
Elementor and Wix have the same general goal – to simplify the site-building process to the maximum. They both have customizable templates and drag-and-drop design editors, so users with minimum knowledge can build an appealing, functionally relevant website quickly and without touching code.
Both Elementor and Wix are mobile responsive. They offer hosting services and provide such capacities as storage, bandwidth, security certificates, etc.
Users of Elementor and Wix have a choice of plans. They can select the optimal one, depending on the size of their future website. Both platforms offer support 24/7 and massive banks of information for developers and common users. You can hire a specialist to help you build a quality site based on Elementor or Wix, too.
Both Elementor and Wix belong to modern site builders. Their key audiences are non-coders who wish to create beautiful and functionally rich websites without manipulations with code.
Key Differences
The first essential difference between Wix and Elementor is that Wix is an independent site-building platform, while Elementor is a WordPress plugin. It means you can create a Wix website by subscribing to one of the platform's plans and using its capacities only.
When it comes to Elementor, it was initially designed to make WordPress friendlier to non-techies. So, if you wish to build a WordPress website, you can start with Elementor. The platform will supply you with WordPress hosting, a WP installer, and, more significantly, a no-coding design editor.
Thus, Wix is a self-sufficient website builder. It'll let you build a site from scratch and supply it with hosting, a domain, and other necessary tools. Elementor is a multi-optional extension created within the WordPress ecosystem. It'll simplify your web design work with WordPress. It can also provide hosting, security certificates, and similar features to your WordPress website.
What Is Easier to Use?
Although Wix and Elementor offer an effortless site-building process, Wix is a simpler website creation tool, probably. With Wix, you can start from nothing. You do not need to download or install anything to begin the creative process with Wix. The fastest way consists of these standard steps:
Register on Wix.com.
Log in and go through a simple inquiry.
Wix ADI – an AI builder from Wix – can immediately build a website for you. Its design and functional equipment will be based on your answers during the questioning.
Alternatively, you can pick a fitting template from the Wix library and tune up your design yourself by using the Wix Editor.
Choose a Wix plan. It goes with free hosting and allows you to connect a domain.
Customize your website and add all the needed extensions.
Preview and publish your ready website.
So, everything is done within one working space. When it comes to Elementor, you need to have WordPress installed to add the plugin and start using it. So, it's necessary to purchase hosting beforehand. You can opt for one of the WordPress hosting packages offered on Elementor.com.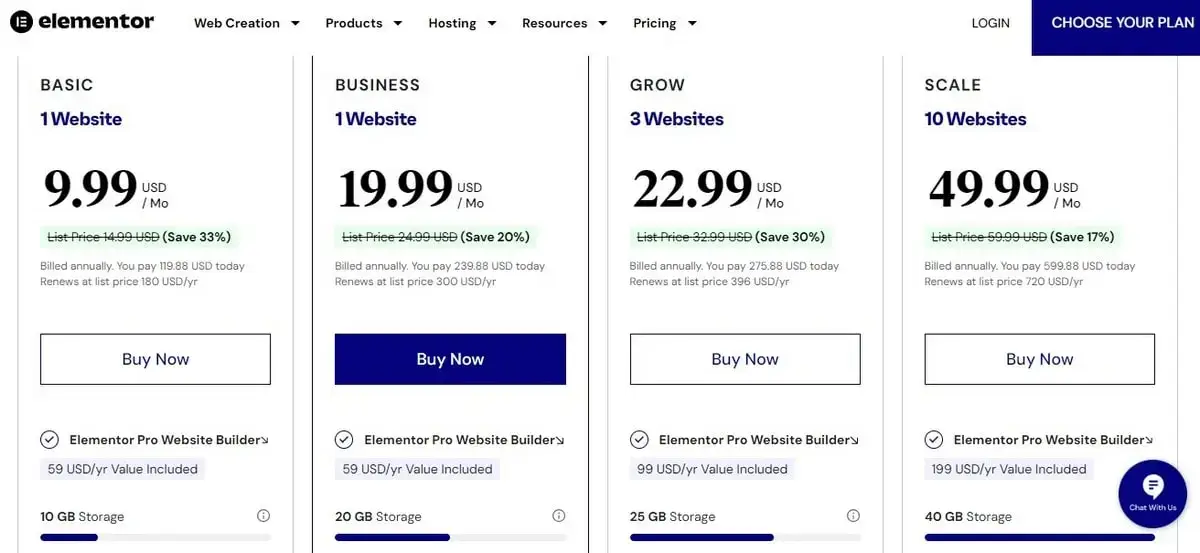 Then, you should subscribe to a hosting plan on the online site. The price will include the Hello theme and the Elementor Pro Editor. Your next step is to install WordPress. Then, install the Elementor itself and add it via the WordPress dashboard (in the Plugin or Theme section.) Now, you are ready to choose a template and customize it. You can connect other plugins like WooCommerce or Yoast to your WP site.
All these actions with Elementor won't present a problem for an expert or someone with at least basic web development skills. Yet, beginners can expect a more straightforward experience from Wix.
Design Options Comparison
From a design possibilities perspective, Wix and Elementor have strengths and weaknesses. Both solutions offer an effortless design experience, but their creative possibilities differ.
Thus, the strongest points of the Wix design toolkit include the following features:
Two editors (AI-based Wix ADI and Wix Editor);
800+ pro themes with appealing, masterful designs;
A simple drag-and-drop editing mechanism;
Full mobile responsiveness.
Wix will let you customize your website's look by modifying its style, color scheme, fonts, pictures, etc. However, do not expect full customization freedom from the tool if you are not planning to work with code. Compared with Elementor and WP design options, Wix is a more limited solution.
Elementor's core attribute is the Pro Page Builder. Yet, its possibilities go far beyond page editing options. The platform incorporates the following design instruments:
Elementor AI Editor with a free trial;
100+ website designs;
100+ widgets;
No-code, drag-and-drop editor;
Theme builder;
Landing page builder;
Form builder;
Popup builder;
Loop builder for creating catalogs, listings, etc.;
Dynamic content & motion effect tools to improve your website's design with terrific animations, dynamic widgets, and tags;
WooCommerce builder to turn your WP site into an advanced online store.
The AI options of Elementor include smart copywriting, as well as generating custom code and CSS/HTML code snippets. So, Elementor is a drag-and-drop builder with much more extended options than Wix can offer.
Website Functionality Comparison
Besides hosting, storage and bandwidth capacities, and domains, Wix can supply your online site with various features. Even its cheapest plans include basic options for selling goods online. The platform offers an excellent choice of business and eCommerce plans with tools for careful product and payment management, social media sales, drop shipping, and more.
Wix includes an SSL security certificate in all its plans. The platform is good in terms of SEO. However, its basic plans will only suit sites for personal use or small online shops. The more complex the website you wish to build, the more expensive the plan you should subscribe to. Premium packages include Wix Analytics and Reports, a pro logo maker, etc.
Wix integrates with over 500 popular apps, which makes Wix one of the best platforms for simple eCommerce and businesses. It supports 80+ payment methods. Its options also include the Wix marketplace. You can hire a Wix professional to help you organize a professional online store or business project.
Elementor also offers such basics as storage, bandwidth, SSL certificates, etc. Since it is a certified WordPress plugin, it integrates with thousands of WP plugins, including WooCommerce. For an owner of a WordPress site, it means they get access to a much broader range of features and tools.
Smooth integration with WooCommerce alone will open the following options to you:
Inventory management;
Unlimited digital & physical goods available;
Secure payments;
Shipping integration;
Automatic tax calculations;
Advanced analytics, visitor tracking, and similar tools;
Sales through social networking channels;
Subscriptions;
Checkout customizations;
Product archives;
WooCommerce Tags;
Membership websites, and more.
Elementor Pro Builder has an integrated WooCommerce builder that will let you create a superb online store with a unique design and an ideal structure for eCommerce activities. You can connect useful widgets and other specific features to your online store.
Elementor is a great option from a marketing perspective. The plugin offers advanced builders for landing pages, forms, and popups. They offer a rich choice of handy tools like Honeypot (anti-spam measures), action links on Whatsapp, form submission management, automated form submissions via WebHook, and numerous others.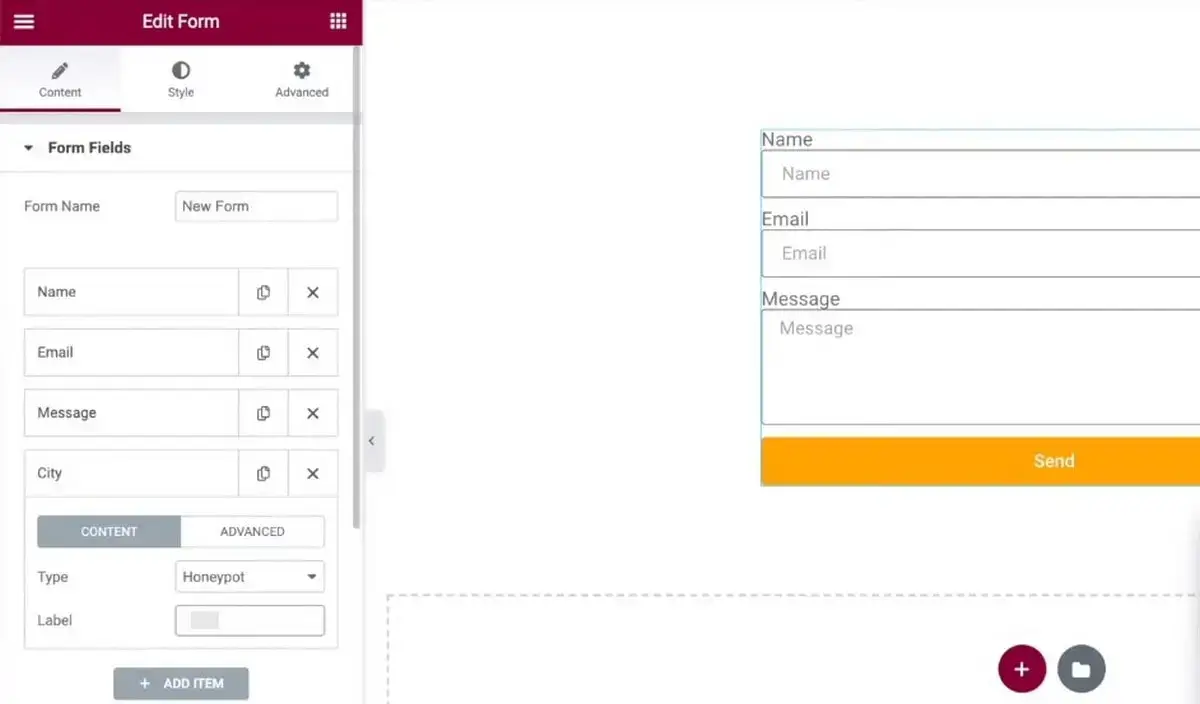 Users can expect to get multiple tools for advanced management of their WP site. Thus, they can add custom code attributes (headers, footers, ARIA, etc. to every element) and add custom HTML values to head tags. They'll get notifications if any add-on is incompatible with the Elementor version. They can tune up automated resize options for their images. Elementor offers the Replace URL feature, Safe Mode options for secure edits, Version Control tools, and many more.
So, in terms of functionality, Wix is an ideal choice for small projects. Elementor has a much more powerful set of features and allows for almost unlimited integrations.
Pricing Opportunities
Wix has a more flexible and diverse pricing system. It offers four basic plans and three packages for eCommerce and business. Each plan includes free hosting, built-in SEO, SSL security, and access to Wix editors and 800+ templates. The actual prices are as follows:
Wix Plan
Price per month
Storage
Collaborators
Free domain for 1 year
Accept payments
Light
$16
2 Gb
2
Yes
–
Core
$27
50 Gb
5
Yes
Yes
Business
$32
100 Gb
10
Yes
Yes
Business Elite
$159
Unlimited
Unlimited
Yes
Yes
Enterprise
contractual
Unlimited
Unlimited
Yes
Yes
The Remove Wix Ads feature and support 24/7 are included in all Wix plans, too. Tools like Site Booster or Logo Maker are available on more expensive plans. There's a 14-day money-back guarantee on the platform.
Elementor offers plans for its page builder plugin, WordPress hosting (with Elementor Pro Builder included), and Strattic. Let's observe the pricing policy for Elementor WordPress hosting plans:
Elementor WP Hosting Plan
Price, yearly/monthly billing
Number of websites
Storage
Bandwidth
Premium support for
Basic
$9.99 / $15
1
10 Gb
30 Gb
1 member
Business
$19.99 / $25
1
20 Gb
50 Gb
2 members
Grow
$22.99 / $33
3
25 Gb
75 Gb
4 members
Scale
$49.99 / $60
10
40 Gb
100 Gb
6 members
All plans go with a variety of extras. They include SSL and CDN free options, the integrated caching tool, SFTP Access, access to databases via phpMyAdmin options, and more. Elementor gives a 30-day money-back guarantee for all its plans.
Verdict
Wix and Elementor rank among the most effective site-building instruments so far.
If you plan a small online project and wish to quickly create a professionally-looking website with enough functions to run your routine activities, opt for the Wix site builder.
Wix allows you to launch a serious business or online store, too. However, your website is soon to outgrow the Wix capacities.
Elementor for WordPress is a more reliable and scalable product in this respect. So, if you want to run a large project with an original design and a massive set of features, choose Elementor with WordPress hosting options. Its drag-and-drop builder will let you easily create a WordPress website. With this, you'll get access to a myriad of options in WordPress, the best CMS available.