Are you searching for a quick solution for building a website? The industry provides plenty of them these days. With their help, you can easily achieve the main goal – create an adequate online site for your business purposes.
Yet, site builders may differ significantly and offer entirely different site-building experiences.
Take the examples of Mobirise and Wix. The two solutions are extremely popular with non-coders and users with little knowledge of web development.
Their common advantage is a high level of usability. The two platforms are beginner-friendly (and I've also picked some other services friendly for beginners). However, you can expect different outcomes from them.
Should you assign Mobirise or Wix for your project? Let's compare the instruments to simplify your choice.
Key Similarities
What unites Mobirise and Wix is their general aims and how they allow users to gain them. Both platforms employ the drag-and-drop feature. They offer free domains and support the option of custom domains (although you have to purchase them from a third party in the case of Mobirise, while Wix offers its own domain registrar).
Both have easy-to-use editors and page builders. Mobirise and Wix provide users with quality templates and add-ons.
The platforms are excellent in terms of SEO and mobile compatibility. Their templates have built-in SEO settings, so Google ranks the sites highly based on them. Any mobile-responsive template from Mobirise or Wix perfectly fits any screen on any device.
Thus, Mobirise and Wix are addressed to non-techies and offer sufficient instruments to quickly create compelling websites with zero effort. Both enable users to start their online activities without the assistance of a web developer.
Key Differences
Aimed at one and the same goal, Mobirise and Wix differ technically.
Mobirise is a site-building application (see my compilation of offline website builders). It can be downloaded and installed on the Windows, MacOS, Linux, and Android operating systems. It's freeware.
Once installed on a convenient device, it'll let you create sites from scratch by picking free and premium themes and extend their possibilities by inserting various blocks and extensions (also available after a subscription or one-time purchase).
The application's capacities are enough to build simplistic websites with one page or a small number of them. For a non-coder, Mobirise is a good option if a truly simple site is needed, for instance, a blog or a startup website. The tool will be suitable for creating landing pages, eCommerce startups, etc. Yet, the platform's key benefit is that it allows you to turn any site into an application.
Wix is a cloud-based platform for web development – read my review. It does not require any downloads or setups. A user needs to choose a fitting plan to start the site-building process.
Within it, they receive a complete set of must-have options, including hosting, a domain, security certificates, etc. All they need to do is build a site with the help of one of the Wix editors (all offer a straightforward creative process) and supply it with the necessary add-ons.
Wix can be used for the creation of websites for whatever purpose. The platform has enough tools for professional eCommerce and business websites.
What Is Easier to Use?
Mobirise and Wix might be the easiest site builders in the market so far. Mobirise offers an offline experience only, which many users consider more comfortable. However, a download and installation are a must. On Wix, you'll be building your project online – you can proceed with it right after you get signed up on Wix.com.
Without going into details, both platforms offer the following algorithm for creating a website:
Choose a template.
Tune up its design in the intuitively managed interface of the editor.
Connect a domain and all the needed extensions.
Publish a ready website.
Yet, for a Mobirise website, you must purchase hosting beforehand. For a complete newbie, this can be a downside. On the contrary, Wix includes free hosting in each of its plans. Moreover, I find the Wix options easier to use and more impressive at the same time. Wix uses advanced AI tech.
So, Mobirise and Wix offer equally simple web design processes. However, non-coders will gain much more possibilities with Wix than with Mobirise.
Design Options Comparison
Mobirise's approach to web design is minimalistic and practical. The program has a clear, well-thought-out interface, thanks to which even a beginner can easily handle building a workable website.
Expect access to over 150 premium themes in Mobirise, while only two will be available for free. The site builder offers 9,100+ blocks, so you can supply your website with headers, footers, maps, forms, sliders, galleries, and many other elements.
Once you launch the application, it starts with the default free theme. You can change it to a premium one and edit it using drag-and-drop. The Mobirise editor is structured. Although you can add any block to any part of your website under construction, the site builder allows users to add only one block per row. Only the menu block can be on the top of the page.
Besides the ability to add blocks to your chosen template, you can customize its color scheme, images, fonts, etc. All themes are created by professionals. Take any, and your website will gain an effective look. However, Mobirise does not classify themes by purpose, and I found their designs unvaried.
Wix is a more sophisticated instrument in terms of design. Yet, do not think its editor is more difficult to learn or to use! The site builder offers two of them, both designed for non-techies.
The normal Wix Editor is a typical drag-and-drop instrument powered by an intuitive interface and a broad set of site-building tools. Here, you need to pick a proper template. Wix groups them so that you can quickly find the category you need (eCommerce, photography, restaurant, etc.). Then, you customize the chosen template. You'll easily make it look original and fit your project's concept without manipulations with code.
The other option, Wix ADI Editor, is an AI-powered tool. If you opt for Wix ADI, it will build a website for you itself. You need to give some instructions, and the system will ask you a couple of questions about the purpose of your website, your design expectations, and so on. Then, you click the confirmation button, and your website is ready to be used in no time.
From a design perspective, Wix has the following advantages:
900+ professionally-designed templates;
two beginner-friendly editors;
editing in real time;
the Redo, Undo, and Preview options;
the ability to change any element's size, position, and alignment;
convenient gridlines and horizontal/vertical rulers;
Wix Logo Maker;
Wix Pro Gallery;
Wix Mobile App Builder.
Both Mobirise and Wix have a similar weakness. You should be extra careful when choosing an adequate template. You won't be able to change it without losing all your settings and content on both platforms. However, you can build as many websites as possible on both platforms.
Mobirise and Wix give open access to code. So, more experienced users can edit their pages' HTML and CSS code to improve their website's uniqueness and design consistency.
While there are multiple analogs of Mobirise and Wix with similar editors, I see Wix as the best solution for most users. Regarding design simplicity and possibilities, Wix has advantages over Mobirise and most other site builders available in the industry today.
Website Functionality Comparison
When it comes to integrations, Mobirise is a very modest site builder. The Mobirise Kit offers 22 extensions so far. Among them, you can find handy instruments like these:
Feeds for major social networks;
PWA Builder for simple website-to-app conversions;
Popup Builder;
Form Builder;
Music player;
Lazy Load (to optimize your CSS files);
Chat Button.
Do not expect much from the application if you consider using Mobirise for eCommerce purposes. Its toolkit includes such extensions as PayPal Shopping Cart and Smart Cart. Yet, all these add-ons are enough for a tiny online store or an individual entrepreneur for whom the ability to accept payments via Stripe, PayPal, or Whatsapp is enough to start.
Wix represents a more efficacious instrument in this respect. The site builder offers over 500 integrations, and its toolkit includes various apps for smart analytics, marketing, and eCommerce. Within your Wix plan for business or eCommerce, you can expect to use the following features:
Wix App Market;
physical & digital products;
product management tools;
100+ payment gateways, including PayPal and Stripe;
multi-currency payments;
Wix Point of Sale;
Site Booster;
Visitors Analytics & customized reports;
access to marketplaces;
sales through social media channels;
subscriptions;
customer accounts;
Modalyst dropshipping instruments;
the automated tax calculator;
the abandoned cart renewal feature, and more.
Since Wix enables a fully managed plan, your functional possibilities with the site builder can be massive. However, Wix's regular plans may have enough tools for your project.
Wix Marketing & Tracking
Wix is a great choice in terms of marketing. Its instruments include a landing page builder, a form creator, a business card maker, a title generator, and a tool for creating QR codes. You add a bio link on social media networks. It can have an effective form of a pre-roll, a link with a shortened URL, etc.
Through the Wix App Market, you can integrate your website with add-ons like Google Analytics, Google Ads, Facebook Pixel, and Google Tag Manager. Other available integrations include Yandex Metrica, TiXel, StoreMetrics, Get Donation, and numerous others.
Wix eCommerce
Wix offers about 500 templates for eCommerce. They are designed to make the management of your online store seamless and fast. The template page contains a separate online store menu, which, in turn, is sectioned into subcategories like Fashion & Clothing, Electronics, Arts & Crafts, Pets & Animals, Food & Drinks, and more.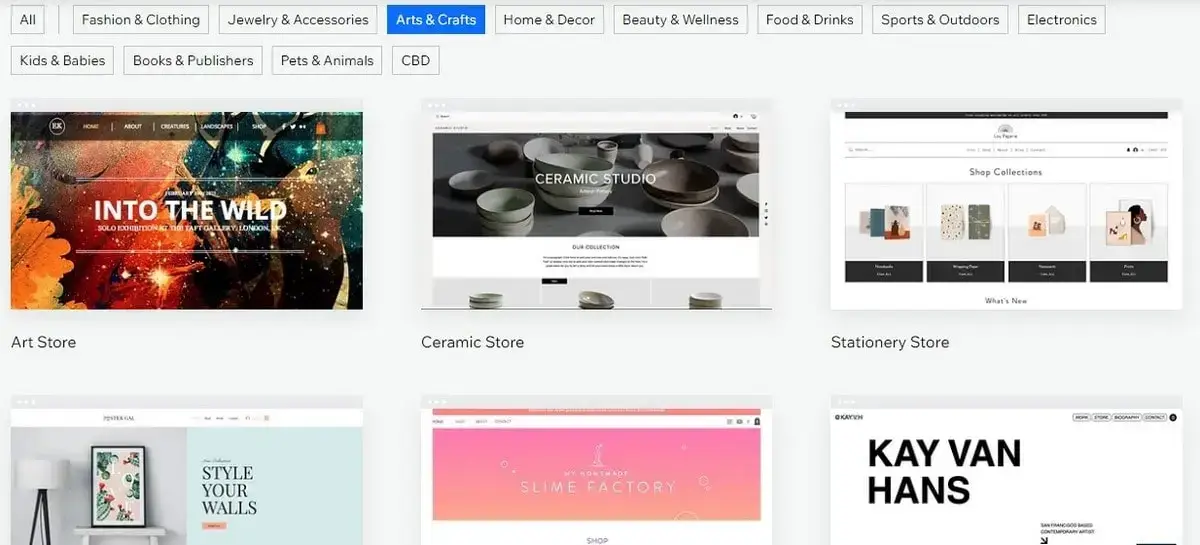 Thanks to the Wix mobile app, you can build, publish, and manage your online store on the go. You can easily connect an extension necessary to extend your website's functional capacities through the unified dashboard. Besides the tools noted in the above list, Wix offers advanced API instruments and Wix Velo. These platforms can help you create personalized solutions for your eCommerce project.
Wix supports unlimited products (digital ones included). You can organize product catalogs to look convenient and visually appealing to your customers. It is possible to add images and videos together with text descriptions to your goods. You can also edit the SEO settings of titles, descriptions, and other meta elements.
Regarding functional capabilities, Wix is a much more effective site builder than Mobirise. The latter can be used only for simple, individual projects. Wix will suit middle-sized online stores and businesses.
Pricing Opportunities
Mobirise is a free application. You download, install, and use it without spending a cent. Yet, you'll need to pay for a template (chances you'll wish to apply anything but the two free themes available on the platform) and extensions. Every premium theme on Mobirise costs $49. Prices for extensions range from $39 to $69.
Sums are affordable, but you might need to connect the best part of available add-ons. So, the final cost may skyrocket. If you need a lot of extensions, consider purchasing a one-year license for the entire Mobirise Kit.
All its apps will be accessible to you for 12 months for as much as $149. The further subscription will be 50% or 74% more expensive.
Pay attention that you'll also need to buy hosting and a domain. The latter is needed if the /mobirisesite.com free domain does not satisfy your project's ambitions.
Wix offers five plans. Each of them contains a well-thought-out set of features. You can select a suitable one, depending on the complexity of your project. If opting for annual billing, expect the following pricing model:
Wix Plans
Light
Core
Business
Business Elite
Enterprise
Price, per month
$16
$27
$32
$159
managed
Members
2
5
10
15
unlimited
Storage
2 Gb
50 Gb
100 Gb
unlimited
unlimited
eCommerce suite
–
basic
standard
advanced
advanced
Marketing suite
–
basic
standard
advanced
advanced
Analytics
–
basic
standard
advanced
advanced
Payments
–
accepted
accepted
accepted
accepted
Remember that all Wix plans, including the cheapest ones, go without Wix branding. Their prices include free hosting, a free one-year domain, 24/7 support, and a free SSL certificate.
So, Wix ensures better value for money if you plan to run a professional project. Mobirise can be extremely affordable, but it's only a good bargain for simple projects.
Verdict
Non-techies and users with little web development experience can opt for Mobirise and Wix. Both tools are easy to use. Yet, Mobirise will suit those who need simple websites for personal use without complex transactions and marketing activities. The platform is free until you need to extend your website's capabilities. Most themes and all Mobirise extensions are paid, and the prices vary from $39 to $69 per item.
You can purchase a yearly subscription to Mobirise Kit, but it won't include hosting. You'll also need to buy a custom domain from a third-party registrar if the Mobirise-branded domain doesn't fit you.
Wix is as easy to use as Mobirise, but its possibilities are much wider. Even its cheapest plan includes free hosting, an SSL certificate, and other must-have features. So, any Wix plan can be a more reasonable investment than the Mobirise Kit, let alone its pay-by-each-item system.
Wix will let you build a more complex website than Mobirise. The site builder offers an effective set of instruments ideally fitting for small and middle-sized businesses and online stores. In fact, you can build anything with the help of Wix's smart editors and massive app market.
Thus, with a simplistic website in mind, you can do with Mobirise. However, I recommend calculating the final cost of hosting, a domain, and the needed extensions beforehand so you do not get into a trap!
If you plan a professional eCommerce or business project, opt for Wix as a more capable and beneficial site-building instrument. Its price will pay in the long run.