Whether you're a budding entrepreneur, a creative professional, or a business owner, you will certainly need a website that will serve as a digital gateway to the services/products you offer. With the emergence of user-friendly website builders like Wix, setting up a full-featured website has become more accessible than ever for beginners.
Even though the popularity of Wix is undoubtful, it has introduced an innovative tool meant to make the website creation process even more straightforward and professional with no deep coding proficiency (see my Wix review). So, I'm now ready to discuss and review the advanced Wix Editor X – the platform tailored for those who seek a higher level of design sophistication.
In this comprehensive post, I'll delve deep into the differences between Wix and Wix Editor X, dissecting their features, functionalities, and helping you determine the best fit for your unique web design needs.
What is Wix Editor?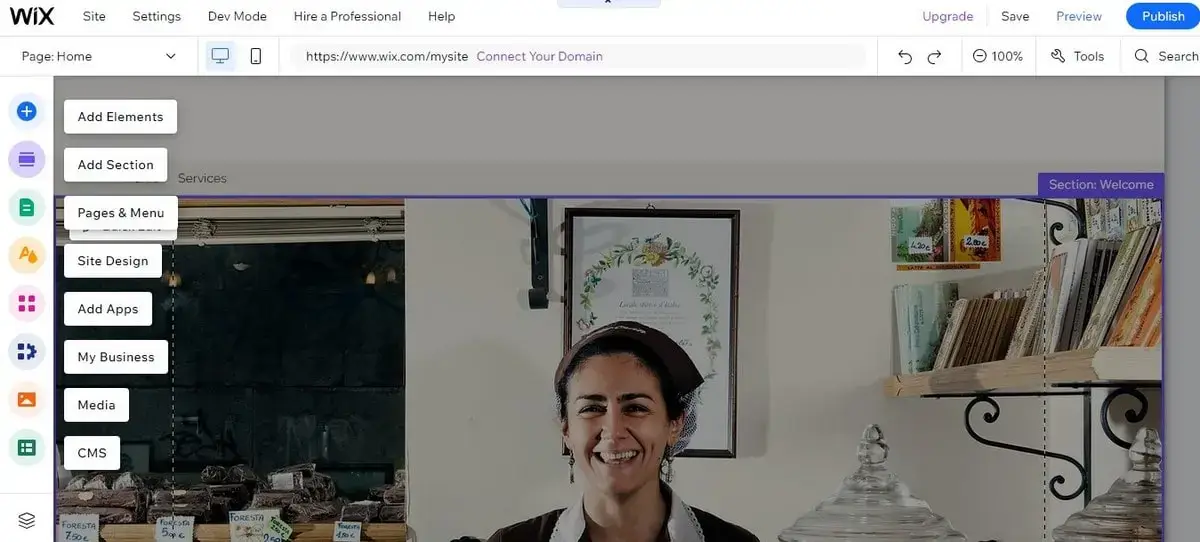 Standard Wix Editor is actually the cornerstone of the website creation process that has made the platform so popular with the target audience since the first moments of its foundation.
The defining feature of Wix Editor is its drag-and-drop interface, which makes it possible to design visually striking websites without the need for extensive programming knowledge. This intuitive approach eventually allows everyone to launch projects that combine functionality and aesthetic appeal.
Unlike the Wix ADI tool (I'll tell about it further), Wix Editor grants access to the amazing library of high quality templates. They are developed to cater to various industries, making the starting point of your website creation effortless and engaging.
Whether you are a local business owner looking for a way to overcome niche competitors, an artist seeking for a solution to showcase your portfolio or just a blogger/freelancer, Wix Editor has a template to match your unique requirements and vision.
As time went by, the popularity of standard Wix Editor has started decreasing because of innovative web design solutions offered to the target audience. Trying to catch up with the growing niche competition, Wix developers have introduced the new Editor X yet Wix ADI has also remained in demand with non-techies.
What is Wix ADI?
Powered by artificial intelligence, Wix ADI is strongly committed to convenience, simplicity and accessibility. This is a perfect starting point for newbies and regular software users who don't wish to bother about intricate web design nuances and prioritize simplicity above all.
The tool lets you generate unique website designs based on the submitted information. Right after you sign in and pick Wix ADI as the website creation option, the system will start asking questions to understand what project exactly you need. It takes a unique approach by generating a personalized website design based on your responses. This automated procedure speeds up the initial website creation process, making it ideal for those who are looking to establish a digital presence quickly.
Regardless of its simplicity, Wix ADI is somewhat limited in terms of design fine-tuning. It obviously lacks tools and features that can make your website a unique standalone project with advanced customizability and superior functionality.
You need to realize that if you intend to set up a full-featured project, then using an innovative Wix Editor X really makes sense.
What is Wix Editor X?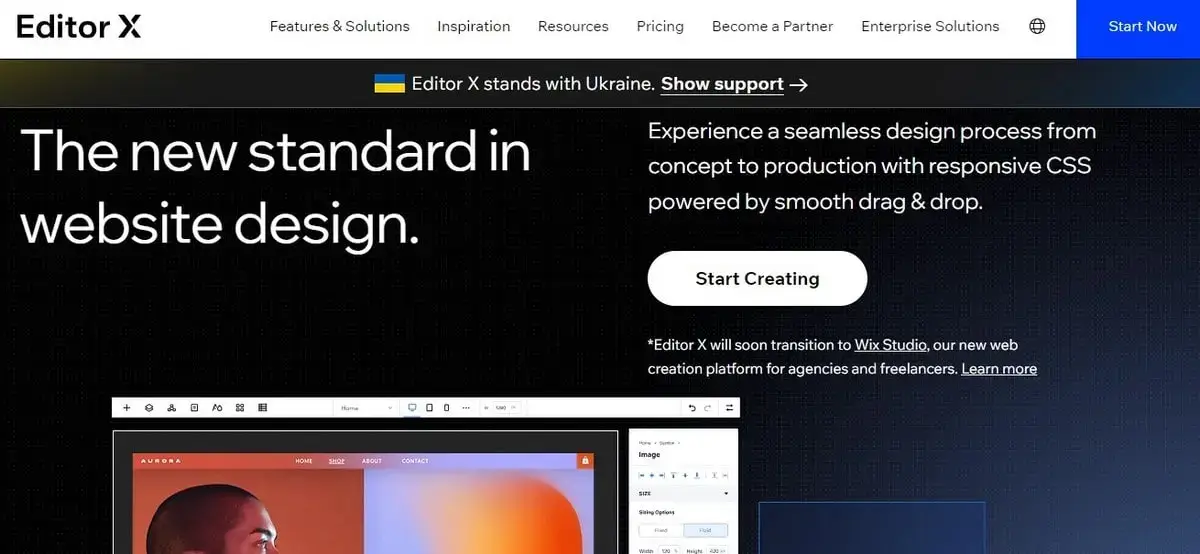 Wix Editor X enters the arena as a platform that caters to a more demanding audience: professional designers and developers. An ongoing revolution from the regular Wix Editor changes the entire perception of the web creation process that has previously been practiced by the standard Wix website builder.
An advanced Wix Editor X is best suited for the needs of professionals, offering access to intricate designs, advanced responsiveness, pixel-perfect precision and high end customizability. To some extent, Editor X has already introduced a brand new level of design capabilities, letting the software subscribers craft web projects that seamlessly adapt to the devices with various parameters.
Wix Editor X grants access to advanced design features and tools. These include flex box and grid layouts, text scaling, custom breakpoints, docking, stack and scale media integration along with flexible canvas for handy screen resizing.
Furthermore, Editor X places a strong emphasis on design freedom. It provides users with the ability to manipulate design elements at a microscopic level, ensuring that every detail aligns with the intended vision. This level of customization is particularly crucial for professionals working on projects that demand unparalleled attention to detail.
For more details, it is high time to discuss the major differences between Wix and Wix Editor X.
Wix vs Wix Editor X – What's the Difference?
As mentioned above, Wix and Wix Editor X are two quite different website builders with diverse approaches to the project creation process. Thus, it makes sense to review and compare the systems from the point of view of their major parameters: templates and features, responsive design, collaboration opportunities, developer tools, applications, functionality, customer support and pricing policy.
Templates and Features

While Wix templates and features are baseline, Wix Editor is more focused on design teams, professional creators and web developers. Standard Wix Editor comes with over 800 high end templates, while Editor X currently has 28 themes only. By the way, it does not offer eCommerce designs by default, while Wix has a separate category of them.

Responsive Design

You can create responsive websites with both systems yet Editor X allows for manual breakpoint editing of each content element on your web page. It is also possible to anchor content elements to predefined points on website pages, if needed.

Collaboration Opportunities

When using Editor X, you can edit the selected design with a tram of partners. Team collaboration is enabled here, letting you control the actions of other members, leave comments on any content element, add tasks, questions etc. Likewise, you can assign user roles and permissions when it comes to collaborative website creation approach. Wix, on the contrary, lets only one user edit a project at a time. If needed, you can invite others to work with you, but no commenting and task assigning features are available here.

Developer Tools

With Editor X, you will have an opportunity to browse and enjoy its integrated web development environment. You can edit Java and CSS code due to the built-in code editor. There is also access to the dedicated Node.js server, if you need to test Javascript code. This is indispensable, when it comes to creating content for dynamic websites. Standard Wix comes with limited customization solutions.

Applications

App Market offers free and paid extensions both Standard Wix and Editor X share. There are currently over 250 extensions there that refer to versatile aspects – blogging, marketing, eCommerce, business, merchandising and more. Mind that not all apps are compatible with Editor X – you'll need to test an extension before integrating it to your project.

Functionality

Functionality is the most remarkable distinction between Wix and Editor X. Both systems offer quite a similar procedure of website creation – from the moment you pick a design and up to site style customization, dragging and dropping content elements on web pages and publishing it. Wix, however, opts for streamlined simplicity while Editor X is marked by unlimited customizability. Eventually, you will need more time to set up a website with Editor X than with Wix.

Support

Both platforms share the same customer support team. They offer 24/7 email and phone support, extensive Knowledge Base, multiple blog posts, video and text guides. When trying to get in touch with Editor X support, you will be automatically redirected to the Wix customer support chatbot. It will either instantly connect you with the team member or schedule a callback within the upcoming 5 days.

Pricing Policy

Wix has a free plan, while Editor X doesn't. In terms of pricing, Wix is cheaper than Editor X. The cost of Wix plans starts at $14/mo, while the price of Editor X starts at $22/mo. Mind that both systems offer restrictions, when it comes to video hours and website storage. The latter starts at 3GB at Wix and at 10GB at Editor X.
Which Is Better – Wix or Editor X?
So, which one is better – Wix or Editor X? The question depends on your specific requirements and skills. If you're new to website design and look for an accessible platform, Wix Editor is likely to work best for you. Its user-friendly interface, coupled with a set of templates, makes it possible to create a functional website without the need for extensive tech expertise.
If you're a professional web developer or an individual who aspires to create highly customized and visually impressive projects, Editor X is the clear winner. It equips you with advanced tools to set up websites that stand out in terms of design, responsiveness, customizability, functionality and user experience in general.
Can You Use Editor X Instead of Wix?
Wix and Editor X are presented as two different web design platforms. However, they have both been created by the same team of developers, this means that if you already have a website built with a Standard Wix Editor, you can transfer to Editor X anytime. The content you have submitted or design elements you have selected won't be lost. This is because Wix's flexibility makes it possible to adapt to the evolving website development approaches in case of necessity.
Transitioning from Wix Editor to Editor X is a user-friendly process. You initially have to log into your Wix account, navigate to the "Site Actions" menu and then pick the "Move to Editor X" option. As a result of this transition, the existing content will be seamlessly transferred to the Editor X platform.
How to Switch from Wix ADI to Editor X?
Just like you can transfer your project from standard Wix Editor to Editor X, you can switch from Wix ADI to it as well. The process is also quite straightforward.
Start with signing in to your Wix account. Then access the "Site Actions" menu and select the "Switch to Editor X". The result will be the same: you will get access to the enhanced design-related functionalities without losing the submitted content.
Conclusion
Wix and Wix Editor X stand as two versatile platforms catering to distinct yet diverse needs of users and targeting various audience types.
Wix Editor's simplicity and no need for complex coding skills cater to beginners and small businesses willing to establish a trusted web presence. As an advanced web design solution, though, Wix Editor X provides powerful functionality to professional web developers who have an intention to set up and customize complicated and full-featured projects.
Whether you decide to choose a user-friendly Wix Editor or the high end innovative features provided by Editor X, both systems will get you covered. Thus, your choice will depend on your goals, expertise, budget, proficiency and customization level required.