Webflow and Wix are two popular choices for creating amazing websites without applying a single line of code. Both companies perfectly meet the evolving needs of the ever-expanding world of website development. And yet, when choosing between the two, it becomes crucial to evaluate which holds the edge.
On one hand, Webflow is a powerful web design and development platform aimed at empowering users to set up stunning sites without applying coding. It features an advanced visual editor and an extended array of customization options. The company provides its users with all the necessary tools for building perfectly tailored and visually attractive sites.
Suppose you search for complete control over your site's functionality and design while not having to implement a single line of code. In that case, Webflow becomes a perfect option thanks to its flexibility, SEO-friendly tools, and scalability.
As for Wix (read my review), we deal with a user-friendly site builder that enables small-to-medium size businesses and individuals to build professional-looking sites effortlessly. The solution features an intuitive drag-and-drop editor and a broad collection of beautifully structured templates, which make it a convenient option for beginners. If you see a quick and easy way to build an online presence, Wix is worth considering due to the range of standout features like eCommerce tools, an extended app market, and its affordable pricing system.
Key Similarities
Webflow and Wix are two leading names in the site-building market. They share a bunch of similarities, yet have specific differences, too. Let's check the basic identities first:
Both companies offer code-free site building through a drag-and-drop editor.
Webflow and Wix introduce multiple professional-looking templates, which are fully customizable and mobile responsive.
Both solutions have their brand App Markets, with various apps and plugins for all specters of site customization.
Both parties support SEO optimization.
Key Differences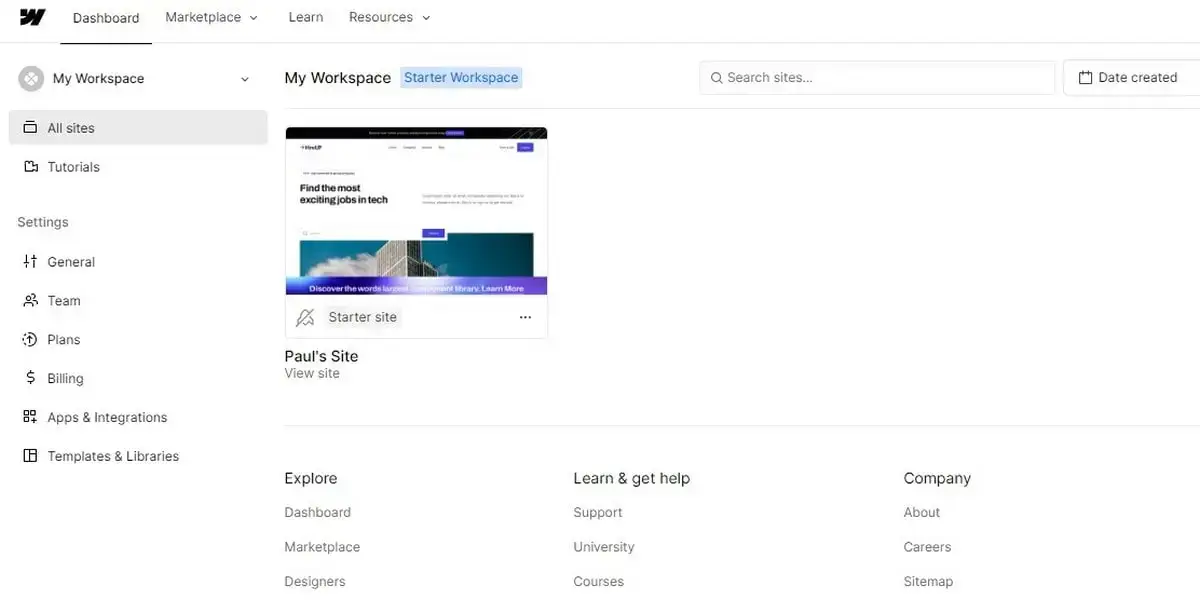 Though both solutions were established with beginners and no coders in mind, some differences still make one preferable, depending on your project requirements. The essential ones are as follows:
Webflow has a lifetime free plan, and the pricing is cheaper than Wix's.
Wix is more beginner-friendly, and Webflow has a steeper learning curve.
Webflow covers more advanced eCommerce tools than Wix.
Webflow provides users with deeper customization options. Also, it offers an HTML CSS editor to code the site if you have the skills and want more considerable control of your site design.
What Is Easier to Use?
Both Webflow and Wix offer user-friendly interfaces appropriate for designing sites intuitively. Let's clarify how easy each platform is with facts.
Webflow has a straightforward user interface and provides its new users with straightforward onboarding. If you are a complete novice, it's worth dedicating some time to the tutorial to avoid further uncertainties.
Nevertheless, being developed with both new and experienced web developers in mind, Webflow delivers a pretty dynamic approach to web designing. It features a multitude of tools and capabilities that should never be underestimated. Otherwise, you may end up with a lousy project quality. The time necessary for familiarizing yourself with the service's control panel and exploring all categories, tools, sections, aspects, etc., is more than when working with Wix.
The solution includes:
Several exquisite toolbars;
A CSS/HTML editor;
Advanced design modification tools (extensive knowledge and coding expertise are necessary for handling them).
First-time users might get perplexed by the diversity of tools, all logically arranged in the control panel.
Also, Webflow uses its brand "Box Model" for site structuring. You build a box for every site element separately (for buttons, images, text, etc.) to superimpose on each other when done. This way, you get a better idea of what you're building and can get whatever website design you have in mind.
Despite the straightforward UI and drag-and-drop functionality of Webflow, its ease of use is inferior to that of Wix, given its more robust tools and customization. On the other hand, the Wix WYSIWYG site builder is ideal for an average user with no skills or experience and needs a well-working site for a small to medium-sized business.
After the registration, which takes only a few minutes, you are taken to the intuitive and well-organized control panel. The latter is divided into two sections – the Dashboard and the Editor. Thanks to such a separation, you can monitor and manage every stage while developing the project. This way, you can correct all faults on time.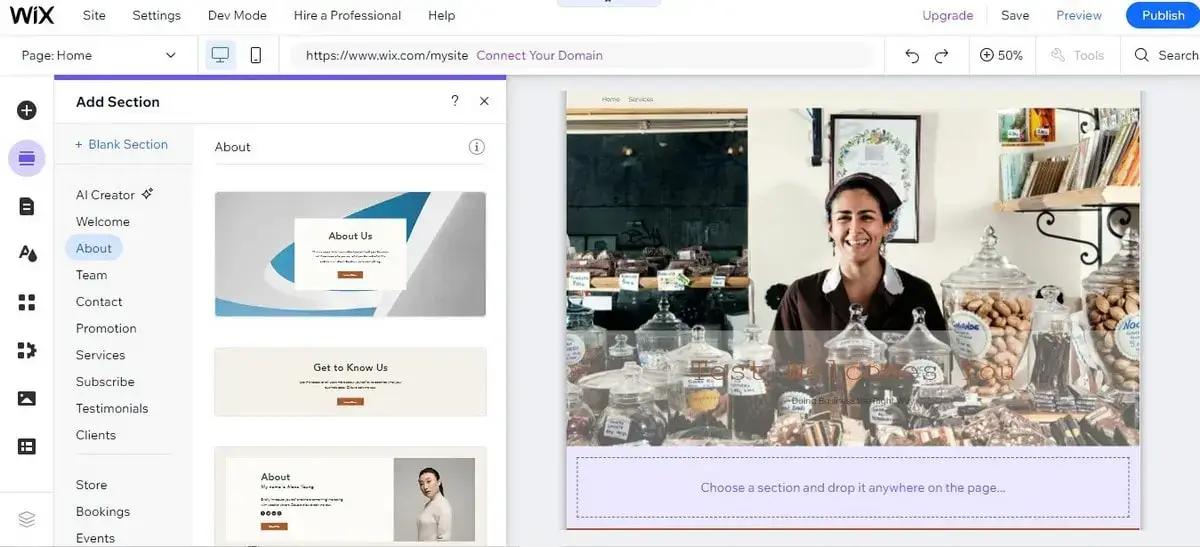 Wix engineers constantly work on simplifying the site construction process with no sacrifice to the ultimate result. Today's redesigned editor enables the creation of modern sites with simple navigation, extensive parallax scrolling effects, video backdrop integration possibilities, and plenty of other valuable tools, still without applying coding.
However, Wix doesn't let you change the already chosen template without losing the content. If you determine to apply another template after the website has gone live, you will have to re-submit the whole information manually. This is definitely a drawback, yet overall, Wix scores higher than Webflow in ease of use.
Meanwhile, Webflow is preferred for more experienced developers and designers, given its great flexibility and thorough control over the design process.
Design Options Comparison
Both companies do a great job when it comes to creating professional-looking and highly functional sites. However, you may find one better depending on your skills and requirements.
Webflow introduces over 1,000 templates (around 45 are free), categorized into different groups, niches, types, and features. Mainly, you can narrow your search to get only Retina-ready templates, those with responsive sliders and 3D transforms, or have only those showcased with minimal settings. Also, Webflow allows starting from scratch.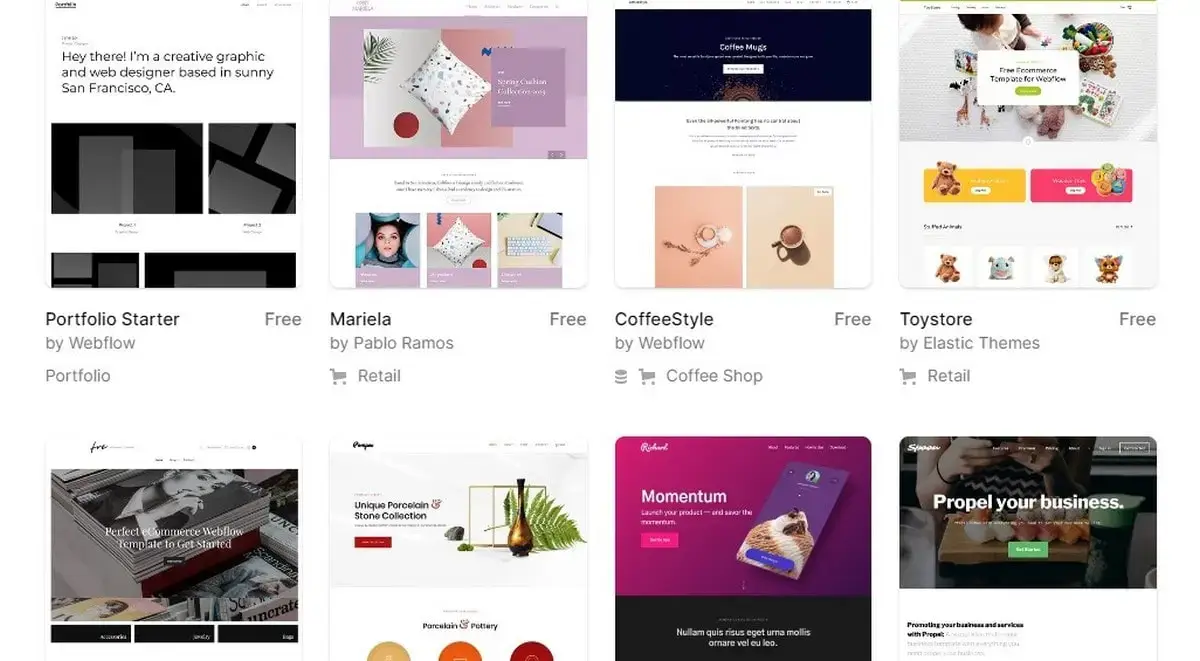 Once you pick up a template, a list with all available features and functionalities overview is introduced. Since Webflow templates are not easy to change, it provides two preview options – preview in a browser and preview in the designer mode. The first option enables users to scroll and test the template from a site visitor's point of view. The second option lets you see the layout of all elements on the web page (also how they render on different screen sizes). And if you are sure of your choice, go straight to the purchase.
Thanks to the brand's Designer tool, all templates of Webflow are mobile responsive and fully customizable, from the general layout to the typeface design. You can add animations, interactions, Figma files, forms, CAPTCHAs, search bars, carousels, etc. They are all sorted in the left-hand menu. From the first click on your site to the publishing process, it is carried out in the Designer interface.
Depending on the type and category, your choice will include respective elements. For instance, an eCommerce template will involve a blog page, a homepage, a Contact Us page, an About Us, a checkout, and a thank-you page. Also, the Designer's tools are to be used for altering the look and feel of the whole site, including the background color, fonts, nav bars, borders, and all other elements you have on your template.
Now let's refer to Wix, another site builder with thoroughly customizable, mobile responsive templates. New users are met with a robust portfolio of design capabilities right out of the box, with no need for third-party applications. Over 800 templates are introduced, covering numerous industries and categories, from business to photography, food blogs to online stores, etc. All options support the drag-and-drop functionality, which eliminates the necessity of coding.
Aside from standard customization options, like modifying colors, fonts, images, etc., Wix has an advanced design features' set involving animations, parallax scrolling, maps, video backgrounds, interactive slideshows, and many others.
However, the presence of several editors makes Wix's design configuration unique and attractive. Each enables website customization to a different extent with a different approach:
However, compared to Webflow, Wix's customization options are somewhat limited, making Webflow a better variant for intricate and unique designs.
Read also:
What's the Difference Between Wix and Wix Editor X?
Website Functionality Comparison
Webflow and Wix have a slew of features that simplify site editing – none of them requires you to write code. You simply choose the necessary tool from the dashboard and see how it performs.
eCommerce
In the realm of eCommerce, both platforms are appropriate for creating small to medium size online stores.
Wix ensures seamless integration of eCommerce tools to its platform so that users can create visually appealing and functional online stores. Particularly, it introduces three eCommerce plans, packed with product management tools to manage services and products of the store efficiently (pricing, product descriptions, inventory levels, etc.), payment gateway integration (Stripe and PayPal), inventory tracking to keep track of our stock levels and be alerted when some products are about to run out, etc.
Webflow, too, serves excellent for establishing an online store. It has a separate section of eCommerce tools you can start with, customize, or import products immediately. Creating an online store on Webflow proceeds in three phases: setting up, designing, and launching. During the first phase, you edit such parameters as your business and shipping addresses, how the tax should be calculated and collected, and what currency you will require for your payments (you can receive payments from over 200 countries through credit cards, Apple Pay, PayPal, Google Pay, and Stripe), as well as product adding. The solution supports manual product editing and importing them via a CSV file.
The second design phase involves creating separate product pages, cart pages, and emails. Meanwhile, the final stage of launching an online store comprises editing a payment provider, choosing a hosting plan, enabling payment checkout and SSL.
Webflow definitely offers more flexibility for scheming custom eCommerce experience and third-party platform integration. All this makes it a better choice for businesses with complex eCommerce requirements or needing to focus on design aesthetics.
SEO and Marketing Tools
It's a must for any modern website to have robust search engine rankings. Both Webflow and Wix support premium search engine optimization tools in this regard.
Webflow allows automatically generating metadata based on the user's CMS Collections, modifying the robots.txt files, and setting up automatic sitemap. It provides a robust 301 redirects management system so that you can easily migrate old URLs and web pages to new platforms, as well as carry out audits and identify any sort of SEO issues for further fixing (broken links, missing alt tags, slow loading times, and so forth). All this is managed from the integrated SEO panel.
Wix sites are SEO-friendly, too. The company allows users to set SEO criteria for their site and pages, as well as alter the URLs to fit their demands and niche. You can add meta descriptions and titles to pages and Alt tags to images while the brand's SEO Wizard ensures ready-to-use instructions for even better site optimization.
Accordingly, if you prioritize SEO for your site, Webflow ensures an advantage.
Portfolio Features
Both solutions cover many appropriate features if you intend to design a portfolio site. For instance, Wix covers around 60 well-designed and modern portfolio templates, categorized into modeling, photography, acting, and copywriting categories. Also, they have special built-in tools like contact forms, blogs, online stores, and image galleries.
As for Webflow, the latter claims to be a perfect solution for those who need to create a portfolio that would best showcase their design skills. You are offered multiple portfolio sites to be filtered by style (dark, elegant, organic, etc.), features, type, and even language (English, German, Spanish, French, and Italian are available). Also, you can start your portfolio site from scratch.
So, Wix is an easier option for portfolio builders, but Webflow provides more control over what you add and create.
Integrations
Although both Wix and Webflow have built-in functionality, they also suggest advancing your site functionality through third-party apps and plugins. Wix's app market covers many features like eCommerce, social media integration, booking systems, fonts, etc. The App Market features third-party tools and those developed by the brand, involving Wix Forms, Wix Booking, Wix Stores, Wix Events, and Wix SEO Wiz.
Webflow has its brand App Market, too. The latter incorporates over 5,000 tools and plugins for enhancing a site's marketing functionality, social media reach, eCommerce capabilities, website analytics, etc.
Pricing Capabilities
After covering so many important aspects regarding Wix and Webflow as website builders, there's still one more aspect to consider – the pricing capabilities. How much will Wix and Webflow each cost you per month for using their basic plans' services?
Wix introduces five plans, starting with the Light plan at $16/mo. At this cost, you have 2 collaborators for one site, 2 GB storage space, a Light marketing suite, and a free domain for one year. Other tiers are the Core at $27/mo, Business at $32/mo, Business Elite at $159/mo, and Enterprise coming at a custom price.
Webflow, in the meantime, has a lifetime Free plan dedicated to hobbyists and staging site creators. This tier allows creating a two-page entry-level site with 50 CMS items and 50 form submissions, while the traffic is limited to 1K visitors and 1GB bandwidth per month. The introductory Basic plan, meanwhile, provides users with a custom domain, the ability to set up a basic site with up to 150 pages and 500 form submissions per month at only $14/mo. The covered traffic is moderate – 50GB bandwidth, 250K visitors, and fast speeds. Other Webflow plans are the CMS at $23/mo, Business at $39/mo, and Enterprise at a custom price.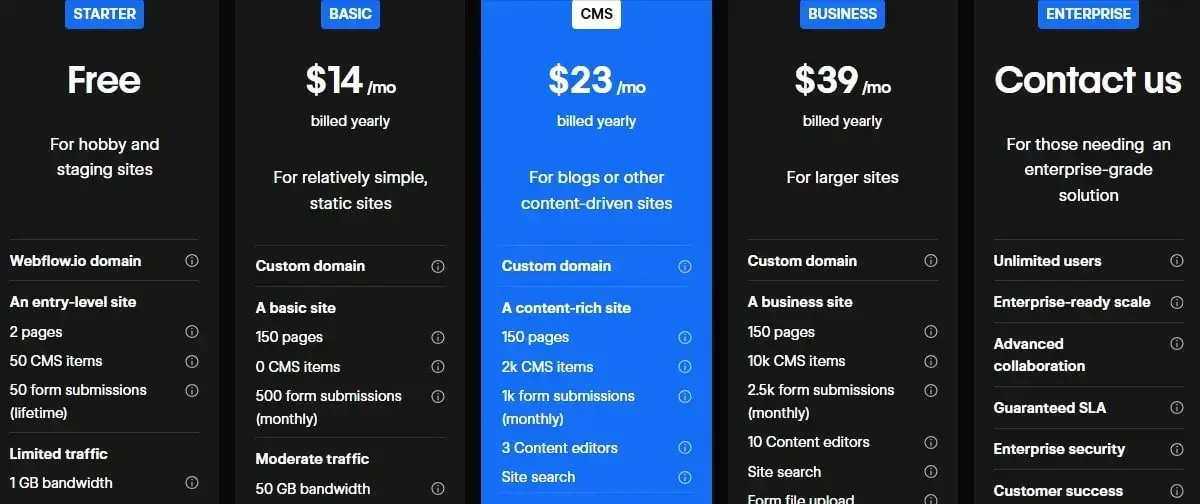 As you can judge yourself, Webflow users are privileged with a free plan option and lower prices for the paid ones.
Verdict
The choice between Webflow and Wix can be overwhelming, especially for non-technicians without extensive site design experience. Both these solutions are worthy rivals – they provide robust functionality and site customization options at competitive prices without requiring to write a single line of coding.
However, Webflow is an all-in-one solution appropriate for inexperienced and skilled web designers, while Wix accommodates accommodates novices. It suggests a more flexible and customizable approach than Wix.
However, when choosing between these two solutions, consider your specific requirements. If you need advanced design control, scalability, and flexibility for complex projects, you'd better opt for Webflow. It will deliver enough advanced features and customization options to come up with a perfectly designed enterprise-level website.
Meanwhile, Wix user-friendly site builder is excellent for those users who prioritize simplicity over functionality. It has an impressive selection of templates, is affordable, and allows designing a site with a drag-and-drop editor.