There is no bad solution in the pair of Wix and Weebly, two popular site builders. There may only be not the best solution for your project. Both platforms power millions of websites worldwide and have loads of success stories. Which of them will let you write your own story of success?
Feel free to use my 2023 guide on Wix and Weebly to understand the critical differences between the two platforms. This comprehensive comparison of their functions will let you make a knowledgeable choice and build the site you need.
The Importance of Selecting the Right Website Builder
Today's platforms may seem quite similar. Yet, this vision is deceptive. Wix and Weebly are two striking examples. The platforms are extremely convenient instruments with free hosting, security features, AI-based options, etc. Yet, you cannot equate them!
You can decide on this or that platform only if you understand its opportunities in the following criteria:
Usability.
Design options.
Features & available functions.
Security.
SEO.
General performance & mobile compatibility.
Customer Service.
Cost.
How do Wix and Weebly stack up against each other in all this? The answer will be available at the end of this comparison.
Overview of Wix and Weebly
Wix (my review) and Weebly were introduced nearly simultaneously, and their idea was to let common users create websites without coding and web development knowledge. This goal remains actual today, and the platforms offer different ways of achieving it.
Wix is an Israel-based company that started up in 2007. As a site builder, this cloud platform has evolved significantly and offers top-advanced solutions for non-techies. The platform allows users to create effective online stores, portfolios, blogs, business websites, etc.
Weebly has been in service since 2006, but its new story started in 2018 when Square, a payment giant, acquired it. Weebly is a simple site builder with a universal approach. So, you can build any type of website with its help.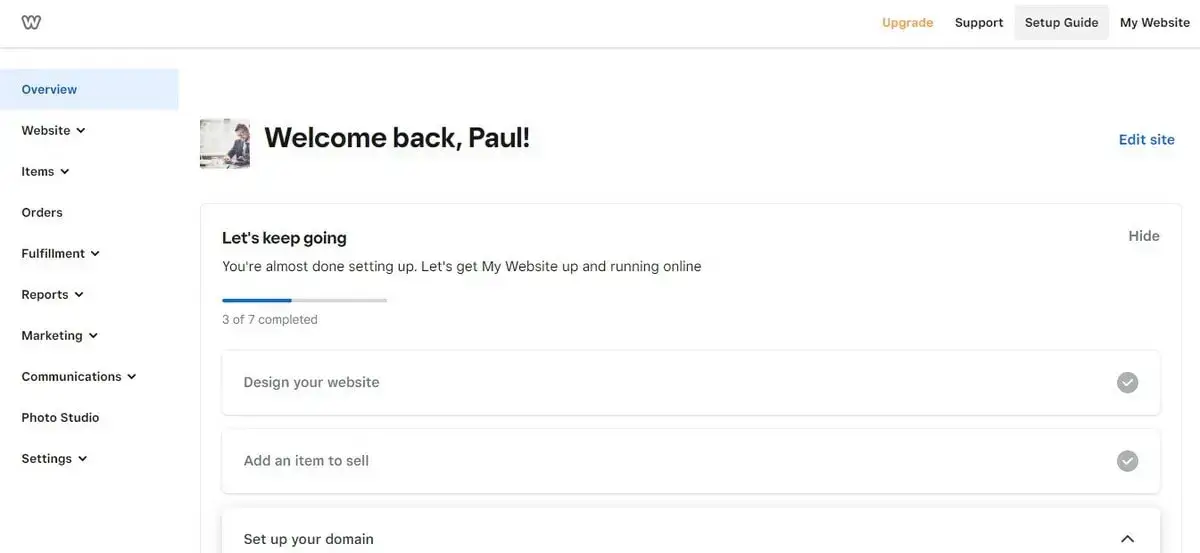 The descriptions are pretty similar, aren't they? Yet, these are different platforms with quite divergent possibilities. Let's proceed with their in-depth comparison.
Read also: my Weebly review.
Ease of Use
The starting point in any site builder's evaluation is to check its usability. If it is too steep to learn, you must hire an expert or switch to another solution.
Wix: User-Friendly Website Building
In terms of usability, Wix is an excellent builder for non-techies. It includes two modes of site building: simple and tremendously simple. Wix bases the whole creative process on AI and drag-and-drop techs. You'll create a website by taking these steps:
Get registered with Wix.
Choose the regular editor (easy-to-sue) or the AI-based one (it'll make your site itself).
Choose a template with the regular Wix editor and customize its design without coding.
Provide your pages with add-ons with a click.
Connect a custom domain if necessary.
Preview the ready website.
Publish your site.
You do not need to pick a host since free hosting is included in all Wix plans. They also include security and SEO solutions for your project. Wix can compete with any site builder in usability. Yet, it offers more options than most of the available platforms.
Weebly: Streamlined and Easy-to-Use
Expect a really straightforward building process with Weebly. The site builder is easily accessible to newbies. Its editor is also based on drag and drop and employs some AI features.
However, the simplicity of Weebly is a different thing. While Wix offers multiple options for design and functional customization and remains easy to use, Weebly is simple because its function set is limited. Yet, I must admit that the two site builders offer users equally effortlessly creative processes.
Design and Templates
Wix and Weebly offer the same type of editors. However, you should expect essentially different design capabilities from these site builders.
Wix's Template Variety and Customization Options
Wix will give over 900 professionally designed templates at your disposal. The platform offers an easy-to-search bank, with all themes grouped by purpose. Wix's common editor allows for customizing the predetermined layouts of all templates freely enough.
The editor will let you see your changes in real-time. You can add, remove, or substitute elements, modify their size and position, and so on. The editor's working area has a convenient grid with horizontal and vertical rulers. Besides customizing styles, fonts, colors, and images, your design options include the Wix Logo Maker and Pro Gallery. Blank themes and access to CSS and HTML coding options are also supported. Wix supports an unlimited number of pages.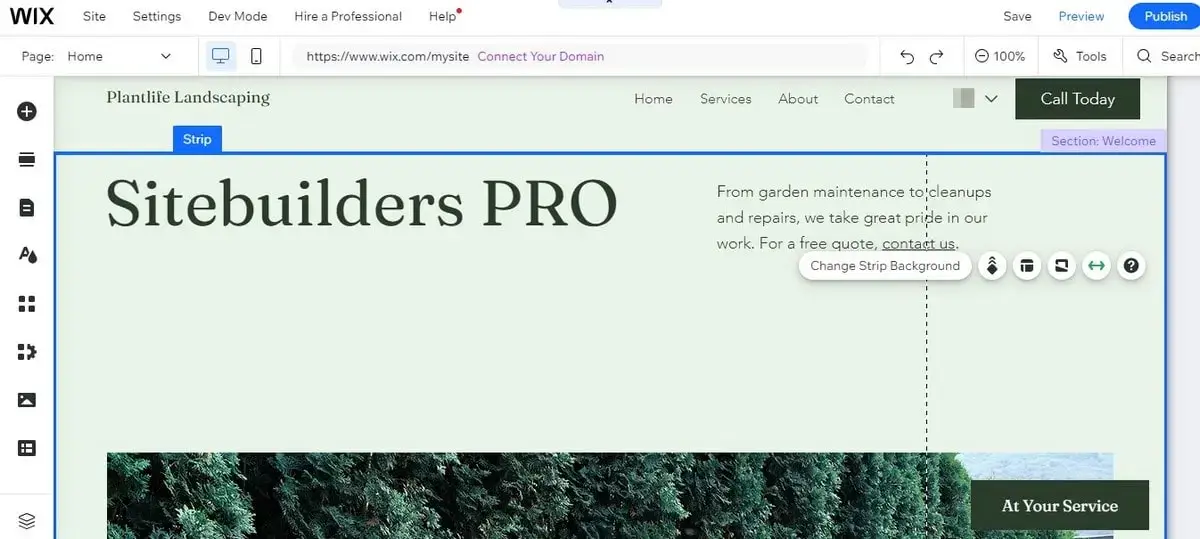 One more option of Wix is its ADI Editor. The principles of web design with its help are simple:
ADI Editor poses a number of questions to you to define what sort of site you need (design, features, etc.).
You answer all the questions as thoroughly as possible.
You confirm you wish Wix ADI to create a website for you.
Wix ADI delivers you a ready-to-use website tuned up to your requirements.
Surely, this is a helpful option for complete starters. You may not doubt the quality of the outcome. Your website will look professional and have all the functionality you need.
Weebly's Template Selection and Design Flexibility
Weebly also offers an easy-to-use editor based on drag-and-drop technology. Its template bank comprises about 50 quality themes. Weebly's editor is strictly structured. It means you won't be able to modify your website's layout. You can insert various blocks, but their position is strictly predetermined.
You can edit the color palette, change images, and customize fonts. Without working with custom code – which is supported in Weebly – you won't be able to generate a complex and unique design. The maximum number of pages is 100.
So, if you need a balanced mixture of usability and design freedom, choose Wix. If you need to create an unpretentious website with a simplistic but fitting design, Weebly is a nice option.
Features and Functionality
Wix and Weebly claim they can build a website of any type for you, and it's true. However, your blog, artist's studio, or online shop powered by Wix will differ from one based on Weebly.
Wix's Extensive Features and App Market
Wix has been the most effective instrument among no-coding site builders yet. Even its cheapest plans include the minimum features needed to run a professional and secure website. Besides built-ins, Wix offers an impressive App Market with 500+ integrations.
Weebly's Built-in Features and App Integration
Weebly includes basic features in all its plans. It's ready to supply your website with about a hundred extensions. All this is enough for individual websites, blogs, simple eCommerce, and other small projects.
Of course, in terms of functional capabilities, Wix outperforms Weebly. This is seen especially clearly when comparing two site builders' marketing and online store options.
Pricing and Costs
Which digital builder is cheaper? Whose plans are better value for money? Let's compare Wix and Weebly's pricing systems to know the answer.
Wix's Pricing Plans and What They Include
At present, Wix offers four prepaid plans and a fully managed one. All plans go with free hosting, the custom domain option, and a free domain for one year. The feature supply of the plans looks like this:
Wix Plan
Light
Core
Business
Business Elite
Enterprise
Price per mo.
$16
$27
$32
$159
Managed
Collaborators
2
5
10
15
Unlimited
Storage
2 Gb
50 Gb
100 Gb
Unlimited
Unlimited
eCommerce
–
Basic
Standard
Advanced
Advanced
Payments
–
Supported
Supported
Supported
Supported
Analytics
–
Basic
Standard
Advanced
Advanced
Marketing
Light suite
Basic suite
Standard suite
Advanced suite
Advanced suite
Wix does not offer a free plan, but a 14-day money-back guarantee is available within any package. They all include 24/7 customer support and have no Wix ads.
The Light plan will suit an individual project with no eCommerce needs. Starting from the Core package, you can expect to get enough features to build a small but very effective online store or business website. The Business and more expensive packages are recommended for full-power eCommerce businesses.
Weebly's Pricing Tiers and Budget Considerations
Weebly is one of the most budget-saving solutions in the industry. It has a free plan, and all its plans include the basics needed to start an online site:
Weebly Plan
Free
Personal
Professional
Performance
Price per mo.
$0
$10
$12
$26
Storage
500 Mb
500 Mb
Unlimited
Unlimited
Custom domain
–
Yes
Yes
Yes
Free domain
–
–
Yes
Yes
Remove ads
–
–
Yes
Yes
eCommerce
Yes
Yes
Yes
Yes
Marketing & Analytics
Yes
Yes
Yes
Yes
You see, even the free plan of Weebly includes features for eCommerce, marketing, and analytics. Yet, these tools are pretty basic. Their choice within the most advanced plan is still not enough for a large eCommerce or business.
It's great when you can run an online store for free or at a $10 cost, but with Square ads and storage of 500 Mb, you cannot expect to develop anything serious. Still, all Weebly plans include a free SSL certificate.
So, Weebly may become indispensable for tight-budget projects. If you wish to launch an individual site and it requires neither large storage nor a custom domain, opt for Weebly.
SEO and Marketing
Should you choose Wix or Weebly to create an SEO-effective website with advanced reporting tools? The below comparison of the two builders' SEO and marketing equipment will help you make the right choice.
Wix's SEO Tools and Marketing Features
Basic SEO tools are included in all Wix plans. If you wish to edit your site's predetermined settings, you'll be able to create and modify the following:
meta tags;
UrLs of your item pages and blog posts;
URLs slugs;
canonical tags;
structured data markup;
301 redirects;
robots.txt file, and more.
Wix will provide your site with an automatic XML sitemap. It offers instant Google indexing, advanced SEO API tools for developers, and many more. Wix SEO Learning Hub can create personalized guides for newbies.
As for marketing tools, their set depends on your chosen plan. However, the cheapest Wix plan has the minimum basic features to streamline your website. If you need more SEO or marketing tools, you can easily integrate them via the Wix App Market.
Weebly SEO Capabilities and Marketing Options
Weebly also offers built-in SEO even in its free plan. However, your editing possibilities with Weebly will be quite restricted. You can change site descriptions, add meta keywords, and insert custom footer code. Weebly offers detailed guides on these options.
The built-in marketing tools of Weebly are very limited. The Lead Capture and Instagram Feed options are supported across all plans. Pop-up notifications are included in paid plans only. You'll access Smart Insights only if you subscribe to the Performance package. However, useful apps for marketing can be integrated via the Weebly App Store.
So, Wix and Weebly have similar approaches to SEO and marketing features. Still, Wix grants more built-in and integrated options in this respect.
Performance and Speed
Both Wix and Weebly offer free hosting, but is it actually good in terms of the speed of your website? The platforms' performance opportunities are described below.
Website Performance on Wix
Wix remains the best site builder in its class from the loading speed perspective. Not many platforms can show the same page loading rate of less than one second. Its LCP metric ranges from 2.8s to 0.6s, thus giving a solid average result of 1.7s.
Enhancing Speed and Performance with Weebly
Weebly allows users to build simple websites with a smaller set of features. So, chances are high that your Weebly site will be lightweight and thus fast-loading. An average Weebly website tends to load in less than three seconds. Its LCP is 2.1.
Thus, both Wix and Weebly websites show good performances and loading rates. Yet, Wix remains unbeaten.
Security
Wix and Weebly have built-in security options in their plans. How effective are they? Let's compare the platforms' safety toolkits.
Wix's Security Measures and Data Protection
Wix offers SSL security certificates and ensures your data protection with the help of 126-bit encryption. The platform has a Security Operation Center that works 24/7 and monitors the performance and security of Wix servers.
Keeping Your Weebly Site Secure
All Weebly plans include a free SSL certificate. However, you'll need to connect side applications to provide more security to your website.
So, Wix and Weebly do not give you many tools to manually improve your site's security. Yet, the platforms are initially safe, and Wix looks a bit more advanced in this respect than Weebly.
Support and Community
Responsive customer services are the key options of Wix and Weebly. They also support immense user communities.
Wix's Customer Support and Community Resources
Regardless of your plan, you'll get 24/7 support from Wix. To find answers to your questions, you can use the following means:
24/7 phone support;
Help Center with tutorials, blogs, etc.
Wix Marketplace uniting common users and Wix professionals.
Social network communities.
You can also visit Wix Product Roadmap, Wix Learn, Wix Velo, and other sections in the Support menu to improve your skills in website management and learn the actual news.
The Weebly Community and Support Network
Weebly also offers excellent customer service with the following means supported:
Live Chat;
Email support;
Knowledge Base;
Community forum.
Subscribers to the Performance plan have the phone support option. Weebly supports communities on social media, too.
eCommerce Capabilities
Are you planning an eCommerce project? Both Weebly and Wix offer tools for creating online stores.
Building an Online Store with Wix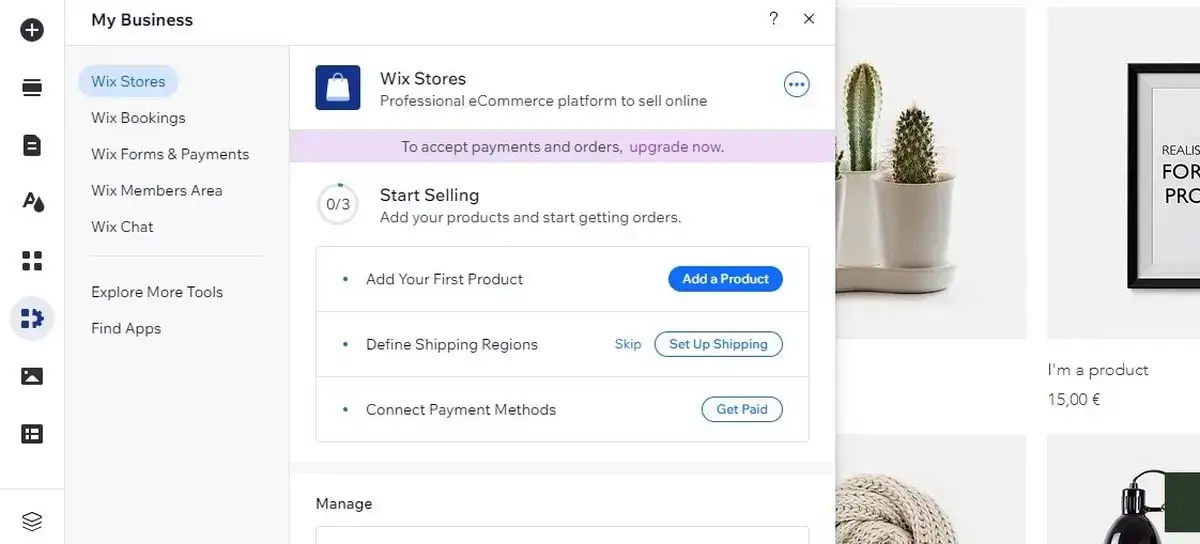 Wix is rightly seen as the best site builder for small business online stores (see my rating). While it is easy to use, Wix offers an excellent set of design tools and eCommerce features. The latter include the following:
Up to 50,000 items.
Abandoned cart recovery.
Modalyst dropshipping.
Advanced shipping tools.
Support for payment instruments.
Multiple currencies.
Sell on marketplaces & social media.
Booking platform.
Ticket & event management tools.
Management tools for specific domains (hotel, restaurant, fitness, etc.)
Automated sales taxes, and more.
Most features are supported starting from the Core plan. However, I'd recommend subscribing to at least the Business package to build a scalable eCommerce project with the help of Wix.
Weebly as an eCommerce Platform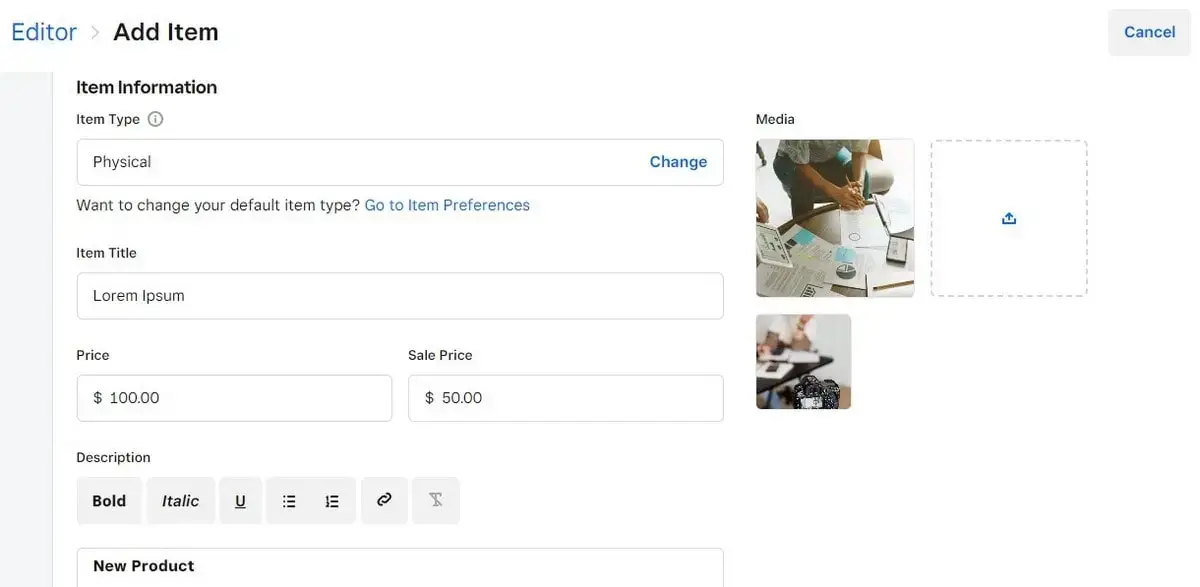 Weebly plans – including the free one – incorporate the eCommerce suite. All the plans go with these features:
Unlimited items.
Inventory Management tools.
Shopping cart.
Quick shop.
Square Gift Cards & Coupons.
Automated tax calculator.
However, such equipment will fit only tiny projects. Only if you need a place to run a simplistic online store and receive payments online, Weebly is an ideal site builder for you.
Mobile Responsiveness
Will your Wix or Weebly website work properly on mobile gadgets? Let's compare the site builders' mobile responsiveness.
Ensuring Mobile-Friendly Design with Wix
Wix is a mobile-first platform. All its templates have responsive designs. While building your website, you can preview its look on mobile screens. Do not doubt that your pages' layouts will work adequately on any device.
Making Your Weebly Site Mobile Responsive
Weebly is as mobile-responsive as Wix. All Weebly themes are mobile-friendly, so your website will have a consistent look across all gadgets. However, you won't be able to preview the mobile appearance of your website in the editor.
Making Your Decision
Now that we have examined all the essentials of Wix and Weebly, it's time to conclude. Still, deciding which platform will suit you best is up to you.
Considerations for Choosing Wix
Why do users choose Wix to create a website? Wix's strongest points are as follows:
Two easy-to-use editors.
900+ excellent templates.
Enough design freedom.
Extended eCommerce functionality.
The site builder has no critical weaknesses. It offers just enough to create successful websites for any purpose.
Considerations for Choosing Weebly
Millions of users prefer Weebly to all the other site builders. Here's a list of its advantages:
Very affordable prices and a free plan.
Ease of use.
Basic eCommerce features in all plans.
Excellent Knowledge Base.
You won't build a powerful online store with the help of Weebly. Yet, it's a perfect solution for a startup or a modest individual website.
Navigating the Decision-Making Process
Which factors should you bear in mind when making a decision? Use this simple strategy to choose the right site builder:
Identify your website's purpose.
Make a list of necessary features.
Define how complex a design your website should have.
Decide how simple the editor should be.
Be realistic with pricing.
The optimal choice for you should offer all the necessary options. It should also offer affordable plans.
Conclusion: Final Thoughts on Wix vs. Weebly
Wix is a universal website builder with a rich set of features. Opt for it if you need to build an effective individual, business, or eCommerce website. If you need an easy and fast solution to create a simple site with basic functions at a low cost, choose Weebly.