The site-building market has everything your creative project might need today, and the only snag is which software to use to bring your website to reality. Two popular solutions are Weebly and Squarespace. Any of them is capable of creating beautiful, fully functional sites.
Yet, you might make the wrong choice without a clear vision of each instrument's possibilities and deficiencies. In this blog, I'll guide you through a detailed comparison of Weebly and Squarespace so that you can pick the right site builder for your project.
The Significance of Selecting the Right Website Builder
Most modern site builders have one goal: to let a user create a quality online presence quickly. However, you won't find two identical website builders with the same sets of instruments. Yes, there can be similarities, but each platform has its own capacities and can realize one and the same project absolutely differently.
So, when planning the creation of a website, you should know two crucial things:
What exactly will you build, and which specific features are essential for your project?
Which site builder has everything your exact project needs?
In our case of Weebly and Squarespace, we should explore all significant features of the two builders to knowingly choose the one we need. The factors include usability, functional supply, mobile responsiveness, pricing schemes, etc.
An Overview of Weebly and Squarespace
Weebly has been present in the market since 2007. This is an online site builder for non-techies that allows users to build professional websites of all sorts without spending much time and effort.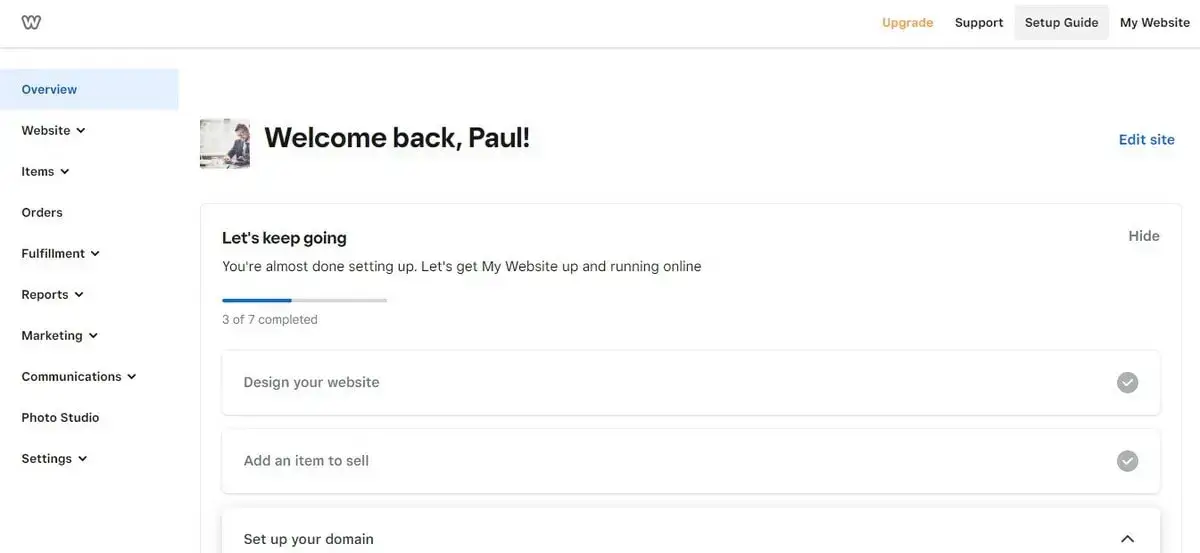 In 2018, the platform became part of Square Inc., a renowned company specializing in digital financial services. This has extended the capabilities of Weebly from online payment and sales perspectives. The platform offers an affordable pricing system with a free option on the list.
Squarespace (read my review) started its operation in 2004. It was initiated as a beginner-friendly CMS for creating gorgeous, functionally powerful websites for any purpose. It soon won fame for its design options since the site builder was initially addressed to creatives.
Now, Squarespace ranks among the best web development platforms for eCommerce. The site builder has specific plans with enough tools for online store projects. Yet, Squarespace can be used for building a professional blog, portfolio, welcome page, business website, or whatever.
Ease of Use
How steep are the site builders under review to cope with? Do they require coding skills? These might be fundamental questions for many users. The answers may determine if the software will be used at all. So, let's compare the usability of Weebly and Squarespace first.
Weebly: User-Friendly Website Building
In terms of affordability for non-techies, Weebly is an excellent choice. The site builder offers a simple starting process. It allows users to quickly sign up, pick a suitable plan, and create a website. Weebly's plans include free hosting, SEO, and other basic features.
Weebly has an easy-to-use WYSIWYG editor with an intuitive interface and simple tools. You'll need to take these steps to launch a ready website with the help of Weebly:
Choose a template.
Customize the chosen template's design without adjusting the code.
Connect the necessary apps.
Publish the website with a click.
Weebly can supply the simplest projects with a free domain (it'll end with 'weebly.com.') Getting a custom domain is available within all premium plans, and the possess is also very simple.
Squarespace: Balancing Elegance and Ease of Use
In comparison with Weebly, Squarespace's editor looks a bit more complicated. This is due to a larger set of tools and features. Yet, the platform's editor offers a simple drag-and-drop-based creative process. A user with zero coding and web design knowledge can easily create an account with Squarespace and proceed with the site-building process. It'll be simple, mainly thanks to AI-powered assistance and constant prompts.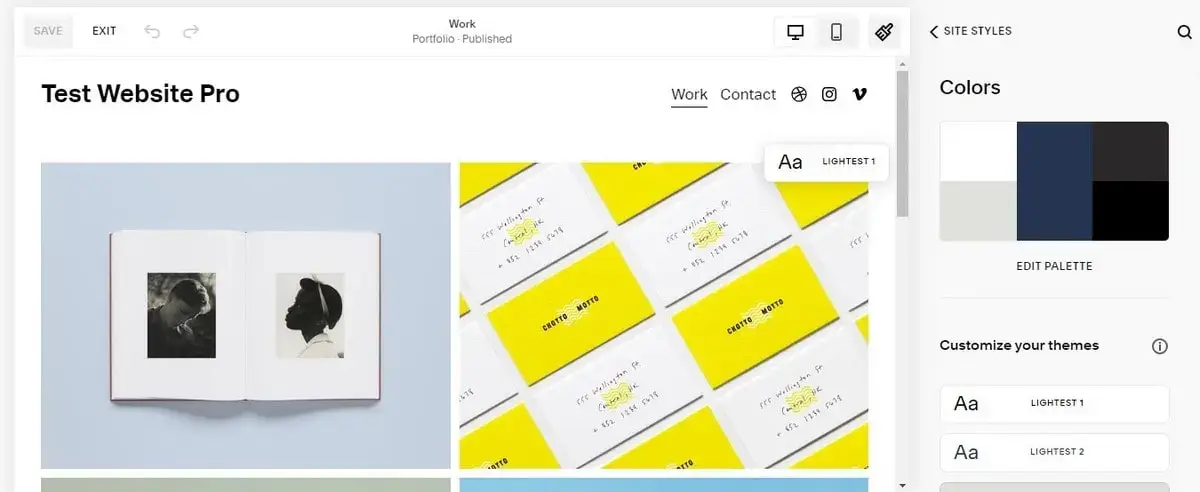 From the beginning, this interactive system will guide you through your choice of a plan and fitting set of instruments (an online store or non-eCommerce project, the purpose of a website, etc.) Regardless of your chosen plan, you won't need to search for a host. The custom domain option is also supported.
The editor's interface is a pleasure to work with. It is not as effortless as the one offered by Weebly, but it represents a balanced combination of functional power and easy access to all instruments.
So, creating and publishing a website on Weebly and Squarespace are straightforward processes. Weebly is simpler, but its tool supply is weaker. Squarespace remains in the list of the easiest site builders, though its editor offers a much broader range of instruments than Weebly.
Read also: the easiest way to make a website.
Design and Templates
How effective are Weebly and Squarespace from a design perspective? Let's compare these platforms' template libraries and design possibilities.
Weebly's Template Selection and Customization
Weebly offers around 50 templates grouped by purpose (business, portfolio, blog, etc.). They may fit a simple website run by a total beginner, but for a serious company or an ambitious entrepreneur, the choice of Weebly's templates will be insufficient – in terms of both quantity and quality. Many themes are openly out-of-date.
As for the Weebly editor's capabilities, they are pretty limited. The editor is strictly structured, and its customization options are scanty. That is, you'll be able to drag and drop blocks only into certain places of the grid – not into whatever spot of the page is under construction. Without coding, you can only customize fonts, colors, and styles.
Squarespace's Aesthetic Templates and Customization Options
Squarespace still outperforms most site builders and CMS platforms in the quality of templates. Many competitors can offer more than 100+ designs offered by Squarespace. Yet, these are stunning, professionally built templates smartly grouped by purpose.
The platform's editor is also based on drag-and-drop tech and is structured. However, the level of customization freedom with Squarespace is much higher than Weebly's. Yes, Squarespace's page layouts are pre-built but flexible. You can expect a sufficient choice for Product, Portfolio, About, or any other pages necessary for your online project. Some of the most significant design features in Squarespace include the following:
Google & TypeKit fonts;
Custom color schemes;
Customizable content areas (photos, videos, quotes, charts, links, buttons, galleries, custom code, etc.);
A built-in photo editor;
Video & background banners;
Video pages and animation tools;
The duplicate page option;
Custom CSS, and more.
So, Weebly and Squarespace have the same philosophy of easily accessible design for beginners. Yet, Squarespace offers more flexibility to users than Weebly. Its templates are the best in the industry so far. Weebly has an easier editor, but its possibilities are much more restricted.
Features and Functionality
Is Weebly or Squarespace better for your project regarding the functional supply? Here's a quick overview of both platforms' features.
Weebly's Built-in Features for Versatility
Weebly offers a surprisingly big set of features in all its plans. Even the free one contains a decent mixture of them. These security, marketing, and eCommerce tools are enough to run a small individual project or a startup. The Weebly app store is ready to provide over 100 worthy add-ons to your website.
Squarespace's Comprehensive Features for Creative Freedom
The feature set in Squarespace is much more impressive than in Weebly. Squarespace supports fewer integrations, but it offers a huge number of built-in features to create and run an effective business or eCommerce project. Squarespace has everything to build a blog, artist's studio, online store, and many more.
Pricing and Costs
Now, it's time to compare the pricing systems of the platforms. Both Weebly and Squarespace offer four paid-per-month plans with free hosting, domain options, and variable sets of features:
Weebly
Squarespace
Plans: Price per month
Free: $0.
Personal: $10.
Professional: $12.
Performance: $26.
Personal: $16.
Business: $23.
Basic Commerce: $27.
Advanced Commerce: $49.
Obviously, Weebly plans are cheaper, but they are less effective functionally. Thus, only the two most expensive plans allow users to remove Weebly/Square ads from their website. Advanced analytics is available only within the Performance package. Yet, Weebly is a nice choice for the simplest sites since all its plans include features like an SSL certificate, a shopping cart, basic SEO, etc.
Squarespace does not have a free option. Although its plans are more expensive, they offer a better value for money. All plans go with an SSL security certificate, unlimited bandwidth, SEO, and other basics. Starting from the Business plan, Squarespace packages include integrated eCommerce and advanced analytics suites.
SEO and Marketing
Indispensable features for all individual or business projects include SEO and marketing tools. Weebly and Squarespace have similar approaches to the matter but cope with it a bit differently.
Weebly's SEO Tools and Marketing Capabilities
All Weebly plans go with built-in SEO. This is a great option for beginners who can create web pages automatically optimized for search engines. You can edit your page URLs, titles, and descriptions. Weebly offers the SEO Checkout and SEO Guide for starters.
Marketing tools include Lead Capture and Instagram Feed. Only paid plans allow for the Pop-up Notifications feature. Smart insights will be available only within the Performance plan.
Squarespace's SEO-Focused Approach and Marketing Features
Squarespace also includes built-in SEO in all its plans so that you can create SEO-friendly pages (for all desktop and mobile devices) without much effort. Updates for meta titles, descriptions, and page URLs are supported. You can modify Image Alt Text as well. Google Search Keywords and the SEO-friendly Translations option are on the list, too.
The marketing toolkit of Squarespace is more advanced than the one of Weebly. The feature list includes the following:
Social selling tools.
Mailing lists.
Form blocks.
Custom Favicon.
Tools for creating banners & promotion pop-ups.
Marketing analytics.
So, Squarespace gives more options than Weebly. While the platforms offer almost the same SEO tools, Squarespace goes a step ahead of Weebly regarding marketing instruments.
Performance and Speed
How long will your customers need to load your Weebly or Squarespace website? Let's compare the platforms' performances and speeds.
Website Performance with Weebly
Weebly offers fast hosting within all its plans. The latest GTMetrix-based checks have displayed that Weebly websites load in less than 3 seconds, which is considered good. Their Web Vitals are not the best but quite passable.
Squarespace's Emphasis on High-Performance Websites
Squarespace also provides its clients with lightning-fast hosting. Your Squarespace site will load in 2 seconds or faster. The platform's GTMetrix data reveals Squarespace's better performance than Weebly. Thus, Squarespace's LCP is 1.3 seconds against Weebly's 2.2 seconds. This means your Squarespace website will display its most massive content faster than the same Weebly site.
Security
Who wins the security race? Weebly or Squarespace? Let's observe what both platforms can offer in this respect.
Weebly's Security Measures
Weebly's security options are pretty basic. All its plans include an SSL certificate. If you need more, you can only plug in third-party add-ons in the Weebly App Store.
Safeguarding Your Website with Squarespace
Reliable SSL certificates are also included in all Squarespace plans. Yet, the platform has more built-in options:
Anti DoS attacks measures.
The 2FA option.
Password-protected pages.
The Login Activity panel to monitor all recent sessions made under your login.
GDPR-compliant data privacy policies, and more.
So, Squarespace wins the palm. Its security possibilities are more advanced than those offered by Weebly.
Support and Community
Both Weebly and Squarespace offer responsive support to their customers. Users can contact specialists and use self-education guides.
Weebly's Customer Support and Community Resources
Weebly offers live chat support from 6 AM to 6 PM, 7 days a week. Only users on the Performance plan can use phone support. Weebly offers a quality Knowledge Base. Its community forum also provides much info.
The Squarespace Community and Support Ecosystem
Squarespace offers no phone support. Its customer service works in the online chat mode 24/7. The platform has a massive Knowledge Base with exhaustive guides and webinars. Users can also join multiple forums (Squarespace Community, Women Who Code, etc.) and find answers to all possible questions a beginner might have during their creative process.
eCommerce Capabilities
Want to build an effective online store? Let's find out if Weebly or Squarespace is your optimal choice.
Building an Online Store with Weebly
After Weebly became part of Square, the site builder improved its online commerce capacities. Yet, it feels like its 2018 boost was frozen, and the platform hasn't been upgraded in this respect. Yes, all Weebly plans include such crucial basics as Inventory Management and Unlimited Items options. However, the platform's capacities will be only enough for a truly modest eCommerce project.
Squarespace as an eCommerce Platform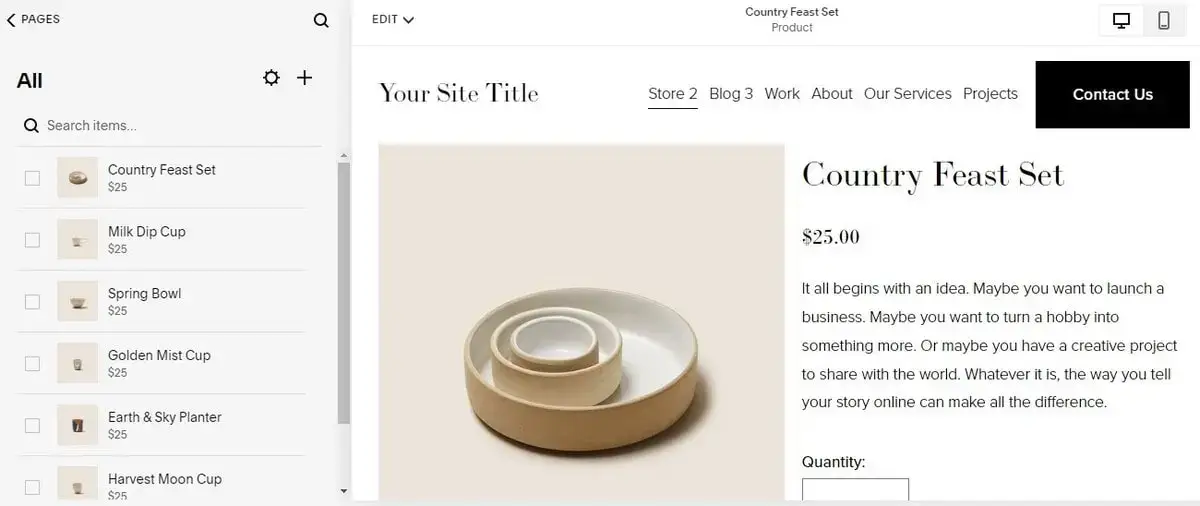 Squarespace is aimed at building effective online stores. At your disposal will be excellent tools like these:
Professional eCommerce-oriented templates.
Unlimited products (starting from the Business plan.)
Physical & digital products supported.
Courses, memberships, etc.
Social media sales.
International sales.
Point of Sale.
Smart accept-payment integrations.
Abundant tools for shipping.
Advanced discount and merchandising tools.
API commerce, and many more.
So, Squarespace is an absolute winner of the eCommerce race. The site builder is great for building small to medium-sized online stores.
Mobile Responsiveness
Mobile compatibility is a must in today's reality. How capable are the platforms under review from this perspective? Let's have a quick overview of their mobile strengths.
Ensuring Mobile-Friendly Design with Weebly
Weebly offers mobile-responsive templates. They automatically fit any screen. The only drawback of Weebly is that it does not support Preview options for all devices. You cannot observe how your pages will look on mobile smartphones or tablets before publishing.
Squarespace's Mobile Responsiveness and User Experience
All templates from Squarespace are also mobile-optimized. Its SEO tools include mobile optimization options. You can preview how your future website will look on all devices. Thus, both platforms are mobile-effective, with a little advancement of Squarespace over Weebly.
Conclusion: Final Thoughts on Weebly vs. Squarespace
Both Weebly and Squarespace are top-quality site builders designed to let users with little or no code knowledge create and launch their website projects without pain or hiring a specialist.
Weebly offers a free option and cheaper plans, but its functional capacities are more restricted. So, Weebly might be a great choice for individual users or tiny businesses on a tight budget. At least, their Weebly website will look professional and allow them to conduct simple transactions online.
Squarespace is a more powerful instrument. It can build multi-functional online stores, blogs, portfolios, etc. The platform's key advantage is its premium-class templates with advanced customization options. The site builder is better equipped in terms of security, loading rate, marketing/eCommerce feature supplies, etc., than Weebly.
Squarespace's plans are more expensive when compared with Weebly and other builders of the same class. Yet, Squarespace is the optimal solution for small to medium-sized businesses and eCommerce projects, thanks to a well-thought-out balance between 100% usability and high effectiveness potential.
Read also:
What Is the Best Website Builder for Small Business