Format and Squarespace are well-known platforms for building beautiful and original portfolios for artists, designers, Creators, and photographers. However, while Format primarily caters to photographers and allows setting up only portfolio sites, Squarespace is a versatile website builder great for all types of sites. It's a perfect solution for small businesses and individuals searching for fantastic website aesthetics with a limited budget.
At a pretty low price, Squarespace provides access to a broad selection of best-in-class templates, a straightforward and clear interface, and a range of simple but effective selling tools for monetizing a website.
On the other hand, Format can be a better option if you are interested in creating a professional-looking portfolio website without going much into the building process or using coding. The solution offers amazing mobile-optimized templates for photographers and artists with modern layouts created by awarded designers.
Key Similarities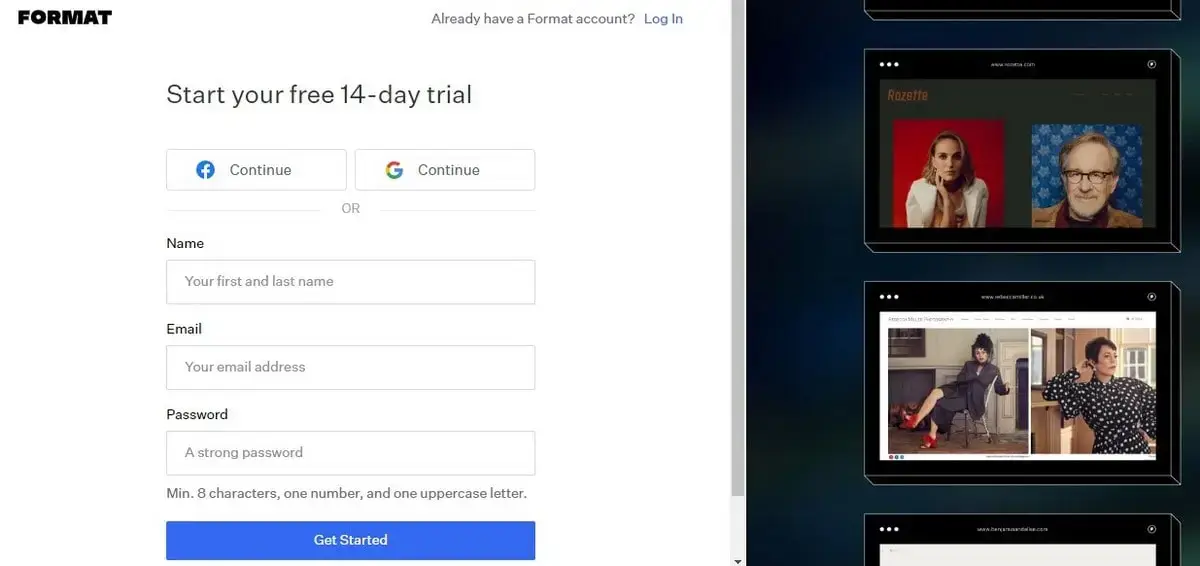 Considering that Format is oriented to portfolio site building only while Squarespace offers a broad spectrum of niches for site creation, there are more differences between the two than similarities. However, drawing parallels of similar functions, we must mention:
both solutions are suitable for small to large-scale sites;
both are Cloud, SaaS, and Web-Based and offer mobile apps for iOS systems;
both provide support through email, help desk, forums, and 24/7 live chat;
both offer a blog and online store-building possibilities, with the PayPal payment system being common for the two.
Key Differences
The primary difference between Format and Squarespace lies in the targeted audiences. If Format has been established solely for creating portfolio sites, Squarespace is a versatile site-building platform. Respectively, this solution has separate sections of templates and design elements for photographs, artists, various businesses, and even wedding sites, whereas Format's features are catered specifically for photographers and artists.
Suppose we approach from an artist's point of view, which we must do given that Format is limited to portfolio building only. In that case, this solution provides better tools like gallery protection, proofing, client management, integrated client photo print on demand, photo sharing services, and one-touch and Lightroom integrations – features you can't find in the list of available Squarespace tools.
On the other hand, Squarespace introduces 150-plus templates along with free options for portfolio building. It features a design-centric theme editor and page builder with plenty of tools to set up the very website you imagine about. In comparison, Format has only 70 free themes and diverse niche portfolio themes. The customization options are limited compared to those of Squarespace.
Furthermore, Squarespace offers far better blogging and SEO tools being a reputable CMS than Format, while its full-fledged online store functionality with advanced eCommerce tools is second to none (well, at least it is steps ahead of the simple eCommerce features of Format).
And finally, looking at the available deployments, we can clearly observe that Format is not only Cloud, SaaS, and Web-Based, but also applicable with Mac, Windows, Linux, and Chromebook, unlike Squarespace. In defense of Squarespace, we must mention it is launchable on iOS and Android mobile gadgets, while you can access Format mobile only if you have an Apple device.
Which Is Easier to Use?
The Format is an easy-to-use portfolio-building solution. It all goes as simple as uploading images to set up a gallery, designing a brand new site, and choosing one from several templates meeting your professional needs. You can also add a blog section or even a store to the website's main menu. Even if you have no experience creating a website, Format will appear pretty straightforward and comprehensible from the first click.
Furthermore, Format comes with inbuilt hosting and offers either connecting your custom third-party domain with the help of the service's professional support team (you can as well do it manually through the Domain & Email setting section) or using a free domain for one year as long as you are an annual subscriber of Pro or Plus tiers.
On the other hand, Format's simplicity is based on the number of accessible settings. You won't find many technical items floating around your work area, which is great for beginners but limiting for advanced users.
Squarespace is a user-friendly product, too. It features a slick and straightforward interface, while the handy tutorial pops up when you first get started. This and the checklist make the platform simple regardless of your experience level.
The website builder features a WYSIWYG drag-and-drop editor, which doesn't allow you to drop the chosen element anywhere you wish. It's rather section-based to keep the overall site design clean and tidy. However, users craving more design freedom will especially appreciate the latest addition, Fluid Engine, which enables them to move elements around the site without any limitations.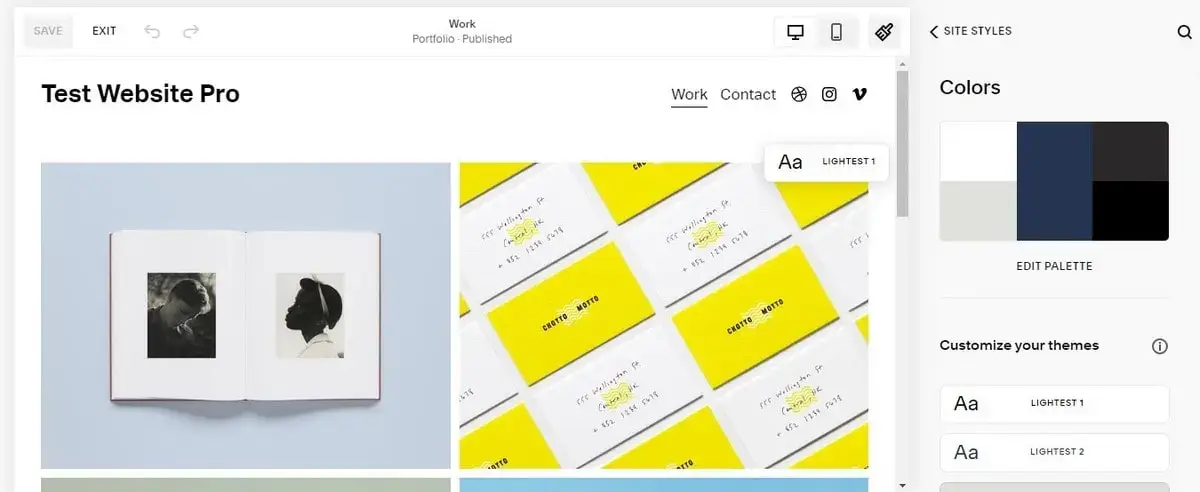 However, what may disappoint you about Squarespace is that it doesn't allow switching templates. If you need to recreate the look and feel of another template, you have to revamp all the design settings. This may not be difficult, but time-consuming.
Design Options Comparison
Format boasts a range of premium quality templates, all designed for artists and photographers, yet neatly categorized into sections like Architecture, model, illustration, fashion, wedding, etc. Furthermore, you can filter the suggested template by their galleries: tiled, horizontal scrolling, vertical scrolling, slideshow, and fullscreen options are available.
The entire selection looks impressive and unique. They are sleek and elegant, perfectly catered to any artist's expectations in terms of aesthetics. What makes working with Format great is that you can easily switch between templates during the design process. Every theme has a preview option and an accurate description with all included features and elements.
However, creative users will face limitations in terms of design flexibility. Surely, adding a new section is only a click away, just editing page content, adjusting the website menu position, height, and alignment, as well as modifying custom pages, collection pages, store sections, and client galleries. Booth desktop and mobile previews are available on every phase of the site customization.
However, compared to more advanced and versatile website builders like Squarespace or Wix (review), the customization options of Format are still restricted.
As for Squarespace, this is one of the best website builders when it comes to designing a top-notch quality site. With over 150 mobile-responsive and fully customizable templates to choose from, you will find the perfect fit for your site, regardless of your niche. All themes feature stylish, sleek, modern designs while delivering superior performance.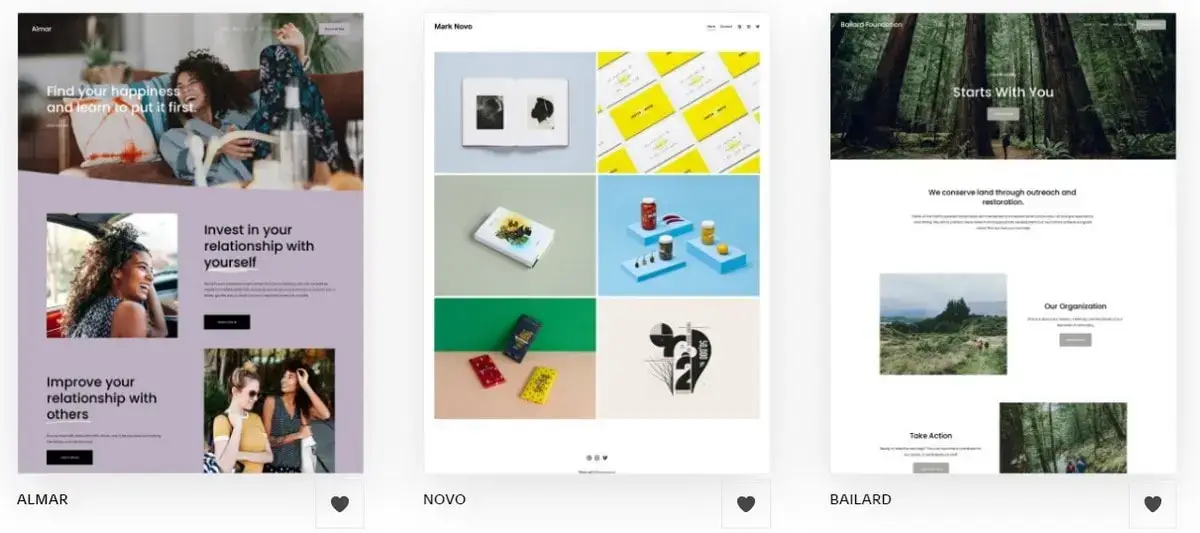 Squarespace makes it possible to perfectly represent your brand vision and style through the chosen template since all themes are highly flexible and customizable. You can replace images, insert text, add and delete sections and manage multiple pages simultaneously. And suppose previously Squarespace allowed drag-and-drop elements only to predetermined areas. In that case, the company's latest addition Fluid Engine has changed the rules of the game: now you have complete creative control over your site design.
Nevertheless, note that to make the most of Squarespace templates, which owe their impressive look mostly to large image blocks, the photos you upload must exceptionally be of high resolution. Otherwise, the chosen template won't have the polished look it should do. If the user doesn't have their own quality, the partnership between Squarespace and Getty Images provides a huge array of stock images available to any Squarespace user. Although not all images are free, they are worth every penny.
To get further with your website customization, Squarespace allows applying coding. With respective knowledge and skills, you can tailor colors, fonts, and backgrounds to create a truly one-of-a-kind design. The same array of adjustments is possible to complete without coding, too.
So, in terms of templates, both Format and Squarespace provide stunning options. But once the customization spectrum is discussed, Squarespace is an extra mile ahead.
Website Functionality Comparison
The first impression a website makes on a visitor is its appearance. However, to make it appealing, effective, and productive at the same time, the functionality lying behind the website matters a lot.
In terms of search engine optimization, Format introduces two options – Global and Content settings. The former allows optimizing the homepage, while the latter gives access to individual page SEO adjustments. For instance, you can optimize titles and descriptions with keywords for all digital products, Blogs, galleries, and collections. Moreover, Format generates sitemaps to be connected with the search console to index individual site pages.
Also, with this portfolio builder, you can connect your Google Analytics. All this, along with the basic blogging functionalities (adding blog title and images, adjusting its visibility and blog homepage style, adding social sharing links on posts, allowing commenting, and hiding published on date), make Format a good solution as long as you don't expect advanced tools.
Squarespace is well-optimized for search engines and blogging, too. It provides such basic SEO settings as editing titles, descriptions, keywords, automatic sitemaps, multiple domain redirections, AMP pages, and inbuilt tags. As for blogging functionality, tons of in-built tools are at Squarespace users' disposal here. Particularly, the platform supports multiple contributors, syncing, and sharing on social media, while the Blog App lets you manage the blog section from your mobile device.
Most website owners aim to monetize their offspring. For this, it's essential to ensure the website builder provides the necessary eCommerce and marketing functionalities. In our case, Format and Squarespace allow selling products and services through the website. However, the available functionality differs from one solution to another.
The Format enables its eCommerce tools only for users of the Pro and Plus plans, with the latter allowing selling up to a thousand products. Format lets you sell physical and digital products and adjust product visibility, description, stock, SEO, and shipping. However, Format users are limited only to the PayPal payment option. So, with Format, selling only a few products is possible. If you prioritize the presence of a more complex online store, you'd better look for a more extensive platform.
Squarespace is a more advanced online store builder, making it a great choice for small-to-medium businesses. The platform offers a small inventory to sell digital and physical products with amazing eCommerce-specific designs, built-in analytics, email campaigns, integrations with online tools like PayPal and G Suite, targeted SEO tools, abandoned cart recovery, etc.
Furthermore, if you pair the Squarespace Commerce app with your account, you can start selling offline, syncing the whole store in one place. This way, you get even more payment methods (via credit cards) available besides the available PayPal, Apple Pay, and Square, while your sales will sync with your online inventory automatically.
Also, you can offer your customers subscriptions and organize donations, enhance your site eCommerce functionality through the pretty extended App Store. All this makes Squarespace an incomparably better platform for selling online.
Pricing Opportunities
Format and Squarespace don't offer a free plan like most other website builders. Instead, they provide a 14-day trial period, after which you have to choose one of the available pricing plans.
Format's pricing tiers are Basic, Pro, or Pro Plus, priced at $4, $8, and $13 per month. While all plans provide unlimited pages and unlimited bandwidth so important for loading lots of images, the introductory Basic plan includes 100 hi-resolution images, 2 GB file transfers, 10 Client galleries, CRM Light, round-the-clock customer support, client contracts, custom domain name priced at $20 per year.
Squarespace introduces four plans – Personal, Business, Commerce Basic, and Commerce Advanced at $16, $23, $27, and $49 per month, respectively. The Personal introductory plan involves a free custom domain for a year, SEO features, 30 minutes of video storage, the drag-and-drop editor, SSL security, audience management, video maker, custom merch, unlimited bandwidth, mobile-optimized site building possibility, etc.
As you can see, Format is more affordable than Squarespace, though the latter has far more advanced functionality.
Verdict
While both Format and Squarespace are popular names in the site building market, with the former suiting only for portfolio creation, they offer a different level of website customization and functionalities. And although which to choose depends primarily on your project and purposes, Squarespace is definitely a more powerful option of the two.
Suppose you have a tight budget for your project and aim to set up a portfolio site or sell a small number of imagery products without going much into site adjustments. In that case, Format is worth choosing over Squarespace. And yet, if you prioritize more creative freedom over your website design and need advanced functionalities to turn your website into a powerful source of income, Squarespace wins over Format undoubtedly.