Creating a quality website generally implies spending thousands of dollars on a professional web designer's services. Thankfully, some website platforms, like Wix and WordPress, can become affordable and accessible options for various sizes of businesses.
These are two industry-leading platforms catered to the different needs of a user. They are both robust and feature-rich solutions.
Which of them to choose depends on your specific website-building needs and experience in this business.
For instance, while the WordPress content management system is great for those who value complete creative control and independence over the site, Wix is a perfect variant if you have little to no technical experience but need an all-in-one solution.
Furthermore, WP is offered for free, leaving you to pay only for hosting and extra features via extensions, while Wix requires a small monthly fee that encompasses both site management and hosting.
As you can presume, the tech knowledge of the user plays a significant role in deciding between Wix and WordPress.
However, we'll dig deeper into comparing these two solutions to highlight even more differences while not bypassing the similarities. Stay tuned to learn more.
Key Wix and WordPress Similarities
Wix and WordPress are powerful content management systems. Whether you choose one or the other, you will get a virtual, fully-featured site builder to set up a modern, super-slick website through customizable themes.
Both have drag-and-drop features; hence, you don't need coding knowledge to set up a website with a simple design and basic features. You can expect an array of free themes or templates (depending on how either company calls them) categorized by industry.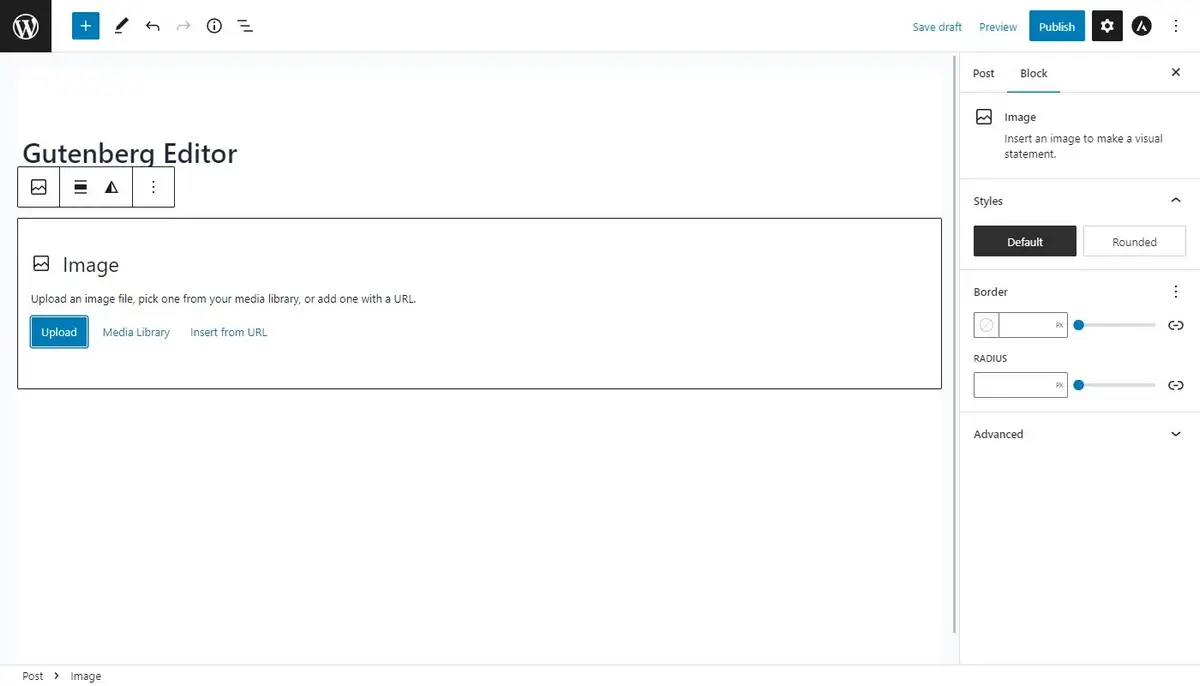 Although WordPress offers better blogging functionality than Wix, you can still get quite good blogging tools at both companies. All the basic blogging features, including categories and tagging, and free media like videos, images, GIFs, etc., are available.
Whatever website you create with either Wix or WordPress will be perfectly responsive and look equally good on desktop and mobile devices.
Read also: Wix Review.
Furthermore, you can create an online store on both platforms. Surely, the versatility of eCommerce features differs, yet the store's functionality is overall the same.
Additionally, whether you are a Wix or WP user, it is possible to share content on social networks making your site or online store even more visible to customers.
The traffic statistics you are provided with, meanwhile, will show you where users go on your website.
Another similarity between the two is the equally strong SEO and Google ranking. Both companies offer only basic in-built search engine optimization tools and more functional SEO plugins.
Actually, they both rely on plugins and apps regarding SEO. Wix and WordPress have dedicated marketplaces with apps and plugins that can greatly extend the site functionality.
Read also: WordPress Review.
As you can see, the similarities between these two companies are multiple. This is natural since both Wix and WordPress are leading names in content management.
Key Differences
The primary difference between Wix and WordPress is the ease of use. Wix is geared towards beginners and is best for small to medium size businesses.
Although WordPress has multiple helpful resources out there that make website building not so daunting, Wix is still much easier to use.
Another significant difference between the two giant companies lies in the pricing. Basic Wix plans range from $4 (for non-US countries) to $24.5, and eCommerce plans range from $17 to $35 per month.
When using Wix, you sign up for an account, and you are ready to go. However, with WordPress, you must first think about hosting and obtaining a custom domain. Although WordPress is free, your website won't go live without hosting.
Another essential aspect to consider is site migration. Wix doesn't offer bulk import and site migration, leaving everything to the user to perform manually.
With WordPress, meanwhile, there is a lot of plugin support to make moving out of the WP ecosystem much easier.
What Is Easier to Use?
Creating a website with Wix is as simple as creating a blog. It uses a WYSIWYG editor to enable users to drag and drop pictures, paragraphs, slideshows, buttons, etc., anywhere on the page with no predisposed areas for page elements. Moreover, you can even resize anything in a couple of clicks – a dream for a beginner!
Editing with Wix is similar to looking at your site. Whatever changes you apply by dragging and dropping various elements will appear on your site in real-time. WordPress has a learning curve not found in Wix.
Although WP allows installing some drag-and-drop website-building tools, HTML knowledge will save you from many issues. So, coding is an inseparable part of the experience of editing a WP website.
Generally, Wix prioritizes ease of use and a short setup time. These features make this CRM an accessible variant for beginner and mid-level website creators who need to build a website quickly with no hassle.
On the other hand, Wix users lack the creative freedom available to WP users. You can't set up a Wix template from scratch or bring to life your site visions.
On the other hand, the open-source WordPress CRM gives a user plenty of room for customizing a website. You can start from an empty blank and scheme the website you dream of – just implement your coding knowledge.
In contrast to Wix, WordPress has fewer "ready-to-launch" features, although the array of available extensions is huge. Again, the overall setup time takes longer, depending on the user's skill level.
So, in terms of ease of use, the pros of Wix outweigh the cons. If you need to launch a site quickly with minimum effort and no coding knowledge, give Wix a go. But if you need a completely customized site with every detail throughout out meticulously, WordPress is your best option.
Design Options Comparison
Right from the start, let us inform you that Wix is way better for website design due to the large selection of stunning templates and easy editing tools. In the meantime, WordPress appears a step ahead in terms of customization tools.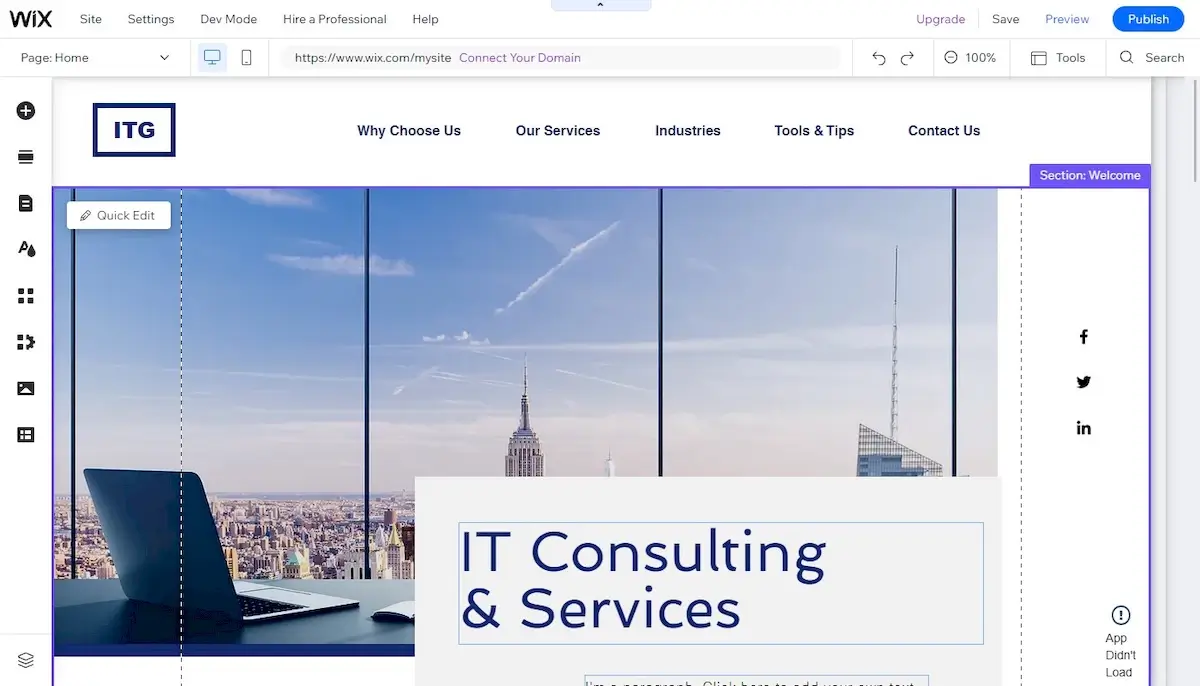 That's why whether Wix is better for website design and customization or WordPress depends on what you're searching for.
If you have the knowledge, practice, and time, you can choose WordPress and scheme your one-of-a-kind website from a blank canvas.
But if you need more flexibility, ready templates, and simple customization tools, Wix will earn a higher spot.
Wix features a huge selection of around 800 beautiful templates, which are all intuitive for site visitors to navigate. They are all categorized by industry and come with sample content to get an overall picture of what your site can look like.
Furthermore, suppose you don't even have time to choose a pre-made template and customize it to your content. In that case, Wix offers a special Wix ADI design-assisted tool that automatically sets up a website by asking the client questions regarding the design preferences and the website's purpose.
Also, Wix features a user-friendly Mobile Editor – mobile optimization tool. Whichever template you choose and customize will automatically be optimized for a mobile device regardless of screen size.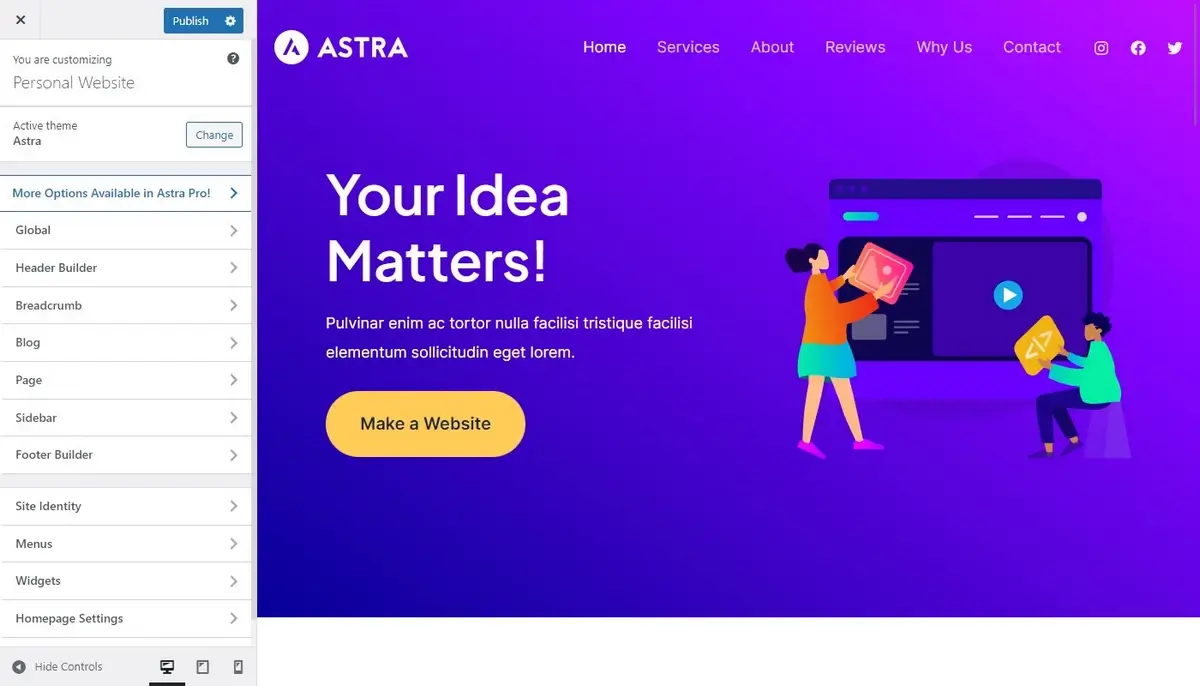 As far as it refers to WordPress, there's practically no limit to the customization options at your disposal. Choosing WP over Wix, you get only around 200 ready themes (the platform refers to them as themes rather than templates), 5K WP-approved third-party themes (both free and paid options), and an immense bunch of plugins with over 55K options.
Note that free themes look rather basic and not professional. If you care about your website aesthetics, go for premium options between $25 and $299.
Website Functionality Comparison
Both Wix and WordPress offer eCommerce features that cover a user's basic SEO needs. However, despite the three quite advanced eCommerce plans and included options, Wix still can't compare with WordPress.
Wix is preferable as long as you are running a small business, you are an owner of a virtual store with little to no tech web design knowledge, or you have upgraded to a Business or eCommerce plan.
It offers trading options in multiple currencies, reliable online payments (including Authorize. net and PayPal), the possibility to sell from five to 5,000 products depending on the chosen tier, the ability to sell on marketplaces, automated sale tax, a $100 worth ad voucher, and a minimum of 20 GB storage.
Aside from these incorporated features, Wix has a decent Wix Store with some quite powerful plugins to enhance different aspects of your online store. These include forms, chat forms, analytics, social media, blog, etc.
Out of eight paid plans in total, only three have completely built-in eCommerce features. However, eCommerce plugins can always enhance your Wix store capabilities.
To build an online store, for instance, you must either use Wix Stores (available with a Business subscription) or integrate the Online Store free plugin by Ecwid. The latter is strictly limited, while the former comes with many online ad credits, Google Analytics, and ample storage space. In all cases, Wix is not recommendable for large stores, and especially ambitious sellers had better check WordPress.
The Commerce capabilities of WordPress are significantly more advanced, though not available via in-built features. You will have to install multiple plugins here before starting to sell online.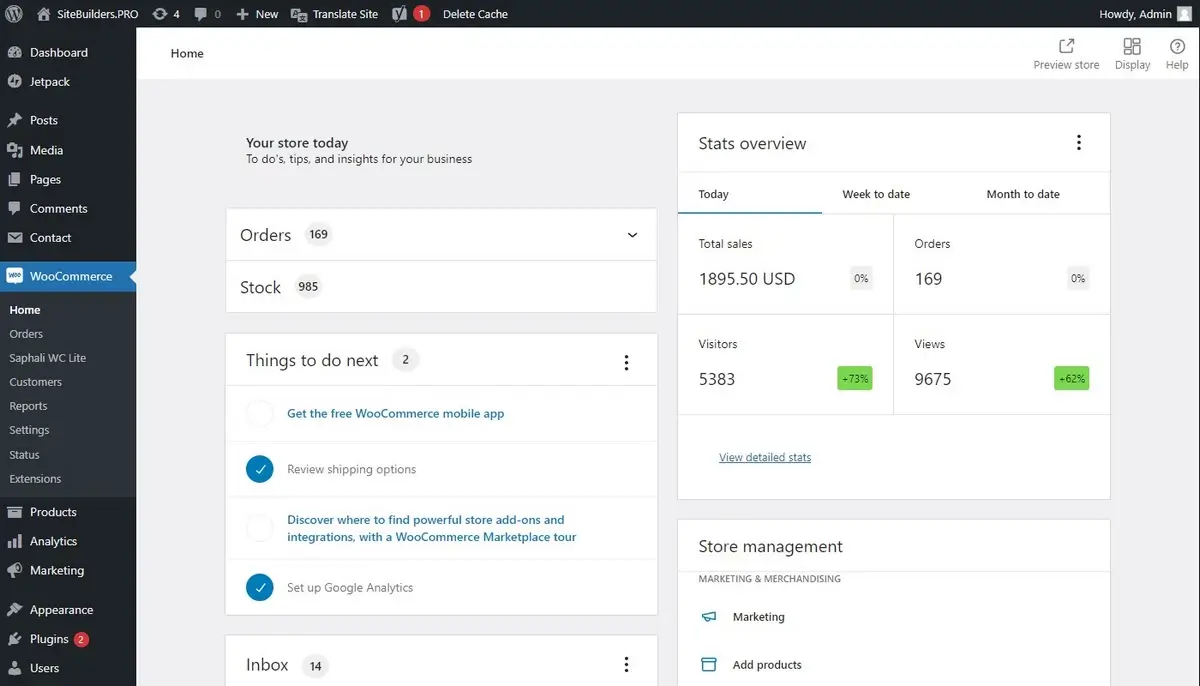 Perhaps the most popular WP plugin is WooCommerce. It will add such capabilities to your store as automatic tax calculation by region, multi-currency selling, etc.
Other than this, you can obtain free and paid plugins to add chat functionality, collect information from the site visitors through forms, make the site more visible to search engines through SEO tools, boost email marketing, store site backups in case the website goes down unexpectedly, and make the security of the platform more robust.
However, since WP and WooCommerce are open-source platforms, expect some associated costs to cover the hosting, theme, and domain name.
Pricing Opportunities
Wix and WordPress content management systems come free to use. Although Wix introduced a free introductory plan, and you can use it as long as you wish, going with the free option for a long is not expedient if you aim to enhance your business.
Hence, consider upgrading the plan right from the start. Besides, the free option doesn't let you remove ads from your site, use a custom domain name, sell online, and access premium Wix support. On the other hand, there's a free trial period to make use of.
The basic Wix plan Combo costs $16 per month, provided that you subscribe for a year. The tier offers users a custom domain, a free SSL certificate, no Wix ads, a free domain for a year, 30 minutes of video hours, and 2GB storage space. This way, you will save 30% per year.
WordPress open-source content management system is free to download and use but requires a custom domain name, which costs $10 per year and more and hosting to go live. For instance, one of the best hosting options for a WP site is HostGator.
The latter starts at $2.75; hence, the annual cost of running your WP website (the tier offers a free custom domain for one year) will be around $33.
Add the cost of a premium theme to make the site professional-looking and plugins, without which you can't run an effective WordPress site, let alone a web store, and you will spend up to $1000 and more per year.
Verdict
If you have a small business and need a website to move it online, both WordPress and Wix can serve the purpose well. They are secure and reliable content management solutions with tons of features.
The difference comes down to how much effort and money you can put into it and the level of website customization you seek. Both companies offer free options, though neither has enough functionality to run a successful website.
Managing a WordPress site can be more expensive since you have to pay for the hosting, domain, and plugins. In the case of Wix, meanwhile, you pay the monthly fee and get an all-inclusive CMS.
So, if you don't have much tech experience in website creation and are searching for an easy-to-use solution with no coding required, go for Wix unconditionally.
But if you are tech-savvy, want the power and flexibility of website customization, and are ready to pay ongoing monthly fees, you can go on using WordPress.