WordPress dominates the site-building market by powering over 43% of all websites created. It's definitely the king of all content management systems out there. However, WP might not be a perfect option for every business as it may not serve a particular purpose well.
Fortunately, other viable platforms have highly useful features and may serve your requirements better than WP. If you are looking for a specific dedicated service through a CMS and don't find it supported by WordPress (read my review) unconditionally, one of the top site builders I described here will do great.
What to Look for in WordPress Alternatives
When considering a WordPress alternative, pay attention to all notable features, like the covered hosting solution, site launching essentials, SEO tools, eCommerce and marketing tools, and the selection of templates with their customization options. Check whether the site-building solution is user-friendly, uncomplicated, and customizable. Don't forget about the automatic mobile responsiveness of the future site. Also, if you don't have coding knowledge or experience dealing with a drag-and-drop editor, ensure the chosen company has the necessary learning resources like tutorials, guides, or instructions.
Only if the website builder or CMS you have chosen satisfies all your requirements can it help you build the site you've been dreaming of. So, let's see which WordPress alternatives are worth considering.
Wix – Most Feature-Rich Builder for Design Options
If you don't feel like dealing with any programming and coding scripts like PHP, CSS, etc., Wix can be a great WordPress alternative. The site builder targets a broad audience, from site builder beginners to commercial enterprises. Its platforms are especially best fitted for hobby bloggers or personal interests. However, Wix Professional site builder packages are commercially recommended for small-scale businesses.
Wix Overview
Wix is a cloud-based website builder that lets users create sites through its drag-and-drop interface and customize them. It's known as one of the simplest options for creating free sites within minutes.
Features and Benefits
The basic benefits of Wix site building include a vast collection of pre-made templates, beginner-friendliness, creative freedom, and flexibility provision. The solution has a separate Wix eCommerce feature. This all-in-one eCommerce platform lets users set up a store, sell products (both physical and digital), automate specific actions, employ email marketing, manage product shipping, over 80 payment options, etc., all from a single dashboard.
Also, Wix provides an absolute goldmine of info regarding the site's performance. You can easily collect data on the site traffic statistics, visitors' location, their behavior on the site, the overall site conversion rates, and so forth. The company provides social media integration with a series of robust security tools like free backups, SSL, autosave, etc.
Read also: Professional migration from WordPress to Wix.
Customization and Templates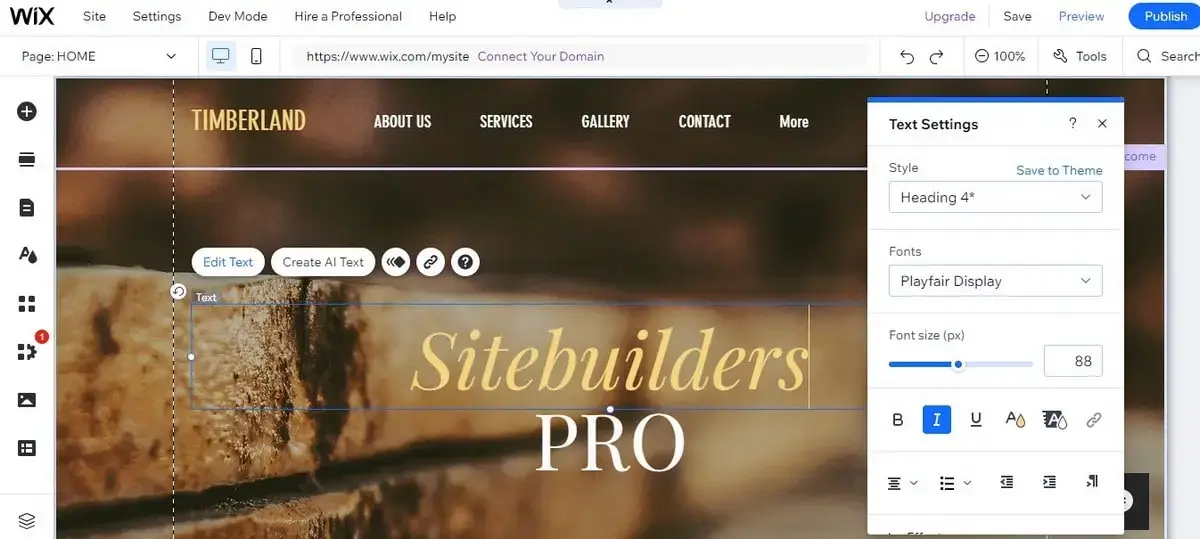 Wix introduces over 800 premium mobile-responsive templates categorized by industry. Although some look a bit dated, most comply with the latest trends and look fabulous. Wix provides literally endless design and customization options through several editors, such as:
Wix AI – perfect for inexperienced users who want to build a site within a couple of hours.
Wix Editor – provides enough power to no-coders to customize their site to their liking. This option is more advanced than Wix AI.
Velo – a developer's editor version for tech users for expanded customization. It provides access to Wix APIs, codes, and databases.
Editor X – a powerful, no-code site builder affiliated with Wix.
Wix Studio – designed for agencies, the website creation platform provides innovative design capabilities and flexible development tools.
Whichever editor you use, it will help you get exceptional results in any industry at scale.
Pricing and Plans
Wix stands out for its flexible and fair pricing system. The solution offers four tiers, priced at $16, $27, $32, and $159 monthly for Light, Core, Business, and Business Elite plans. There's also an Enterprise plan with maximum capabilities at a custom price.
Read also:
Wix vs WordPress
Squarespace – Best Solution for Influencers and Creatives
If you are searching for a WP alternative for better blogging opportunities, it's worth considering Squarespace.
Exploring Squarespace
Squarespace (my review) is an all-in-one platform for creators and businesses prioritizing aesthetics when establishing an online presence. It provides access to a clear and straightforward interface, best-in-class themes, and a diversity of practical selling tools at a pretty low price.
Design and Templates
When it comes to designing high-quality sites, Squarespace has few rivals. With a library of 150+ mobile-responsive, fully customizable templates, all looking stylish and modern, it will take a few minutes to spot the perfect option for your niche. With the drag-and-drop editor, no coders can replace images, add or delete sections, input text, manage several pages simultaneously, etc. Also, thanks to pre-designed video templates and editing tools, creating promotional videos will be pretty easy.
Features and Functionality
Squarespace stands for its premium eCommerce functionality, which allows selling physical and digital products, built-in inventory management, subscription tools, online booking system, etc., as well as analytics tools, a mobile app for Android and iOS, blogging features like custom permissions, post scheduling, etc. The covered in-built SEO tools involve the automatic generation of sitemap.xml, automated tagging, robots.txt files, clean URLs, automatic redirects, etc.
Pricing Structure
Squarespace pricing is reasonable. It starts at $16/mo with the introductory Personal plan. Other, more advanced tiers include Business, Basic Commerce, and Advanced Commerce, priced at $23, $27, and $49, respectively. The cheapest plan provides a free custom domain for one year, 30 minutes of video storage, SEO tools, SSL security, custom merch, video maker, unmetered bandwidth, and other useful features.
Read also:
Squarespace vs WordPress
Weebly – Best Site Builder for Beginners
Weebly is a worthwhile WordPress alternative due to its curated out-of-the-box templates, integrated marketing tools, and powerful eCommerce apps. Despite the simplicity of use, the solution is pretty powerful. Compared to WP, Weebly lacks customization and publishing capabilities as a platform not designed for blogging.
Getting to Know Weebly
Weebly (read my review) is an intuitive site builder and SaaS platform dedicated to users without experience. Also, it's a versatile eCommerce store packed with impressive blogging capabilities. Due to its drag-and-drop editor and affordable plans, Weebly has become a popular choice among non-tech users and small businesses looking for a decent WP alternative.
Ease of Use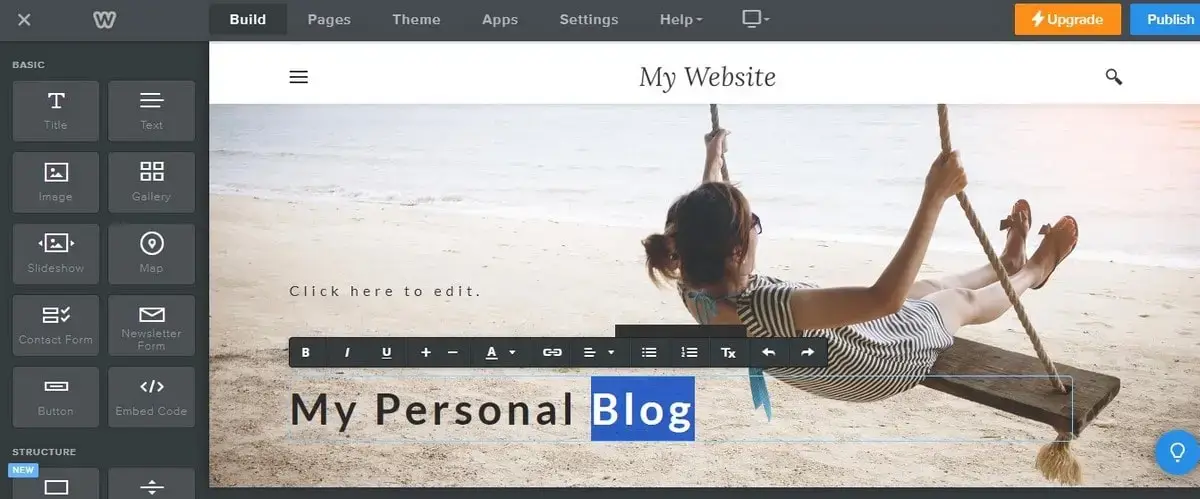 Weebly is a WYSIWYG site builder with a straightforward editor and no skipping between the back-end and front-end areas. The website design involves simply moving various elements like texts, boxes, images, forms, etc., and dropping them wherever needed.
E-Commerce Capabilities
Owned by a Square payment processor, Weebly has plenty of integrated eCommerce tools. You can accept payments via not only Square but also Stripe and PayPal. Other features include shipping management (you can sort out courier and postage costs manually), discount creation, abandoned cart delivery, inventory tracking, bulk import and export, automatic tax calculations, selling and accepting gift cards, etc. However, it's noteworthy that the eCommerce functionality of Weebly mostly caters to smaller marketing projects.
Pricing and Budget Considerations
Weebly introduces three paid and one free plan. The free one is for primary use only, while the other three – Personal, Professional, and Performance plans, priced at $10, $12, and $26 per month, respectively – are great for creating small-scale e-commerce stores and personal sites.
Read also:
Weebly vs WordPress
Joomla – Best Free CMS After WP
After WordPress, Joomla is the second-best CMS, making it a decent WP alternative. It has impressive community support and is free to download and use, too.
An Introduction to Joomla
Joomla is a reputable content management system dedicated to no coders. Yet, it has a more complex setup process and interface with plenty of admin pages and advanced settings. Hence, some learning curve is still required. On the other hand, Joomla gives users tremendous control over their website management to please advanced users, too.
Flexibility and Customization
Joomla offers ACL (Access Control List) to enable its customers to manage site visitors' access rights and logging actions, as well as monitor the activities of specific IP addresses. It allows mixing and matching various templates to build a single perfect site with a unique and personalized user experience. It has a dedicated security team for releasing regular patches and extensions for an extra protection level. Also, you can extend your site functionality through its impressive Joomla Extension Directory. The latter includes around 6,000 free and paid extensions.
Community and Support
Being a free platform with no individual customer support, Joomla stands out for its vast community, which is not inferior to WordPress's. You can contact other Joomla users through the forum and various portals like volunteers and community portals.
Costs and Budget Considerations
Like WordPress, Joomla is completely free to download and use. However, there are some budget considerations if you intend to establish a quality site or online store. For instance, you should purchase a hosting plan per site size. Other paid eCommerce site development services include a domain name, premium templates, extensions, and a Joomla CMS package.
Drupal – Best WP Alternative for Content-Driven Secure Websites
If you prioritize the security of your site above anything else, Drupal is your best WP alternative. It's one of the most scrutinized platforms today, and hacking your site will be almost impossible.
Understanding Drupal
Drupal is another robust open-source CMS suitable for building websites for any audience. Drupal has customers in all possible spheres, from higher education institutions to global companies. It's free to download, yet requires a domain name and web hosting.
Robust Features and Scalability
Aside from robust security tools, like database encryption, user access control, malicious data entry prevention, etc., Drupal provides plenty of other features. They include marketing automation like drip campaigns triggered by user interactions, real-time sales alerts, etc., an advanced permission control system (in fact, it offers more flexibility in terms of user management than WP), and an impressive consistency across platforms to address the growing need for mobile to render effectively and quickly.
Learning Curve and Development
Drupal is for no-coders but by no means for newbies with no knowledge. It has some learning curve, without which using the whole potential of the CMS is impossible. In fact, it requires more experience than WP. This is because Drupal is designed to perform as a blank slate to be customized on all levels. And to make a site look and operate exactly the way you wish, Drupal heavily relies on custom coding.
Ghost – The Simplest Solution for Blogging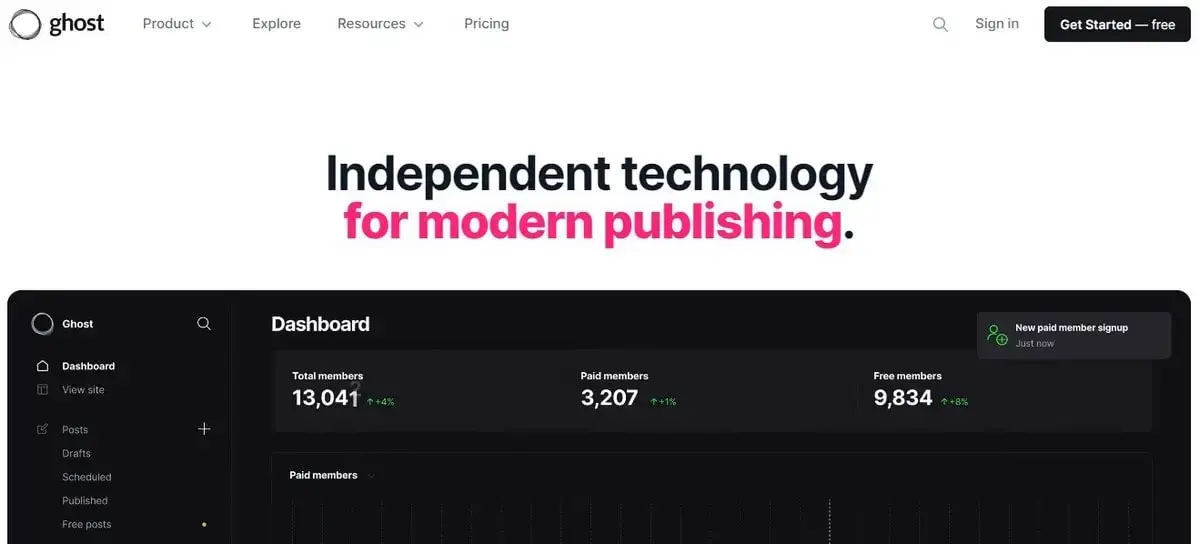 With a minimalistic design and an emphasis on content creation, Ghost is a great alternative to WordPress when establishing online blogs. It provides a convenient environment for focusing on writing without being bogged down by complex design or coding.
An Overview of Ghost
Ghost is an open-source CMS designed to build and run high-performance sites, particularly online blogs. Compared to other platforms, it boasts a straightforward interface, pretty decent customization options (custom code injections, themes, adding custom integrations, etc.), high scalability, a diversity of integration and APIs to extend blog functionality and management, and other features.
Blogging Focus and Content Management
Aside from providing all basic blogging tools, Ghost allows restricting content based on the membership type – Public, Members, Paid Members. For running a blog, it's also crucial to have premium SEO features. Ghost's SEO functionalities cover easy URL management, 301 redirects, auto-generation of sitemaps and robots.txt files, customizing meta descriptions, social media tags, etc.
Ghost delivers a number of fundamental settings to adjust an online blog to your requirements. It allows modifying the site's title, description, metadata, and timezone. Although significant changes to the chosen theme are made manually, you can use Code Injection to add CSS styles, meta tags, custom fonts, and scripts to the site header and footer. Also, you can password-protect to ensure the confidentiality of your content till the site is ready to be published.
Pricing and Hosting Options
Ghost is free to download and use. However, you still need to pay to host your blog or site. The brand's hosting options include the Creator, at $25, $50, and $199 per month for Starter, Creator, Team, and Business plans, respectively.
Blogger – Best Free Blog Creator from Google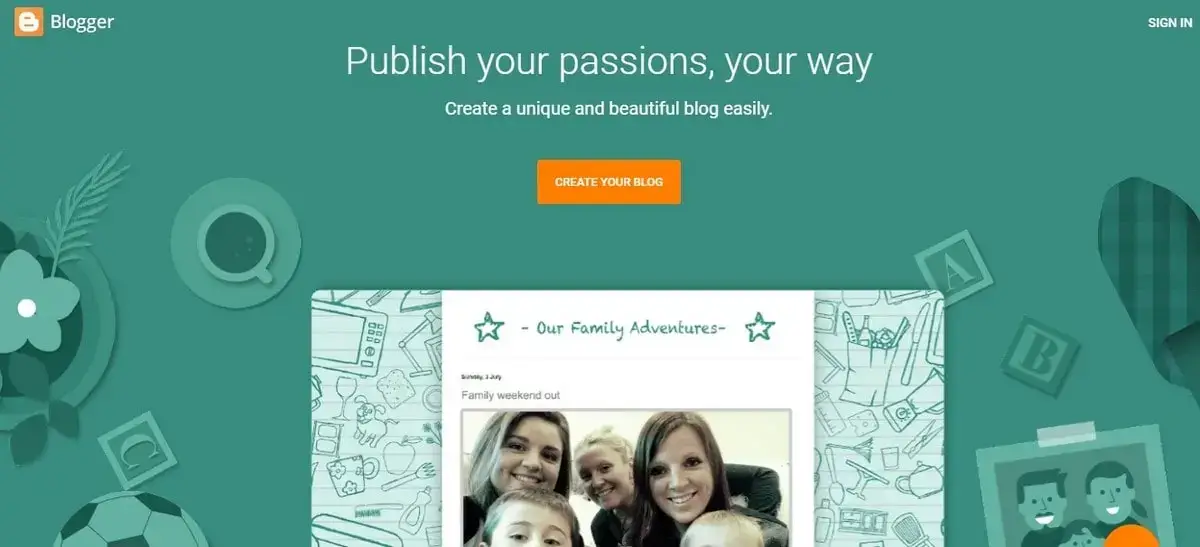 Blogger is an easy-to-use blogging platform. Like WordPress, it's a free CMS dedicated to blogging, yet it is based on the user's Google account.
Revising Google's Blogger
Blogger is a free WP alternative owned by Google and designed to let users create personal blogs and simple sites. Furthermore, with its .blogspot subdomain, Blogger becomes a fully hosted solution with no need to pay for a third-party hosting solution separately. However, due to the lack of flexibility and limited customization, Blogger is not suitable for custom or eCommerce sites.
Simplicity and Blogging Capabilities
Simplicity comes as the primary benefit of Blogger. Its straightforward functionality makes the solution appropriate even for no-coders and inexperienced users. And if you can make out of Google's products, you won't require the slightest learning curve.
Blogger features free, blog-centric templates, which are also pretty customizable through its drag-and-drop editor. Also, Blogger provides a free SSL certificate, 1 GB of storage, and unlimited bandwidth. Thanks to the Blogger API, you can integrate your blog with diverse third-party apps to streamline workflows.
Integration with Google Services
Being a Google product, Blogger allows free integration of a dozen amazing tools to help you significantly enhance your online blog. For instance, integrating Google AdSense and Google Analytics will help you monitor your blog traffic and generate revenue. Other suggested options include Google Keyword Planner, the Webmaster Tool, Google Trends, YouTube, Google News, Gmail, Google Meet, Google Drive, Docs, Sheets, and Forms, as well as Google Keep and Google Finance.
Medium – Free CM Platform to Start a Blog Quickly
Medium is a popular content creation platform that provides simplicity for publishers and readers. This is the major pro over WordPress, which has more content options than Medium.
Medium as a Content Platform
Medium is an open digital publishing platform for individuals seeking a simple and free platform to publish their content. Users don't have to pay for web hosting services or buy a custom domain. Neither do they have to download or install any software.
Writing and Publishing on Medium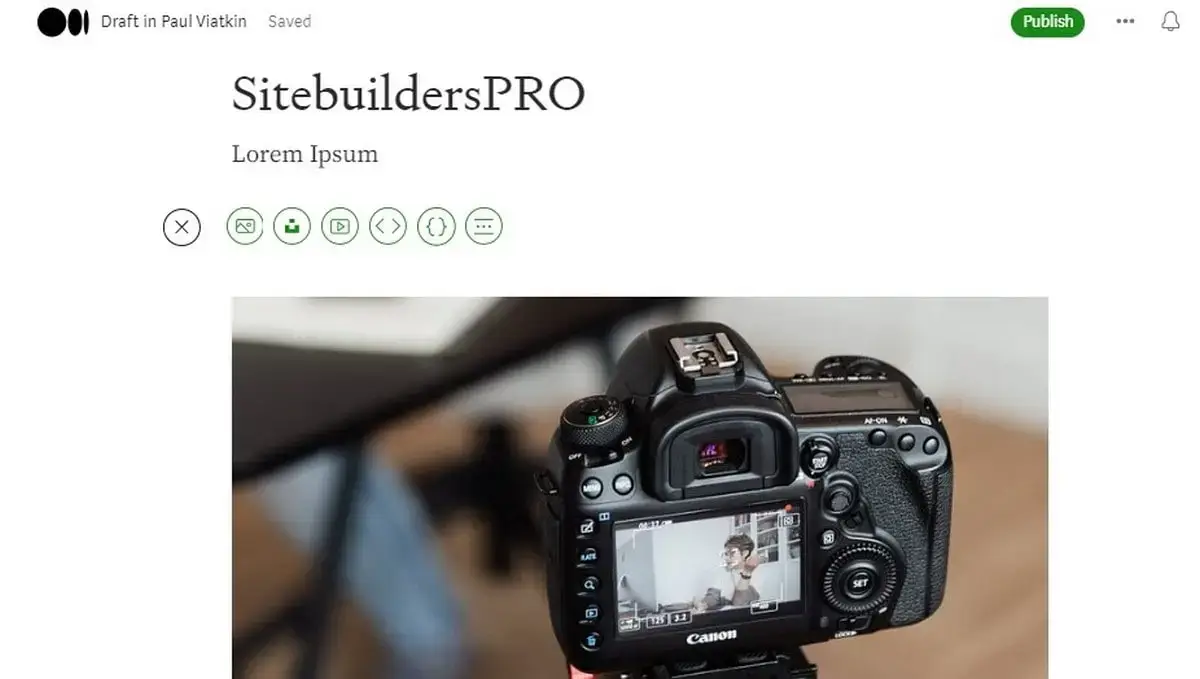 Using Medium is extremely easy. By signing up or using a social media account, you can log in to your new account and start writing immediately. You will note a minimalist editor with helpful tutorials on using the service. Medium boasts a beautiful user interface with clear navigation menu buttons and is rather functional, though simple.
Since the platform features a content-based filtering system to recommend readers relevant content per their preferences, it's easy to build a loyal following here.
Comparing Key Features
After going through the main qualities of top WordPress alternatives, let us sum up the information into a table with key features.
Side-by-Side Comparison
WordPress
Wix
Squarespace
Weebly
Joomla
Drupal
Ghost
Blogger
Medium
Ease of use
Intuitive, feature-rich block editor. Some learning curve is required
Drag-and-drop editor
Straightforward and intuitive WYSIWYG site builder
Intuitive WYSIWYG site builder with drag-and-drop editor
Some learning curve is required
Some learning curve is required
No coding knowledge or experience is required; minimalistic interface
Beginner-friendly
Minimalistic editor with no learning curve required
Design and Customization
Thousands of themes and plugins are available
800+ templates, five editor modes
150+ mobile responsive, customizable themes
Broad array of templates and customization options
No official library of templates is suggested, yet available on third-party sites
Goes beyond basic templates for development- heavy customization
Limited
Limited customization and flexibility
Limited profile and content customization options
SEO and Traffic
In-built SEO tools and plugins to grow traffic
In-built SEO tools
Built-in SEO tools
Integrated powerful SEO tools in all plans
Powerful SEO tools
SEO-ready
Built-in robust SEO functionalities
Available through Google Products (Google Webmaster)
High domain authority and active users
Scalability
Highly scalable
Highly scalable
Highly scalable
Scalable, but not the best option for business scalability
Extremely scalable CMS
Highly scalable
Limited scalability
Scalable
Less control over site scalability
eCommerce and Monetization
Available via plugins
All-in-one eCommerce platform to sell physical and digital products
Premium eCommerce functionality
Huge eCommerce tools library
Creates professional eCommerce sites through built-in tools and extensions
Augmented with Drupal Commerce open-source eCommerce software
Extended eCommerce capabilities through Ghost CMS Ecommerce open source eCommerce platform
Can be eCommerce-customized through add-ons and plugins
No ads and sponsorship are allowed, monetization is available only through its Partner Program
Support
Through an active community, developer resources, in-depth documentation
Help Center, 24/7 Live Chat, ticketing form
24/7 support via tutorials, knowledge base, email, social media, Live Chat, community forum
Through phone and email
Through community portal and forum
Support is available through the community of developers, editors, and designers
Free to use but the brand's hosting is priced at $25
Through Google customer phone support, email, social media
Medium Help Center + plenty of documentation
Price
Requires separate hosting, potential costs per the site's complexity
Four pricing plans, from $16/mo to $159/mo
Four pricing plans, from $16/mo to $49/mo
One free plan and three paid ones, priced at $10 to $26 per month
Free to download and use. However, hosting, domain, templates, extensions, eCommerce packages are to be purchased
Free to download and use but costs for hosting, themes, features/functions are to be counted
to $199 per month
Free platform to use, no payment for SSL, hosting, domain is required
Completely free with no hosting or domain purchase reLimited profile and content customization options required
Considerations for Different Use Cases
WordPress is primarily built for blogging purposes. However, it can serve other websites well, too. In the same way, WP alternatives are best fitted for different site types and niches. For instance, Wix, Weebly, and Squarespace are great for any website. Meanwhile, Drupal, Joomla, Ghost, Blogger, and Medium are better suited for blogging.
Making the Right Choice
The choice of a website builder directly impacts the future site's quality and functionality. Therefore, it's essential to make a thoughtful decision and stop on the right option from a myriad of available ones nowadays. Even though WordPress comes first to mind when you plan to create a site, any of the described WP alternatives can be a better choice depending on your project requirements.
Factors to Consider
The basic factors you should consider when considering a WP alternative include the following points:
Ease of use, especially if you are a beginner and don't have coding knowledge.
Features and flexibility, in case you plan to monetize your site or need specific tools for the success of your project.
Pricing is not less important, as the costs for establishing and running a site must fit within your budget.
SEO and marketing tools are especially of great importance for businesses.
Reliable customer support and resources will be helpful in every phase of your site creation and operation.
Identifying Your Priorities
Surely, your choice of a WordPress alternative or, generally, a website builder must be based on your project requirements. So, ask yourself what you prioritize in a CMS or online site builder. Do you need a basic site with a contact form, or does your project demand a complex site with tons of interactive plugins and features? Do you plan to monetize your online blog, or just want your content to reach people's hearts?
Based on your priorities, you will make the right choice. For instance, if you are starting an eCommerce site, you'd better stick to an inexpensive site builder with a shopping cart solution – Wix, Squarespace, and Weebly can do great. But if you plan to set up a blog, you should look for a CMS that ensures easy editing, content management, and an extensive community.
Final Decision-Making Tips
And finally, let us give you some working decision-making tips to ensure your website builder choice is as effective as you want it to be:
Make sure the service will let you design a site that is equally effective on desktop and mobile platforms. According to Google Analytics stats, over 60% of traffic is mobile. Hence, your personal site, online store, blog, or its purpose is mobile responsive.
Consider choosing a service with prebuilt themes and templates. This will save you time and effort unless you are tech-savvy.
Ensure your site has an SSL certificate to ensure a sufficient security level for the end user and have your site ranked high in search engines.
Conclusion: Recap of the Top Alternatives
As of the end of 2023, WordPress is still dominating the website-building market. And yet, its popularity doesn't stand as a guarantee of its perfect fit to your specific project requirements. The need to explore worthwhile WP alternatives that might align with your business becomes necessary.
In this article, I reviewed the best companies that can compete with WordPress, and each of them stands out for certain qualities. For instance, Wix features extensive customization options and a broad array of templates, Weebly offers cost-effective plans and an intuitive drag-and-drop editor, Joomla catches the eye with its robust in-built tools and great extension options, Squarespace best fits creative personalities with unique site designs in mind, while Drupal, Google's Blogger, Ghost, and Medium function well especially for content-driven websites.