Today's techs will let you create a new website quickly. However, no matter if you are going to build it yourself or a hired expert will do the job from A to Z for you, the final result depends highly on your choice of a website builder. There's no bad software in the market – only software that fits and doesn't fit your purposes.
Two examples of such site builders are Weebly and WordPress. Both rank among the top site development solutions in the world. Each may excellently cope with a suitable project. So, should you opt for Weebly or WordPress? The below comparison of these two website builders will let you make the right choice.
Key Similarities
As soon as we compare Weebly with WordPress.org, not WordPress.com, which offers hosting and site-building plans, we should state at once that these instruments have little in common. Their sole similarity is that they have one goal – to let a user build a fully workable website capable of running all the necessary activities.
Each offers a specific set of instruments to supply your site with a quality design, SEO settings, payment options, etc. However, Weebly and WordPress have different approaches to all this, and your functional freedom will be absolutely different.
Read also: WordPress Review.
Key Differences
Weebly belongs to 'fast solutions' that allow users to quickly pick a plan, connect hosting and a domain, and build a site with the help of a drag-and-drop editor. The outcome will be entirely satisfactory. However, a user should be ready for limitations. Their idea of a website cannot go beyond the framework of Weebly's capabilities.
Briefly, you can construct a website using various templates and ready-to-use features, and your creation will look professional and work effectively. You can also expect to get quality support from the team. So, Weebly is oriented toward beginners who do not seek complex projects.
WordPress represents a powerful content management system (CMS). It won't give you ready-made solutions like hosting, a domain, etc. You'll need to find all this on your own. However, no other web development solution has the same freedom of action as WordPress.
Imagine a project with a design and functional possibilities of any complexity, and WordPress will let you realize such a project. This is due to the builder's open-source code. So, if you know how to use it, WordPress will be a powerful instrument that will let you implement the boldest creative ideas.
What Is Easier to Use?
In the usability race, Weebly is a sure winner. The platform allows for a straightforward site-building process. Even a total newbie to web development can cope with it. The site can be created in minutes, and a user only needs to take these steps:
Get registered on Weebly.
Choose a suitable plan.
Opt for 'Start Work.'
Choose a template.
Smooth up the chosen template with the help of an easy-to-use editor.
Supply the site under construction with add-ons – it's done with one click.
Publish the ready website.
That's it. The Weebly plan you choose goes with hosting and contains other predetermined features you do not need to search for or purchase.
WordPress offers quite a different experience. Once you have it installed, you get a fully-equipped working space for bringing whatever project into reality. Yet, you need to find a host and subscribe to a suitable plan with it before the installation. Then, the quality of your website's design, its fitting-out, SEO performance, security, and all the other options are your responsibility.
Solid expertise in web development and coding is necessary to use the potential of WordPress for your website's good. So, Weebly is definitely easier to use, though its possibilities are much more moderate.
Design Options Comparison
Weebly offers an effortless way to create website designs. A user chooses one of the 50+ themes available on the platform and customizes its images, fonts, color schemes, and other elements with the help of a beginner-friendly drag-and-drop editor, and that's it. Their site has a proper look and is ready for further adjustments.
On any Weebly plan, you'll get access to all the themes of the builder. They are grouped by industries (online stores, personal sites, blogs, etc.) Whatever theme you apply to your site, it will look professional and appealing.
Do not expect to alter the structure of your chosen template much if code knowledge is not your forte. Some customers may regard it as a drawback. However, most sites having been created today can manage quite well with such design options.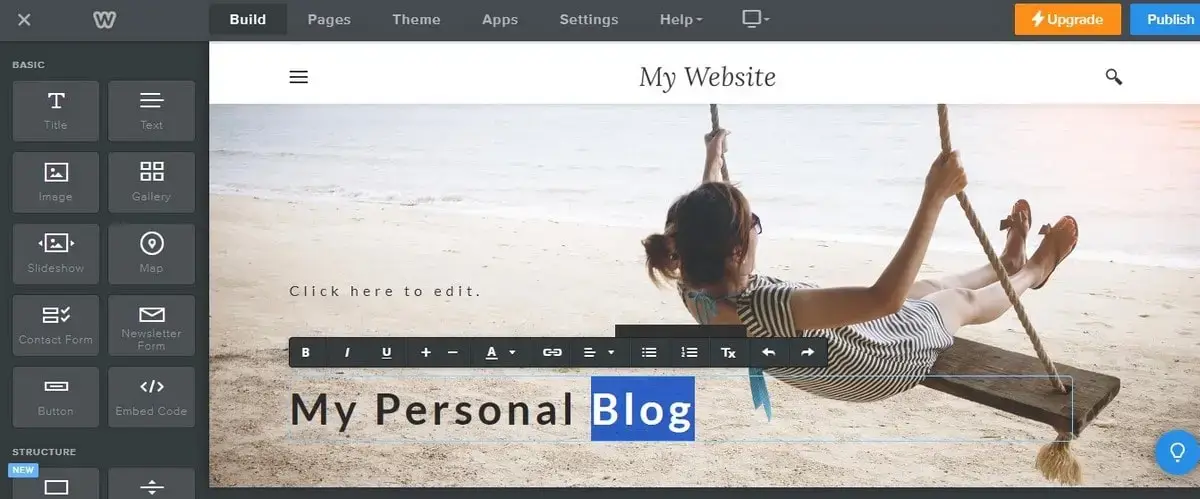 The good side here is that a user with little or no web design skills cannot damage their website's appearance no matter what. So, opt for Weebly if your goal is to create a professionally-looking website easily and fast.
WordPress also offers themes, and we speak about over 30,000 of them at that. These are free and premium templates you can apply to your website's design, and there's no other CMS with similar options in the industry.
However, the creative facilities of WordPress are still broader. It is an ideal solution for those who are planning a 100% inimitable design of their site. WordPress will let them create their own theme with whatever structure, style, set of buttons, headers, etc.
Again, although the offered creative freedom is unprecedented, WordPress will be hard to manage for newbies. While the Weebly editor allows users to view all their steps in real time, and they can redo/undo every change before saving and publishing the final version of their website, WordPress does not offer such an option.
It means you'll see how everything looks and works on your newly-created WordPress website only after you publish it. So, your choice of a theme and all design decisions should be made knowingly. Otherwise, you'll need to redo the whole job.
It's not a problem for a coding expert. Yet, for a beginner, WordPress is far from the optimal solution. At least they need to add specific plugins that allow users to edit their website's design with the help of a drag-and-drop editor.
Website Functionality Comparison
Over 300 apps are supported by Weebly today. Since 2018, Square has owned the platform, so its set of eCommerce features has also increased. However, your choice of add-ons will depend on your plan. The more you pay, the broader range of applications you get. All plans include the following features:
abundant eCommerce tools;
quality SEO;
basic Marketing instruments;
an SSL security certificate;
email & chat support;
Community Forum.
The strongest point of Weebly is, of course, its eCommerce equipment. Its free plan includes all the necessary options to start a simple online store. It will have a shopping cart and an unlimited number of goods. Inventory management tools, a tax calculator, coupons, Square gift cards, the Quick Shop option, and In-Store Pickup are at your disposal.
You'll need to subscribe to a premium plan for a professional online shop. It will let you extend the functionality of your store by adding shipping tools, digital items, PayPal payments, abandoned cart emails, and more.
Regarding Marketing, Weebly also offers not a bad set of functions. First of all, it supports enough SEO options across all plans. On all your pages, you can edit meta titles and descriptions, customize the pages' URLs and headings, use 301 redirects, and more. There's an ability to add the Google Search Console and a tracking code from Google Analytics. Indeed, this set of features is pretty basic. Yet, for a small project, these options might cover all its needs.
All Weebly plans include the Lead Capture and Instagram Feed features. Each premium plan goes with pop-up notifications. However, advanced analytics for eCommerce from Weebly is only available in its most expensive plan, Performance.
In WordPress, you can add as many features as you wish. Moreover, it is your responsibility to define what tools your website needs and doesn't need. Mind that the number of available plugins here reaches 60,000! WordPress is an excellent solution for an expert with endless possibilities for eCommerce, blogging, and other professional activities.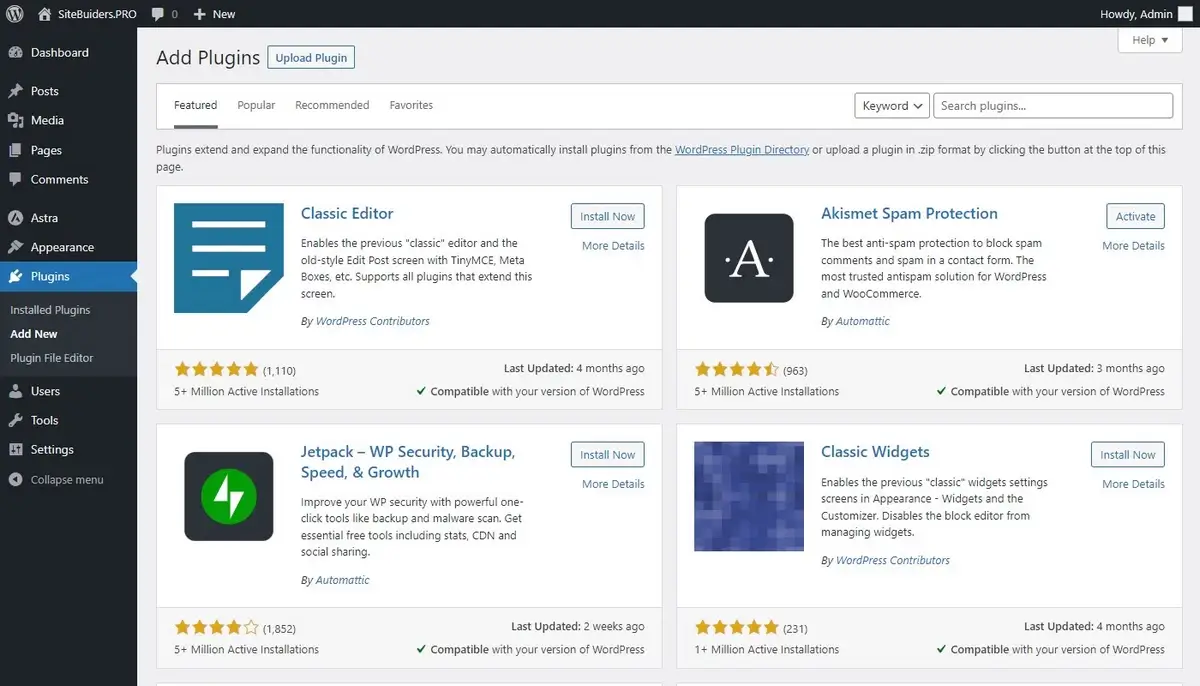 For development starters, WordPress may be a real ordeal since they need to sort out secure and quality plugins from such a massive selection. Experiments may cost a lot of money. Yes, you can hire an expert or ask for help on WordPress forums. Yet, do not expect to find standard customer support here – it is absent.
If you need a list of must-have plugins for a WordPress website, here's a good sample of them for starting a secure and robust project on the platform:
Elementor, SeedProd, WPBakery Page, or another drag-and-drop site builder;
AIO SEO or Yoast SEO;
The Sucuri security plugin;
WooCommerce for advanced eCommerce experiences;
Semrush (digital marketing);
WP Forms (over 700 form templates);
Duplicator (backups);
Monster Insights (analytics);
WP Rocket, LiteSpeed Cache, or similar (caching);
PushEngage (notifications);
Uncanny Automator (automation tools);
Shared Counts (social media channels);
WP Code (code snippets for headers);
LiveChat;
Google Workspace.
WordPress does not limit you in your choice of plugins. You can connect as many of them as you want. The platform will let you realize the weirdest idea, in fact. However, your site should be capable of running all these plugins without damaging its performance. The more plugins you need, the more powerful hosting (with enough capacities and strong WP update options) you should buy.
Pricing Opportunities
One more plus of Weebly is that the platform offers careful cost management to its users. They can opt for one of the four plans: Free, Personal, Professional, and Performance. Their pricing schemes are shown below:
Weebly Plan
Free
Personal
Professional
Performance
Yearly billing
$0/mo
$10/mo
$12/mo
$26/mo
Monthly billing
$0/mo
$13/mo
$16/mo
$29/mo
The Free Weebly plan is not bad for starting a very modest site for personal use. You'll even be able to turn it into a small but workable online store. However, a serious project will require a premium subscription since a custom domain becomes available starting from the Personal package. Such features as unlimited storage and the Remove Square Ads tool will be accessible within Weebly's two most expensive plans.
How much will your WordPress project cost, then? It depends. The platform itself costs $0, but you'll need to pay for hosting and might pay for a domain, premium themes, and add-ons. Let's make crude calculations:
Options necessary for your WP site
Expected price
Domain
$0 – $20 per year
Hosting Recommended plan: Hatchling from Hostgator
$5.95/mo
(includes a free domain, a free SSL certificate, 1Gb backup, 100k visits a mo.)
Theme
$0 – $400 (per year or with a permanent license)
Plugin
$0 – $1,000 per subscription or license
Professional developer
$25 – $1,000+ per hour
So, a quality WordPress website may cost you from $5,000 to $50,000, depending on your design and functional expectations. Surely, you should grok web development or hire someone who can do it to calculate the final price from the start.
Verdict
In the Weebly vs. WordPress opposition, each user defines the winner themselves. Both platforms will let you create a professionally-looking website with all the essential functions necessary for today's online businesses. The whole deal may cost you $0 on both Weebly and WordPress.
You should opt for Weebly if you know little about site-building and do not wish to hire an expert. Weebly is an ideal option for those who wish to launch simple eCommerce or another online activity securely and fast.
Choose WordPress for an advanced website with a unique design and feature set. WordPress will let you realize any creative idea. This is the best solution for those who are not afraid of extra work with code and cost surprises.