Migration from one CMS to another is a natural thing. Yet, when you wish to move a Wix website to the WordPress platform, the procedure may seem too complicated to some users. Although the transferring of the Wix domain and other components of your website, by all means, requires much effort, this objective is quite feasible.
In this guide, I'll give detailed instructions on preparing your Wix site for moving to WordPress and transferring your Wix domain there in the most secure way. You'll also learn what preliminary work should be done in WordPress.
What Should You Do Before Starting The Wix Domain Transfer
Moving a domain from Wix to WordPress is far from a one-click operation. Moreover, you can only succeed with it when you run the transfer just in line with the strict order of Wix-to-WordPress migration. Your preparatory steps will be as follows.
Step #1: Purchase Hosting
WordPress is self-hosted, so first, you'll need to buy hosting. Today's market has plenty of reliable hosts, but make sure you deal with one that offers specialized WordPress plans. Such a hosting service should offer a one-click installation for WordPress and support help from techies.
If you choose to move your Wix site to WordPress.com, you can get hosting and a domain right there. The service offers several plans with hosting and domain options included.
Step #2: Save Wix URLs
This step is necessary for multi-page websites with premium Wix domains and solid traffic. To keep this traffic at the same level, you must apply redirects to your new URLs on WordPress. Thus, your visitors who got accustomed to using your Wix pages will be redirected to the corresponding pages on your new WordPress site.
So, how do you make a list of your Wix URLs? You just have to surf through all your pages and copy each URL. Paste them, one after another, into a text file and save it. Surely, if your reason for moving from Wix to WordPress is SEO, you can skip this step. WordPress has enough plugins to bring your SEO settings to perfection.
Step #3: Get a Temporary Domain
Again, using a Wix domain without a 'wix.com' tag, you must set up a temporary domain. Your hosting company should offer this option. Moreover, you can ask for assistance if you do not know how to create and use a temporary domain.
If you are on a Wix free domain, you should simply register a new one. Your host is sure to offer a free domain for subscription to one of its plans and multiple paid options.
Step #4: Install WordPress
A good host will let you install WordPress with a click. Yet, the procedure requires careful pursuance. You do the following actions:
Sign in to your hosting account.
Go to the control panel.
Opt for WordPress Installer and launch it.
In the setup form, choose a protocol.
Fix your future WordPress site settings.
Indicate the Admin settings and select a suitable installation language.
Click 'Install' to run the automated setup process.
If you have a question at any stage of this process, feel free to ask for guidance from your host.
Step #5: Migrate Your Website's Content
In fact, transferring a domain from Wix to WordPress means creating a new site from scratch on a large scale. It is clearly seen when you come to the stage of moving your content from Wix to WordPress. This process requires special attention and carefulness. It may take loads of time.
There exist several methods of transferring your content from Wix to WordPress. These are mainly manual migration, content transfers via special plugins, and hiring an expert to do the job instead of you.
Although there are numerous plugins for semi-automated transfers, I'd recommend choosing either manual or expert-help solutions. Various errors may occur when moving your data with the help of plugins. For instance, plugins may fail to migrate your content in full. If you wish to use the plugin method anyway, double-check the transferred data to ensure everything is copied to your new WordPress site.
Personally, I prefer the copy & paste method. That is, I choose to move all the Wix site's content manually. It is a time-consuming procedure. Yet, I see it as the most effective and secure way. The whole thing consists of the following stages:
Moving text files.
Transferring media (images, videos, etc.)
Importing XML posts via RSS feed.
If you are all abroad with such manipulations, hiring a pro is your only workable solution. Since you are migrating to WordPress, you are in the process of joining the vastest community of experts in the iTech world. So, finding one who can help you with this complex matter won't be a problem. It only hinges on the cost.
Step #6: Tune up Your WordPress Site
A final step before moving your Wix domain is to arrange everything on your new WordPress website. With a ready-to-use site, you can complete the transfer safely. Your final site will be easier to check for errors.
So, at this stage, define the design settings of your WordPress site first. The fastest and cheapest way is to choose a WordPress theme (premium or free). If you want to reconstruct your Wix site design in WordPress, you'll need to pay a professional developer for this job.
Then, you have to define the structure of your website. You can supply it with all the necessary buttons, widgets, and galleries. Surely, a WordPress site's performance depends on plugins, so be sure to provide your website with at least the essential ones (SEO, caching, backups, etc.).
Finally, update your permalinks. Apply all the necessary redirects – WordPress has plenty of plugins for secure redirection. Check if there are broken links. Again, you can use specialized plugins to simplify this process.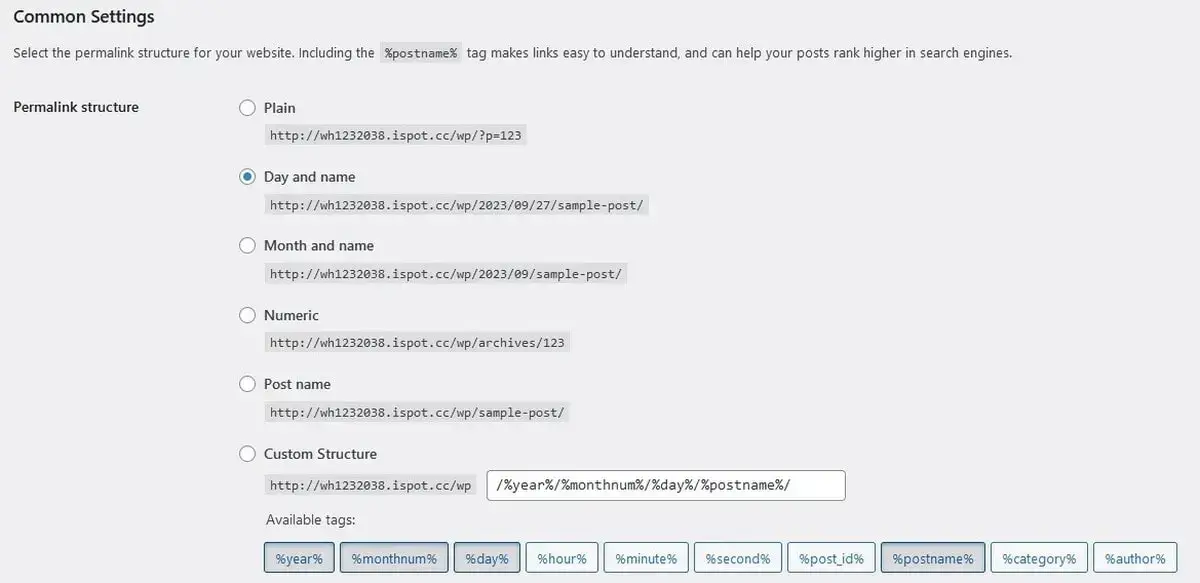 Only after all these manipulations are carried out, I recommend proceeding with the domain transfer! Of course, if you already possess a working WordPress site, you can go straight to the domain migration.
Wix to WordPress Domain Transfer Process
Now, you can securely transfer your Wix domain to WordPress. The thing is to move your actual Wix domain to a domain registrar of your chosen host. If your Wix site is based on a premium domain without 'wix.com' ending in your website's URL, the process will consist of the following actions:
Enter your Wix account.
Open the 'Subscriptions' menu in the CPanel.
Opt for 'Domains.'
Select a domain to transfer if you have a number of them.
Go to the 'Advanced Settings' section.
Click on 'Transfer away from Wix.'
Tap 'Send Code' to launch the domain migration.
You'll receive the authorization code in the email you have used to register the Wix domain. Mind that it may take up to 24 hours to get this code, though in most cases, it is sent within a shorter time.
The next step is to transfer the domain to a new host. The process of connecting a domain name to another host is more or less identical on all hosting platforms:
Unlock the domain and enter the control panel of the hosting provider you selected.
Find the "transfer" tab. It should be in the section labeled "Domains" or "My Domains."
Enter your domain name, provide the EPP code you got from Wix, and follow the instructions. The activation takes up to 10 business days.
Install WordPress and log in to the WordPress dashboard via your hosting account.
Migrate the website.
If you choose one of the hosting plans at WordPress.com, the procedure is as follows:
Go to 'My Sites' → 'Manage' → 'Domains' in WordPress.
Opt for the 'Add a domain' section.
Tap the 'Use a Domain I Own' option.
Click on 'Transfer to WordPress' next.
Indicate your domain name.
Check if your Wix domain is unlocked and confirm it in the corresponding window.
Click 'I've unlocked my domain.'
Insert your authorization code and press 'Continue' to complete the migration process.
You'll receive a transfer confirmation by email. It may take up to seven business days to get the transfer completed.
Post-Migration: Check Your Website for Integrity
Now, it's time to give your ready-to-use WordPress site a try. Check if all its elements work properly. It's reasonable to go through all your external links again to check them for errors.
One more important thing is to keep your Wix hosting account until the whole process is fulfilled. You can safely delete your Wix account after you get a confirmation email and verify that your new WordPress website works just the way you want.
Conclusion
Migrating a domain from Wix to WordPress is a fairly complicated undertaking. However, if you do all the necessary actions in the right order (given in this guide), you will succeed. Pay attention that the process may consume a lot of time. It definitely requires thorough attention and special carefulness.
Rule #1 is not to experiment with Wix to WordPress domain migration. I don't recommend using any migration plugins (though they can be helpful in some cases), especially if you are new to website migrations in general.
If you do not know or do not understand how to cope with this or that stage of the migration process, check this page on ,y website and opt for help. It'll cost you money, but you'll get a fully workable WordPress website transferred from Wix, ready to serve your new goals.