The digital marketplace has revolutionized the commerce world since, nowadays, entrepreneurs can start their own businesses online with the help of unique platforms. And two of the most popular options in this sphere are Wix and Etsy.
Etsy was specifically designed for small business owners and independent artisans who wanted to sell vintage, handmade, and unique items online to a global audience. It has a strong community of sellers and buyers, making it an ideal solution to connect like-minded individuals worldwide and establish a loyal customer base.
On the other hand, Wix is a modern website builder which allows businesses of all sizes to create a custom site and sell internationally. It's pretty user-friendly and doesn't need a coding whiz to showcase its full potential. For this, Wix introduces several tools like Wix ADI, Wix Editor X, and Velo by Wix. All this, along with numerous templates and design options, make it an excellent solution for creating a virtual store, taking bookings, starting a blog, promoting events, etc.
Anyway, although both platforms are powerful and reliable, either can fit better for your business. Stay up with this review to determine whether Wix or Etsy better suits your requirements.
Key Similarities
Etsy and Wix are excellent for individuals and merchants who delve into the eCommerce business for the first time. Both platforms are highly straightforward to sign up for and use since they are beginner oriented. And finally, Wix and Etsy aren't priced high. The provided services can perfectly fit into a user's small monthly budget.
Key Differences
Etsy and Wix offer premium online selling conditions, yet different solutions have different constructions. Wix is a website builder and a comprehensive eCommerce solution for small to enterprise-level retailers regardless of their niche. Meanwhile, Etsy is a marketplace and eCommerce platform for those selling handmade and vintage products and craft supplies. And particularly this fundamental difference gives room for a myriad of other differences.
Particularly:
Wix gives dropshipping on its platform, while Etsy does not;
Wix is catered to both beginners and professional webmasters, and Etsy is only for beginners;
Wix introduces hundreds of templates, including eCommerce-oriented ones with plenty of room for customization through both a drag-and-drop editor and coding, whereas Etsy strictly limits customization options;
On one side, Etsy offers multiple sales channels, products management, and loyalty programs for active customers, while on the other hand, Wix introduces a complete product management system, plenty of integrated features, a huge app store, and a built-in shopping cart;
And the final difference lies in how you can get in touch with customer support. Wix suggests Live Chat, ticketing systems, a forum, a help center, tons of tutorials, and an extended help center. Meanwhile, Etsy users are only provided with Help Center and a social media community.
Read also:
Wix Review
Which Is Easier to Use?
The first thing that matters greatly is the ease of use since any businessman would rather spend precious time developing their product line than buzzing around the website.
Wix stands out primarily with its three different interfaces to choose from when building a site, and the three of them are intended for users with varying levels of website-building skills. These are:
Wix ADI: Answer a few crucial questions about your business type, website purpose, and design preferences, and let the ADI create a personalized site for you automatically based on the provided information. Artificial Design Intelligence will subtract publicly available information about your online business to fill your website with images, videos, and content. If you have absolutely no idea how a site is built, this variant is your savior.
Wix Editor: You can enable the manual editor if you crave more control over your website functionality and design. It will give you access to a vast collection of templates, allow you to create a structure for your website and fill it up with content the way you wish with a drag-and-drop system.
Velo: Velo is a full-stack development tool with which you get full power over your site's appearance and functionality. You can do whatever you wish with your website if you have development skills and coding knowledge. Velo is perhaps the most complex interface of the three.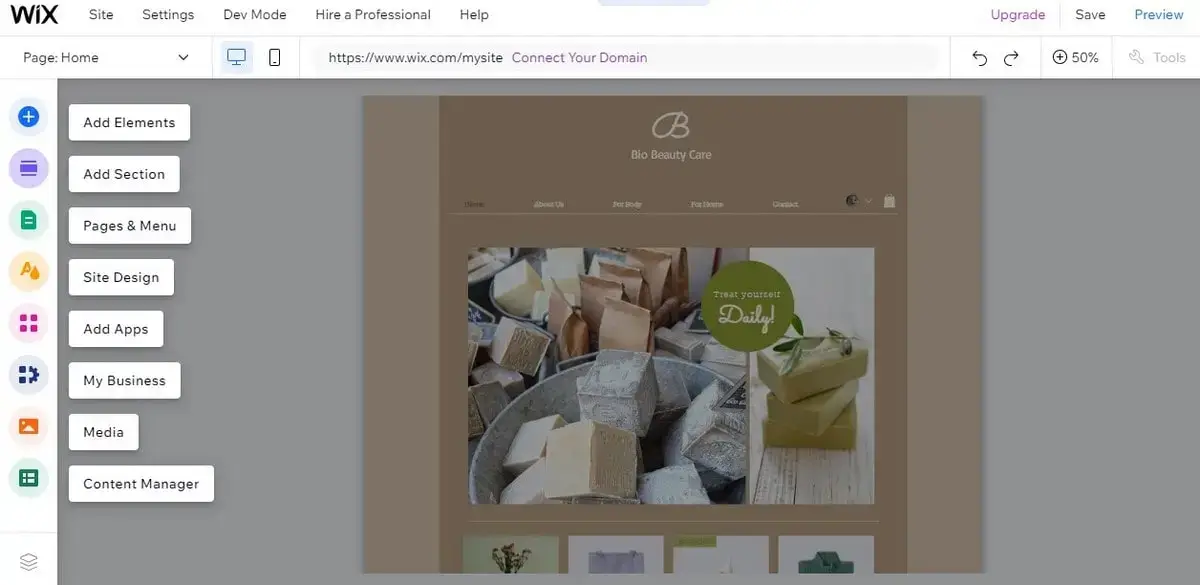 On the other hand, Etsy features user-friendliness second to none. In fact, there's no better platform than Etsy if you prioritize simplicity over functionality and anything else. However, this solution's simplicity and the seller dashboard's intuitiveness come at account of its functionality – there are hardly any complex features around it. Such actions on the platform as creating listings or generating reports are a sheer breeze.
Nevertheless, this simplicity becomes a big downside when upgrading your online business and enhancing the website.
Design Options Comparison
Making a good first impression is highly crucial for any website. If you choose a boring template and design an unremarkable site, even your fantastic products on sale won't make it out.
Starting with Etsy. This is a pretty famous eCommerce platform, yet it does not take seriously the need for design flexibility and freedom. It rather focuses on offering a simple and cohesive storefront experience, which significantly limits the customization options. With Etsy, you can only change the basic elements like fonts, colors, and image styles. And to access some more customization features, like highlighting high-performing products on the homepage, you must upgrade your plan to Etsy Plus.
The available Etsy website customization options include the following:
Changing the fonts, colors, and photo styles of the online store.
Uploading a logo and banner (a photo carousel).
Setting a description for the homepage.
So, Etsy is good in terms of design as long as you are happy with a standard Etsy storefront and don't crave any extensive design options or a unique website look.
As for Wix, here we have got a thoroughly other picture. This is heaven for retailers who strive to find ultimate design freedom yet avoid the hassle of coding. This website builder gives tons of features to easily control your branding and site appearance down to the last pixel. See yourself.
Wix introduces a vast array of templates counting over 800 options categorized into collections and types, as well as their subcategories from music to design, from an online store to podcast. Such diversity guarantees your website will have a unique look and feel. Wix describes every template and states for what purpose it will serve best.
Working with any Wix template in the Editor mode is a breeze. The editor is of the most popular and convenient WYSIWYG drag-and-drop type. And although every template comes completely formed with images and dummy text already in place, you can adjust the theme colors, upload your own photos or choose any from the impressive library of professional images, videos, and graphics, as well as add texts (fonts, aligning, etc.), blogs, contact forms, maps, restaurant menus, video backgrounds, interactive slideshows, etc.
However, Wix isn't all about non-developers, only. Even the most experienced webmasters will find it useful and convenient as the solution allows editing raw HTML behind each of its templates. This is done through Velo by Wix. The company even suggests scheming a website from scratch or based on a template with a minimal layout.
Supported by a massive library of templates, plenty of built-in features and a huge app market, Wix provides total creative freedom. All this makes Wix gleam compared to Etsy's relatively poor design customization options, which always result in a similar appearance. Wix is the absolute winner.
Website Functionality Comparison
Wix is a versatile website builder that can be used for creating any type of website regardless of the company's purpose, audience, size, and revenue. On the other hand, Etsy is a sheer commerce platform where people access to buy and sell a particular type of products – handmade and vintage. Therefore, reviewing both platforms' functionalities in terms of commerce will be more sensible.
Selling fees: When considering a website builder, not only does the price for the monthly plan matter but also the selling fees. See yourself. Etsy offers a free and a $10-worth Etsy Plus plan, while Pattern by Etsy only costs $15/mo. And yet, the company implies various fees, including a $0.20 listing fee, a 6.5% transaction fee, a Paypal fee, a 15% offsite ads fee, along with a 3% + $0.25 payment processing fee and some conversion fees.

As for Wix, besides the monthly price per chosen plan, there's a processing fee of 2.9%, along with $0.30 for credit card payments (no transaction fees are applied). Not only Wix's additional fees are lower than those of Etsy, but Wix also offers some attractive freebies like a free domain, a professional logo design, and ad credit.

Shipping: Etsy allows users to handle their own shipping, which is an especially great option if you want to sell one-of-a-kind and handmade items. Besides, popular fulfilment services like Amazon's FBA and Shopstation services are integrated with Etsy. Furthermore, the solution enables sellers to print postage labels right from the platform and provides discounts on FedEx, USPS, and Canada Post labels of up to 30%.

On the other hand, Wix introduces many shipping options. For instance, real-time carrier shipping quotes through Correios in Brazil and USPS in the United States allow users to provide their customers with precise shipping rates depending on the location and current rates.

Besides this, Wix can integrate with paid services to let sellers connect to an even more extensive selection of carriers and suggest real-time shipping quotes to consumers. Some of the available ones are Shippo and ShipStation.

So, both Etsy and Wix are worthwhile competitors in shipping. On one side, Etsy provides a 30% discount on FedEx, USPS, and Canada Post labels, whereas Wix suggests integration with Shippo and real-time carrier shipping quotes.

Marketing: Planning to enhance your business? Then you must be sure the chosen website builder or platform your online shop is on provides all the necessary marketing tools.

Promoting and selling your products on Etsy is way different from other platforms. The thing is that here instead of concentrating on Google's search engine, you should aim to promote your page on Etsy – a platform that shows your products to really interested people. Furthermore, with this platform, you get two opportunities to optimize for Etsy SEO: you automatically get your products promoted on Etsy and indexed by Google.

On the other hand, Wix has recently introduced an all-inclusive marketing solution Wix Ascend to enable users to manage their marketing campaigns from one place. Furthermore, the partnership between Wix and a leading digital and SEO marketing tool Semrush provides users access to Semrush's keyword data (up to ten keywords daily from 21 billion available keywords) straight from their Wix dashboard.

So, in terms of marketing, although Wix gives users more control over their marketing campaign and a distinguishing virtual presence, Etsy gives its users better opportunities to reach larger audiences than Wix without applying too much effort.
So, these were the critical functionalities of an online store common between Wix and Etsy. Note that due to being a flexible website builder targeted at all types and sizes of businesses, Wix has a drastically bigger pack of tools, including social media integration, an extended app market, backups and restores, etc.
Pricing Opportunities
When looking for the pricing of a website builder or platform to create your online store, it's also essential to look at all hidden costs and fees. For instance, at first glance, Etsy seems to be a highly cost-effective eCommerce solution since it offers a lifetime free plan, while the premium Etsy Plus plan is only priced at $10 per month. The latter is way more beneficial since it involves additional customizations for your shop front, a 50% discount on .net and .com domains or a free .store domain, discounts for packaging and other promo materials such as custom shipping boxes and business cards, $5/mo ads credits, restock requests for already sold out products, and 15 listings credits for a month.
Nevertheless, you don't just get away with the mentioned costs by opting for the free plan or subscribing to the Plus plan. There are specific fees to be aware of. These are:
6.5% PayPal processing and transaction fee per every sold product;
$0.20 listing fee for keeping the listing active for four months or till it is sold;
The 15% offsite ads fee is charged when you make a sale from an offsite ad.
Meanwhile, Wix comes with four Website plans and three Business & eCommerce plans. The introductory Combo plan comes at the price of $16/mo and includes:
A free domain for one year.
No Wix branding on the site.
SSL certificate.
2 GB storage.
Thirty minutes of video time.
There's a 14-day money-back guarantee.
As for fees not covered in the monthly plan, Wix charges a 2.9% processing fee and $0.30 for credit card payments. There are no transaction fees applied.
So, both platforms are reasonably priced, yet Etsy's additional fees make the platform a more convenient option for low sales volumes, while Wix appears to be better for cost-conscious high-volume online merchants.
Verdict
In light of everything discussed above, which is better, Etsy or Wix? Etsy isn't a traditional eCommerce platform but excellent for vintage and handmade items. Furthermore, with Etsy Pattern, it's possible to set up your own store with a separate domain and still manage the store from the central manager.
Conversely, Wix is an all-in-one solution with all core eCommerce features, shipping rules, and multichannel selling on all plans. Furthermore, the solution offers a drag-and-drop editor with endless customization possibilities without applying to code (with Wix Velo, coding specialists can use code for custom advancements).
While both solutions have advantages and downsides, Wix appears to be a better eCommerce platform due to providing more features, higher flexibility, and many customization options to create a virtual store perfectly matching your expectations. Etsy can be a better choice than Wix only if you search for a like-minded community to sell your handmade items easily.