Right from the start, Pixpa is not your standard site builder. it caters to users looking for a tool to create their own online gallery to showcase and sell their works. If you are out of this niche, highly likely you can strike Pixpa off your site builders list.
However, you'll hardly find two equal projects made with Pixpa, and you might be interested in what it can do for you. The builder's official website claims you can create an online store, a blog, a business site, a portfolio, and more. Let's check its capacities so you can decide if Pixpa fits your project.
What Is Pixpa?
Pixpa presents itself as a portfolio-building software with eCommerce integrations. Its targeted audience includes artists, photographers, and anyone who needs a professional gallery and the ability to sell items via it. Such a focus defines both the advantages and disadvantages of Pixpa.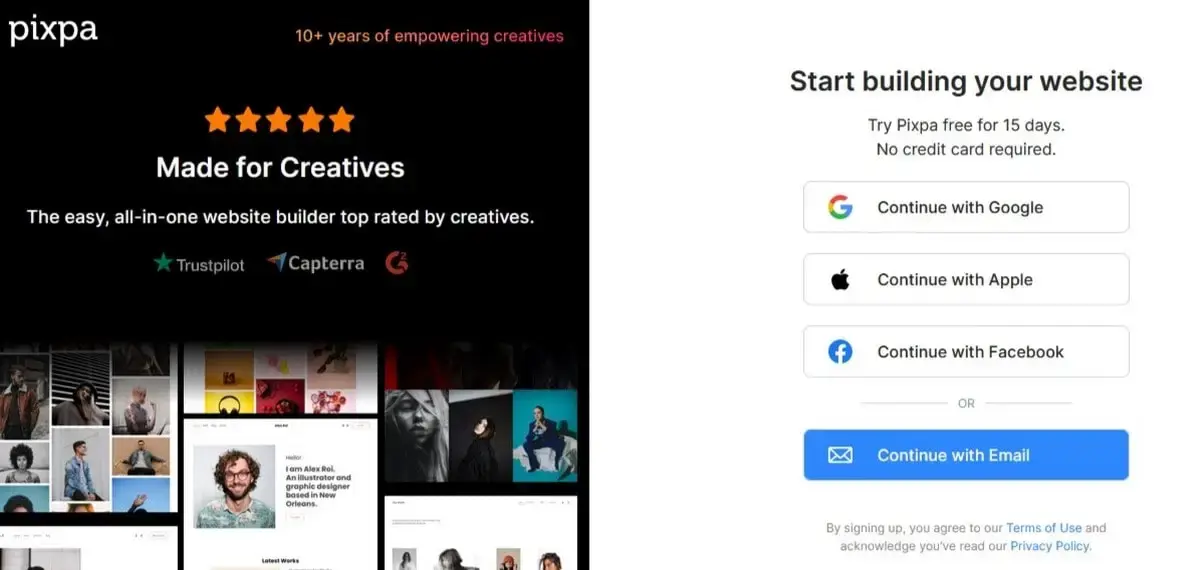 The site builder offers good visual options, but competitor platforms also offer excellent client galleries! Moreover, you can find solutions with a broader set of pro features, while Pixpa's eCommerce and marketing tools may be insufficient for your website.
What's Pixpa Used For?
Pixpa can be a very useful tool for publishing any sort of visual content online and working with it equally comfortably across all platforms. It's a great tool for users wishing to share their pics with their families, friends, or clients.
When it comes to professional activities, Pixpa is mainly used by photographers, artists, architects, fashion models, designers, stylists, and other creatives. If you are the one and you wish to use Pixpa, your possibilities will depend on a plan. On the whole, Pixpa will let you do the following:
create portfolios;
sell artworks, services, and digital products;
add extra pages;
create blogs;
make client galleries for presenting your visual products to potential clients, and let them choose, evaluate, and proof items. Via a client gallery, you can receive payments and deliver orders to your clients;
create personalized gallery apps for mobile clients with the same options as in client galleries on the desktop.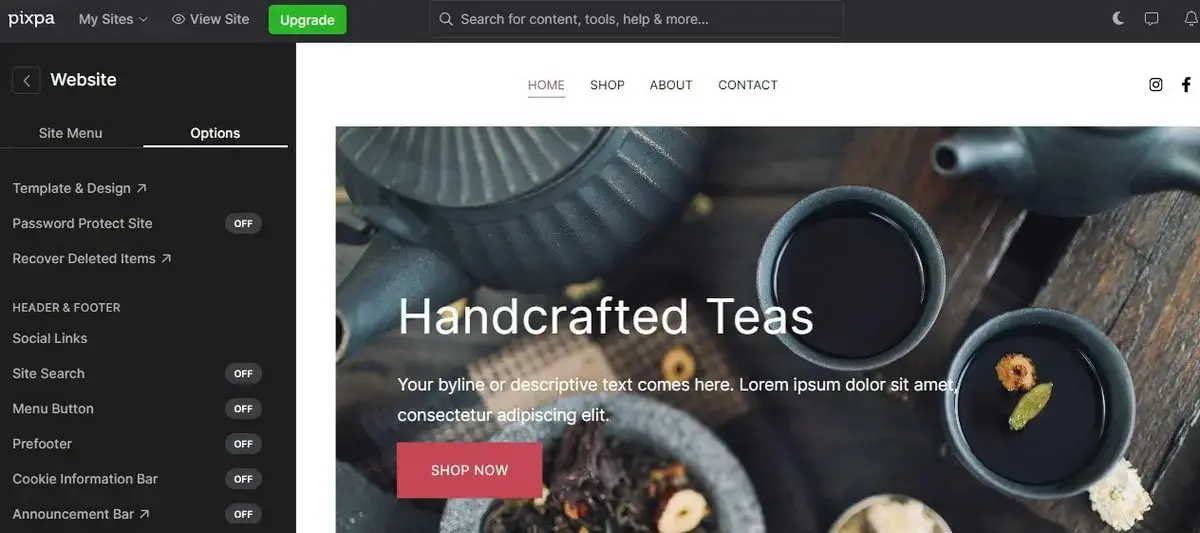 The list of options is impressive, but you should clearly understand how it all works in Pixpa. Bear in mind that the main purpose of Pixpa – with which it copes very well – is to let you showcase your artwork pieces. Selling them is an extra option.
You'll unlock the unlimited products feature and the ability to add as many images as you wish only with a subscription to Pixpa's most expensive plans. The inventory management tool is only available on the Advanced plan. The number of products will be limited to one thousand even within it.
Cheaper plans will be much more limited. However, no matter which plan you choose, you should be ready for such an inconvenience as the absence of the main online store. That is, your website's central element will be the image gallery. If you wish to create many of them, you'll need to upload images again, even if you select the same pics already in one of your published galleries.
How Much Does Pixpa Cost?
Like other modern site builders, Pixpa offers a multi-plan system that can pay monthly or opt for 1-year or 2-year billing. You'll have a choice of four packages:
Basic, $6/month.
Creator, $12/month.
Professional, $18/month.
Advanced, $25/month.
You can get the presented prices when choosing a month-to-month pricing model. When ready to pay for 12 or 24 months at once, expect to receive a 20% or 40% discount, respectively. Pluses of Pixpa include a 15-day free trial for all plans and a 30-day money-back guarantee. However, we do not recommend using a free trial – you won't be able to publish or sell anything with its help.
Mind that the Basic package will be limited to up to 5 pages or galleries. You'll be able to upload only 100 images. For a professional photographer, it's almost nothing, and even a family album can contain much more items. No blogs or direct payments are available on the Pixpa Basic plan. However, the package will provide your website with an SSL certificate, basic SEO, and 24/7 support.
Strangely enough, a 1-year free domain will be available starting from the Creator plan on Pixpa. The advantages of this plan include web storage of 3 Gb and a limit of 300 images. You'll be able to launch an online store with up to 5 products and the ability to receive direct payments. With this plan, you'll unlock features like client galleries, blogs, guest checkouts, and others.
Thinking of serious business with Pixpa, your choice should be either its Professional or Advanced packages. The former will give you 25 Gb of storage and unlimited images at your disposal. The plan includes the mobile gallery app option – you can build up to 25 of them. Your online store can sell up to 50 products. They can be sold as prints or downloads.
The Advanced package offers 100 Gb of storage and unlimited images. You can trade up to 1,000 products and use the product management inventory. Although this plan contains the abandoned cart recovery tool, checkout on your domain, payment forms, and other conveniences, it is still limited compared to other competitors. Even when it sells artwork pieces, your online store may require more extended functionality, and Pixpa looks insufficient enough in this respect.
Pixpa SEO Review
Pixpa is not bad in terms of SEO. It offers automated indexing on Google, but you can edit the metadata of your website and pages. As to images, you can supply them with descriptions and keywords. Yet, you'll need to work out each image separately.
Again, your customization freedom will depend highly on your chosen plan. Such options as 301 redirects, customizable marketing popups, and cookie bars will be available only on premium plans. In case you want to connect a side SEO app to Pixpa, do not expect much.
Pixpa has no inner analytical tools. However, you'll be able to connect Google Analytics to your website.
Pixpa Templates Review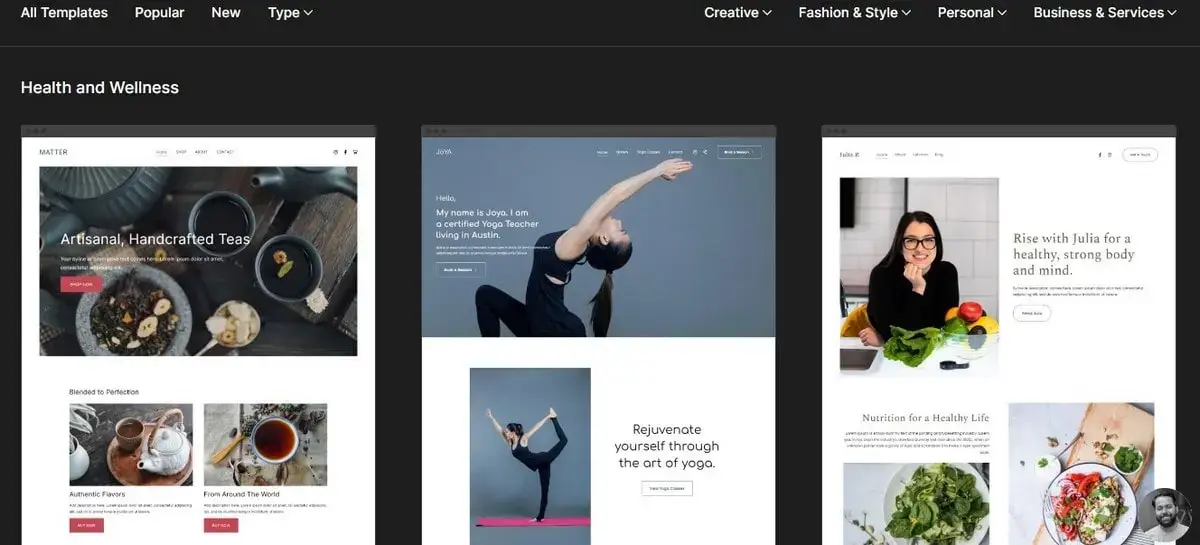 Although Pixpa offers about 150 mobile-responsive, professionally built templates, they look practically the same and only have slight differences in layouts. It's not a problem for a creative whose main goal is to showcase their own images.
The main drawback of Pixpa here is that you cannot have a kind of image bank. Instead, you need to upload one and the same image to every gallery and every page. This can reduce your storage significantly.
The Pixpa editor is quite a tricky thing. It doesn't offer drag-and-drop functionality. So, you should be ready to change the order of your images manually by opening the corresponding gallery and rearranging your images. Sometimes, it's hard to understand how to move or add elements on Pixpa. Its interface requires improvements by all means.
As for customization freedom, it is practically absent on Pixpa. You'll be limited to font and background edits. Only if you know how to code will you be able to customize more via access to HTML and CSS.
Pixpa Pros and Cons
When deciding if Pixpa is a good choice for your website, consider its main benefits and drawbacks:
Pros:
over 150 templates;
client galleries;
dedicated gallery apps;
integrations with about 100 apps, including Shopify, MailChimp, etc.;
no fees for transactions;
support 24/7.
Cons:
an inexplicit design editor with no drag-and-drop;
very limited design customizations;
no unified storage for images – you'll need to add one and the same image on each page and in every gallery of yours;
poor feature supply on cheaper plans;
a free trial won't let you publish anything!
all plans offer far from the best value for money.
So, Pixpa was initially a very promising platform for creatives. Today, its options seem undeveloped and insufficient when compared with other competitors.
Is Pixpa a Good Website Builder?
Pixpa is an interesting site-building platform that can only be the #1 solution for a very narrow group of users. The software will suit individuals who wish to launch a beautiful image gallery with the ability to sell a couple of items.
The Pixpa editor is not beginner-friendly, like Wix (our review), for example. It doesn't have drag-and-drop, and its editor's interface is quite perplexing. On the other hand, Pixpa is very limited in terms of customization freedom. If you have no coding skills, you won't be able to create a fully original design.
For a professional creative or an agency, Pixpa's capacities will be insufficient in most cases. Only its most expensive plans can ensure a more or less suitable set of features. However, you can pick more advanced site builders with easier editors and more advantageous prices.