SITE123 is currently one of the most popular website builders in the market, thanks to its user-friendly and intuitive editor. It offers an easy setup process, affordable pricing, and helpful customer support. And if you are searching for a site-building market, you might as well consider SITE123.
However, don't take it at face value; let us dig down into its core and understand whether it can be a worthwhile alternative to your current solution. This is a rough and impartial review to shed light on all the essential pros and cons of SITE123.
What Is SITE123?
SITE123 is a relatively young player in the website-building market. The company claims to offer the most straightforward process of creating a site, stating it's as easy as 1-2-3. These steps stand for choosing the design, adding content, and going live. Beyond any doubt, it's straightforward to set up a site with this solution. And this is perhaps its main advantage.
Other pros of this solution include the ability to sell products through the app, pretty good site speed, thanks to which the Google algorithm accepts it as more SEO friendly, and a big bunch of templates to choose from.
So, SITE123 can be a decent choice if you are a small business owner on a budget and can get along with a simple site. Also, the company has great value for money in setting up a basic site without any required coding skills. Overall, SITE123 is suited only for personal sites and portfolios, while e-commerce stores and big sites will find it strictly limited and ineffective. Why? Let's clarify this.
What's SITE123 Used For
SITE123 is focused on simplicity above all. Its site-building system aims to entirely remove the human failure factor with the preselected list of options for website customization instead of the traditional drag-and-drop editor.
Overall, being a smaller venture, the priorities of SITE123 are more targeted to smaller businesses and individuals alike.
Therefore, it's worth considering SITE123 only if you have a small project in mind and don't plan on extending it. Despite the impressive collection of themes, most of them don't look as professional as those by other companies like Wix (review) or Shopify (review). The customization options are restricted, their coding is impossible to alter, and SEO tools are pretty basic.
As long as you don't need to build a complex site with lots of functionality or intend to scale it up, SITE123 can be a good starting point. Just note the minimum subscription term is three months, while requesting a refund within 14 days has been an issue for plenty of users.
How Much Does SITE123 Cost?
The first alarming thing about SITE123 is its misleading pricing model. Unless you have signed up, you are introduced to only two plans – Free and Premium, neither of which is included in the pricing list after you create an account. Hence, if a potential user wants to check out SITE123 pricing, they will be misled to think two plans are available, only to find out later that five tiers are suggested, with none corresponding to the advertised ones.
SITE123 introduces a free plan with 250 MB storage, 250 MB bandwidth, and a subdomain. The presence of a lifetime free plan looks pretty attractive, though it appears useless in the long run. The provided 250 MB storage is too small to post videos or high-resolution images on the site, while the bandwidth strictly limits content and traffic.
What's more, your site is going to be stamped with SITE123 branding on the footer of all the pages and subdomains. Obviously, such a site looks cheap and can't be taken seriously.
As for paid plans, SITE123 offers four time periods for its premium tiers, including three-month, annual, two-year, and three-year plans. As you see, you have no option to go on a monthly basis, and you are simply forced to choose between three to 36-month leasing periods.
The longer plan you purchase, the cheaper your monthly bill turns out. But can you trust a new site-building solution so much as to rely on it for years ahead?!
At first sight, SITE123 plans are reasonably priced. At only $12.80/mo, you can purchase the Basic plan for 12 months. With this tier, you will be provided with a free domain for one year, 10GB storage, 5GB bandwidth, the option to connect your domain, and the possibility to run your site with no SITE123 floating tag. However, this plan is sufficient for running a small online store or a personal site.
Additionally, email limits are rather low. The introductory plan doesn't include mailboxes, while the Advanced plan offers two mailboxes. Moreover, the Platinum plan, which is the highest-priced one, contains only 25 mailboxes. If you are running a site at $75 per month, you may probably need more mailboxes.
Despite the suggested 14-day money-back guarantee, the cancellation process is not automated. You must complete the online form and state why you want to end the subscription. The company will proceed with the request within three business days and inform you about their decision.
Therefore, if you still want to try SITE123 and find out it doesn't really suit you, it's better to cancel the subscription within ten days after the purchase since it takes up to 72 hours to review your request. Consider taking a screenshot of the date and documents as proof to avoid possible future inconveniences.
SITE123 SEO Review
SITE123 offers basic SEO tools which are present in almost all website builders' plans. The available features include:
Adding meta title and description.
Customizable URLs.
Editing alt text to images.
And that's all.
The SEO Advisor tool, designed to help beginners fix major SEO issues, is available only for the highest-priced Gold and Platinum plans. Other than this, no support with which keywords to use or any other SEO-specific apps are offered. So, to get the best of your site's search engine optimization, you must either have SEO knowledge or pay $34.80 to $37.50 per month to get the Advisor tool.
SITE123 Templates Review
SITE123 has a pretty extensive collection of templates counting over 180 options categorized into industries. They are all mobile responsive and come with appropriate features based on what the website is for (surely, provided that you have chosen the template according to your business niche). This all sounds good until it is. As a creative personality or a user who wants a professional-looking website, you may get frustrated when digging deeper into SITE123 templates and customization options.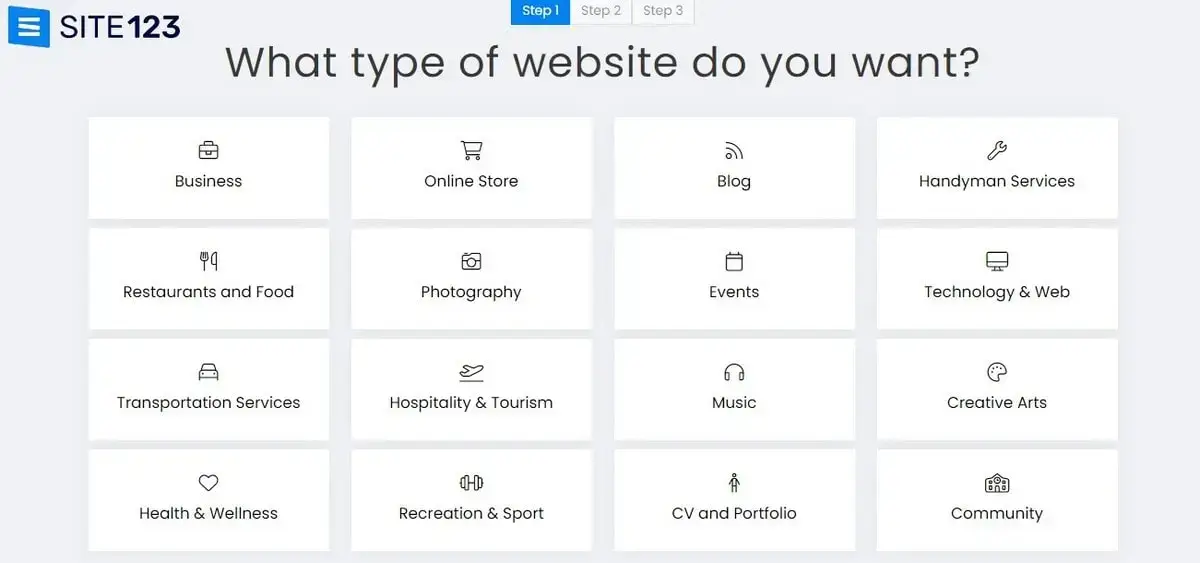 Despite the impressive number of templates, they look somewhat clumsy and unprofessional. Many options are similar to each other, with only slight changes in the color schemes. Not only this, the centered headlines, parallax, and large hero images all look pretty alike. To revamp the appearance of the chosen template and make it unique, you have to make individual changes. With limited customization options, it's doubtful you will be able to get an ultimate theme aesthetic.
Perhaps the biggest downside of SITE123 is its site design restrictions. First, the free plan opens only a few templates that can hardly be described as attractive or generally appropriate. You will need to buy a subscription to unlock the complete collection.
Furthermore, you can't get access to a single SITE123 theme's source code to apply some ground changes. This won't be an issue if you are a beginner and don't bother much about your website aesthetics. But for those with a creative side who seek more freedom, the strict customization limitation will be annoying.
SITE123 Pros and Cons
Beyond any doubt, SITE123 is a famous website builder. It owes its fame not only to the well-thought-out marketing strategy applied but also to its ease of use and beginner-friendliness. And if it won't suffice the requirements of a medium to big size business or meet the expectations of a creative user, inexperienced users with no skills and big expectations may find the platform pretty helpful.
However, let us pinpoint the significant pros and cons of SITE123 to understand better if it's what you've been searching for.
Pros:
Though limited, a free-for-life plan is available;
The solution is super easy to use even if you are a total beginner;
SITE123 websites load quickly with no glitches.
Cons:
Despite claiming so, SITE123 is not powerful enough for eCommerce stores and large websites;
The solution lacks creative freedom and website customization options;
Email limits are low, even on the upper tiers;
SITE123 doesn't allow applying HTML code.
Is SITE123 a Good Website Builder?
A relatively young company, SITE123 sells itself on its simplicity. It is really as easy as 1, 2, and 3 to build a website and get it up and running. On the other hand, the same simplicity is one of its most impassable downsides. Users can't add any external HTML code to their site, drastically limiting customization possibilities.
Accordingly, you have to rely entirely on SITE123's themes and the available design elements (adding through a plugin or widget is also an option). Note that whatever theme you choose, you can't change it after the site goes live.
Furthermore, SITE123 websites are limited in terms of structure, as well. Indeed, you can set up a website with a one-page layout, and your website menu tabs can scroll down to the necessary section of the page or open up a new one. This is the maximum amount of complexity your website structure can have.
Are you a blogger? SITE123 has a decent selection of blog templates to start your blog with. And yet, your blog won't have a comment feature, which will limit you from communicating with your audience. So, the key part of being a blogger is missing with SITE123.
And finally, SITE123 users have no backup and restore function that would let them revert back to an original version of their website if necessary.
So, if you still wonder if SITE123 is a recommended website builder, the answer will probably be "No."