If you plan to launch a portfolio site without coding, Webflow and Elementor are great options for that purpose. The first is a cloud-based website builder, which provides a bunch of tools for creating, designing, and hosting a website in one place, regardless of the target niche. What helps this solution stand out among other site-building platforms is the clear code it writes, allowing you to focus merely on the visual approach of your site development. Also, Webflow is more than simply a site-builder – it's an eCommerce platform and a CMS.
Conversely, Elementor is a WP plugin designed for creating responsive and beautiful sites with a straightforward drag-and-drop interface. The solution works with all WordPress themes and incorporates various features, including widgets, pre-schemed templates, pop-ups, animations, etc. Actually, Elementor is an excellent selection for WP users and beginners alike. Like Webflow, it leads a user through the entire site development process with its brand concepts and effective training.
Key Similarities
Before you delve into this comprehensive review comparison between Webflow and Elementor, let's overview its key similarities and differences:
Both companies offer stunning site templates and elements to build professional-looking websites, no matter the target industry.
Free plans are available whether you're using Webflow or Elementor.
Although Elementor and Webflow are available via mobile for editing, the results appear clunky. So, it's better to use a PC or laptop.
Both website-building platforms allow integration of third-party widgets and applications (both free and paid options are available).
Although both Webflow and Elementor offer more than satisfactory results, certain differences make one more preferable than the other, depending on your skills and website purpose. These are:
Webflow is a comprehensive and completely hosted site-building platform, while Elementor is primarily a WP page-builder plugin.
Webflow stands out for more exquisite design features than Elementor. These include interactions and complex animations, layers with opacity, blend modes, etc.
Elementor is more beginner-friendly than Webflow. The latter is more feature-rich, which makes it a bit harder to get to grips with.
The customer support team of Elementor is way easier to reach and benefit from, as it's available round the clock via live chat. Meanwhile, Webflow introduces only email support with restricted business hours.
What Is Easier to Use?
Webflow offers a sleek and modern interface where you get thorough control over your website creation. You get two options here – to start from scratch (this may require some coding skills, though) or choose one of the multiple professional-looking templates. Additionally, every aspect of your site can be customized through the visual editor and checked how it looks on various devices.
Although Webflow allows both using the drag-and-drop editor and applying custom coding for website building, it can't be described as beginner-friendly. The company uses its own terminology and concepts, like CMS Collections, which appears somewhat complex and intimidating for first-time users. To use Webflow to the full, a learning curve is a must. To design a new layout, you must understand how various elements like sections, containers, div blocks, flexboxes, and grids work together.
It's also important to have tech knowledge of how to host a site, as with Webflow, you have to set up your domain name, DNS settings, SSL certificate, etc.
As for Elementor, here we get a simpler site-building platform as long as you have some experience working with WordPress. Elementor can be installed via a plugin on the WP dashboard to create the site right away. The drag-and-drop interface is simple and intuitive. You can add a range of widgets to enhance the site functionality, like buttons, sliders, forms, testimonials, etc. Whatever changes you apply, you can see them in real-time. A preview of how the site looks on different devices is also available.
Like Webflow, Elementor doesn't demand coding skills but allows adding custom code if needed. The solution perfectly integrates with all WP plugins and enables users to manage the site's content and performance from one dashboard.
So, where does Elementor stand compared to Webflow regarding ease of use? It's definitely more beginner-friendly and lets new users with no tech skills get around and learn how to build a simple and intuitive site in no time, whereas Webflow has some learning curve.
Design Options Comparison
The diversity of mobile-optimized and skillfully framed templates at Webflow users' disposal is astounding. The selection is organized into Business, portfolio, eCommerce, etc. Although free templates are of decent quality, the best options are in the paid segment, priced up to $129 (note that one-off fees are applied only).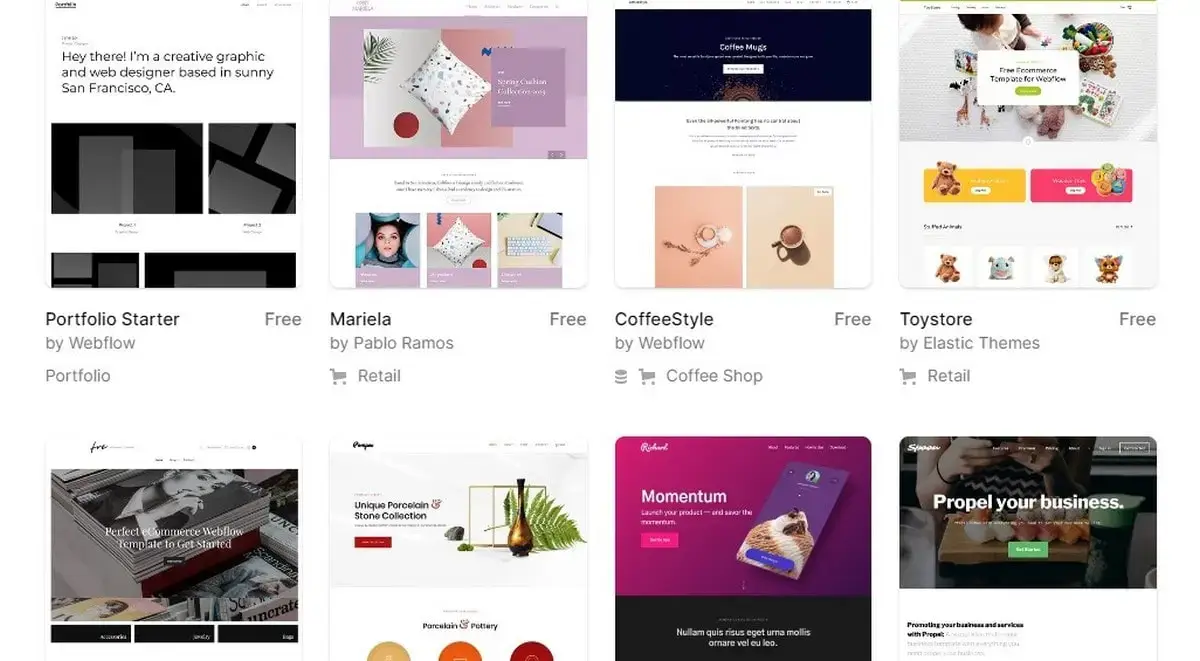 Furthermore, the more in-built features and the higher functionality you expect, the higher the price per template is. And if free options include forms, sliders, nav menus, tabs, and the like, paid variations come with all the features a template may have. They are all Retina-ready, already SEO optimized, have 100% reusable sections and components, and correspond to the world-class art direction.
Webflow has a rich ecosystem of design tools, the two essentials of which are the Designer and Editor for developing and maintaining a new site. The first tool lets users set up and customize a site layout, style, and interactions. It features a pretty powerful drag-and-drop interface with comprehensive design control.
As for the second essential tool, Webflow Editor, you can update and maintain your site's content without adjusting the backend code. This dramatically simplifies content management for non-tech users.
Nevertheless, unlike most other drag-and-drop editors, Webflow implements a box model design where design and layout abide by the traditional CSS and HTML web design concepts. This means every web page is made up of boxes where you input your content. Moreover, it's also allowed to organize boxes inside each other for even more advanced customization.
Also, Webflow users can obtain UI Kits at an extra price. These kits include a bunch of additional UI assets like menus, footers, icons, and headers to enhance the cohesive appearance of your site. All these UI Kits are organized into categories, like entertainment, business, marketing, etc., to spot them more easily.
As for the design options of Elementor, it's worth remembering that the solution is essentially tied to WordPress; hence, it works well with all WP themes. However, a separate collection of templates counting over two thousand options is also available, categorized into Homepages, Blogs, Landing Pages, Portfolios, etc. Concerning template industries, such options are suggested as eCommerce, Technology, Wireframes, Business and Services, Fashion, etc. And if you wish, you can start with a theme obtained from a third-party source.
Elementor templates are highly customizable. You can change the fonts, colors, images, and backgrounds and adjust any other design element to achieve the ideally identifying look for your brand. For more personalized design, you can add your content and widgets. The latter are pretty similar to Webflow components. They are pre-made elements to be dragged and dropped on wherever you need them on your website.
The company offers over 30 widgets for free and multiple ones for pro users. The basic widget selection includes headings, images, buttons, texts, etc., while the advanced one incorporates social media icons, countdowns, testimonials, etc.
In terms of website design features, Webflow users get a sheer privilege over Elementor users due to the service's impressive library of skilfully drawn themes that are fully customizable and its richly packed UI Kits.
Website Functionality Comparison
The chances you'll like to get up and running as soon as your website is ready are really high. In terms of workflow, both Webflow and Elementor are nice options. They can be both very effective, yet to different extent.
Webflow is a one-step site-building SaaS that delivers everything necessary for designing, launching, and managing a website with no coding knowledge required. It's also often referred to as CMS for the same purpose. Anyway, Webflow's toolbox is more versatile than that.
Webflow integrates over a thousand applications and services through custom code or Zapier. For instance, you can connect your site with tools like Shopify (read my review), Stripe, Google Analytics, Mailchimp, etc.
Webflow also features a rather proper selection of in-built SEO tools. You can optimize your site for search engines using alt tags, URL slugs, robots.txt files, canonical tags, redirects, and sitemaps.
The website building and hosting solution automatically backs up sites and creates restore points at every 50th autosave. For extra protection, Webflow also provides free SSL certificates.
If you aim to give your site an eCommerce emphasis, Webflow's in-built eCommerce functionality and extensive integration capabilities. Aside from high-quality eCommerce templates, the company supports many other useful features like product recommendations, effective inventory management, simple checkout processes, offsite marketing and sales tools, email marketing automation, customer support management system, analytics integration, etc.
Now, going back to Elementor. The latter works on top of WordPress; hence, whatever you can find on WP is available for Elementor users. Particularly, by subscribing to Elementor, such tools become available as custom post types, plugins, custom fields, etc. For extra marketing and CRM functionality, the site-building tool suggests integrating Discord, Zapier, WooCommerce, MailChimp, etc. Also, the company's extended marketplace of third-party widgets and toolkits includes site admin tools, site and WooCommerce optimization, element packs, premium add-ons, etc.
The solution offers no in-built SEO tools, yet it suggests setting up and configuring external plugins for search engine optimization. For instance, the most popular option of this kind is Yoast SEO. It allows customizing such necessary parameters as metadata, human-friendly URLs, alt tags, sitemaps, image compression, code minification, alt tags addition, etc. As you can see, Elementor's wide WP integration possibilities make it a more flexible solution than Webflow in terms of SEO.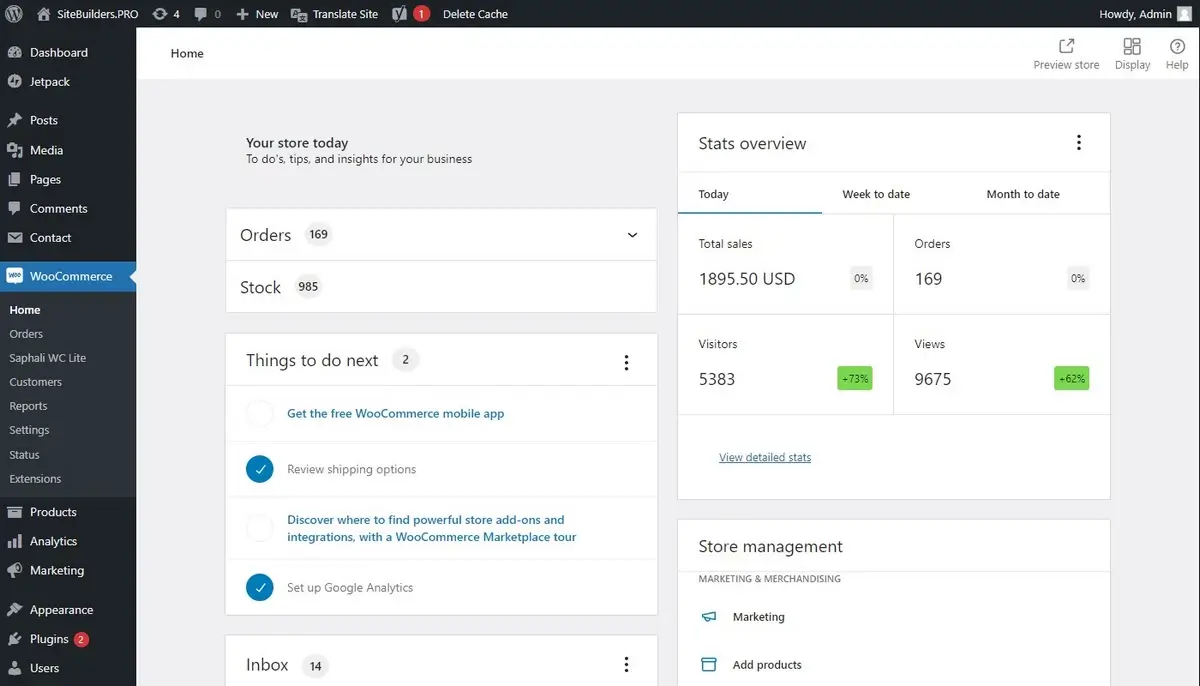 Elementor is an excellent solution for digital marketers thanks to its diversity of marketing opportunities. All key marketing features are available by integrating WooCommerce, one of the most popular and influential eCommerce dedicated platforms.
Pricing Opportunities
When considering a website builder, it's essential to check the pricing system. This way, you can get the best value for your money and avoid hidden fees.
Webflow offers two segments of tiers – Site plans and Workspaces, with the first type of plans designed for hosting the new site on Webflow's servers and the latter dedicated to designers and developers, whether individuals or teams. Each segment of plans is divided into two groups – General and eCommerce. Webflow offers a lifetime free plan with a webflow.io domain, 50 CMS items, 50 form submissions, and 1 GB bandwidth.
The free plan is too limited and can be appropriate for testing the platform. The introductory Basic plan, priced at $14 per month if billed annually, includes 50 GB bandwidth, 500 monthly form submissions, and a custom domain. Webflow also offers several more expensive plans, priced up to $212/mo for the Advanced plan.
Elementor's pricing system doesn't yield to Webflow with its complexity. It comes divided into several options. If you opt for merely the Elementor WP plugin, you get three options available, priced from $59 to $399 per year (i.e., from $4.9 to $33.25 per month). A free Elementor plugin is available at wordpress.org, yet it doesn't include hosting. The cheapest Essential Plan allows using the brand's pro features, like Role Manager, custom CSS, 50+ pro widgets, etc., yet only on one website.
Verdict
In the comparison of Webflow and Elementor, both site-building platforms have their strengths and weaknesses against each other. For instance, Webflow suggests more design flexibility and customization options but is higher priced than Elementor and requires a steeper learning curve. Meanwhile, Elementor is more beginner-oriented and affordable but lacks upscale features and the granular control over the site design that Webflow can boast.
Accordingly, if you have a sophisticated website design in mind or need more advanced website development tools, Webflow is definitely your pick. But if you are a starter and simply need a mediocre site up and running quickly, it's worth considering Elementor. For us, Webflow is the apparent winner.