According to the statistics, around 40% of internet users abandon a website if it takes longer than four seconds to launch. A website's performance significantly affects its success among users and depends on its web hosting provider. And thanks to a perfectly worked-out marketing campaign, GoDaddy is one of the first names that pop out when searching for a website host. Tricked, you may think it is really a worthwhile solution.
GoDaddy is a beginner-oriented site-building and hosting company that claims to be an appropriate choice for entrepreneurs and small businesses alike. It mostly attracts users with its inexpensive web hosting services and straightforward AI-based editor. The latter uses the provided information to set up a customized site in minutes – a bliss for beginners.
But is everything as good as it seems? In fact, GoDaddy's reputation and market credibility have got worse with time. And today, the website builder is far from recommended, even if you own a small online store or simply run a blog. Let's see what's hidden behind the gloss of GoDaddy.
What Is GoDaddy Website Builder?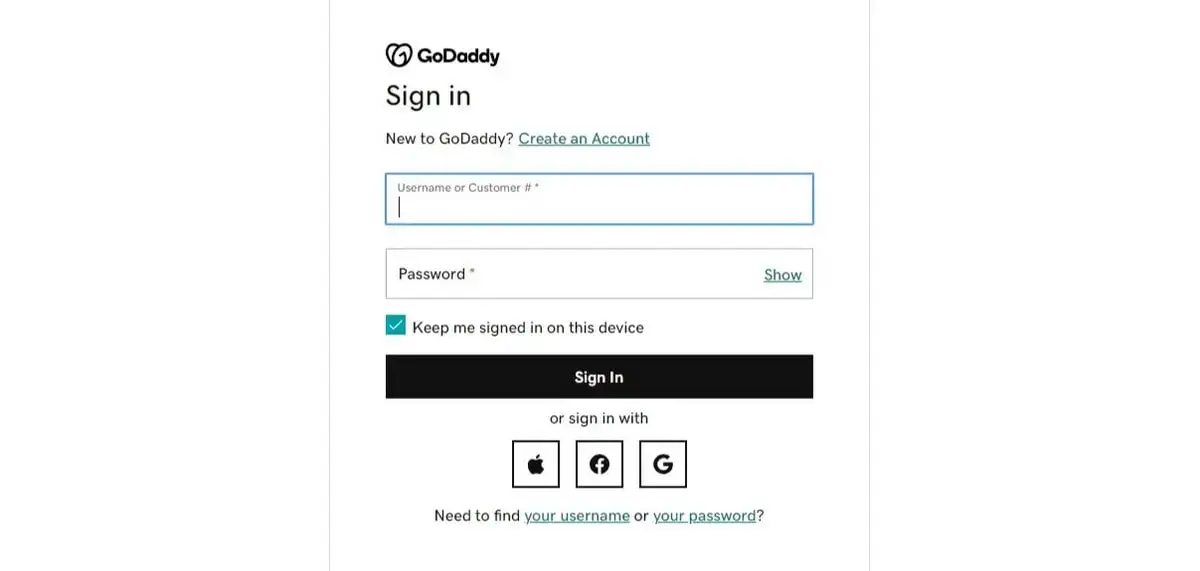 GoDaddy is an all-in-one site builder catered to do-it-yourself searching for a solution that doesn't require coding knowledge and development skills to create an attractive new website. The company praises itself for affordable pricing, a user-friendly design editor, and a decent collection of e-commerce tools.
However, the company first got famous as a domain registrar and hosting provider, while the site-building tool comes as a bonus. Integrating Artificial Design Intelligence into its editor only boosted the company's reputation and raised it in the eyes of novice users. The design editor can generate a website design based on the user's answers to its questions. Surely, the site look can be customized manually further.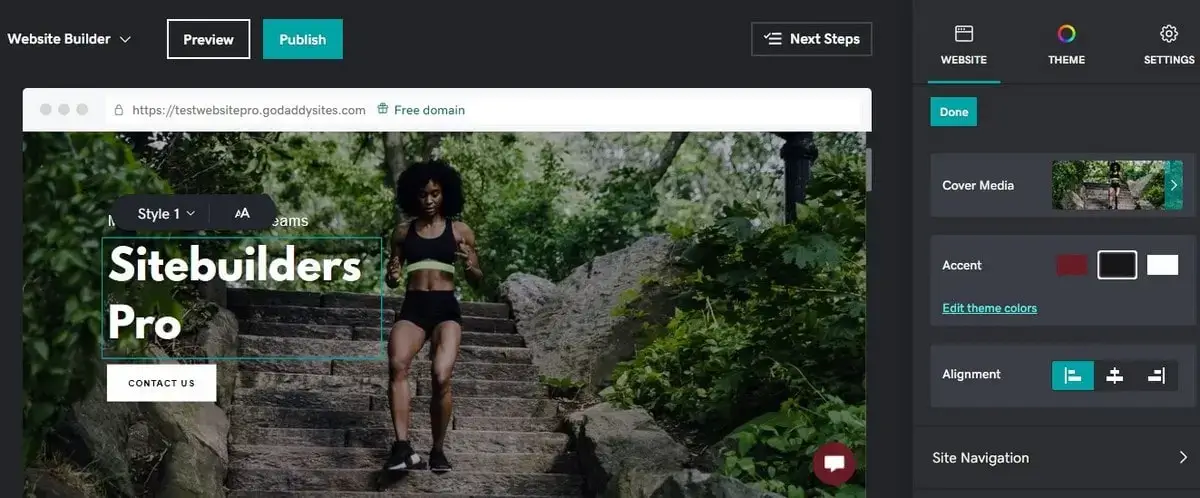 Nevertheless, users have started complaining about major issues in creating and hosting sites in recent years. Add the pretty expensively priced renewal shared hosting plans and paid add-on, and you get an overall picture of what service GoDaddy is.
What's GoDaddy Website Builder Used For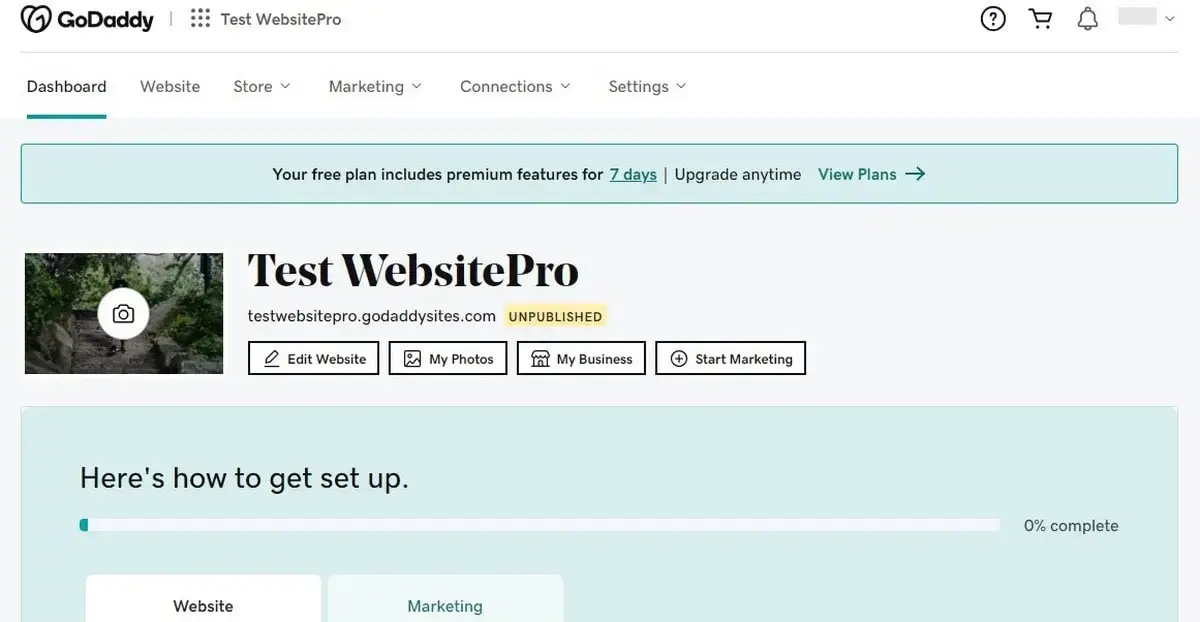 GoDaddy can be an appropriate solution for small independent businesses and individuals searching for a simple platform to create a neat website. Since the company has recently slightly improved its design functionality, users can also successfully set up online portfolios.
The ADI design editor is the site builder's strength from one side and the downside from the other. Inexperienced users will set up their projects quickly and easily. But by relying on an ADI editor, you simply can't escape the risk of having your site look similar to others, no matter the industry.
GoDaddy is also not ideal for users with creative minds, as you don't have much control over your site's appearance. The block elements are restrictive, and the editor lacks traditional drag-and-drop functionality.
Neither is it a worthwhile choice for large eCommerce stores due to the lack of depth in most features, including poor eCommerce and marketing tools.
How Much Does GoDaddy Website Builder Cost
GoDaddy praises itself for its reasonable pricing system. You won't find princes for this site building section alone. Instead, you get different hosting options, all of which involve access to the builder, with the Economy plan being the cheapest at the cost of $6.99/mo in case of subscribing for a year.
However, when dealing with a site-building platform, you should check out the renewal prices, as those are usually much higher than the cost for the initial year. In the case of GoDaddy, this is especially important as the renewal prices are much higher. The same introductory plan offered at $6.99/mo for the first year will then be provided at $9.99. Besides, you get charged for things you may not even need. These are all hidden fees that you can't escape encountering.
For instance, some mandatory GoDaddy payments, which are completely free when dealing with most site builders, include basic landing page customizations, SSL certificates, emails, and WhoIS privacy. The SSL encryption alone is charged $63.99/year. Mailboxes are priced pretty high, too. For only five mailboxes, you got to pay $11.99/month.
Additionally, the company promotes plenty of features necessary for running a functional website. One such feature is SEO packages, which are supposed to improve your search engine visibility.
The same goes for site backups. You must buy an add-on to have a backup system in your account. The daily backup will cost you $1.99/month. However, GoDaddy has an auto-save feature that will back up your site and allow you to restore it from the last point it was saved. On the other hand, if you make a mistake and it auto-saves, you can't restore the site to an end before making a mistake and will have to correct it manually.
GoDaddy Website Builder SEO Review
GoDaddy offers a set of proper SEO tools for beginners. Actually, Websites + Marketing automatically reviews the site and optimizes for all major search engines, including Google, Yahoo, and Bing. Overall, the spectrum of SEO tools suggested includes:
Change URL slugs;
Get keyword support;
Add image alt text;
Edit meta titles and descriptions.
Also, GoDaddy has an SEO wizard designed to help beginners optimize their sites, though the feature is available only for the owners of the top three paid plans. These are all GoDaddy pros regarding SEO functionality. No SEO advanced tools are available regardless of the pricing tier you use. Furthermore, because of slow load speeds and slow overall performance, the SEO score of a GoDaddy website is primarily low.
GoDaddy Website Builder Templates Review
GoDaddy introduces a pretty extensive collection of templates counting over 200 separated into categories, from home service to real estate, from community & nonprofit to automotive & cars, etc. These nice-looking themes are appropriate for building a site as long as you're happy with what's provided. Once you step into the customization field, you come up against a brick wall.
First, not all themes are available at once. Depending on your chosen pricing tier, you are only introduced to a certain number of themes. For instance, you can access only around 50 templates when using an introductory plan.
GoDaddy ADI helps new users set up a site without going much into its appearance and other details. As long as you need to set up a site quickly and don't bother about receiving a pretty generic site, the automation tool is OK. But if you aim to stand out from the crowd and introduce a website perfectly reflecting your brand vision, neither GoDaddy's ADI nor starting from scratch on this platform will help you.
The website builder gives only a tiny room for customizing your chosen theme. You can alter the global fonts, apply a different button style, and set the dominant color. All these points come with limited options. The GoDaddy design editor is not of a drag-and-drop traditional type. It's rather layout-based. This means that instead of repositioning individual elements to achieve the website look you crave, you have to rely on the company's pre-coded layout. No creative freedom and flexibility at all!

Although GoDaddy's editor offers an autosave tool that relieves you from saving every change manually, you can't roll back to your previous saves. The same refers to changing the theme once the site is ready. When working with GoDaddy, you just have to choose the theme correctly and not regret it. Otherwise, you must start from scratch.
And finally, don't hope to add custom code or find any keyboard shortcuts. All these make it a terrific solution for those users who want control over their site design.
GoDaddy Website Builder Pros and Cons
Every coin has two sides. And while some users prioritize the simplicity of building a site, others value its functionality more. See the major pros and cons of GoDaddy as a website builder.
Pros:
GoDaddy is straightforward to work with thanks to its user-friendly interface and ADI editor.
The first subscription comes with impressive discounts.
Artificial Design Editor will introduce an appropriate site version quickly to beginners.
All themes are mobile-responsive.
Cons:
You can't add custom code to your site.
It's impossible to export content from a GoDaddy website.
The renewal costs are pretty high.
GoDaddy add-ons are pricey.
GoDaddy's websites don't look appealing or professional.
No drag-and-drop editor to move elements around.
Website customization options are terrifyingly limited.
GoDaddy lacks depth in all its features, from SEO to marketing.
Is GoDaddy a Good Website Builder
GoDaddy's website builder feels like a minimum effort from its Web hosting since it's not functional. From a user's point of view, the site-building solution is perfectly easy to use, especially with the intelligent ADI technology incorporated.
However, GoDaddy can work only for those users who look to create a site quickly and don't compromise too much on professionalism. All sites appear fairly generic and similar due to the strictly restrictive customization. Backups are only daily; you don't get access to the theme coding while switching from the current theme to another means losing the already-submitted content.
The website builder introduces only basic features. No advanced tools are available. From the blogging functionality to social sharing elements, all features are elementary. As for add-ons, those come pretty expensive. In fact, you have to pay even for the SSL encryption per month, which other website builders include in all their plans, even free ones.
So, it's no wonder that more and more GoDaddy users are seeking worthy alternatives. This solution can't be claimed as recommended.