When it comes to creating a website, the digital world has two giant names: WordPress and Webflow. Both feature their advantages yet are not free from certain downsides, either. Therefore, deciding which one makes the right choice might be challenging. This article will shed light on the strengths and weaknesses of these two prominent site builders.
Webflow is a drag-and-drop, cloud-based content management system that lets individuals build mobile-friendly sites without writing a single line of code. The SaaS platform provides a visual web design tool, a series of CMS and eCommerce features, and several hosting choices. The high degree of adaptability and customization shows that Webflow mostly targets web designers.
Meanwhile, WordPress open-source content management system is a perfect solution for creating and managing blogs and sites. First released in 2003, WP quickly became the most popular site-building platform worldwide, powering almost half of all websites.
With over 40% of sites on the web created with WordPress (read my review), this CMS first owes its popularity to its open-source nature. This means anyone can modify and redistribute the source code, which means the WP developers' collaborative community continuously improves the platform.
Thanks to the side-by-side comparison of all essential features, from ease of use to pricing, from functionality to design adjustability, you decide whether Webflow or WordPress will best match your project requirements.
Key Similarities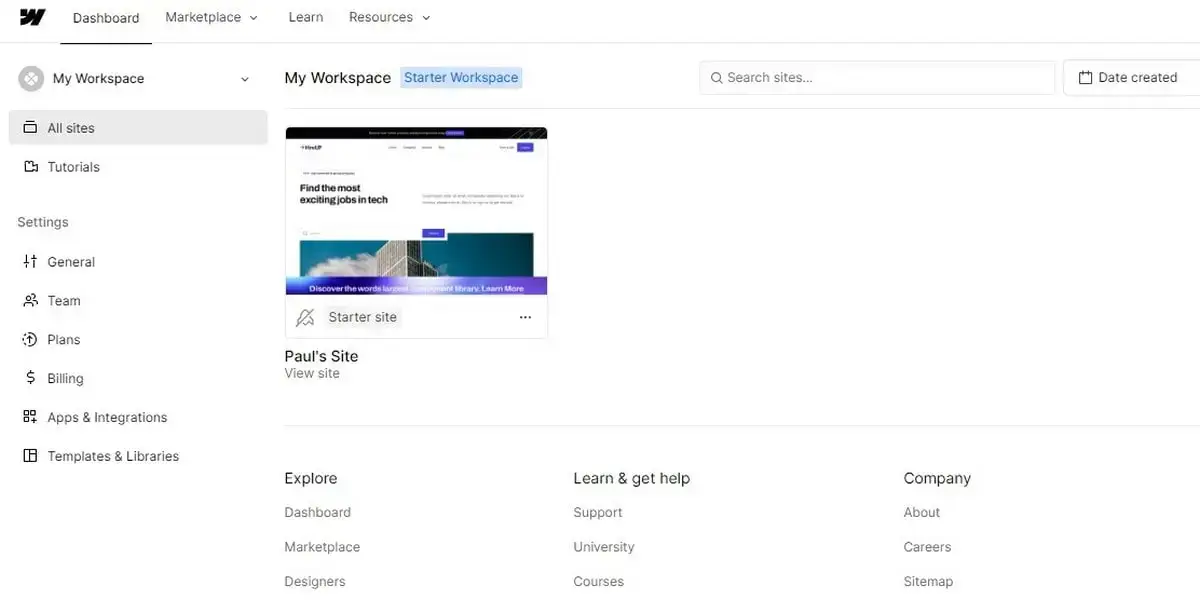 Webflow and WordPress provide all the tools necessary to build a custom site. The standout common features are as follows:
Both companies suggest starting with pre-made customizable themes (getting from scratch is available, too). They look nice, are all mobile responsive, and can be customized to your liking.
WP and Webflow are full-service content management systems. They allow creating and managing your content in one place.
Both site builders offer site customization through a drag-and-drop visual editor.
Both companies are SEO optimized, though to a different extent.
Webflow and WP are great for blogging.
eCommerce tools are available whether you're using Webflow or WordPress.
Key Differences
If you're considering a custom site for your brand and wonder whether it's going to be developed on WordPress or Webflow, consider the following key differences:
Webflow is more user-friendly than WordPress. It features a simple drag-and-drop interface for adding and arranging elements without coding. Meanwhile, WordPress has a steeper learning curve, especially if you decide to customize your site beyond the capabilities of the chosen theme or plugin.
The level of customization is higher with Webflow than with WP. Webflow provides thorough control over the design and layout of your website (adding custom code is still possible). At the same time, the customization options of WP are limited by the plugin or theme chosen.
The SEO functionality is provided differently. Webflow has an integrated SEO panel, while WordPress features built-in robust SEO tools.
Webflow is a hosted platform, i.e., it handles site performance optimization for all its users pretty well unless they prefer hosting from a third-party company at an extra cost. In this sense, WordPress has no hosting of its own. Users have to buy hosting from external services.
WordPress is a free CMS, but you must buy your hosting and pay for extra functionality via a paid theme and plugins if you aim at advanced features. Webflow offers a free plan along with three paid ones per the user's project requirements.
What Is Easier to Use?
Both CMSs offer accessible site designing and building whether the player has any coding knowledge or is a complete newbie. However, their simplicity of use comes to a different extent.
Webflow is an intuitive site development platform. To get started, you only need to create an account. Based on your requirements, the company customizes the site-building experience – you can start from scratch or use a pre-built template. Meanwhile, The drag-and-drop functionality gives users complete control over the new site's style and elements. Also, Webflow allows adding dynamic content like blog posts. At the same time, its visual editor enables users to view whatever changes they make on the site in real-time, which makes it simple to experiment and iterate on their site designs. Webflow is inferior to WordPress in the flexibility of a block content editor. However, it's easier to insert images and videos.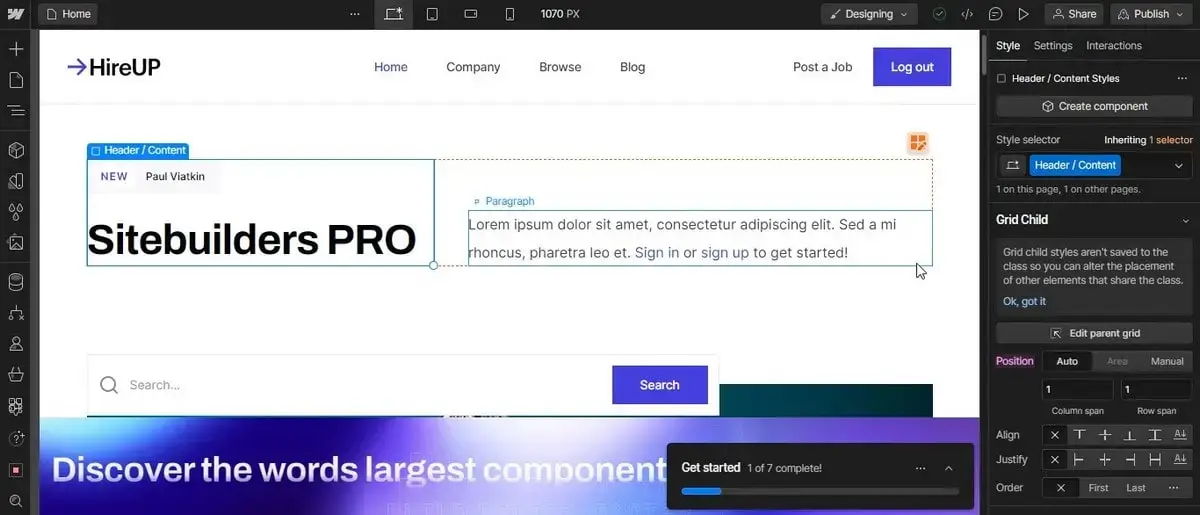 Also, despite being oriented toward no-coders and inexperienced users, Webflow allows users to access their site coding, like CSS, HTML, and JavaScript.
So, to put your Webflow site live, you have two variants – pay Webflow for hosting your dynamic site (an eCommerce site or a blog) or export your website's static code to host it on an external service.
As for WordPress, this content management system requires some learning curve despite claiming to be targeted at novice users with no coding expertise. It's pretty comprehensive to operate when you get the grips of the system. The platform has a drag-and-drop functionality, eliminating the need to apply coding. However, if you are good at HTML, CSS, or Java, WordPress provides access to the underlying code of your website.
After downloading the service, you can create and manage your site from the WP dashboard and control the design by installing themes and plugins (thousands of options are available). Also, WP suggests creating content with the latest added Gutenberg editor. The latter uses a block-based system to make it straightforward to set up multi-column designs and add elements like buttons, tabs, etc.
So, if you have the necessary time and willingness to dedicate effort, you can set up a WP website without a professional's service.`Also, WordPress is a more appropriate option for those users who have some knowledge of CSS and HTML and need more control over their site's code. Parallelly, Webflow suits users who want a more user-friendly and intuitive site-building experience.
Read also: Webflow vs. Elementor.
Design Options Comparison
WordPress and Webflow introduce an impressive bulk of free themes and templates that make site design accessible to any user, irrespective of their coding skills or experience.
Webflow's themes are pre-built sites: you add content, upload images, and publish your new professional-looking site. They come with already installed columns, galleries, navigation bars, feature lists, "about us" sections, etc.
The CMS stands for its remarkable Designer interface. The entire creation and management of the site proceeds here. You control CSS3, HTML5, and JavaScript in an entirely visual canvas while the system translates your chosen design into a clean, semantic code. With only one click, you can turn footers, navigation bars, signup forms, etc., into components to reuse and maintain.
Adding, moving, and removing forms, buttons, CAPTCHAs, photos, videos, search bards, carousels, and many other elements becomes hassle-free thanks to the drag-and-drop editor. Furthermore, once all the necessary components are appropriately positioned on your site, the Designer's tools activate. You can alter any element on the page to get a perfect final result. This includes changing the fonts, background color, borders, etc.
Regarding ready-made themes, Webflow doesn't stand behind its competitors. It delivers modern, unique, and stunning templates to fit every site's purpose, from blogs to eCommerce, portfolios to agencies, and anything in between. All templates are organized by categories, with around 30 of them available. Also, you can filter them by style (minimal, casual, illustration, etc.), features (3D transforms, responsive sliders, Retina ready, CMS, custom 404 page, etc.), and tags. Webflow's templates catch the eye with their bold presentation and peculiar style. Both free and paid options are introduced.
When WordPress is addressed, this content management system is known as the most customizable one in the industry. WP can serve you well if you crave a unique and premium-class design for your site. The whole theme customization proceeds through Customizer. With a few clicks of the tool, you can expose all style options of any element on the site and customize them to their liking.
Also, the Block Editor of WordPress drastically differs from the front-end page editor of Webflow. Although not as appealing, using the module-based system is significantly easier as every content item has its own Block and can be edited separately.
However, when working with WordPress and striving to get excellent results, you can't help but feel the necessity of coding With appropriate skills, useful widgets, and integrated tools, you face no limits concerning site customization. Also, unlike other site builders, WP doesn't set pre-designed areas and lets you customize all elements on the fly. All applied changes instantly go live.
The official WP themes directory incorporates around 5,000 free themes to anyone's liking. Also, over 10,000 premium designs can be integrated from third-party developers.
So, although they take different approaches, Webflow and WordPress are decent options for scheming and customizing a glaring website. Nevertheless, Webflow's easier site customization, its one-of-a-kind visual editor, and the diversity of professional-looking templates bring it an extra score in this website design comparison.
Website Functionality Comparison
The CMS of Webflow is remarkable – it provides complete control over the site content. If you have a complex project, the system allows you to manually define custom post types like team members, blog posts, projects, etc. Also, whether you are an editor, designer, developer, or content strategist, Webflow CMS will cover all site functionality requirements. Editors can add and edit on their live site to publish it immediately. This way, there'll be no need for manual hassle.
eCommerce
As for the eCommerce functionality, Webflow enables users to create fully-fledged virtual stores at once. Through one you create, you can sell both digital and physical products. Webflow eCommerce, you can add custom fields to showcase the right product info, add unique product variations with a few clicks, set up checkout flow perfectly tailored to your products' types, offer consumers custom delivery options (shipping, takeouts, email delivery, and tailored delivery methods), streamlining shipping processes like customizing shipping regions and rules, creating shipping labels, automating order tracking, etc.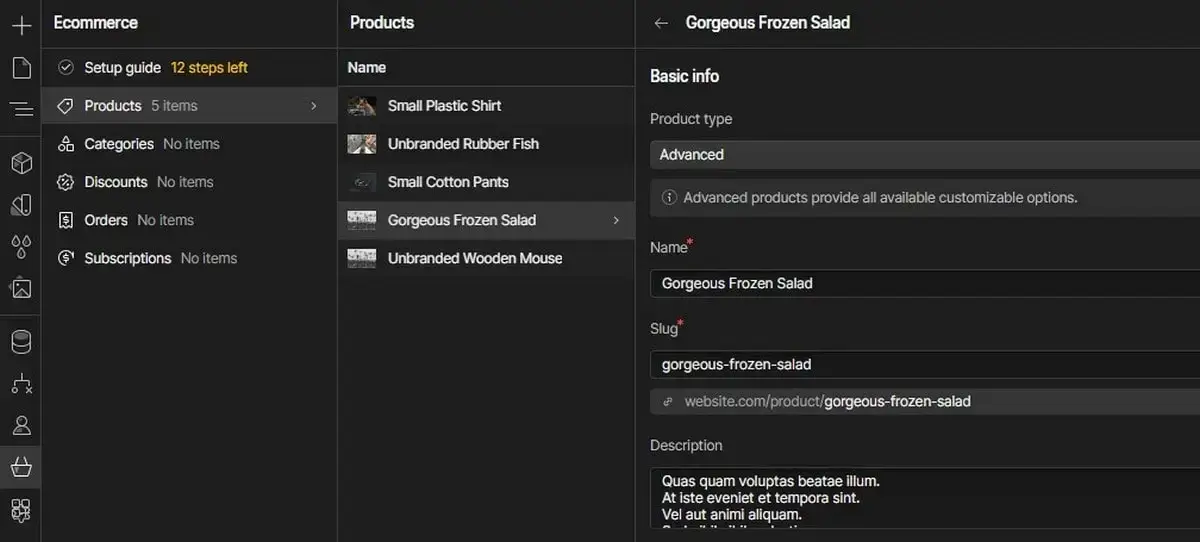 Also, you can accept payments from over 200 countries through PayPal, Stripe, Apple Pay, Google Pay, and credit cards. All these eCommerce tools are sufficient for a small to medium-sized online store. And yet, for running a big-scale business online, you will have to rely on third-party plugins.
A major difference between Webflow and WordPress lies in the eCommerce functionality. If the first has its own eCommerce platform, WordPress has none. Instead, it suggests integrating eCommerce-dedicated plugins to run any size of an online store. For instance, you can download and customize one of the most flexible and powerful plugins, WooCommerce, to your specific business requirements.
SEO
Perhaps the most striking difference between these two CMSs is the SEO functionality. They are both SEO-friendly yet show completely different optimization approaches. From one side, Webflow introduces an integrated SEO panel to let users optimize their pages for search engines. For instance, they can add meta descriptions, alt text for images, tags, etc.
Also, the CMS generates clean and semantic HTML to improve SEO rankings. You can modify the robots.txt file and set up an automatic sitemap. For extra SEO tools, however, an upgrade is necessary.
On the other hand, WordPress is SEO-friendly right out of the box. It offers a lot more tools and better flexibility for search engine optimization. Using various SEO-related plugins, like Yoast SEO, WP ensures users total SEO versatility. Also, such tools are available as on-site search engine analytics, graphic meta tags, advanced XML sitemaps, etc. Obviously, WP outperforms Webflow in terms of search engine optimization.
Blogging
Webflow claims to be a powerful blogging platform regardless of the user's target audience of the blog niche. A blog created with this CMS includes social shares, table of contents to improve UX and navigation, CTA to download, features images, breadcrumbs for internal linking, recommended content based on tags, quote function, etc.
Nevertheless, WordPress was initially created as a blogging platform. Hence, its blogging properties are evident. Regardless of your skill level as a blogger, you will find creating and publishing posts pretty straightforward, given the interface designed with simplicity in mind. WP offers organized tags and categories to make your content easily searchable and accurately structured.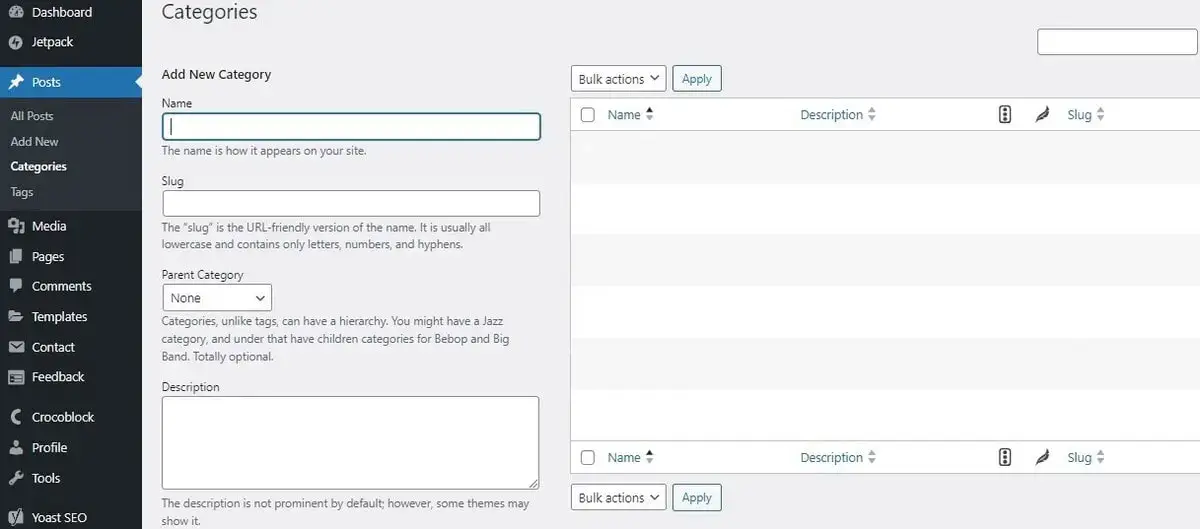 Integrations
Webflow has a built-in brand App Marketplace with a wide array of integrations for advancing your website analytics, eCommerce, social media, and marketing functionality. Webflow's technicians back all integrations; hence, they are high-quality and compatible with the platform.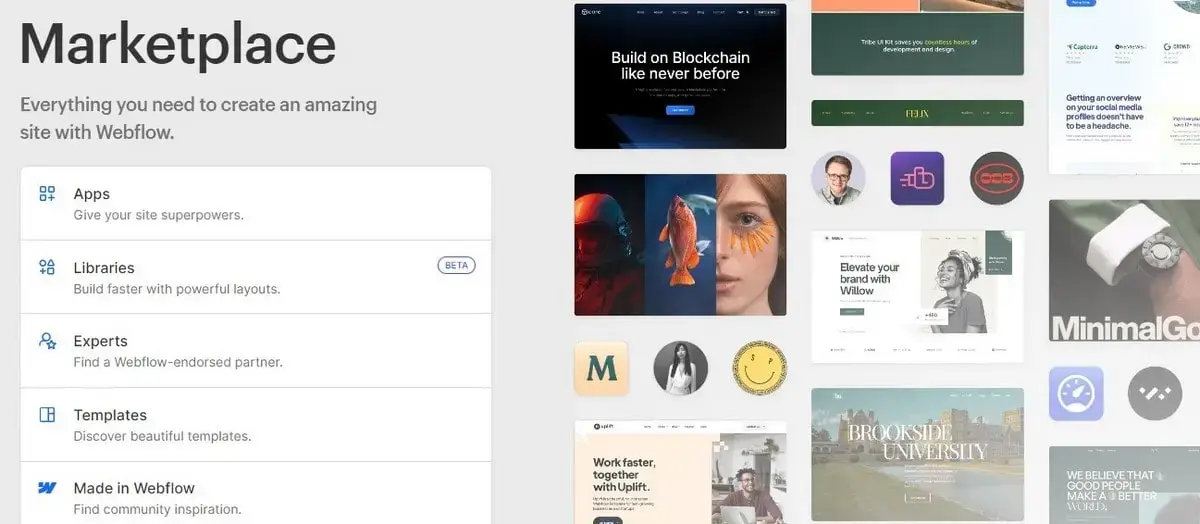 Meanwhile, WP stands out for its largest marketplace in the industry, incorporating over 50,000 plugins. Anyway, not all plugins are compatible with each other and WP updates, which sometimes makes it overwhelming to integrate several tools simultaneously.
Pricing Opportunities
WordPress is a free-of-charge content management system. Nevertheless, the price for your WP site depends on other factors such as third-party apps, hosting, plugins, and the theme (though free options are available, too, the best ones are paid). Accordingly, there's no fixed price for creating and running a website. The approximate costs are as follows:
Hosting – from $5 to $100 per month;
Theme – $35-$50 for basic templates and up to $10,000 for custom designs;
Plugins – $100-$500 for payment software, $5-$100 for email marketing software, etc.;
WP tutorials – up to $50.
Meanwhile, Webflow has a standard tiered pricing system. The Free plan, appropriate for hobby and staging sites, has limited functionality. Let's pass straight to the introductory Basic plan, priced at $14 monthly. This tier provides 50 GB bandwidth, 250K monthly visitors, up to 150 pages for a site, and 500 form submissions. Other plans of the brand are the CMS, costing $23/mo, great for content-driven websites like blogs; Business, priced at $39/mo and suitable for larger sites; Enterprise, an excellent variant for those who need an enterprise-grade solution and are ready to pay, respectively.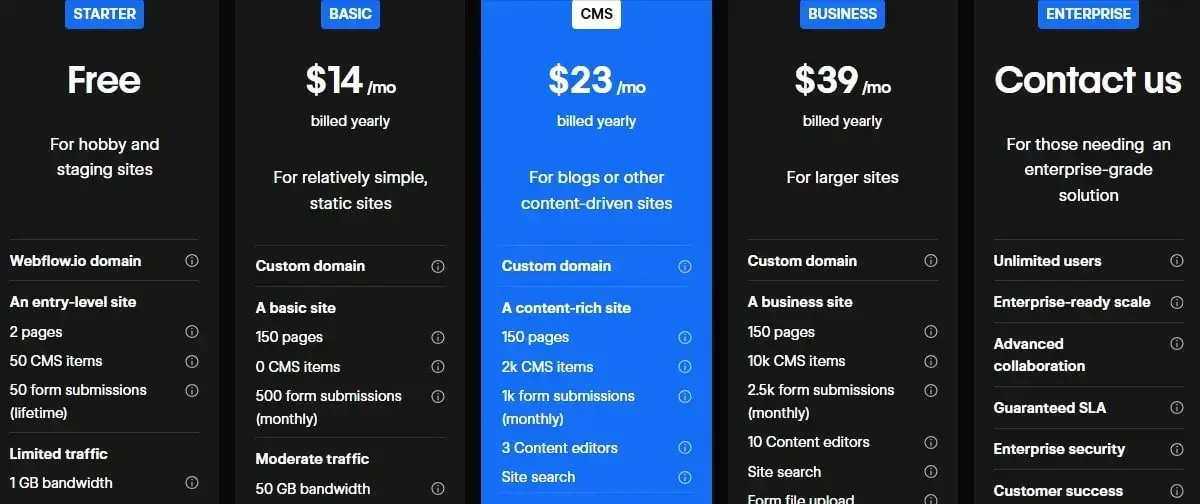 Verdict
Based on the deep analysis of user-friendliness, integrations, SEO and performance, eCommerce, and pricing capabilities, we came to the conclusion that Webflow is more advantageous for an ordinary user with little experience than WordPress. The brand's drag-and-drop visual interface is more user-friendly and intuitive than that of WP. Also, Webflow doesn't demand coding knowledge to come up with a professional website (you can still use your coding skills if you have). At the same time, the company's lightning-speed performance and search engine optimization features make it an ideal variation for businesses prioritizing site speed and SEO.
In the meantime, WordPress's main advantage via an extensive market of themes and plugins makes it even more complicated for beginners. Hence, if you strive to find a user-friendly and, at the same time, robust and secure sit-building solution, Webflow will do great.