In the ever-evolving world of real estate, a robust online presence is more critical than ever. Your real estate website is often the first point of contact for potential buyers and sellers, making it a powerful tool for attracting leads and showcasing your property listings.
However, the success of your real estate website heavily depends on the website builder you choose to bring your vision to life.
Whether you are a seasoned real estate agent or just stepping into the industry, understanding the intricacies of website builders and their features is crucial.
In the following sections, I will delve into key features that are indispensable for real estate websites (see also my set of the best real estate businesses online in terms of design), conduct in-depth reviews of some of the top website builders, and provide practical tips to ensure your real estate website not only impresses but also performs exceptionally in a highly competitive market.
Key Features for Real Estate Websites
For all brokers or real estate managers, a well-built website equipped with all the necessary features for managing listings for rent and sale is a must-have. But what makes a site successful in the real estate market?
Check out my list of qualities that make a site effective:
Clear Navigation
Clarity is a key to building a successful website, especially if it's related to the real estate market. If any feature appears too tricky to an average user, they will instantly move forward to a competitor. Accordingly, when designing a website, stick to manifest menu items, include the most essential information about your company, and add the property search/filters on the homepage.
SEO
Your property management website must be appropriately optimized for search engines, as this will influence both the front-end and back-end sides of your property listing site.
Mobile-friendly design
A mobile-first approach is crucial for all industries, including real estate. Hence, the desktop and mobile designs must be equally successful – this refers to the site's user experience and SEO.
Mapping and listings
Listings of lots of properties are expected for a property management online platform. The typical data you must mandatorily include on your website per property are the photos, description of facilities, area, location, and price.
Note that all photos must be of high resolution. Adding 360° photos of the house and the street would be nice. Also, it will be great to incorporate a map on the site with the exact location of the offer.
Calculators
These tools will give extra points of deal transparency that clients value so much. Add such calculators as rent vs. buy, mortgage, refinance, debt-to-income, and affordability.
Only the best site-building platform for a real estate website can save you from constantly switching between talking to buyers and sellers, hosting open apartments, taking photos, and scheming listings.
If you want your property sell/rental website to surpass competitors, consider finding the best site-creating service and other essential components, particularly hosting and CMS.
I have surveyed the market for the best deals and developed industry-leading solutions for creating, hosting, and managing a real estate website the most effectively. Check out the results.
Wix – Best Website Builder for Real Estate Website
Wix is among the most popular and certainly most powerful website builders for creating an effective property management site with high conversions.
It allows designing and developing a site without any coding or programming knowledge (read my review). And since most brokers, real estate agents, and investors have no tech knowledge of designing a site from scratch, Wix appears to be the least complicated and cost-effective solution.
With Wix, you have several methods of setting up a new site for a real estate company or a broker. These include:
Wix Editor;
Wix ADI (Artificial Design Intelligence);
The classic version of Wix Editor is perhaps the simplest. You simply pick a Wix real estate theme and template and edit it with the appropriate logo, text, sections, visuals, etc. It features drag-and-drop functionality. Perhaps the most significant advantage of this editor is complete control over nearly all aspects of the site and full access to Wix's app market.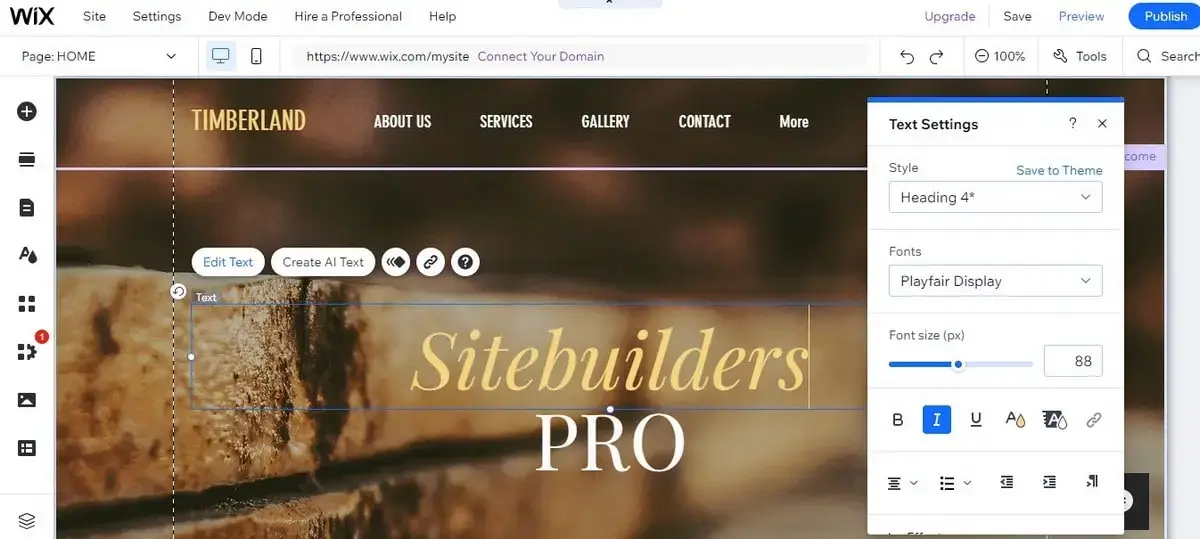 However, there's a downside to this editor – building a website from a template is time-consuming.
However, if you are after a simple web solution, Wix's ADI builder is worth considering. By simply answering a couple of basic questions, you get the most appropriate website put together based on your answers and any other information on your business from different sources online.
If you want to customize the suggested site further, you can still use the drag-and-drop Editor and add sections and pages, enhance the design, etc.
As for the Velo by Wix, the editor is a great choice for users familiar with coding. Here, you get unprecedented access to the site code, databases, and all application programming interfaces.
All the described Wix editors are made to simplify a website building process and come up with pretty good results. However, specially for designers and agencies, there's a more advanced option, known as Editor X.
The latter offers sophisticated design and layout capabilities for premium-quality sites, still with no coding required. With Editor X, you get access to scalable font sizes, grid layouting, advanced sizing control, custom breakpoints, stack and scale media, and Wix design system.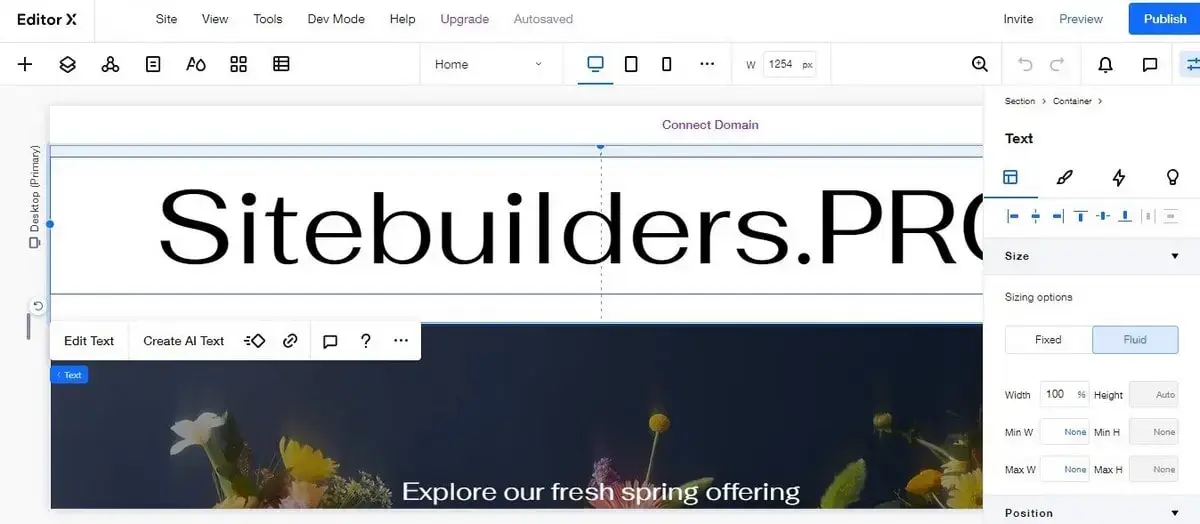 And finally, Wix introduces Wix Studio, a package of smart tools to create exceptional, responsive real estate websites. It allows working with the grid straight on the canvas to emphasize whatever you wish.
You can split, resize, and swap cells to come up with unique layouts, while code-free animations from Lottie let you add movement to experiment with scrollytelling. Overall, Wix Studio was built inspired by the intuitiveness of Wix Editor and the deep design control and advanced capabilities of Editor X.
What makes Wix a stunning solution for building a real estate website is the diversity of thematic templates and the plentiful features. Particularly, you are offered 21 real estate templates, all of which come with the most useful features already built in. These include photo and portfolio listings, contact pages, Google Maps, social media integrations, etc.
All Wix templates designed for real estate businesses are thoroughly customizable – you can move elements around to complement your layout idea.
All templates have Info sections where users can find a detailed description and who the particular template will best suit. The preview option on every template shows how they will look.
Furthermore, Wix allows connecting an Internet Data Exchange system to display all real estate listings. You also get a series of SEO and email marketing tools, the unique brand Social Post Builder that enables designing slick images for social media, over 300 apps and integrations, etc.
As for pricing, Wix introduces four monthly priced plans and one custom-priced one, the Enterprise. The introductory Light tier offers 2GB storage space, a Light marketing suite, a free domain for one year, and no Wix branding on the site. This plan costs $16/mo, provided you purchase an annual subscription.
However, though Light might be an appropriate option for a first-time user, those planning to enhance their real estate business should consider the Business plan. The latter provides way more access to features and helps to make your site stand out.
Nevertheless, like any other website builder, Wix has some downsides not to be neglected. These include:
Switching from one template to another when the site has already gone live is somewhat problematic. You have to submit the whole content anew manually.
If you have used Editor or ADI when building your site, you can't transfer the database if you decide to move on to another website builder or CMS like WordPress later. This will require plenty of content copying and pasting, as well as doing many URL redirects.
So, if you're searching for an easy-to-use and moderately powerful solution to build a website for your real estate business, Wix is definitely a great choice. You don't need any tech knowledge, and the pricing is reasonable.
HostGator – Best Hosting for a Real Estate Website
Although Wix offers free website hosting, i.e., your real estate site will be hosted on the company's servers, so you don't have to worry about finding a separate provider; its hosting is often unreliable. After all, Wix is primarily a website builder and performs the task to the highest level. You can always host your site on HostGator's servers. The latter is one of the highest-ranked hosting providers for good reason. Particularly:
HostGator offers the best Shared hosting plans in the market, also the best for small businesses.
The company ensures the highest possible 99.99% uptime and premium consistency.
HostGator provides more features on its shared hosting plans than most other companies. This also includes free email marketing software to help you monetize your real estate site.
HostGator covers several basic types of hosting that a real estate site may need. This includes Shared, WordPress, Dedicated, VPS, and Reseller hosting. Since the company has the highest score for photography hosting in the market, it's also great for hosting a real estate site.
All plans come with unlimited bandwidth, a free SSL certificate, and a free domain for the first year of use. And if these features won't surprise a user, HostGator also stands out for providing unmetered sub-domains, email accounts, and FTP accounts to transfer files from a PC to a network.
Although HostGator also offers its band drag-and-drop website builder, the Gator, there are few appropriate templates for designing a real estate website. Accordingly, it's not worth discussing it here.
But if you plan to set up your site using a CMS, there's a one-click WordPress installation and dedicated WP hosting option. Furthermore, it supports Drupal, Joomla, and the eCommerce platform Magento.
What makes HostGator unique is the free email marketing software provided through Constant Contact, available even on the company's basic plan. The software enables users to build an audience through automated email campaigns and consistent newsletters. This feature is handy for any business, including real estate sites.
Prices for Shared HostGator hosting start at $3.75 per month with the Hatchling Plan. The latter allows hosting one site and comes with such perks as 10GB SSD storage, unmetered bandwidth, 1-click WP installs, email, and a free domain for one year. All plans feature a 45-day money-back guarantee.
So, if you have a website and need a reliable hosting solution, you can't go wrong with HostGator.
WordPress – Best CMS for Real Estate Website
When you face the necessity of building a website for a real estate manager, the idea of doing it yourself is tempting, as it all seems so deceptively easy.
However, the path is full of caveats, including but not limited to registering a domain, picking the suitable template, uploading a couple of images, and finding a reliable hosting provider.
However, there are clear benefits for realtors to build their websites with the most popular CMS worldwide, WordPress. Around a quarter of the world's existing websites are built with WordPress, including thousands of successfully operating real estate sites. WordPress features a user-friendly interface that allows creating a site without any coding experience but by learning the basics of WP.
The solution introduces hundreds of real estate plugins, including the so-necessary calculators and IDX plugins for such things as monthly mortgage repayments or amortization, as well as built-in tools for SEO across front and back ends of sites and top-notch security measures.
Furthermore, the diversity of templates WordPress introduces is simply unlimited. You can come across literally hundreds of fabulous options for a real estate site, including both free and paid (more professional-looking) options. By building your website on WordPress, you acquire full ownership of the site and its content.
Although WordPress doesn't offer professional customer support, its huge community is always ready to give timely solutions to any problem you encounter. Meanwhile, the extensive community of WP Developers constantly develops and improves the original source code, as the solution itself is Open Source Software.
WordPress is also easy to embed for such media sources as Flickr, Twitter, YouTube, Slideshare, Spotify, Instagram, Vine, etc. For higher conversions on your real estate website, you can employ pop-ups via plugins like Ninja Pop UPs, Leadin, etc.
And finally, WordPress CMS is completely free to use. On one side, there are hundreds of themes and plugins suggested at a one-time fee, while on the other hand, thousands of free options are at your disposal! With WP, you have to pay only for hosting.
Verdict
According to the recently made surveys by NAR, over 41% of property buyers find a new apartment and only then contact the realtor to show it to them. That's why you need a well-built real estate website with a smart and captivating design that is reliably hosted. A website is the key to increasing brand awareness, automating multiple tedious processes, and reaching new prospects. And to get an effective website, you need respective tools.
Wix is, so far, the best website builder for creating real estate websites. It comes with around two dozen perfectly crafted templates for property managers and offers all the features needed to enhance the site. All this comes with a user-friendly drag-and-drop editor at a fair price.
HostGator is the best hosting provider if you already have a website and need reliable hosting. The solution is equally great for small and large businesses, including real estate sites, as it offers all types of hosting a client needs while expanding a site. The pricing is one of the cheapest in the market, although it doesn't come at the cost of the quality of provided services.
And finally, hands down, WordPress is the best CMS for building any type of website, including real estate. Hand coding a site will provide complete control and cleaner code, while the colossal community will always support you on every phase. There's no reason why you should not use WordPress to build a real estate website.